Dirk has a Passion for All that is Wine
The German wine-growing season is slowly reaching its climax: Bad Dürkheim's Wurstmarkt, the world's largest wine festival, has just broken a new attendance record (with nearly 700,000 visitors over two weekends), while many similar festivities still remain to look forward to. Today and for the rest of the week, we will return to one of Germany's foremost wine-growing regions. 
I firmly believe that the best way of finding out about something is seeing for yourself. Which is why we did not hesitate when Dirk Renzelmann, owner of the Zumstein vineyard in Bad Dürkheim and our host for stage one of our recent hiking trip to the Palatinate, asked us whether we would like to accompany him and one of his tourist groups on a covered wagon trip into his plantation.
There are two ways of hosting such an outing. One way is to bore your audience stiff with a "brief history of wine-growing" that reaches back to the Babylonians, by way of the ancient Greeks as well the Bible, and to provide lengthy explanations of the fine distinctions between the various grape varieties.
Fortunately, Dirk is having none of that. He prefers to let his guests see, smell, taste – and hear.
"Listen closely," he says and opens one of his bottles. "Did you hear that? Of course you didn't. That is one the great advantages of the screw cap: you can sneak out of your marital bedchamber in the middle of the night, open a bottle in the kitchen and nobody in your house will wake up."
Dirk, you see, is not only a natural-born storyteller, he is also a great advocate of the screw cap.
"There is, we must not forget, such a thing as progress," he explains.  "Corks were used because they were the best way of closing bottles at the time, with the technology our forefathers had. Today, however, we can do better, and name me one reason why we should not. We must not continue doing something blindly for the sole reason that it has tradition behind it. By the same logic, people would still drive to their holiday destinations on a bicycle."
Dirk is at ease with foreigners, he entertains them, he tells jokes. But underneath all the bluster, you feel, there is real passion for all that is wine. This is a man who cares, deeply, for nature, for the countryside, for his region.
"Of all the tasks that are involved in the running of my business," he says, "this is the one I like the most: simply taking my tractor into the hills." The slow pace, the frequent stops, help you develop what he calls "the slow view". "You will concentrate on the actual things that are around you, rather than on the movement itself. Try it for yourself. It works."
And you know what: it is really true. You do begin to see things differently.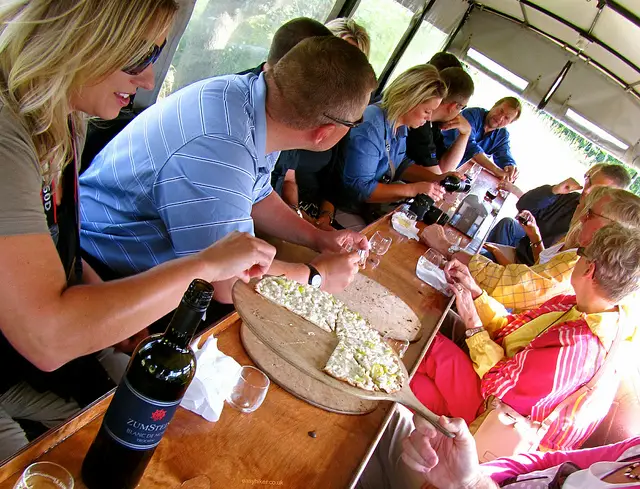 Most of all, however, Dirk cares about wine. And wine, in his view, is first and foremost for drinking, preferably in a convivial atmosphere with family and friends.
"When I fill the wine from the barrel into the bottle, it is drinkable. For some, storing wine is an obsession. Wine is there to enjoy, not to lock away. In Germany, storage is everything. I have 85-year-old customers who ask: does it keep?" He chuckles.
Dirk drives the tractor that pulls the covered wagon, he serves the onboard wine, he fields queries. Later, during the tour through the vineyard's cellars, someone asks whether Dirk does all the work on the vineyard by himself. Of course, he says, with good-humoured irony, and in my spare time, I put the labels on the 100,000 bottles that we sell each year, too. (On the other hand, he appears to have so much energy that you would not be surprised to be told that he has been running the plant singlehandedly for the entire 600 years of its history.)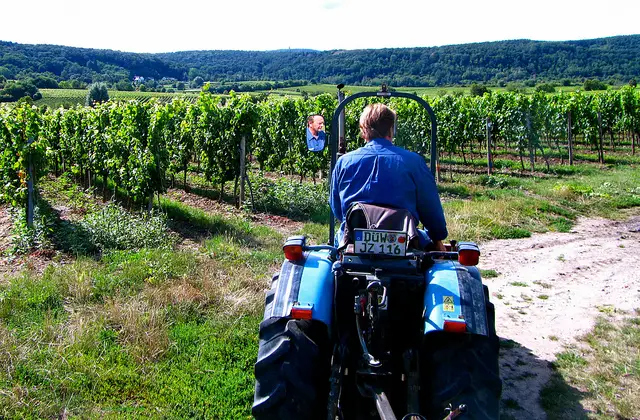 Many people in the wine industry would be happy if everything was still run much in the same way as it has been since the Middle Ages, but Dirk is not one of them. For him, wine-growing is very much a 21st century industry – with many new challenges as well as new opportunities.
If you want to know what it means to operate a vineyard in today's business climate, this trip is an excellent way of finding out – and seeing for yourself.
For more information about possible visits to the vineyard, visit the website Zumstein.de