Churches – Europe is so full of them because, for centuries, they were the focal points of community life, much like football and baseball stadiums are in the modern world. If you go hiking a lot in Europe, pay attention to the architecture  and see if you can you pick out the different styles of the 
Churches of Europe
One style you get to see rather rarely among the churches of europe is the "Romanesque" (thick walls, round arches) because it went out of fashion so long (about a 1000 years) ago. This building here (in the North German city of Goslar) once had a mighty cathedral behind it, but now is all that remains.
For most people, a church is a "real" church only if it is a Gothic church: pointed arches, stained glass windows, high steeples – but careful: many church towers, even those of "authentic" medieval Gothic churches, were only added in the 19th century during the "Gothic revival movement".
This is true for St Lamberti in Münster, too – but the cages on the tower are authentic 16th century artefacts. They were used to expose the corpses of the proto-Communist and polygamous Anabaptists of Münster, rulers of their "New Jerusalem" from 1534 to 1535, after they were deposed and savagely slaughtered during the Siege of Münster. (Today, they would probably get a slot on MSNBC to discuss their ideas with Keith Olbermann.)
The only European country that never really fell for the Gothic style is Italy. Instead, they developed their own, highly distinctive medieval church architecture of which Genoa Cathedral is a good example.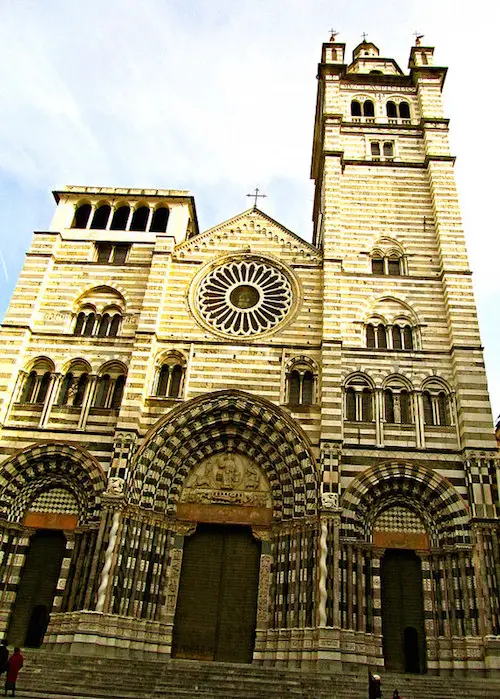 Around the middle of the last millennium, Gothic churches of Europe rather quickly went out of fashion – so quickly in fact that many of the later Gothic churches were never completed (see Münster) – and round, classical shapes became all the architectural rage again. The basilica of the Escorial monastery near Madrid can serve as an example.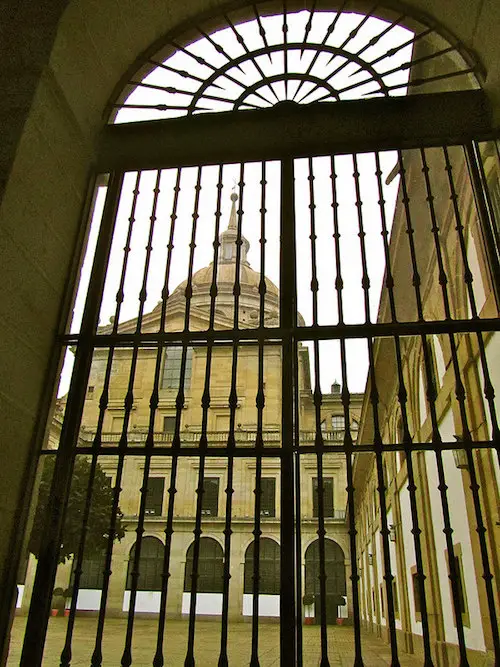 Even in Europe, however, not everything which looks splendidly "old worldly" is the "real thing". Construction works for the Almudena Cathedral in Madrid, for example, only started in the 19th century and were completed in 1993. Your own home may well be older than that. (Although it is, probably, slightly less grand.)
If you look closely at Madrid Cathedral, you can spot influences from many different periods and, indeed, cultures – this is true for nearly all churches that were built in the last 200 years.
Eastern and oriental influences are particularly strong in the Alpine region.
But truly great works of art are not inspired by other art, but by something that only the artist himself could identify – and perhaps not even he. All new styles of art, after all, must start from somewhere and have been "invented" by an inspired individual …..
….  and who knows, maybe one day, all new buildings – city halls, commercial centers, office blocks – will look like this?
Do you like visiting the churches of Europe when you visit? Share it with us Join in our Facebook page.