Biot is that rare thing of a Riviera hilltop town: as unassuming, authentic and unspoilt as you can expect any town in this part of the world to be
The stretch between Antibes and Nice Airport is, without a doubt, the ugliest section of the Cote d'Azur: on the one side of the road and railway tracks, you have a straight and featureless coastline (largely lifeless, too, with only few scattered swimmers around, even in the high season), on the other side an endless line of tyre distributors and discount supermarkets.
Not to forget the Marine Baie des Anges complex near Villeneuve-Loubet station (with its 1500 flats), the only Riviera development you can see from outer space. The whole area looks more like the outskirts of a scruffy oil town on the Gulf of Texas than a part of the Mediterranean's golden mile.
Which is why for once, the inland villages beat the coastal towns hands down. We had already been to Haut-de-Cagnes, which is lovely, and when we recently went to Biot, the largest settlement off this stretch of the coast, we were equally impressed.
Read also: Medieval Town Haut de Cagnes
Biot may not be as showy and elegant as some of the more famous hilltop towns in the area, but what it may lack in elegance and sophistication, it more than makes up through its absence of pretensions, lively charm and colour.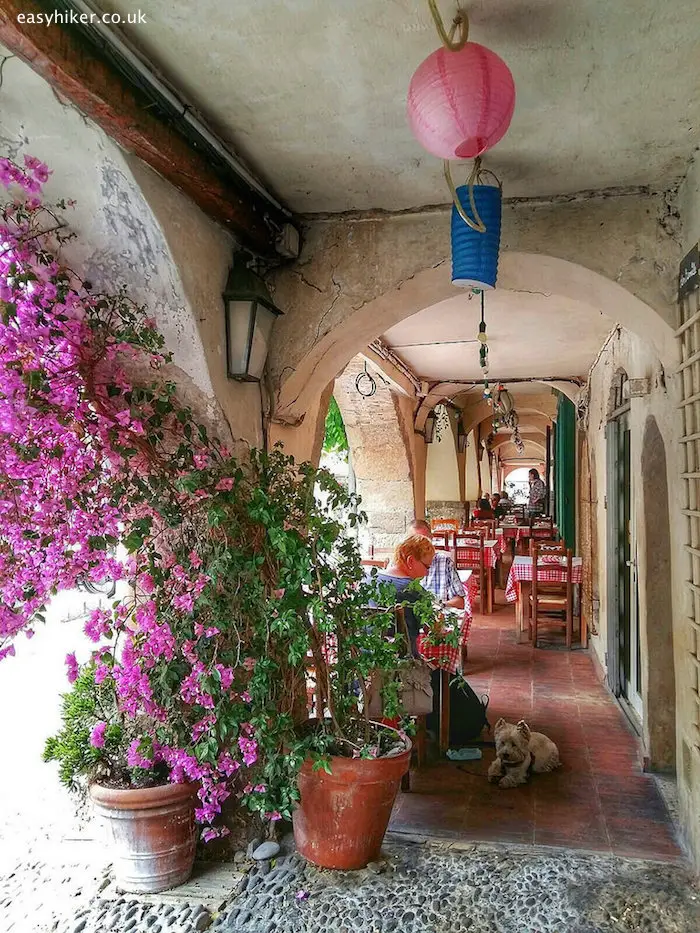 See Why the Back Country Wins in Biot
The walk itself (from Biot station to the town) neatly reflects the gradual improvement from the coast as you advance into the hinterland. Biot train station is surrounded by an ugly no man's land, the worst type of semi-rural sprawl.
Some of the streets in the area have numbers rather than names, a lack of civic pride so unusual for France that you wonder what may have happened here – perhaps it has something to do with the presence of a large trailer park.
There are a couple of minigolf courses and two theme parks, too, including the intriguingly named Antibes-land, suggesting a short cut to the Riviera experience featuring international yachtsmen and retired schoolteachers on their annual Picasso pilgrimage, but it is, rather disappointingly, just another amusement park.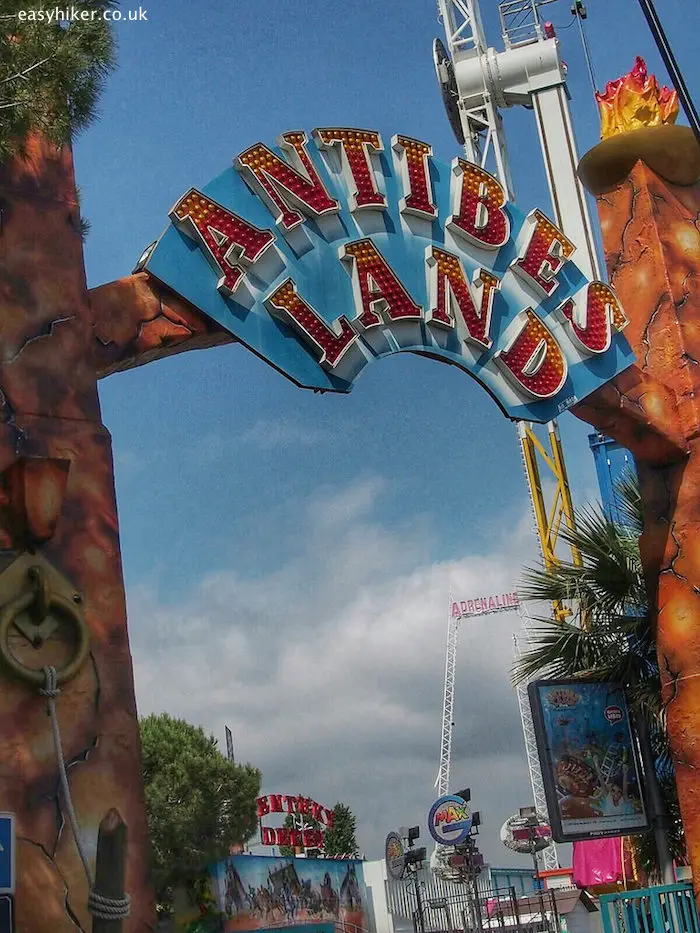 When you cross the motorway (after approx. 1 km), the worst already lies behind you. The rest of the way is rather lovely, even if you have to walk by a busy road. There are lush hills growing all around you, and you can peek into scruffy backyards with half-repaired pick-up trucks, reminding you that you are, after all, in Pagnol country (or thereabouts, at least).
Soon, at the Chemin du Val de Pome, you will see the street signs that point you towards the Fernand Leger Museum. The museum, full of works by one of the most original 20th century modernists, is about 400m down the road and well worth a look.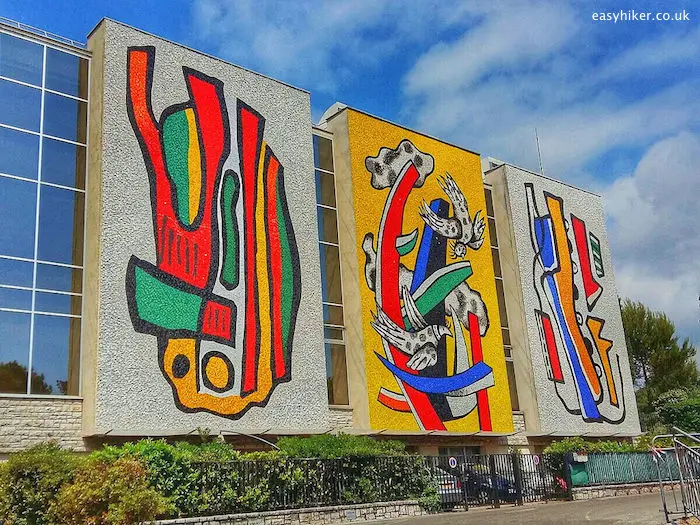 (For those of you who are too lazy to walk that extra quarter mile: you will get a distant glimpse of the place from the main road a little later, down the Chemin des Cabots.)
Read also: Vallauris Ceramics and Picasso
Like Picasso, Leger was also very active in ceramic art, and what Picasso did to help Vallauris rediscover its ancient craft of pottery, Leger did to Biot. You will spot many workshops along your way, demonstrating that pottery is, once again, big in the area, …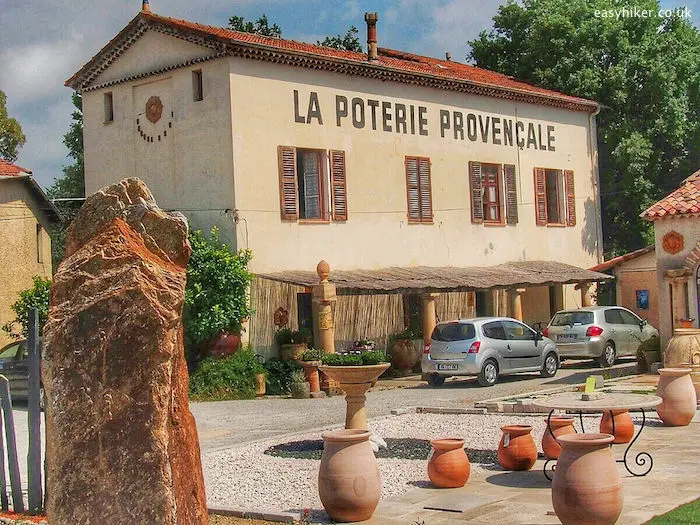 … although some of the businesses apparently feel a need to complement their range of services.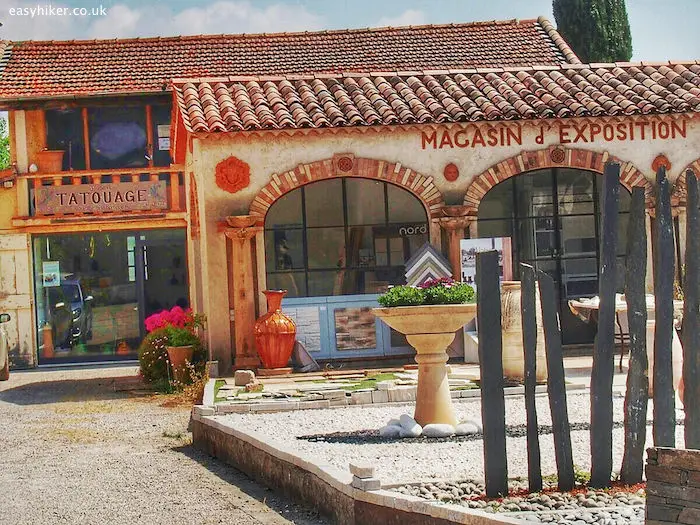 (Did you spot it? "Tatouage" in French means exactly what you suspect it does.)
It must be said that Biot itself – which you will already see on top of the hill at this stage of the walk – is not exactly unspoilt by tourism. If you are looking for that type of town, I am afraid, you are in the wrong region of France. But there is such a thing as "degree", and Biot is, by local standards, decidedly on the down-to-earth end of the range.
It does not matter much which way you choose to approach the town centre, as long as you remain on an uphill trajectory …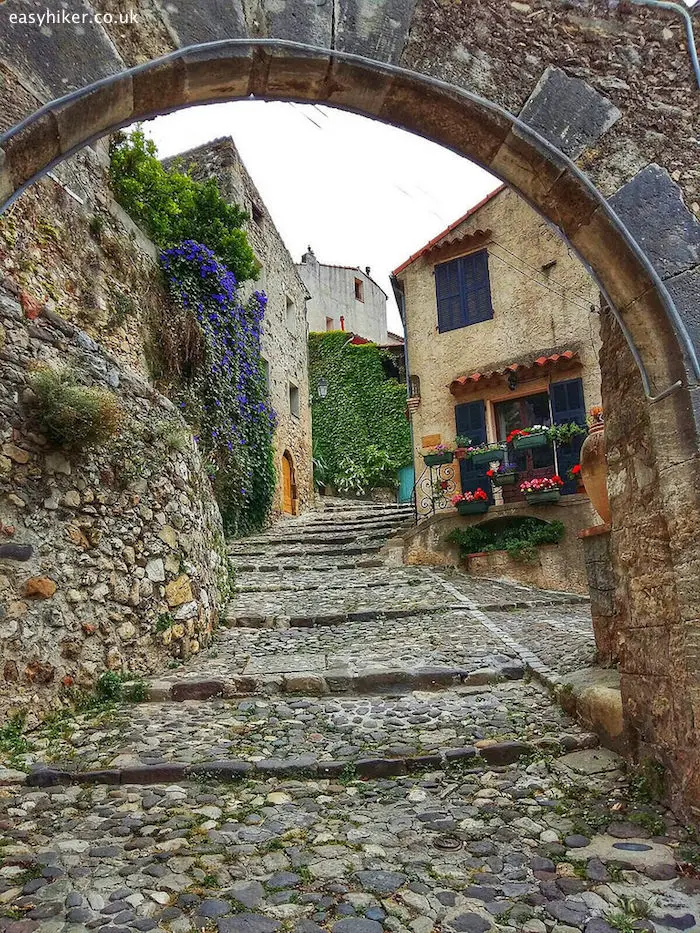 … all roads will eventually lead you to the Place des Arcades, the historical centre of town.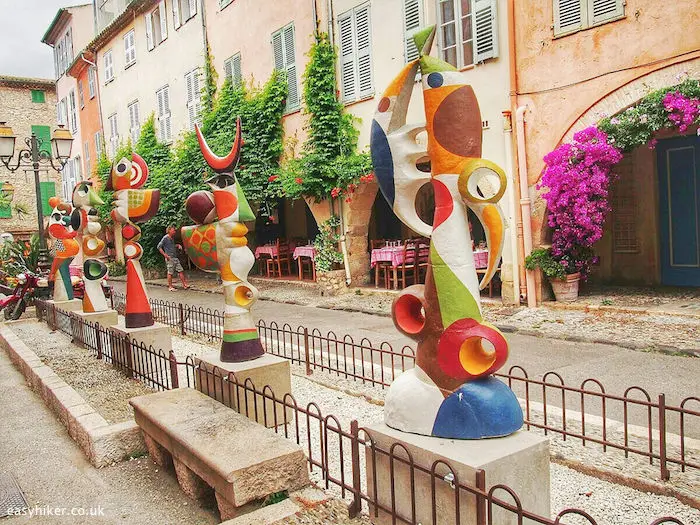 Until now, Biot will have seemed rather quiet to you, and you may not have met many people in the street, but that will change quickly on the far side of the Arcades on the Rue St Sebastien where the town is much livelier with a busy market, cafés, and day trippers.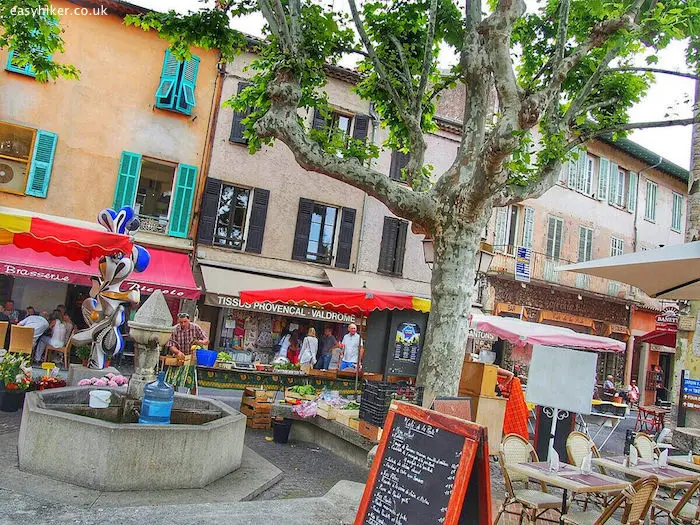 One reason, I find, why Biot is so attractive is that they have found a rather convincing way of answering The Big Question which is facing many hilltop towns in the area: how to combine their artistic heritage – their often strong connections to 20th century modernist art – with their medieval building fabric and street patterns. After all, these two are not the easiest or most natural of bedfellows.
Biot is approaching this conundrum in a frequently understated …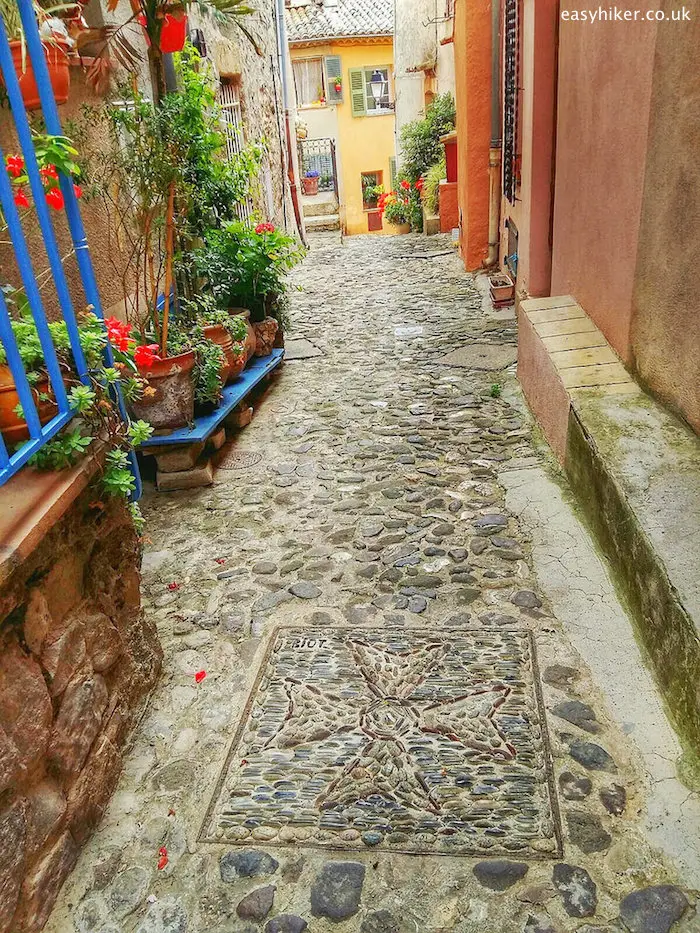 … almost casual …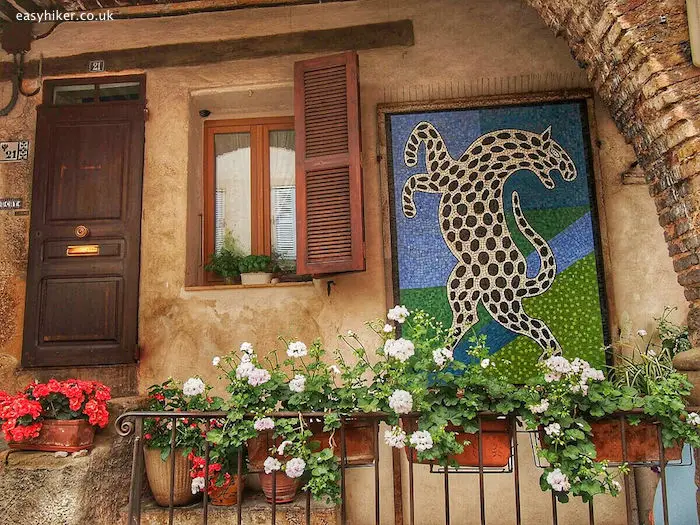 … and refreshingly cheerful sort of way.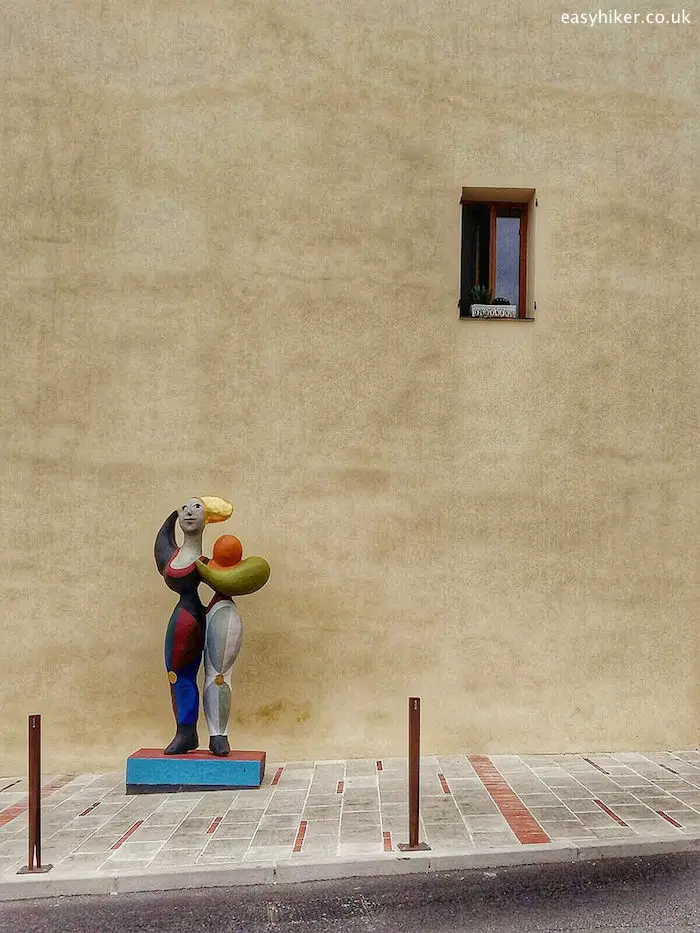 There is much to discover in the streets of Biot!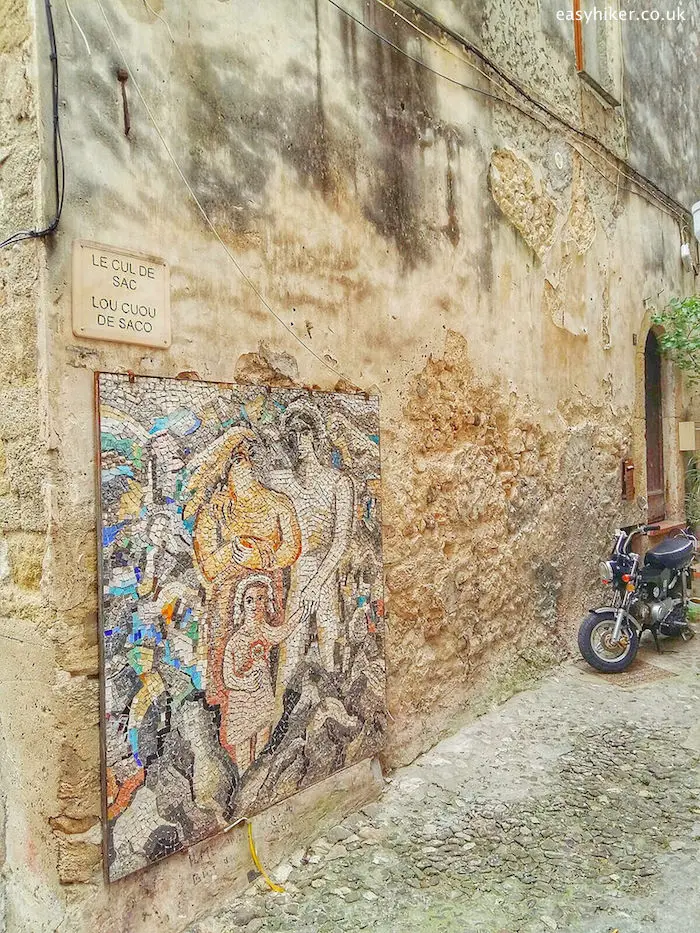 Where have you discovered a similar approach to street art?