Don't we all just love the Mediterranean! And aren't we grateful that we have its wonderful countries: for their food, their joie de vivre, the refuge they offer us at this or, indeed, any other time of the year.
Having said that, we must also admit that these countries are not perfect and that there are things they do not do very well. Things like, to name just one, Christmas.
The reason why Southerners struggle with the Northern idea of Christmas – which has become pretty much the global standard – is rather obvious: they don't need it as much.
Across Northern Europe (and much of North America), November is already pretty much the last word in bleakness, but if it weren't for Christmas – the lights, the commercial razzmatazz and the perfume ads on TV – December would be much bleaker still, by far the gloomiest month of the year.
Conversely, in Southern Europe, December is a much less terrifying affair – a little cool perhaps on some days when you will need an overcoat to go out, but overall sunny and dry, and certainly still warm enough to drink your mid-morning cup of coffee on the outside terrace by the beach.
Read also: Five Reasons to Visit Barcelona at This Time of Year
So when Mediterranean countries try their hands at Christmas, they generally get it slightly wrong, a little like French rock n roll or German sitcoms.
They are, however, getting better at it. The Silent Night Shopathlon that has been brought to them from north of the Alps may still sit a little uncomfortably on the shoulders of their own, older and gentler Christmas traditions, but Mediterranean high streets and city centres are becoming less clumsily derivative and more confident in exploring new ways of merging the old and the new, the native and the imported seasonal customs.
Barcelona – City of Christmas Lights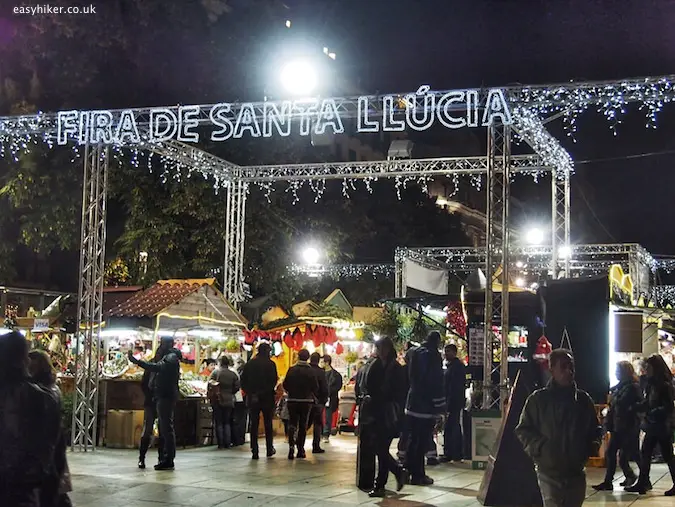 As usual, Barcelona – perhaps the Mediterranean's most internationalised city – is leading the way. Their Christmas market, the Fira de Santa Llucia for one, underneath the Cathedral in the city's Old Town …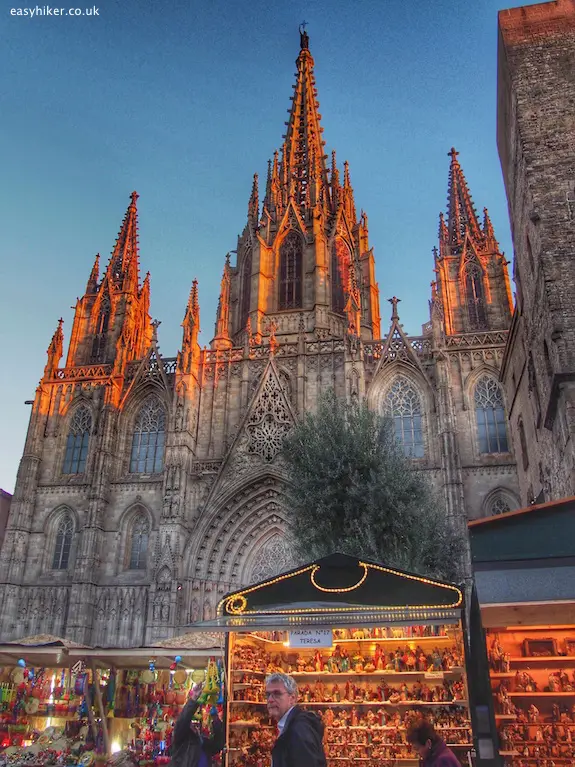 … may be a little short on mulled wine and gingerbread, but scores high on local colour. You will see many things that you may not readily associate with Christmas …
… and some things that you would not associate with Christmas at all.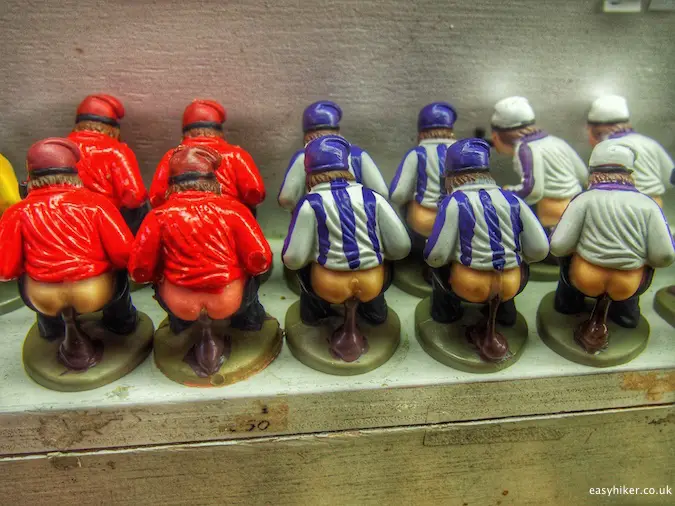 But the Caganers, the "little shitters", have played the part of the uninvited, misbehaving guests in local nativity scenes for centuries – and today, you can purchase them in nearly all shapes and sizes, dressed up like famous footballers or politicians. Or, in the latest version, the full cast of Star Wars – The Force Awakens.
Barcelona also leads the way in innovative and original Christmas light designs. Different streets have developed different concepts, ranging from traditional, Christmas-tree-and-bauble inspired motives …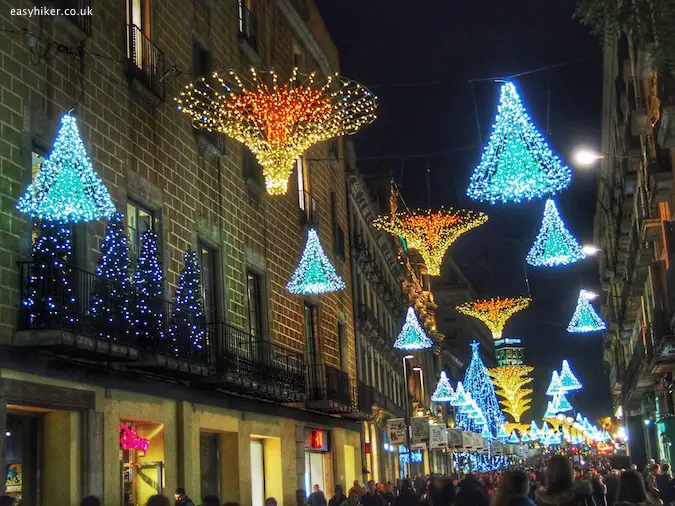 … including Jingle Bells or Christmas stars…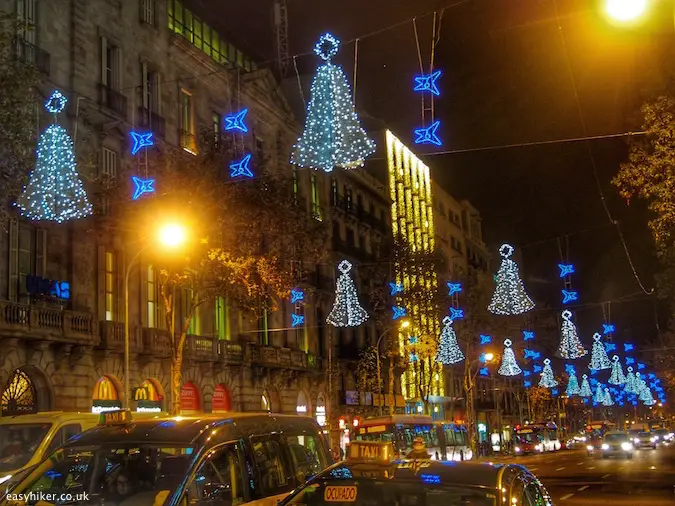 … to more abstract approaches …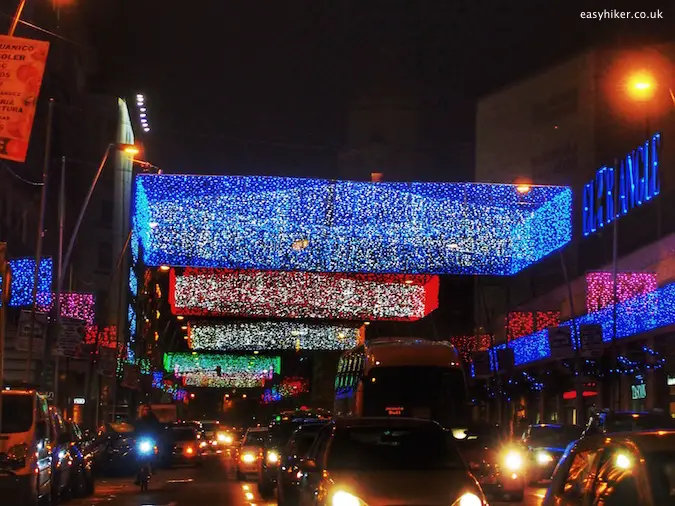 … and the downright baffling, such as the squiggly human faces that are decorating Las Ramblas.
I also liked this motive, used by all streets around the inner-city Sant Antoni market just outside our apartment …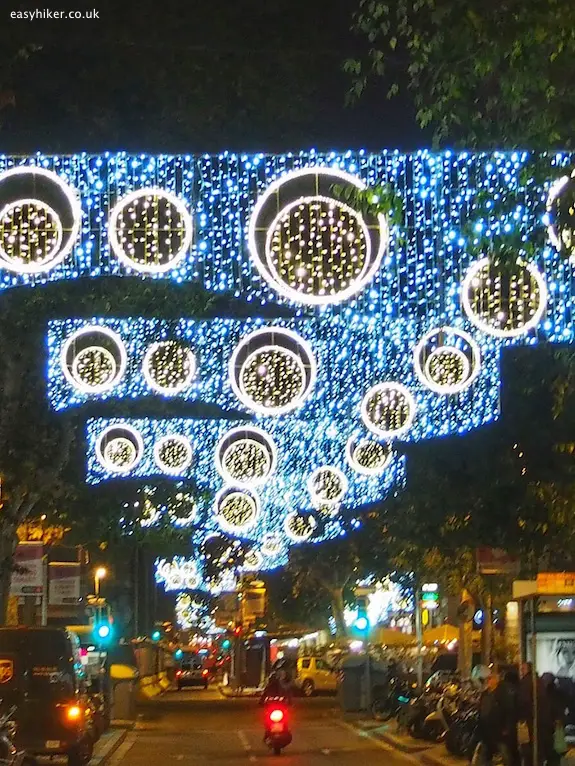 … which appeared to strike a slightly different note from the posher streets in more central and wealthier districts of Barcelona.
But my clear favourite was this one, also on Las Ramblas …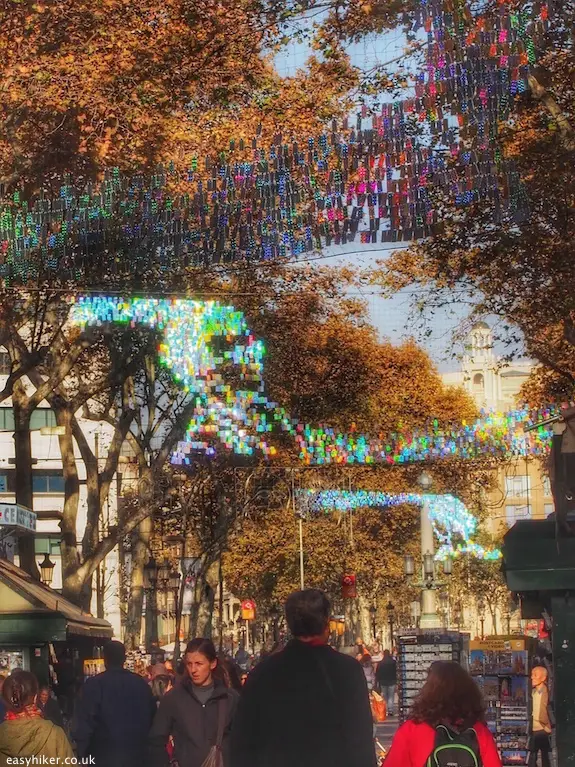 … a Christmas light designed to unfold its dazzle only in the Mediterranean sunshine. Now beat that, London and Paris!
Do you think Barcelona deserves to be called City of Christmas Lights?
More tips coming for your next visit to Barcelona. Don't miss them by subscribing to our updates via email or follow us on Facebook, Instagram and Twitter so as not to miss our coming tips on what to see and do in Barcelona at this time of year. Why not include us in your G+ circles too?