A short train away from Freiburg, you can familiarize yourself with some of the area's charms in a brief and very easy walk
There is, of course, no law that says every hiking trip to the Black Forest must include at least one stage of the Westweg.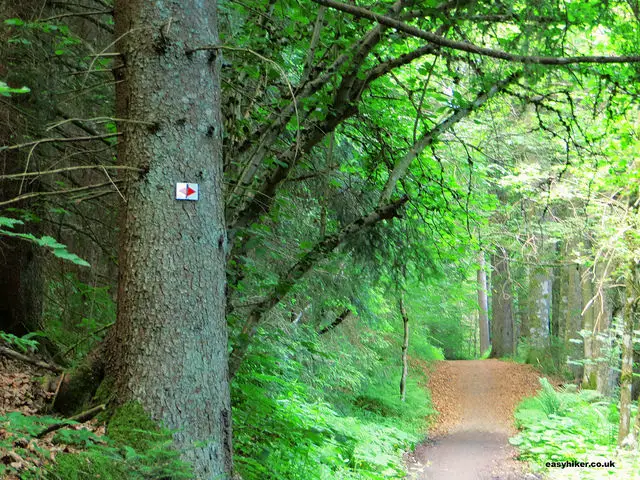 There is, however, a nagging feeling that without such a stage, your trip would seem strangely incomplete, in the same way that a trip to Paris only feels consummated after you have climbed the Eiffel Tower and marched down the Champs Elysees.
The Westweg, after all, is the main hiking trail of the Black Forest, the one that leads you down its spine – over a total distance of 280 km – from one mountain and one major sight to the next.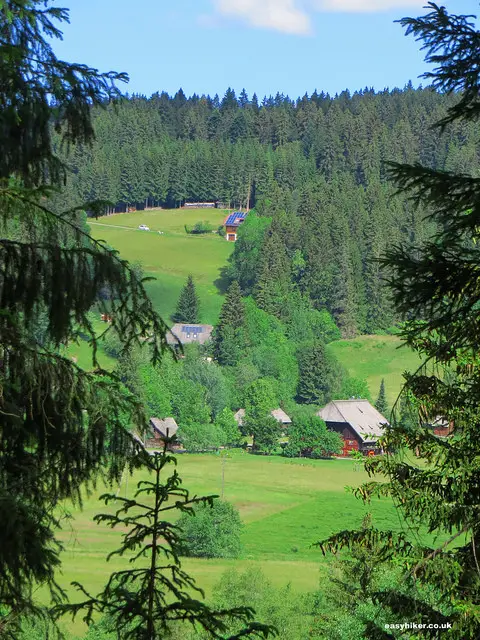 Which is why we were looking for a nice but short stretch of the Westweg that we could do as a day trip from Freiburg – we did not have much time (trains to Titisee are frequent and take little more than 30 minutes), but neither did we want to miss the experience, specifically as this was our first time in the south of the Black Forest having previously only toured the north.
Eventually, we settled for the last stretch of the Westweg's stage 9, the hike from Titisee to Bärental, Germany's highest railway station. This trail is what we can call a Black Forest for beginners trail.
Titisee is the name of the train station near the eponymous lake ("Lake Titi"), which is surrounded by a great number of hotels and restaurants. There is not a great deal to see here, but it still pays to have a good look around.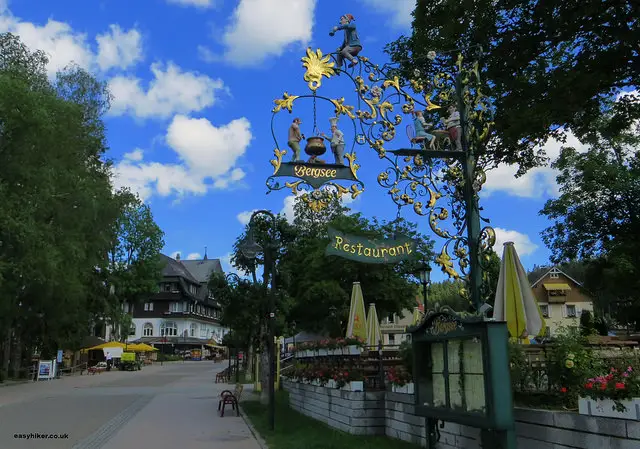 If you have visited Germany more than once and have been to different parts of the country, you will undoubtedly have come across areas – the half-forgotten villages of the east where only the elderly have stayed behind, the "rust belt" along the river Ruhr – where the country appears determined to defy its image of a powerful and modern high-tech economy.
In places like Titisee, conversely, everything oozes a proud, even slightly smug prosperity (as though you were already in neighbouring Switzerland). In Bavaria, they have their "laptops and Lederhosen" model, globally leading technology companies embedded into a setting of happy cows and snowy mountain tops.
Here they have a similarly successful combination of "computers and cuckoo clocks" – on many train journeys through the area, you will never know what to admire more: the beautiful countryside or the density of high-tech factory halls and corporate HQs.
Our hike – like most of the Westweg – leads through the more quiet, "untouched" parts of the Black Forest, and we were overall rather happy with our choice. There were, nevertheless, two problems with this half-stage of the trail.
Firstly, for the first three kilometres or so, we were walking on the banks of Lake Titi …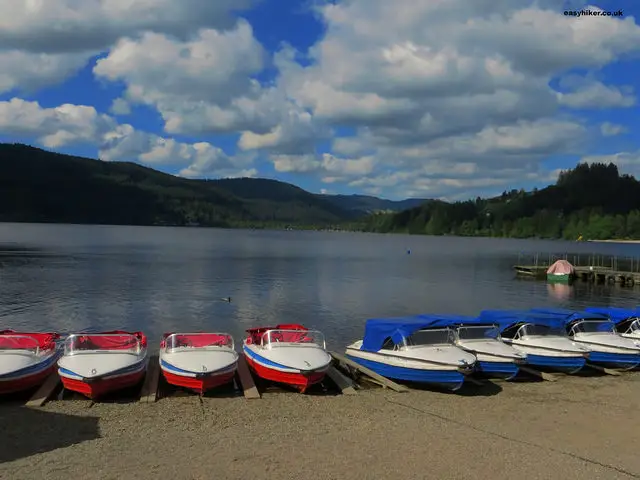 … and we soon got heartily tired of complying with the German custom of greeting fellow hikers – for the simple reason that there were simply too many of them. (Imagine saying "hi" or "hello" to every person you meet on a stroll through your municipal park.)
Actually, most people we met were not really "hikers" (and therefore, strictly speaking, exempt from the mandatory exchange of greetings. But who wants to appear snooty?) but seemingly guests at one of the numerous lakeside hotels or camping sites, walking along the river bank to pass the time between breakfast and lunch. (We also felt, for this stretch at least, that we were the youngest people on the trail. That does not happen to us a great deal these days, so we should perhaps be grateful for the experience rather than grumble.)
Secondly, and far more gravely, there is the length of the stage, or, rather, the lack of it. Our hike came in at roughly 7 km, and since it was a very easy walk with no steep climbs and descents, we arrived at Bärental (937 metres above NN) …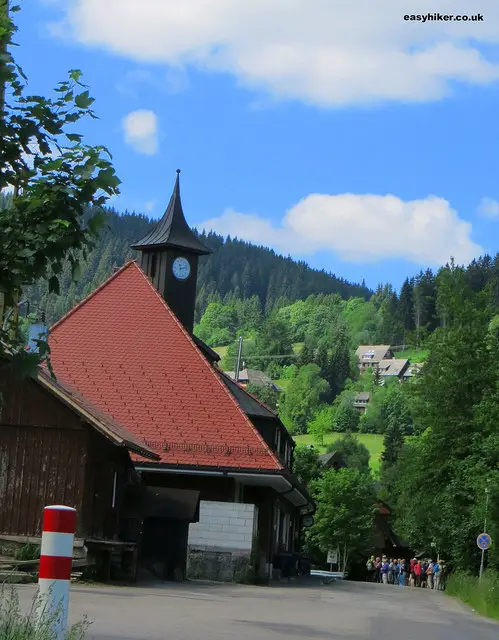 … some time before lunch.
We would have like to extend our hike a little but could not because there was no obvious breakoff point on the next stage of the Westweg, the one that starts at Bärental and takes you to the southern slopes of the Feldberg, the Black Forest's highest peak.
There is a bus from Bärental station that ferries you off to a viewing platform and a small restaurant near the top of the mountain, and this is certainly something you could do to pass the rest of the day. I cannot tell you, however, whether this trip is worth your while, because the bus arrived only a couple of minutes after us, and before we had the time to make up our minds whether we wanted to join what looked like a large party of local tourists, it had already closed its doors and driven off.
As an alternative, you can take the train to the next lake, the Schluchsee ("Lake Schluch"), for a brief "walkabout". That's what we ultimately decided to do as well.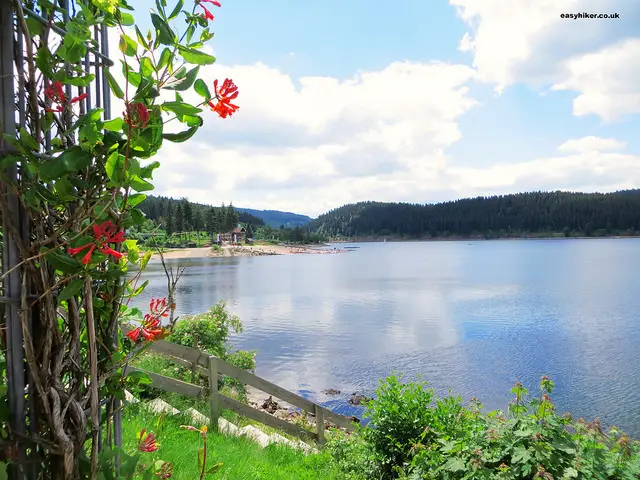 One word of advice if you decide to follow in our footsteps: Schluchsee station has the (slightly) livelier village attached, but you will find a larger choice of hiking trails at Seebrugg.
Don't miss our next hike in Germany. Follow us on Facebook  and Twitter, and include us in your G+ circles