The circular walk around the moated castle of Kemnade and the medieval Blankenstein fortress ticks all the boxes of a pleasant hiking experience
Some hikes are great because they focus exclusively on One Big Thing and never let you forget how magnificent that One Big Thing is: hikes through the Grand Canyon, for example, fall into this category, but so do – one level down on the scale of awesomeness – ascents of the smaller peaks in pre-Alpine regions.
But this is not the only way of achieving greatness. Hikes can also do this through a process of incrementation, a kind of "greatness by number" if you like, which works by adding up everything that contributes to a pleasant hiking experience: by providing a good blend of forest and open countryside, enough ascents to make the hikers break a sweat without exhausting them, by throwing in a castle along the way with a pretty village attached, by opening up vistas that reach far into the countryside and by making it all end in a picturesque old town where you can let your impressions slowly sink in over a meal or a cup of coffee in historical surroundings.
The Blankenstein trail ticks all of these boxes, even if you have to cheat a little about the old town at the end, and what's more: it offers all of that in the middle of Germany's most densely populated area which is why it is extremely easy to access by public transport. What's there not to like?
Plus it offers something I have not even mentioned yet: an interesting starting point, the moated castle of Haus Kemnade near the post-industrial town of Bochum in western Germany …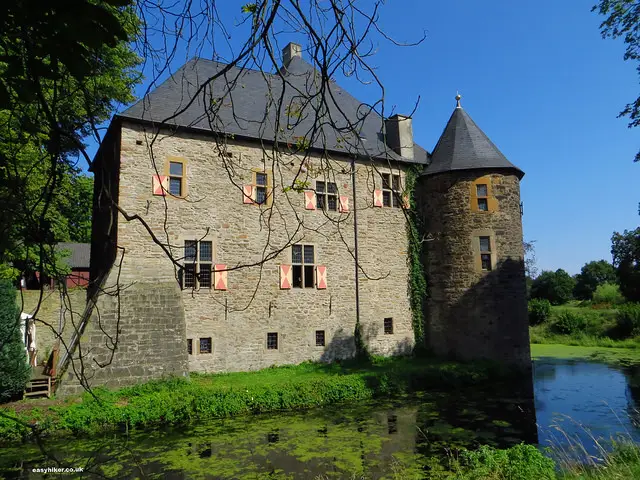 … an authentic piece of history, 400 years old, which today accommodates a museum and a jolly fine beer garden, both worth exploring before you set out on the trail.
Into the Perfect Hiking Trail
Leave Haus Kemnade by turning left into the busy country road that passes it, cross the equally busy road that you will encounter after a few hundred meters (called Wittener Straße) and turn right (uphill) immediately behind the traffic lights, into what looks like a factory driveway but which is in fact the path – called Im Katzenstein (look for the street sign a little further up) – that leads straight into the forest. After about a quarter of a mile, the proper trail begins.
Simply follow the sign that says "Rundwege" (circular paths), and – from here on – just let the A2 arrows guide you past views over the distant Lake Kemnade …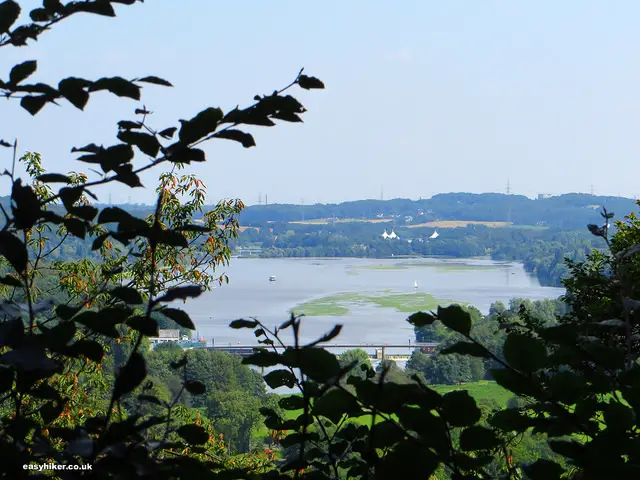 … in between wheat fields and farms …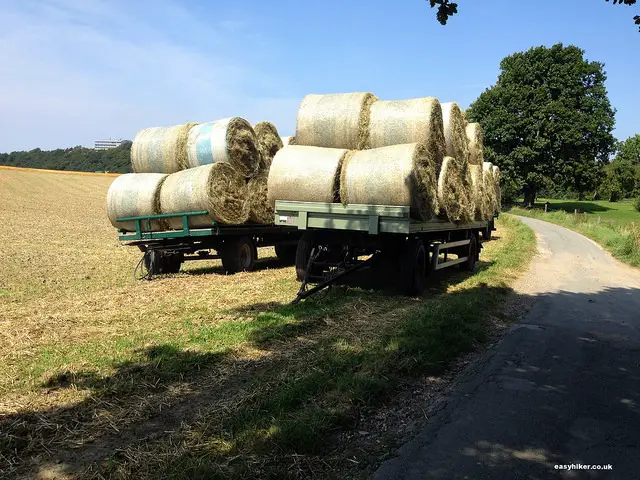 … and through the dense and nearly primeval Katzenstein forest which gives you a good idea of how scary the fairy tale jungles of Hansel and Gretel must have looked and felt like.
This is decidedly not a "tree farm" like so many other German forests but a natural conservation area – which is also why trees that have fallen down are not cleared away, no matter how much they may be in the way.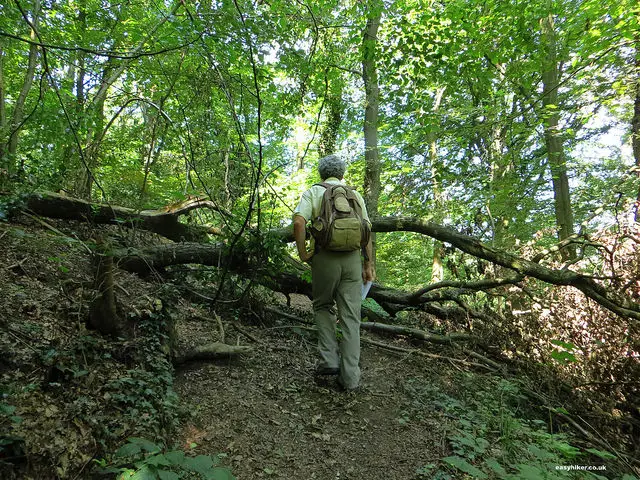 The trail is excellently marked, even by German standards, but, in fairness, it needs to be, too, because it can get a little tricky here and there: inside the forest, paths often cross each other, and it is not always immediately obvious which of them you are supposed to follow, the trail makes many twist and turns, and a couple of times, you have to cross a major road and need to look for the arrow which points you into the right direction on the other side. I could easily write 1000 words merely to give you detailed instructions, but, honestly, there is no need for that. I can just as well say it in five: Just stick to the A2.
You may only need assistance in one particular spot, which is located about one third of the way in just before the village of Blankenstein. Here, you may want to take a detour to 13th century Blankenstein Castle, walking up in the direction of the church on your right hand side to the castle tower right behind (note: open only during the summer months) …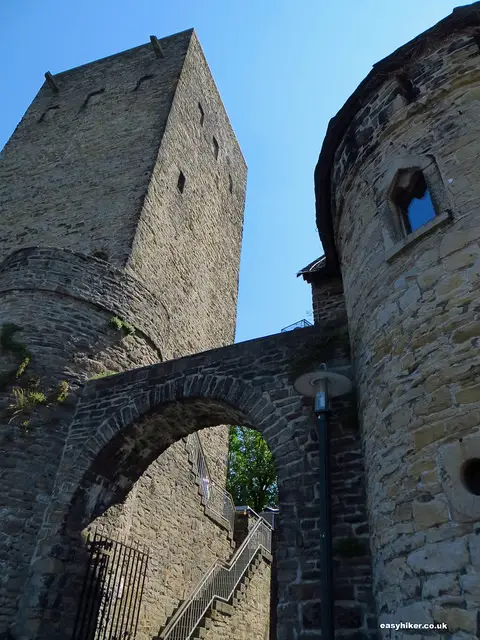 …from where you get great views over town and country.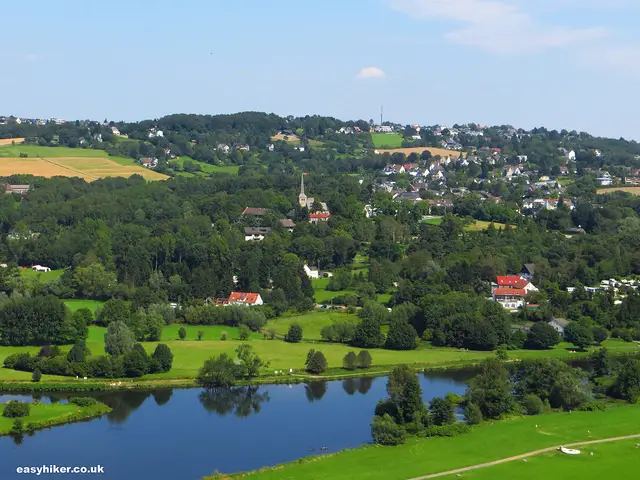 When you return to the parking place at the foot of the church, the markers are a little confusing, and you will find yourself faced with three options: do NOT walk back to the forest, do NOT proceed in the direction of the village, but take the third route, the one slightly uphill on your left, and cross the road just behind it – where, on the far side, you will immediately spot the reassuring arrows of the A2 again.
To reach the trailhead of this perfect hiking trail, take bus no. CE31 (direction Hattingen Mitte) from Bochum central train station (which is well integrated into the German rail network) and leave at the stop called Haus Kemnade. (The bus ride takes about 25 minutes. Watch out for your stop right after crossing the big bridge across the river Ruhr.) You will find the moated castle right across your stop behind the trees.
The A2 is a circular trail (of just under 10 km / 6 miles length), so will you return to the spot where you entered underneath the "Rundwege" sign in Katzenstein forest. On your way back, leave the forest on the same path you had used to come in, but turn left into Wittener Straße at the traffic light. There is a bus stop on your right hand side from where you can catch a bus (you can use either of the two lines) to Hattingen Mitte – and to one of the loveliest historical old towns in this part of Germany.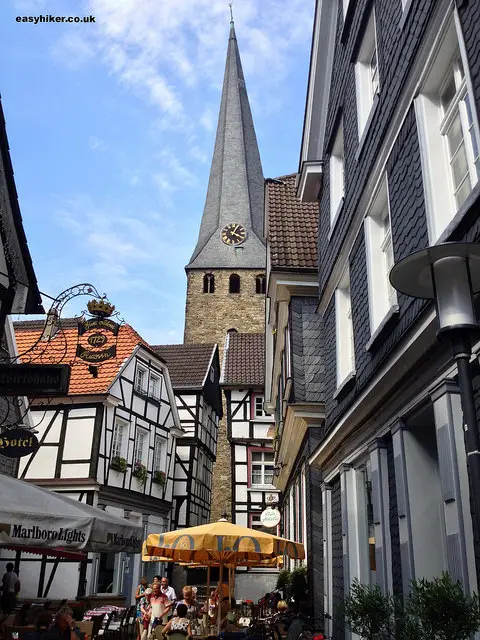 We visited Hattingen before – they have one of west Germany's prettiest Christmas markets there – but this is really a town for all seasons, and a cold glass of beer on a sunny summer afternoon will do you just as good as a Glühwein in Hattingen's winter wonderland.
Do not make the mistake of missing Hattingen – even though you have to cheat a little by ending your hike with a (short-ish) bus ride (again with bus CE31 to Hattingen Mitte). It's well worth your trouble.