London Walks
Legendary towns have legendary streets and quarters. I have never lived in New York City, but I know what everybody knows: that Madison Avenue is a by-word for the country's (and the world's) advertising industry, that Broadway is the home of live entertainment and that Wall Street is the place from where the gangsters operate (spot the joke). But London, another legendary town, is – to my knowledge – the only city in the world that has a writers quarter.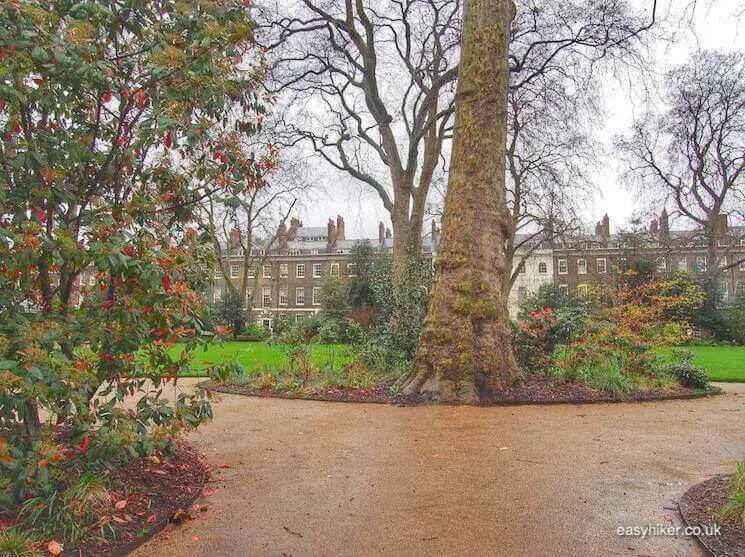 The Writers Quarter of London
This is the area known as Bloomsbury, north of Oxford Street and to the east of Tottenham Court Road. Today, we are going to explore this part of west London which is as pretty as it is steeped in history.
Many people believe that Bloomsbury is so closely associated with literature in general and the history of modernism in particular because some of the most famous 20th century writers happened to live here, more or less coincidentally.
In truth, however, the association is rooted in the area's long tradition of publishing. Even Virginia Woolf, the central character of the "Bloomsbury Group", only lived here because her husband Leonard operated a small publishing house on Tavistock Square. Most English publishers at the time had offices in Bloomsbury. These offices did, of course, not house any printing presses, any admin or sales staff, just the book editors: these were the people who commissioned books, who were in charge of recruiting new talent and who had to gently coax their writers through creative blocks and missed deadlines.
On Bedford Square alone you can find the former premises of Hodder & Stoughton (the original publishers of Edgar Wallace's crime fiction and of J.M. Barrie's "Peter Pan") who resided at no. at 47 …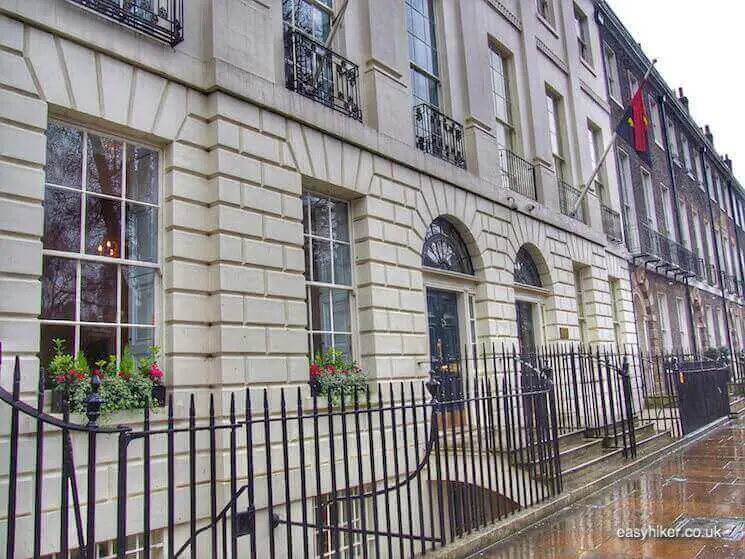 … and those of Chatto & Windus (whose authors included H.G. "Time Machine" Wells, Aldous Huxley and Marcel Proust), Jonathan Cape (James Bond and James Joyce, Hemingway, D.H. Lawrence) and Bodley Head (Agatha Christie, Oscar Wilde) who all shared the house at no. 31/32.
None of these companies survive in anything like their old form: all were bought up 20 to 30 years ago by larger, often American publishers, and when the new owners analyzed the cost structures of their acquisitions, the swanky editors' offices were generally the first "cost centers" to go.
Many writers today feel that they are living in hard times, yearning for a golden age sometime in the recent past when it was easy to make a decent living from writing alone. In truth, writers have always led precarious lives, and many of the writers whose names we today recognize as famous sold books in their hundreds rather than thousands.
Wealthy sponsors were therefore always welcome , and nobody sponsored the literary arts on a grander and more eccentric scale than Ottoline Morrell. She had a town house on 44 Bedford Square in the early years of the 20th century …
… before taking her pacifist opinions and like-minded friends to the family's Garsington country estate for the duration of the war (where she entertained, among many others, the war poet Siegfried Sassoon and D.H. Lawrence, who later thanked Ms. Morrell for her hospitality by immortalizing her with a cruel caricature in his novel "Women in Love"). In 1927, she moved to a house on 10 Gower Street just around the corner (look for the blue plaque).
Now turn right into Montague Place, passing the Stalinist brutality of Senate House (the inspiration for George Orwell's description of the Ministry of Truth in "1984") …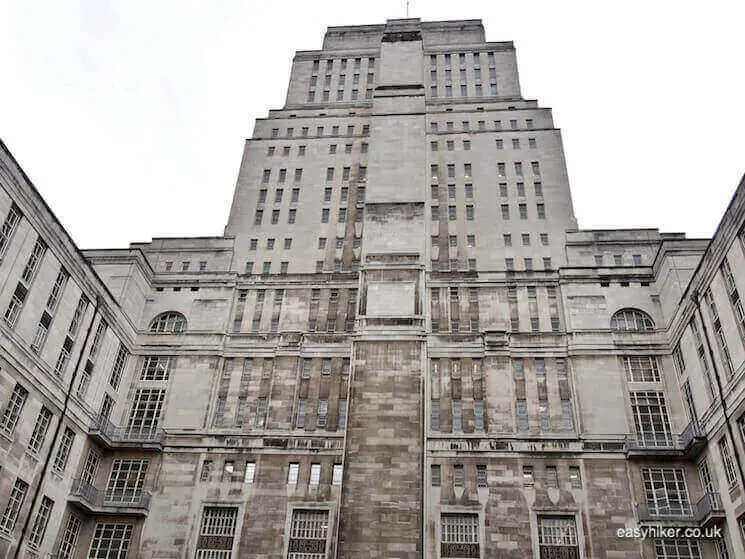 … to Russell Square.
The building on the far corner to your left was the old HQ of the publisher Faber & Faber, where T.S. Eliot worked as an editor – and sometimes lived (in a flat on the top floor) – from 1925 to 1965. His office was on the 2nd floor, and you can see the window in the back of the building from Woburn Square.
It was also here where Mr. Eliot met Valerie Fletcher (who worked for him as his secretary from 1949 onwards), who later became his second wife (when he was 68 and she was 30) and eventually his literary executor.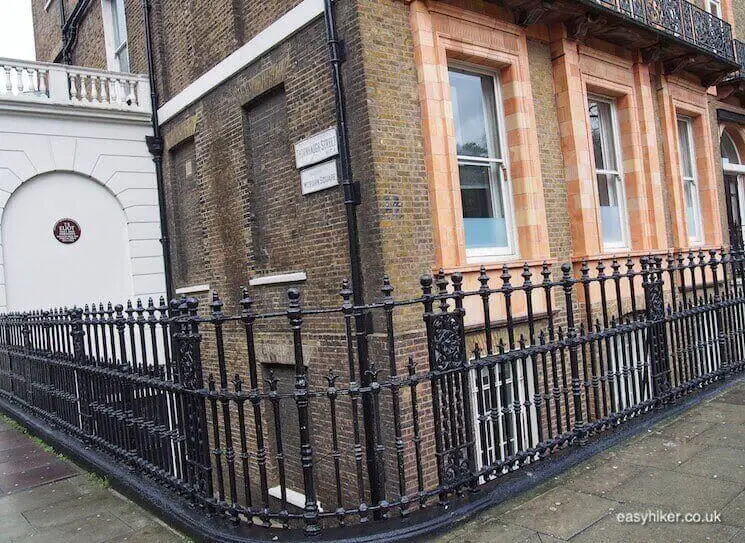 Just a few blocks behind you (on the other side of Russell Square), you can find the offices of the Duke of Bedford who owns pretty much all the land you see around you with the exception of the grounds underneath the British Museum and the various University buildings.
There are 24 hereditary dukedoms in Britain (not counting the "royal dukes", i.e. close relatives of the Queen without a title of their own), whose current holders range from a South African signage maker and a London-based chartered accountant to, well, the Duke of Bedford whose ancestors have pretty much held on to everything the family ever owned.
Their family name is Russell, hence the eponymous square, and while not every Russell you will ever meet is a relative, a few of the famous Russells are, including the 19th century Prime Minister John and the philosopher Bertrand.
Walk along Woburn Square to Gordon Square, where Virginia Woolf once had a home (no. 46) and right towards Tavistock Place. Leonard Woolf operated his Hogarth Press publishing house from here (the building was destroyed in WWII), and the war poet Wilfred Owen briefly lived in 1915 at the Tavistock Hotel.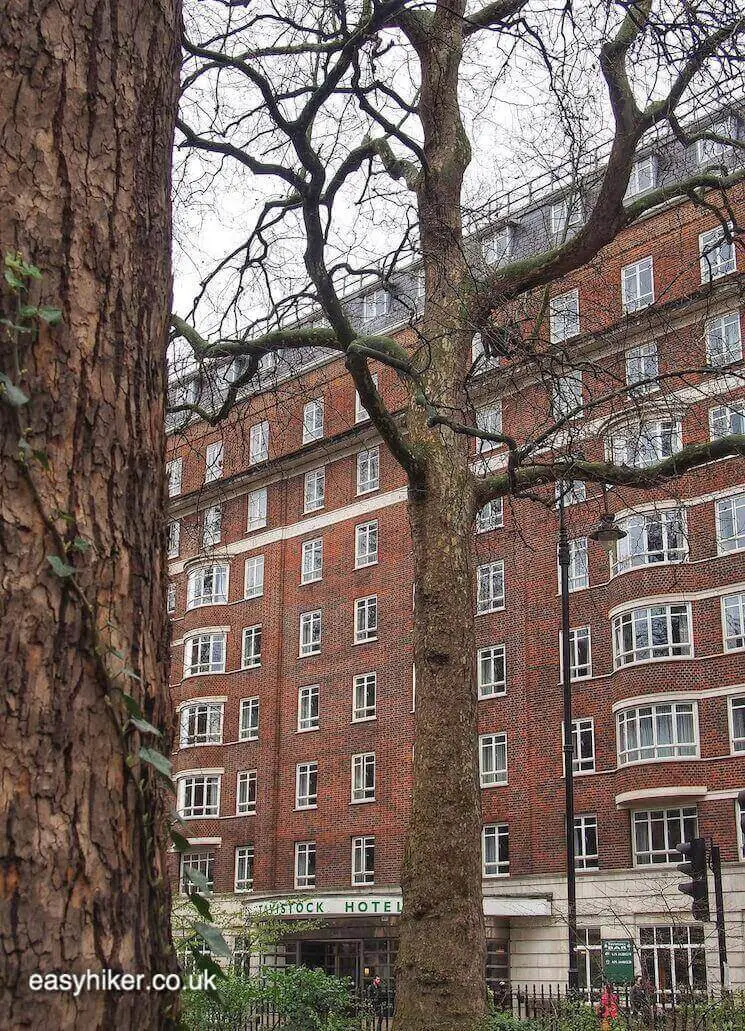 Continue straight up Tavistock Square and turn right into Gower Place for St Pancras Church, built in 1822 when it became the most expensive church built in London since the completion of Wren's St Paul's Cathedral.
Have a look at the caryatids outside which were famously found to be too tall when delivered, which is why a slice had to be cut from their middles in order to make them fit.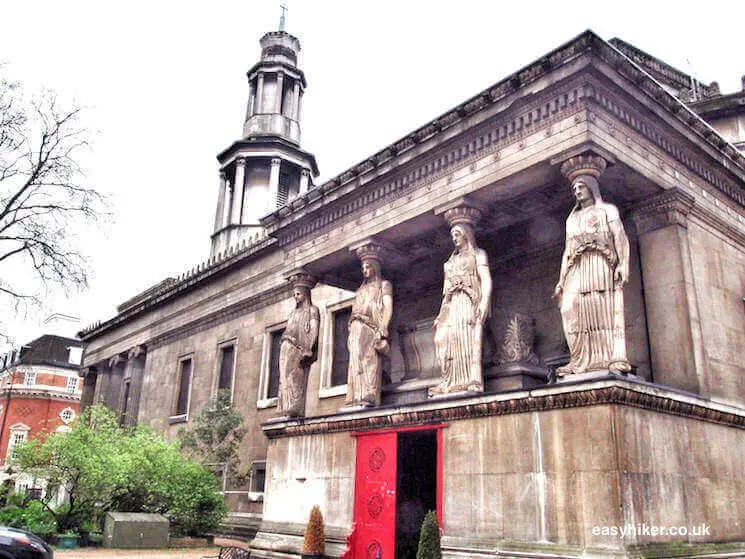 Turn left into Woburn Walk where, at no. 5, W.B. Yeats lived from 1895 to 1919.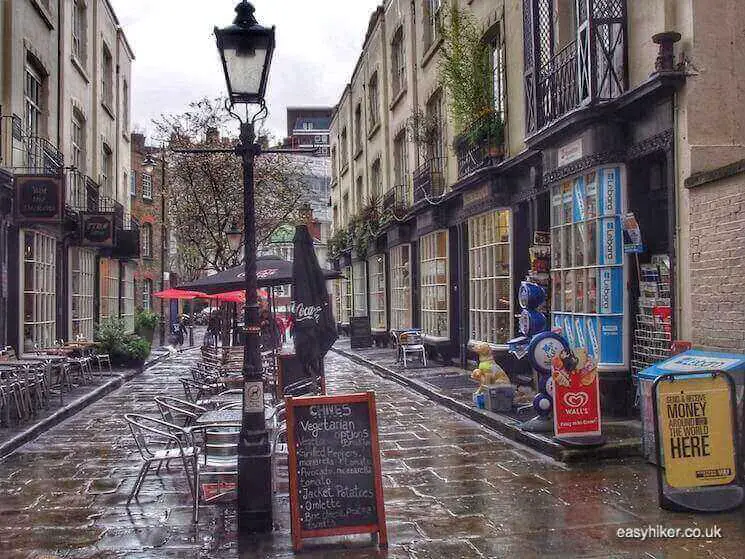 Turn right into Burton Street and then left towards Cartwright Gardens. Make your way via Tavistock Place and Hunter Street towards Brunswick Square where you find Coram Fields where London's first Foundling Hospital was established in 1739, now a large park and playground owned by an independent charity. Only the southern colonnades remain of the original buildings.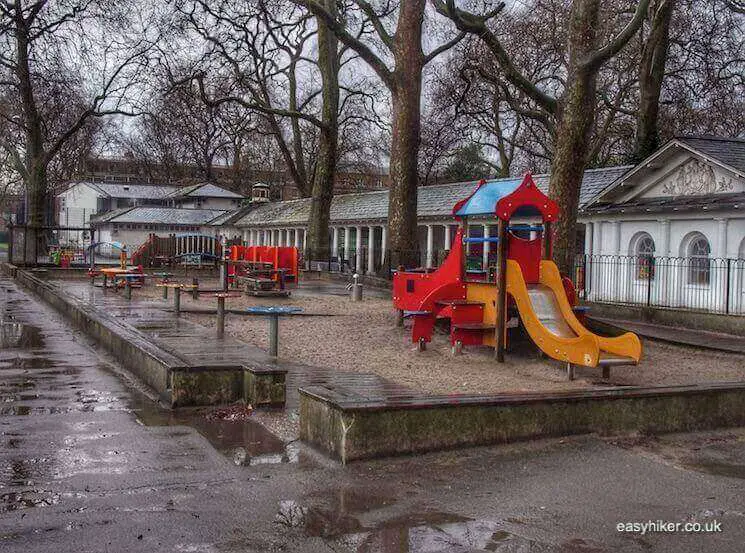 Turn into Doughty Street on the Fields' southern side past the Charles Dickens House where the author lived for three years in his late twenties (finishing "The Pickwick Papers" and "Oliver Twist") and right into Northington Street at the end.
Turn right and immediately left into Rugby Street where, at no. 18, Ted Hughes and Sylvia Plath, the Heathcliff and Cathy of modernist literature, spent their wedding night in a flat that belonged to one of Mr. Hughes's friends.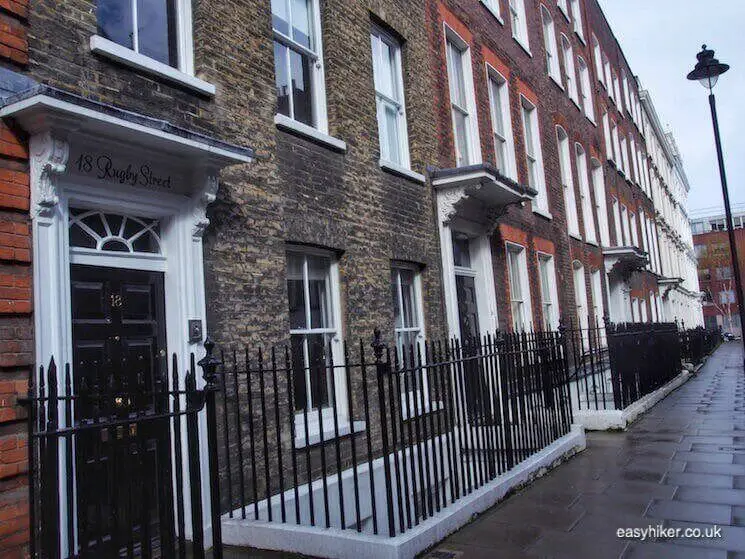 Now turn right into Lamb's Conduit Street and left into Great Ormond Street past the famous Children's Hospital into Queen's Square. Here, in the church of St George the Martyr, Sylvia Plath and Ted Hughes got married in 1956.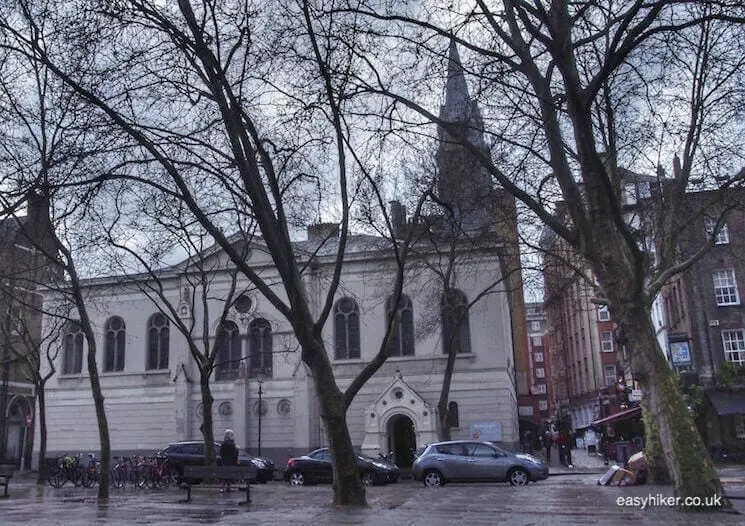 There is a nice little garden at the top of Queen's Square where you can rest for a while and conclude this walk by wondering how many famous writers may have been sitting on the same park bench: the publishing house Faber & Faber, after all, operated from the building at no. 3 from 1970s until 2009.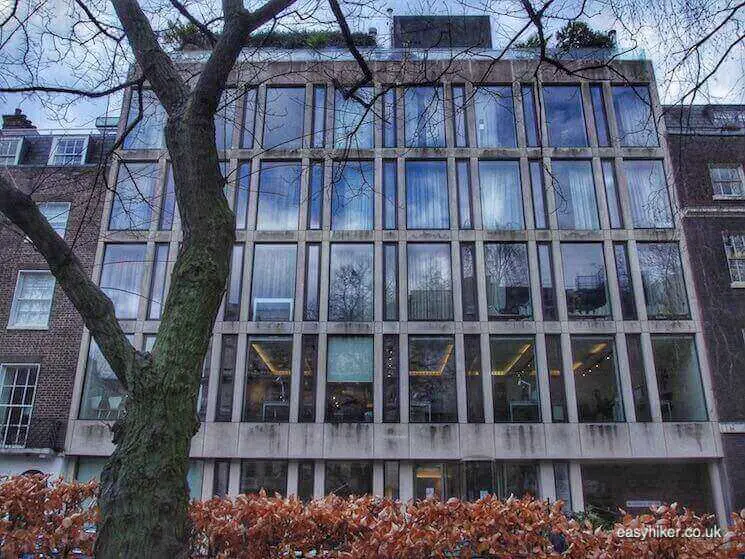 They are also the only major publisher that has stayed faithful to Bloomsbury, by the way, still operating from local premises on Great Russell Street.
If you are into literature and history, we hope this walk through Bloomsbury, Writers Quarter of London, would interest you.