Visiting Castles and Palaces in Europe
One of the pleasures of hiking, as I said recently, is the joy of discovering different types of European churches – and of learning to distinguish between the different architectural styles.
Virtually every village has at least one old church, and in many places, churches are the only old buildings around. Residential buildings in past centuries were often made of wood or straw, and all it took to destroy them was somebody huffing and puffing and blowing the house down – or, perhaps, letting a candle drop.
The only other buildings that were built to a similarly high standard as churches (and made of stone) and consequently capable of surviving into the modern age, were the residential buildings of the rich.
The Middle Ages must, by the looks of it, have been a fairly lawless period because the wealthy folks obviously felt that they had to protect their goodies at virtually any cost.
Gradually, however, the social climate in Europe became more secure and civilized. By the time most moated castles were built, the moat itself had long lost its military relevance and became a mere ornament, like the hedge in front of a suburban home, actually, or a garden fence.
The homes of the high aristocracy – including, of course, the homes of kings and queens – were never just homes: they also served as statements and were meant to be seen and to be read by other important people.
We still can see today what kind of a chap Philipp II of Spain was, or at least as what kind of chap he wanted to be perceived, by just looking at the outside of his fearsomely austere Escorial residence …
.. and when Napoleon moved into the chateau of Compiègne, he removed all traces of the previous owner's flippant taste – King Louis XV – and changed the building into what was in effect a luxury military barracks.
The Krupps. Germany's foremost industrial family, may not have been crowned heads at all, but showed with their palace near Essen that this was exactly the standard they wanted to be measured with.
The Belle Epoque ruling class may have been less authentically aristocratic than its predecessor – one or two bourgeois upstarts may have actually had to buy their own furniture – but their architectural vocabulary was quite conventional: buildings were formally disciplined in the Roman way, Napoleonic in scale, ostentatious and, if possible, perched on a hill like a medieval redoubt – even if we are talking about a hotel on the Cote d'Azur.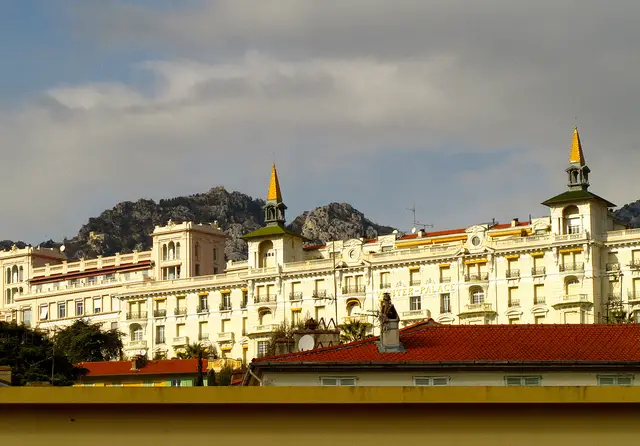 What are your favourite castles and palaces in Europe?