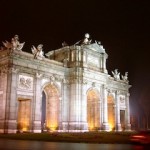 There can be no question about it:
Midnight in Madrid – Magnifique!
Some cities just are. When spotlights carve out individual buildings out of the darkness, leaving others in a haze of indirect light and shadows, we, the observers, lose some things (context, a certain degree of detail) and win others: mainly scale.
Some cities simply benefit more from this trade-off than others,