Gran Canaria Walking Festival
Caving in for Gran Canaria on the last hike
Those who fail to learn the lessons of history are doomed to repeat them, says George Santayana, and you know what: he was right.
Things are coming full circle: you may remember that I started the Gran Canaria Walking Festival by forgetting my ID, and for our 4th and last walk, I have now forgotten to bring my raincoat. Or, worse still, I deliberately failed to bring it, because having taken our breakfast in short sleeves on the outside terraces of Las Longueras at 6 am in the morning – when it was still dark, mind you – we could simply not imagine any other type of weather, at least not on the same island (which is, if I may remind you, only the size of Greater London).
As soon as our bus was taking us higher up the mountainside, however, we spotted some drizzle on the windscreen, and when it was getting bright outside, we could see that we were surrounded by a thick fog.
Walk 4 begins at the same Cruz de Tejeda where we had set out for Walk 2, but the conditions were totally different than they had been on that glorious day. Now, it is foggy and surprisingly chilly, as a matter of fact, certainly not more than 10 degrees C (somewhere in the high 40s F).
This may not sound cold when you're reading this in Minnesota, with the season's first snow already covering the ground, but let me assure you that it certainly feels cold when you are dressed for a day on the beach.
I am only telling you all this so you can learn from my mistake: Gran Canaria at this time of year is an island of three seasons, one lying on top of the other, and when you go into the mountains, you never know in which of those you will be hiking. So better be prepared than sorry …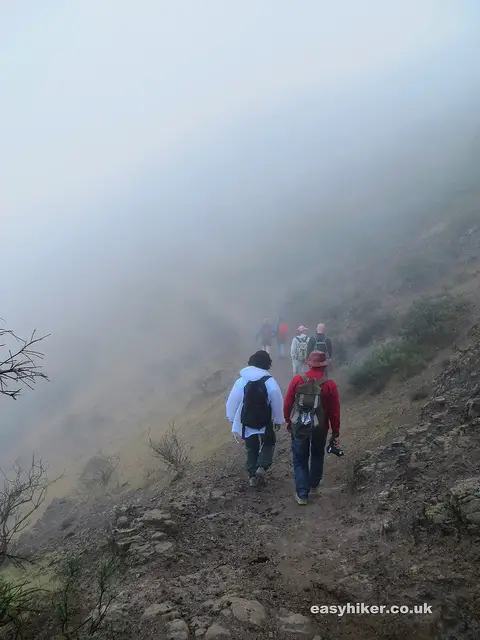 … and drenched in autumnal precipitation. They don't call clouds horizontal rain over here for nothing: the specially adapted local variety of pine trees can absorb 20 litres a day by milking the clouds through its long needles, but an ordinary T-shirt – as I can bear witness – manages only marginally less.
Just when I was thinking that this was perhaps not going to be my day, however, the clouds lifted …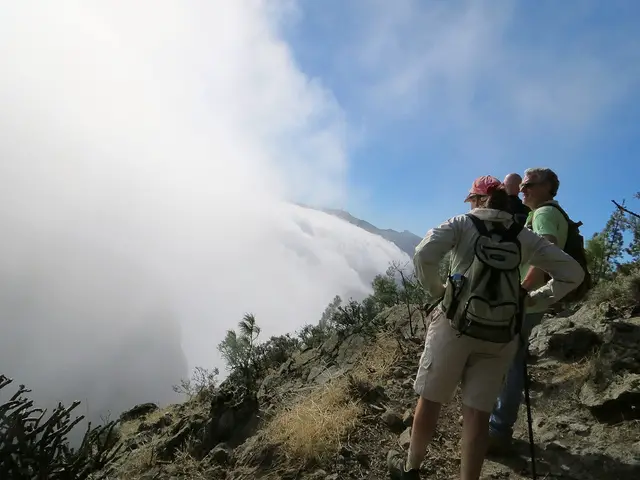 … and we could see the caldera in all its stunning beauty. Walk 2 had only allowed us a brief glimpse of the Tejeda, but today we got a much better impression.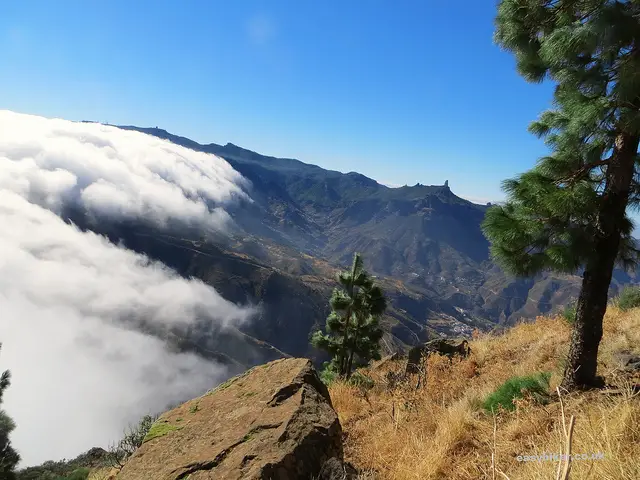 "Seeing" something, after all, can mean two different things: you can hire a taxi to a local beauty spot, walk around for five minutes and take a few pictures (which is, more or less, what we did for Walk 2) – or you can immerse yourself in the area for hours, looking at the views from different angles and at different times of day.
This is the only way to really and profoundly experience a landscape – and exactly what we did for Walk 4.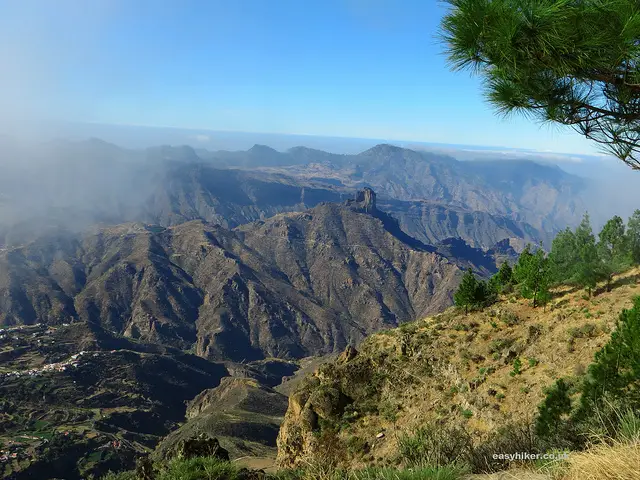 We also got our first close-up views of the famous Gran Canarian caves. It is the combination of high summer temperatures (around 40° C, well over 100° F) and the easy availability of soft volcanic stone which has always made "caving in" an attractive proposition for the local inhabitants, from the Stone Age to modern times.
The Stone Age, by the way, only came to an end in Gran Canaria when the Spanish conquered the islands in the 15th century, which means that these caves are only a few hundred years old.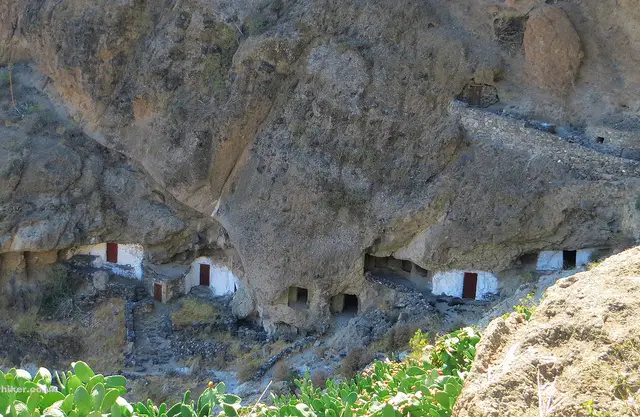 I have already told you how much the Gran Canarian heartlands reminded me of some landscapes in the West of the USA. There are, however, some important differences, too, mainly concerning the level of human occupation.
In contrast to the deserts of Utah and Arizona, there are many villages at the bottom of the caldera, and even the slopes have been used for agriculture – there are traces of terraces everywhere, and even today, some of the locals climb up here to feed their goats.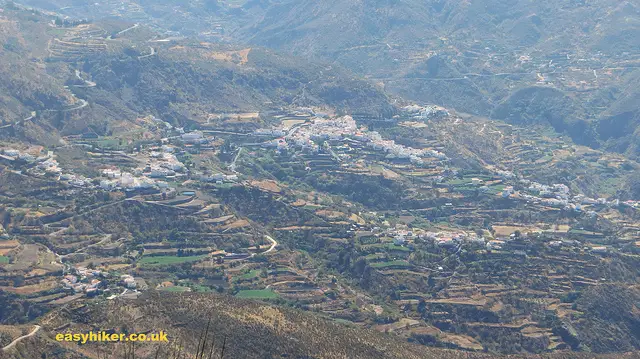 One of these villages, called Artenara, provided us with an opportunity for a proper coffee break and gave us the chance to refill our water bottles.
The full version of the walk continues from there to Acusa, but this is apparently a relatively boring stretch, so our guide had us skip it and made the bus take us there, enabling us to pick up the trail once again on the far side of town. (Which is another benefit of organized walks, of course. I used to sneer a little at that sort of thing, to be honest, but am beginning to see the light.)
This final stretch of the tour provides an excellent insight into the variety of caves on the island, historical as well as modern ones – which sometimes exist side by side.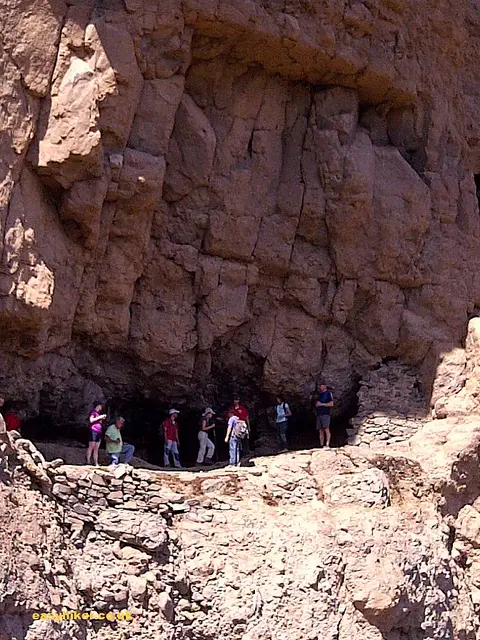 When our guide had told us on the trip to Acusa that 90 percent of the town's residents were living "in caves", I frankly did not know what to expect – a "stone age village", perhaps? – but it turned out that the villagers had only carved some additional rooms into the stone behind their ordinary-looking homes, used mainly for storage and, who knows, as bedrooms on particularly hot days.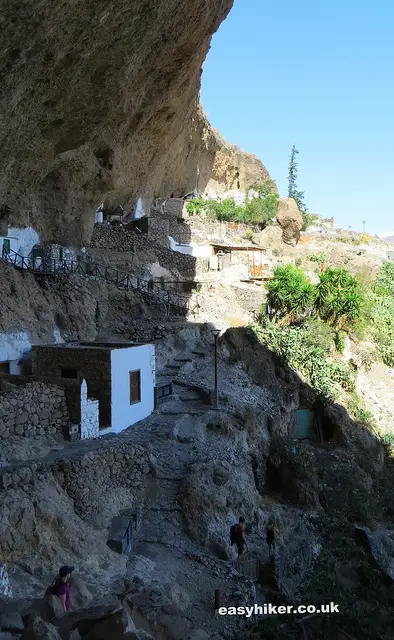 When it's 40 plus degrees outside, inside the stone abode the temperature rarely exceeds 20 (the high 60s F), and that, after all, is much healthier not only for foodstuff but also for human beings. (Inhabitants of Arizona spend a lot more money to reach the same effect.)
And to round off our walk, the entire hiking party, in true Gran Canaria Walking Festival fashion, returned to Artenara for a full and – even by Spanish standards – late lunch which started at 5 and ended when it was already getting dark. What a great way to finish a great day!
But enough about us. What about you? Are you intrigued by the trails of Gran Canaria? I bet you are. You can then go caving in for Gran Canaria, too.
And now for the really good news: if you want to do some hiking on the island yourself – even if you prefer to join an organized group – you don't have to wait for next year's Walking Festival, but can set out at practically at any time between now and next summer (between June and mid September, it's simply too hot to go hiking, even in the mountains.)
I will give you a few practical tips of how to organize your hiking holiday in my next post.
We are very grateful to the Gran Canaria Walking Festival and Gran Canaria Natural committees for inviting us and to Vueling for flying us to participate in these wonderful walks.