Guest Post:
Written by Agata Mleczko, founder and editor of the Null&Full travel blog focused on off-the-beaten-track destinations. She currently lives in Poland, but had lived in Italy for more than 6 years and has traveled to more than 20 countries. She recently visited New Zealand for the first time and became fascinated with this island. She enjoys reading travel books, jogging, trekking and cooking. You can also find her on Twitter and Facebook.
In Christchurch After the Earthquake
Some people might consider Christchurch the least interesting place on earth: due to the devastating earthquake which hit this city three years ago, almost 80% of buildings in the centre collapsed or were demolished. Others would be eager to visit this natural disaster playground ('disaster tourists' are everywhere). But for me this was a deep and very personal journey to deal with one of my worst fears: I am an earthquake survivor.
I have no doubts: Christchurch is a fascinating city not only because of its recent disaster but most of all because of the human solidarity and courage that this city has shown.
Ruins 
At first sight the city centre consist of empty construction sites and numerous parking spaces established on ruins. The previous charm and the British flavour is gone.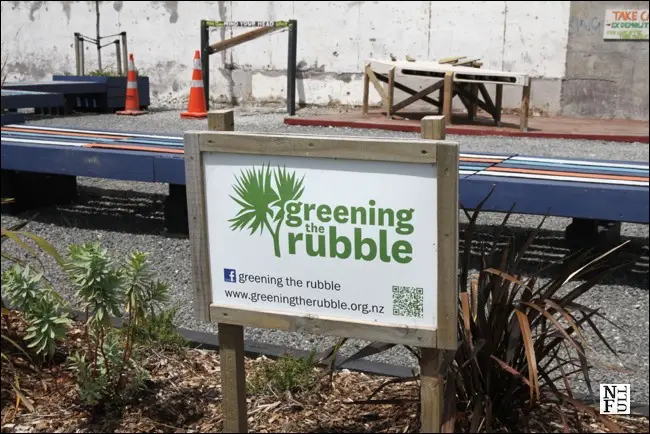 When you start your walk in the Cathedral Square, the first thing you see is a half destroyed Anglican cathedral. This is a powerful view: you can see the interior without walking into the building. The elements of construction are visible here and there and the whole view is rather depressing.
In front of the cathedral, residents have constructed a small space with photos of their city before the earthquake. There is also a colourful fence (see the picture below) to make watching this empty space bearable. Tourists come here, take pictures, stand in silence and I think they find it hard to believe in what they see.
It reminded me of all the destroyed churches I saw in Italy, many of which were standing there for three centuries then turned into ruins in just 45 seconds after the first wave of an earthquake.
What's left?
Few buildings in Christchurch survived both the earthquakes and the aftershocks. One of them is the beautiful new building of the local newspaper.
I met Marc, a journalist from The Press located in Gloucester Street, and had an opportunity to see the centre from the 5th floor of their new headquarters. Through Marc's office window, I looked at the Cathedral Square. It left me speechless for a while.
My conversation with Marc and some locals brought my interest elsewhere: to what has gone and what people have already reconstructed. The Press building was completed just two weeks before the first earthquake so all journalist were really lucky to move to their offices before the old (and listed) building was demolished.
re:START
Following Colombo Street southwards, your walk brings you into the very heart of the city. Before the earthquake, it was a vibrant commercial quarter, full of shops and cafes. Due to safety considerations, all the commercial buildings were demolished a few months after the first earthquake. It became an empty site: no people, no shops, no traffic, no activity. However, local trades people and politicians quickly realised that if this part of the city remains empty, people will leave and it will be very hard to bring them back.
So they came up with a clever idea of a quick construction and out of containers they built a commercial centre called re:START Mall.
Walking around the containers is really pleasant. Its vivid colours let you forget about the ruins for a moment. Post office, bank, few cafes and shops are located in these containers and people willingly come here. It really is a good idea to bring back some life.
And for tourists, it is really important that they could come here to support the local business. Just next to this site is Quake City, where a new museum is located. If you wish to get a closer look at the disaster that hit the city, this is the perfect place to go to.
Quake City
Having my own experience as an earthquake survivor, I found this idea to build a museum bizarre at first. In Italy there was no such thing. People were focused on lost properties and their workplace (the most badly hit was local industry and small family enterprises). In Christchurch, the earthquake claimed almost 200 lives and destroyed a large city area. I think that people considered this natural disaster an important moment in their history.
A museum is also a good opportunity to explain to the visitors what happened and to keep some iconic elements of the buildings that collapsed, to educate about the geology of the earthquake and to remember all those who died. I think this is really important for the collective identity to keep records of traumatic events and I found the Quake City very interesting. At the end of the day it makes sense.
Botanic Gardens
If you continue your walk westward along Cambridge Terrace (yes, you can actually go punting here just as you would in the UK), you will find a place that was not destroyed by the earthquake: the Botanic Gardens (some buildings like greenhouses are closed due to renovation process but the garden is open).
Trees, grass, exotic and local plants, roses and ponds: Christchurch Botanic Gardens has it all! Entrance is free so you can come here whenever you like and stay however long you need. It is a beautiful and very large garden and well kept, a green escape in the heart of this city. My favourite spot was the Rose Garden.
The Botanic Garden has a very special role to play here, I think. Through its splendour and elegance, it brings back the British atmosphere. While many listed buildings were lost after the earthquake, the garden remained pretty much the same and through its character it brings the colonial history alive. It is also a very optimistic sign that everything that is deeply rooted will stand against any disaster.