No country in the world is entirely made of one piece: wherever you go, you will always find differences between individual regions. It is equally clear, however, that some countries are more homogeneous than others, and I have always found that the band of cultural variety is particularly narrow in Italy. There is a certain "Italianness" which is shared by most things that you can find everywhere in this lovely country: food, dress codes, landscapes (up to a point), but, above all, city architecture.
The only major town which, in some way, does not look or feel like all the others in this way is the Adriatic harbour of Trieste. Some people call it "Budapest-sur-mer", and there is an element of truth in that. After all, Trieste was a part of the Austro-Hungarian Empire – under various arrangements – for nearly 600 years.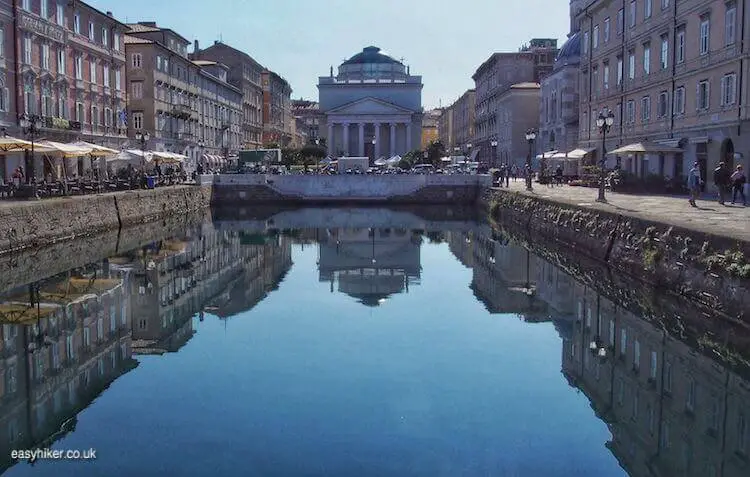 But there is more to the story than that. Trieste's unique selling point is this: while most Italian cities have been townscaped around a medieval core, Trieste's old town lies aside, isolated around the Castello and the Cathedral on a hilltop that was first fortified by the Romans …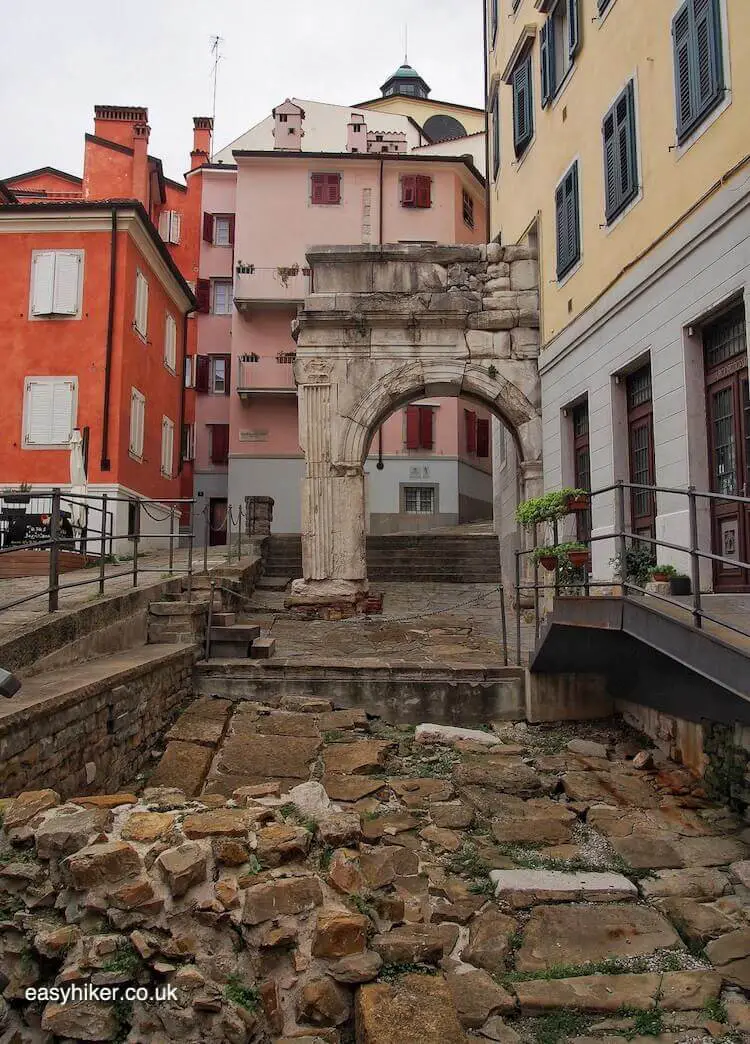 … and largely ignored ever since because the development of the New Town focused entirely on the harbour.
Trieste's history as a major city started when the Austrians came to see the port as their only opportunity of linking their landlocked Empire into the global maritime trade network. This happened in the early 18th century, and in the 200 years after that, Trieste became the 4th largest population centre of the Habsburg Empire (behind only Vienna, Budapest and Prague) and its wealthiest town, with a per-capita income (on the eve of WWI) six times that of Vienna's.
Why We Say Trieste is a a Different Italian Town
So what are the major features that distinguish Trieste from the rest of modern Italy?
For one, there are far fewer deep street canyons, so characteristic for all the Old Towns in Italy, and where they do exist (built from the 18th century onwards as cheap accommodation for the harbour workers), their colour scheme is different, a sober grey replacing joyous oranges and terracottas.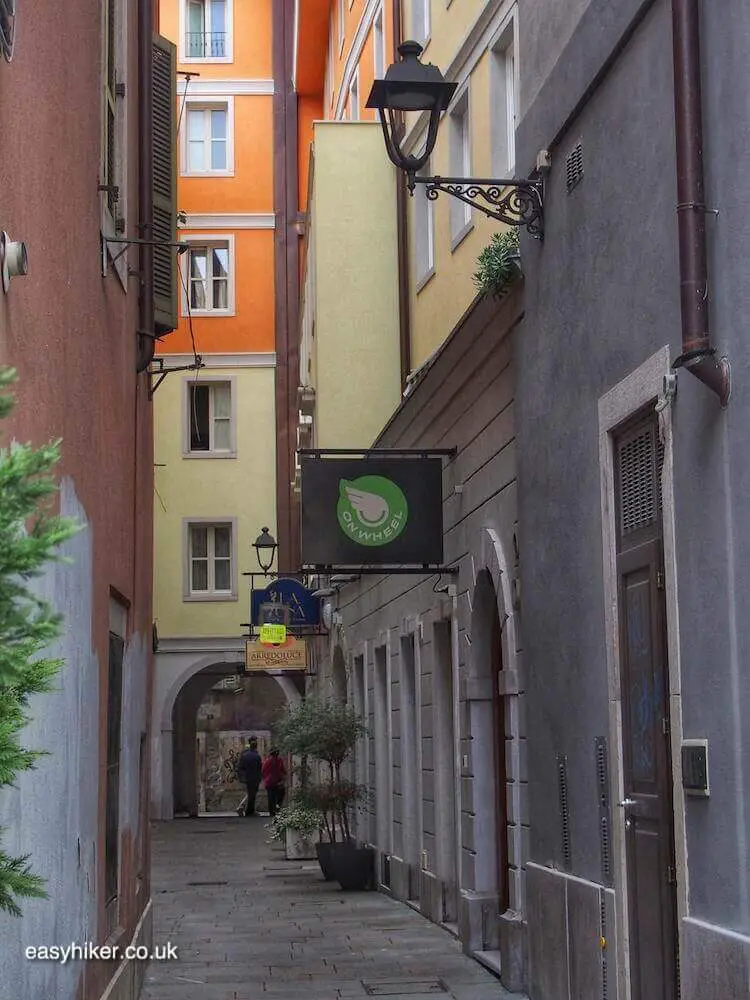 Trieste's coffee shops lack the typical Italian hustle and bustle …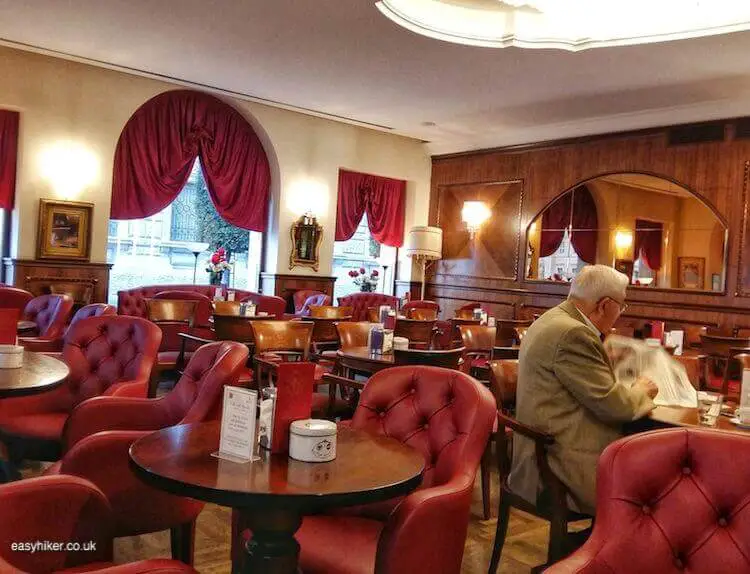 … while its townscape features elements that you will not find in other Italian cities …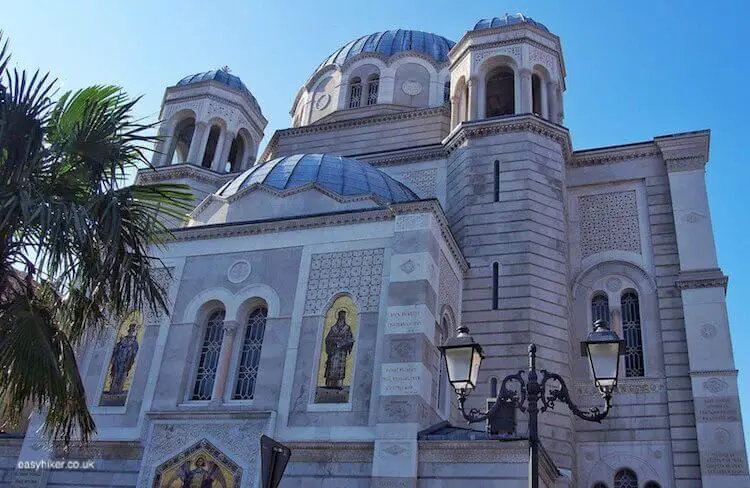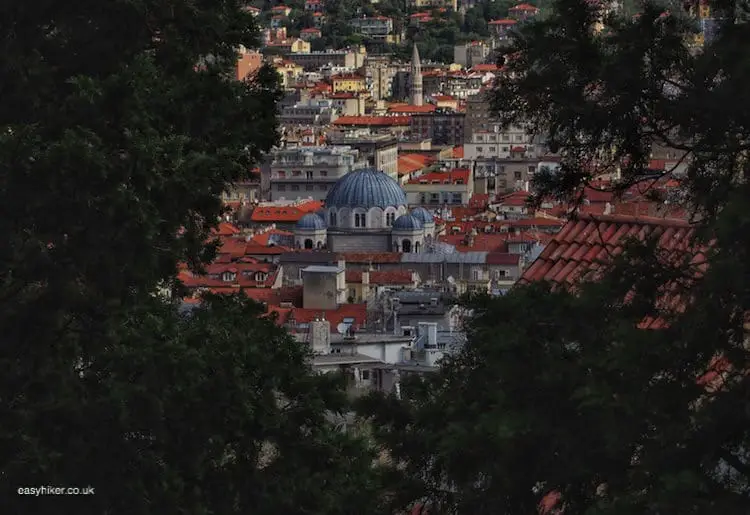 … and the vast Piazza dell'Unita in the modern town centre is the only central square in Italy without a cathedral.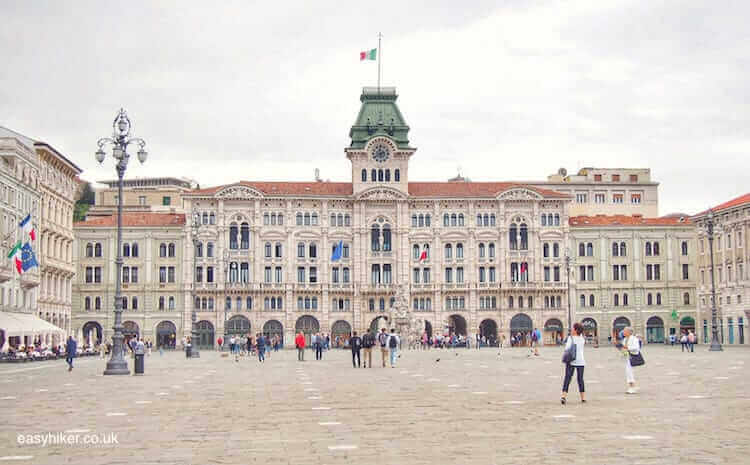 There are also relatively few tourists around, and many if not most appear to have come over the border from neighbouring Slovenia to take a look at "the town that got away". Fact: if the post-WWI peace conference of Versailles had rigorously applied its criteria of drawing borders (language, above all) to the Province of Trieste (with its majority of Slav speakers), this strip of land would have fallen to Yugoslavia at the time. And as for the small number of English-speaking visitors around, I wonder how many of them have come here for James Joyce.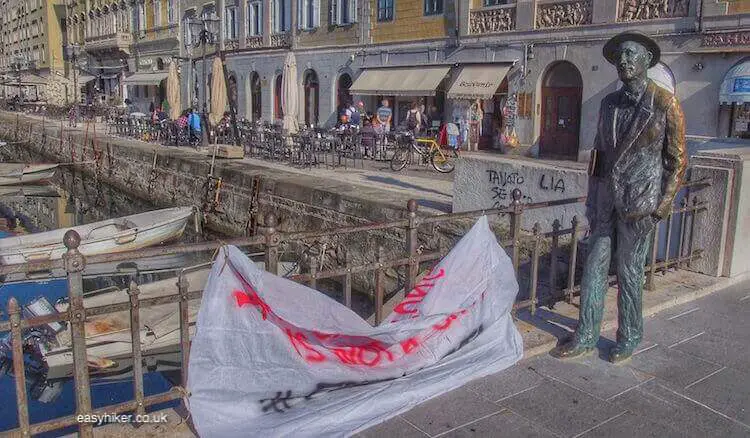 There is a certain irony in that: Trieste was the multicultural melting pot of the Habsburg Empire, the Austro-Hungarian equivalent to contemporary New York, with nearly as many languages spoken in its streets. Its link to global culture, however, was eventually established by a writer who was neither Jewish, German, Italian nor Slav and who wrote in a language that had no ethnic community attached to it – one of the few, one is tempted to say.
Related read: Finding and Walking with Rainer Maria Rilke in Trieste
The link between James Joyce and Trieste is strong. Joyce's novels are generally assumed to be intimately tied to the city of Dublin (in a way that the novels of Dickens are generally thought to revolve around London), but the truth is that he left Ireland for good when he was barely out of his teens. Joyce then went on to live for long periods in Zurich and Paris, but his formative years – 12 years: he arrived at the age of 22 and left in his mid-thirties – were spent in Trieste where we worked as an English-language teacher. It was here where Joyce (at least partially) wrote most of his famous works. Trieste, in contrast to Dublin, had a large Jewish community, and one of Joyce's Jewish students called Ettore Schmitz (who became Joyce's best friend and later a famous writer in his own right under the pen name Italo Svevo) is said to have provided the inspiration for Ulysses's Jewish protagonist Leopold Bloom. (Besides: how many Irishmen, Jewish or not, do you know who are called Leopold?)
The first stop for visitors who are planning to walk in Joyce's footsteps is normally the house on 32 Via San Nicolò (now a pedestrianized shopping street), where he taught English. The premises of the language school are now occupied by a clothes shop. He also lived "above the shop" for a while, in a flat on the 3rd floor.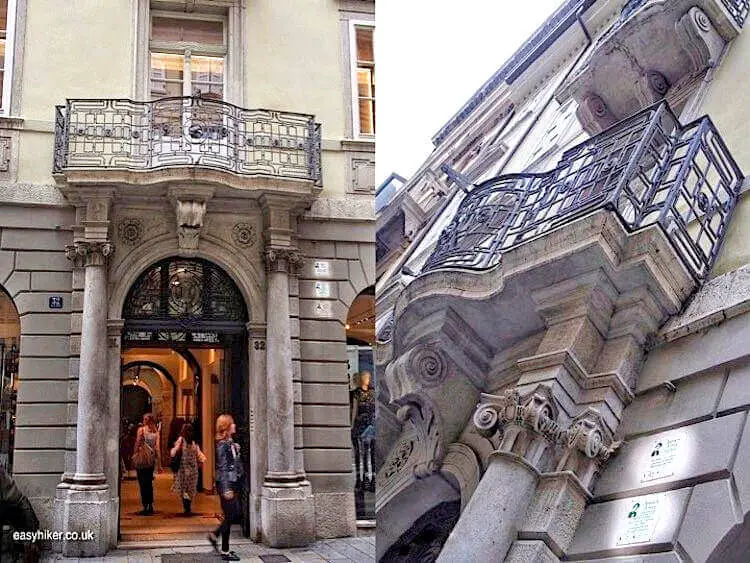 The house next door also plays a role in the story: this is where the Joyce family – now including his brother Stanislaus – took up residence a year later. On the ground floor, you can still find the – practically unchanged – bookshop of the poet Umberto Saba who would become a good friend of the Joyces.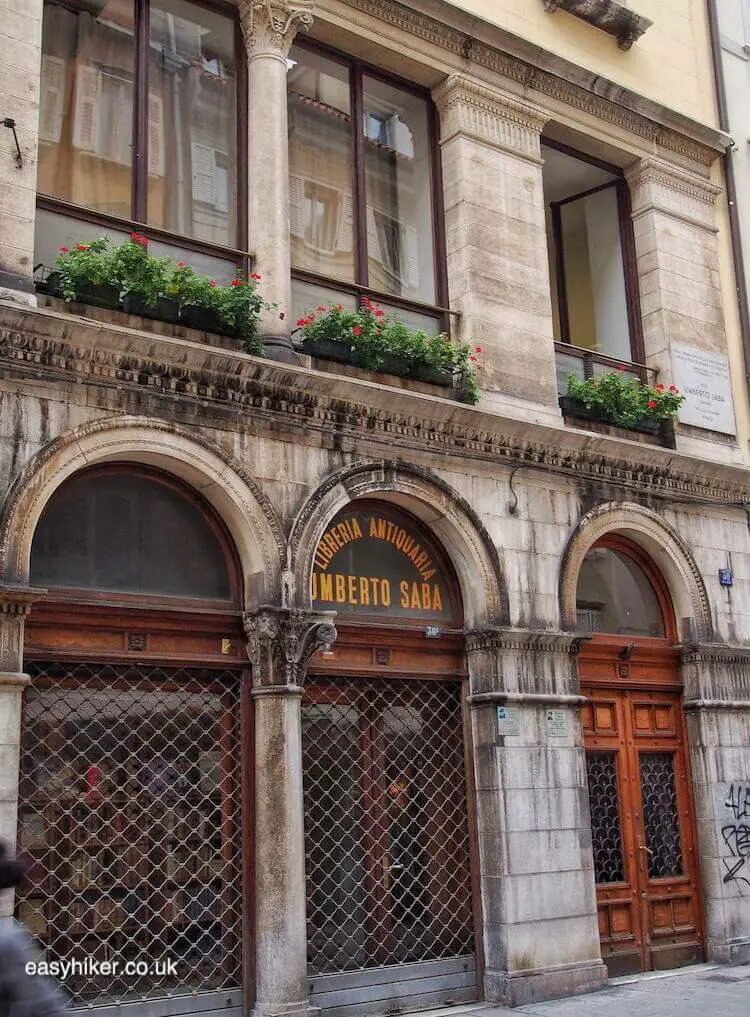 Over the years, the Joyces inhabited eight flats across Trieste, and there is barely a restaurant or coffee shop in town that does not claim some sort of a connection with the famous writer. (For a list and an itinerary, go here).
Essentially, however, the search for "Joyce's Trieste" is a wild goose chase. All cities change, but few have changed as dramatically as Trieste has over the past 100-odd years: what was once bubbling but seedy is now handsome and bourgeois.
Just one example: from one of Joyce's last flats in town, located on the 3rd floor of no. 2 Via Armando Diaz, …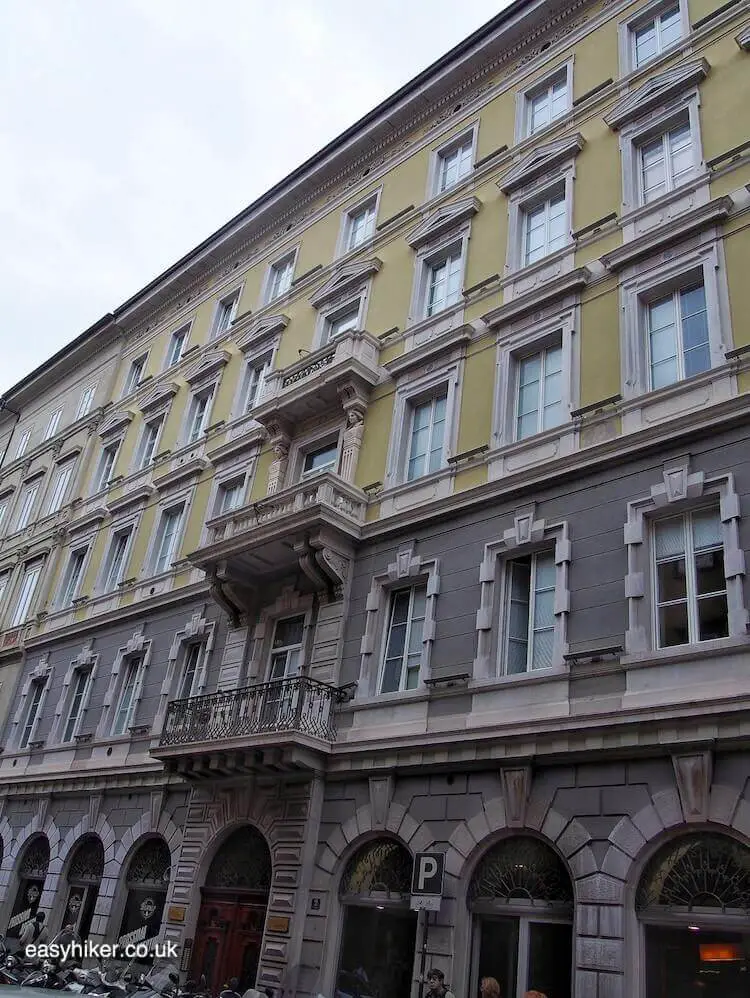 … Joyce would have been looking straight into the windows of a brothel on the other side of the road. Today, the building accommodates one of the town's top-rated restaurants, and its neighbours include a Catholic insurance company, an art supply store and an antiquarian book seller.
There is a better way if you want to feel connected with the artist: have a Presnitz, a richly sweet fig roll which is a local specialty, with a large glass of harsh Veneto white – James Joyce's preferred breakfast for years. You can't do that anymore in his favourite coffee house – the Caffe Pirona that was recently closed for good – but if you go to any of the other, historical watering holes, you can be sure that the writer had a tipple there. Cheers!
Now you know why we say Trieste is a different Italian town. Are there other Italian towns you know that are also as different?