If you are a frequent guest of this blog, you may remember our "two towns for one day's walk" series of short and easy hikes which connect two villages along the Riviera coast (like Ventimiglia to Bordighera or Bordighera to San Remo or from Alassio to Laigueglia).
In the mountainous back country, meanwhile, such a hike is a far more difficult proposition: nearly all of these walks would be a great deal longer and far less easy to manage, leading across valleys, ravines and relatively hostile territory. In fact, mountain communities in the "Ligurian Alps" are often quite isolated from each other, so much so that many of them have preserved their own dialects (some of which are spoken nowadays by only 200 to 300 people).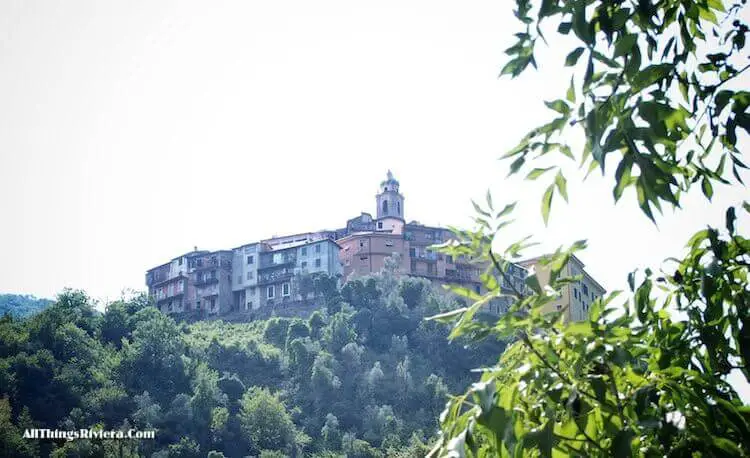 There is, however, more to isolation in the mountains than meets the eye of the outside observer. Take Pigna and Castel Vittorio, for example. It is difficult to imagine two mountain villages less geographically isolated from one another – they are separated by no more than a short mulattiera foot path that slopes down a hill – but the dialects of either "tribe" feature expressions that the inhabitants from the neighbouring village would prefer not to use and perhaps even not to understand.
The history of mutual animosity between Pigna and Castel Vittorio goes back to at least the year 1787 when some folks from Pigna stole the Castel Vittorio church bell. To pay them back, the villagers of Castel Vittorio took away the paving stones from the road which led to Pigna.
Nowadays, the neighbouring villagers seem to get by all right and laugh at the old stories, but you never can tell how much of that old bad blood may still be flowing through their veins.
The easiest of easy hikes in the mountainous back country of  the Italian Riviera
The walk between the two villages, at any rate, is pleasant and pretty. We suggest to take the bus from the border town of Ventimiglia (which is well connected to both the Italian and the French railway networks) to Castel Vittorio and walk from there in the direction of Pigna, not least because it is downhill all the way. (Why make life more difficult for yourself?)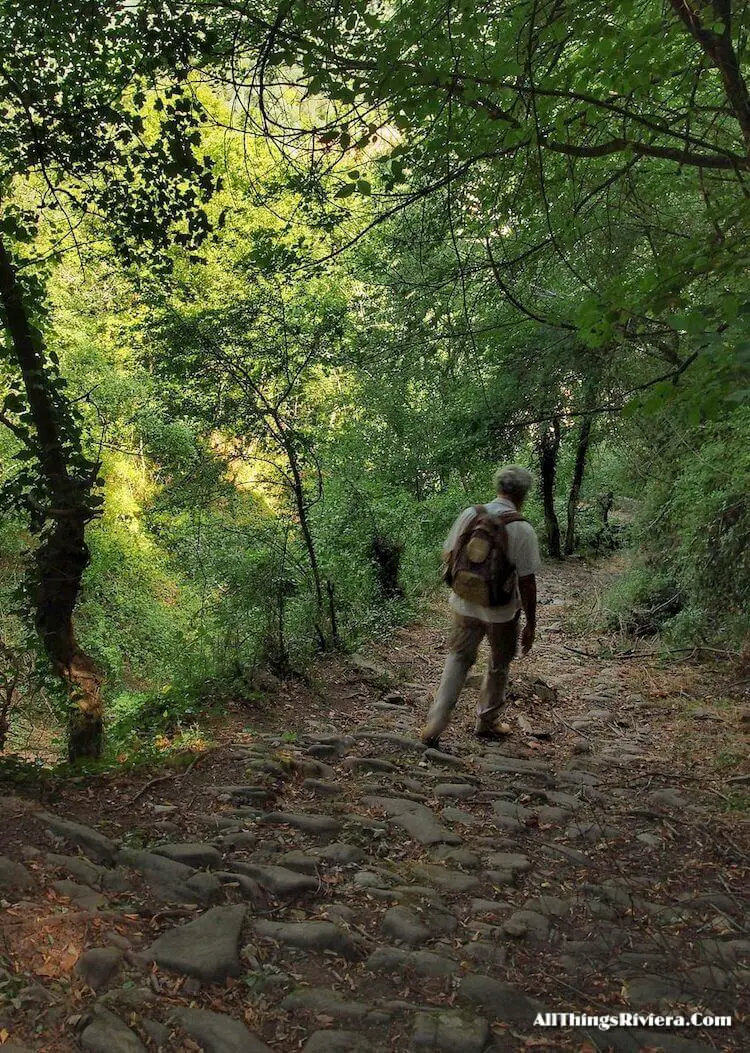 But first, take a brief look around Castel Vittorio …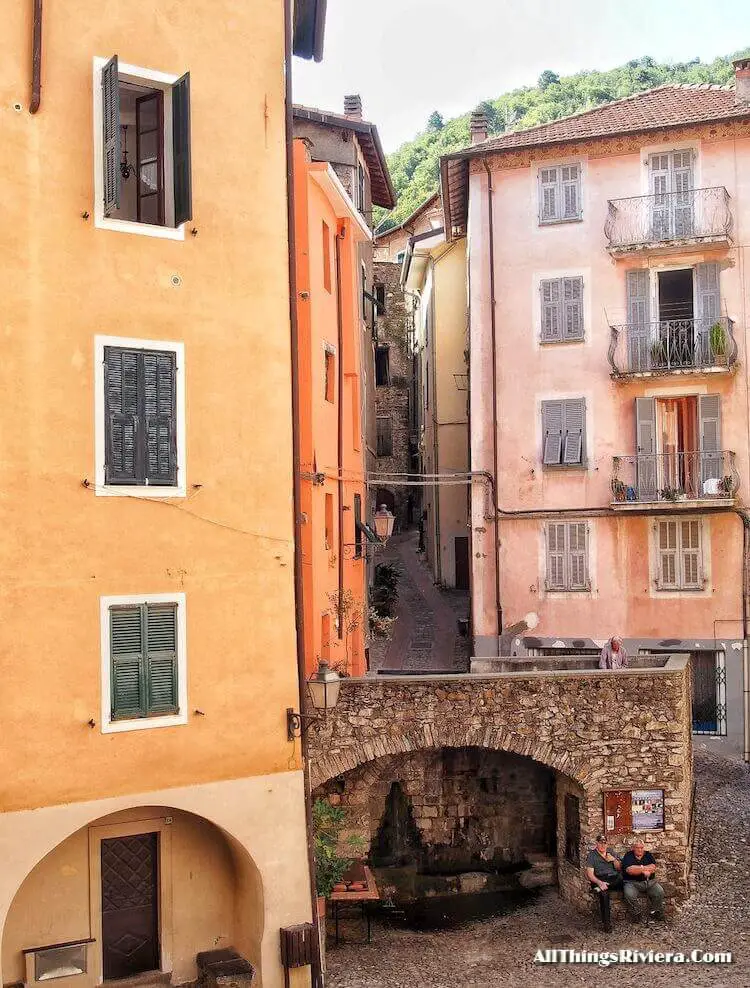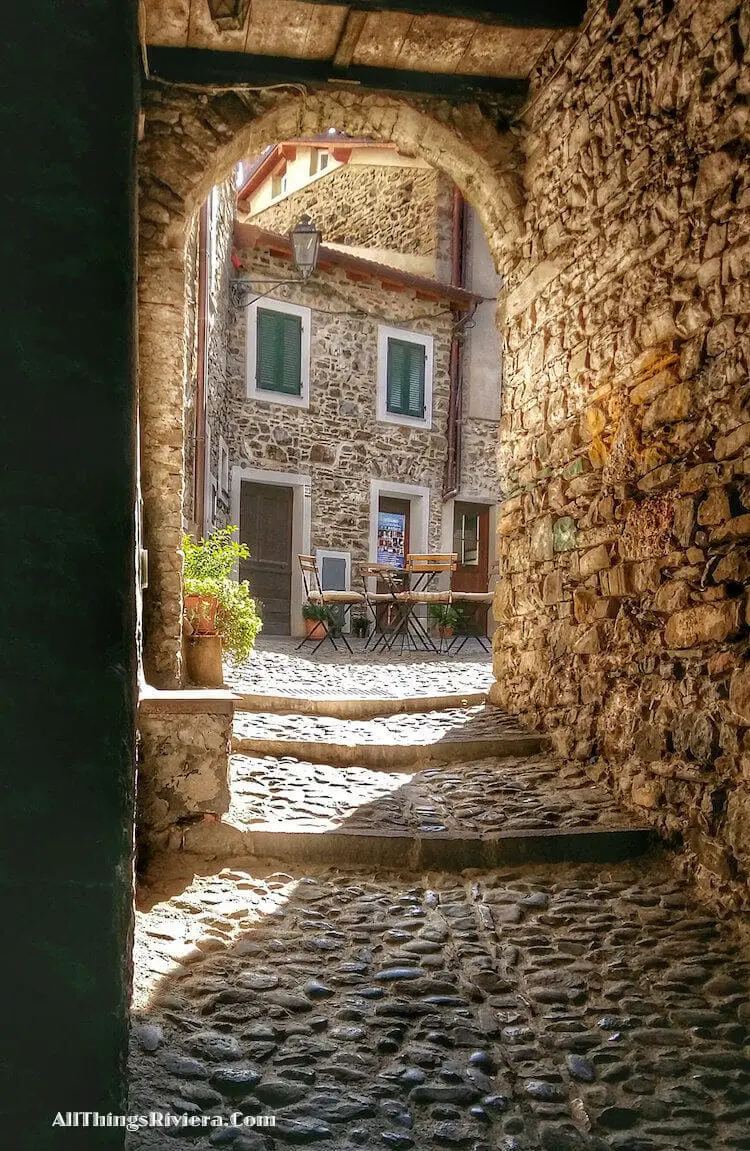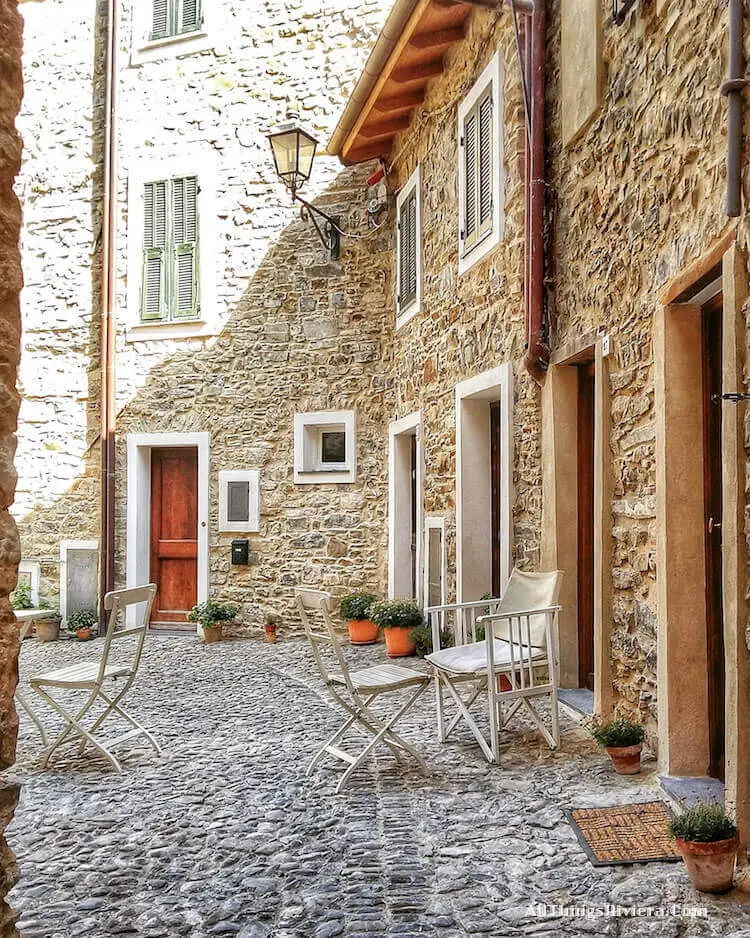 … looking out for the red-and-white markers which you will later have to follow in the direction of Pigna.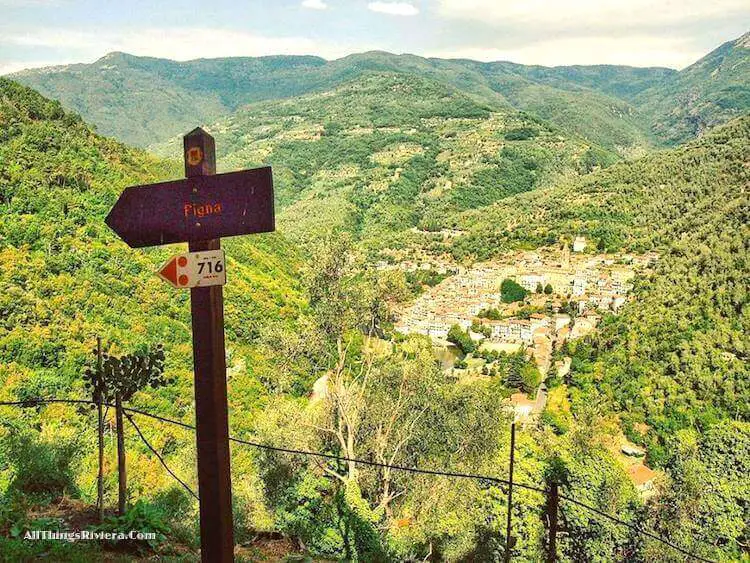 The actual foot path begins near the local post office.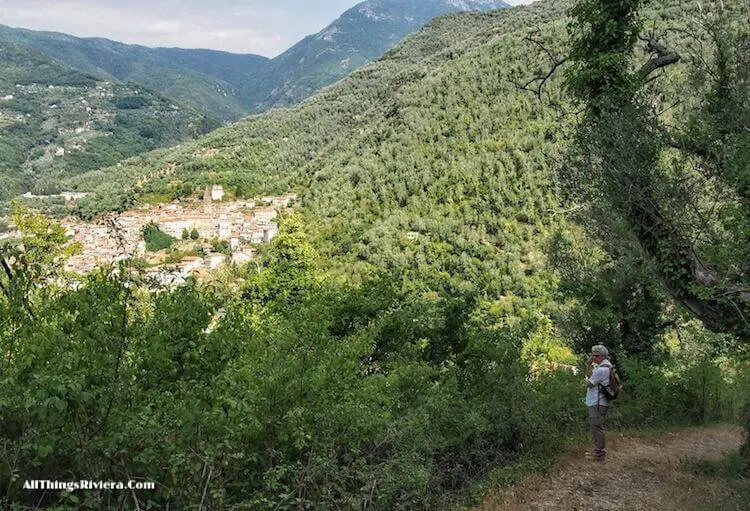 Yes, I know: Pigna looks very close. We were hoping that this was some kind of "optical illusion" and that the foot path would take a long route, slowly meandering down the hill from side to side, but as a matter of fact, it only took a couple of turns before ending in a fairly steep descent and making the walk almost embarrassingly short. (We wished we had been more ambitious.) Even stretching your stay in CV, it would be difficult to spend more than 2 hours between the arrival of the bus in Castel Vittorio and the Pigna town limits.
There are, however, a couple of points one can make in defense of this mini-walk. It may be the easiest of easy hikes, but for people who want a no-sweat introduction into the Ligurian mountains, this is no bad thing as such.
Secondly, the walk may be short, but it is undeniably pretty …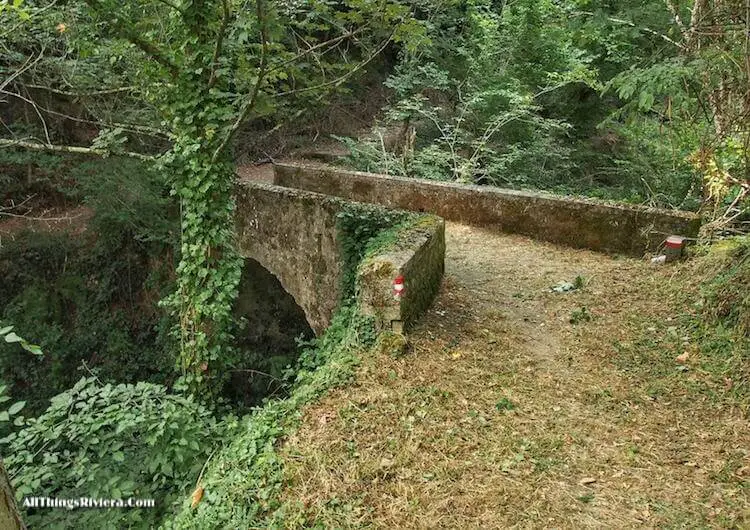 … and has a highlight, a romantically abandoned church half-way down.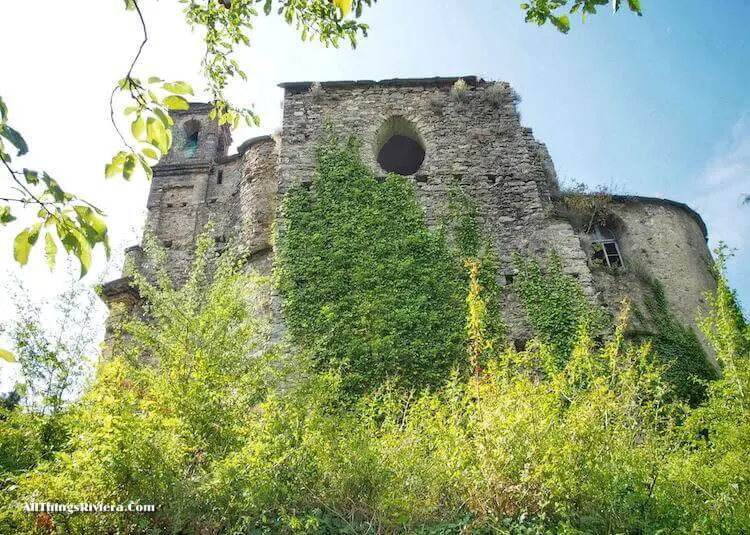 So you might say that the walk achieves its shortness by cutting out all the boring and redundant bits, saving you time and effort.
Pigna is said to have a different feel to Castel Vittorio, but its historic centre does not come across as all that different.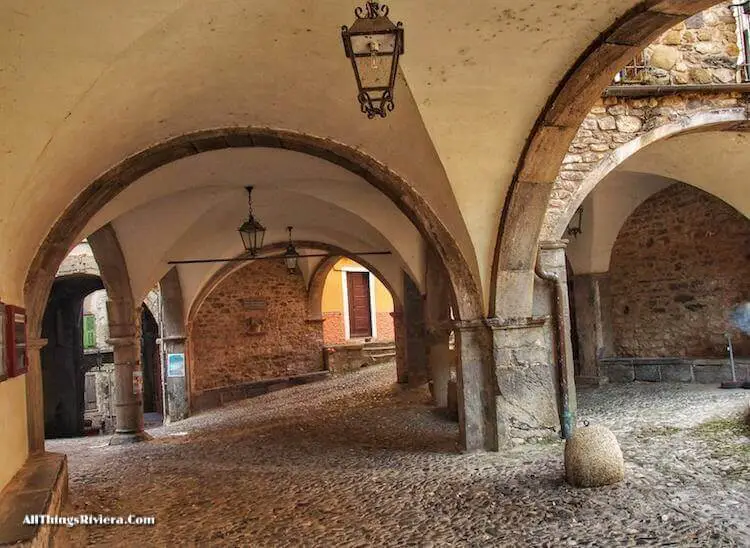 Pigna does, however, have a proper downtown quarter, which is relatively lively by the standards of Ligurian mountain villages, in contrast to Castel Vittorio.
You will have plenty of time to look around before lunch if you have taken the early bus out of Ventimiglia.
For your lunch, we recommend the Trattoria Terme (ignore the Hotel next door. Lunch is served from 12h15 but you can get there earlier and have an aperetif), one of the best restaurants in the province, which you will pass on your way from Castel Vittorio. (One tip: Only order the Menu Degustazione if you are really, really hungry.)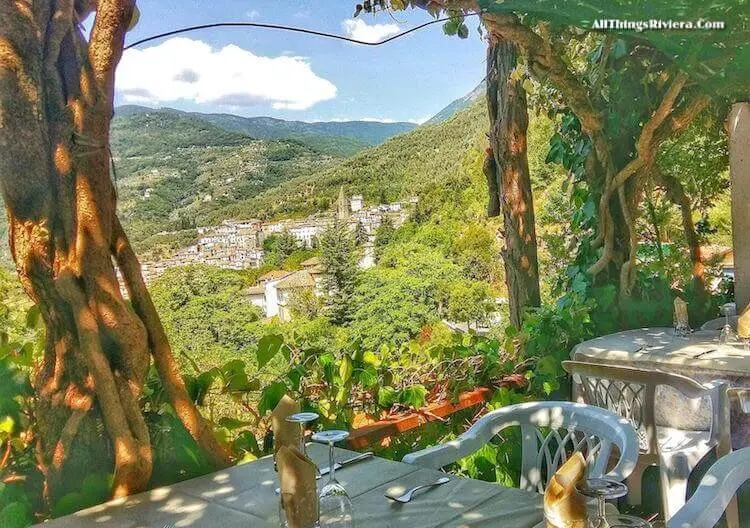 In fact, if the hike were only a little longer, it would be a perfect fit for a summer morning.
This is something you should always bear in mind: for the period between June and September, it is imperative to stay out of the midday sun. Only mad dogs and Englishmen can be found walking around, and even they might think twice about a strenuous hike (the mad dogs certainly would) at any time between 1 and 4 p.m.
So for all practical purposes, your hiking day ends at around 1 p.m. Once you have accounted for the time it takes you to reach the trailhead (by bus and/or train), even with an early start, three hours of hiking is practically the maximum you can put in.
For other periods of the year, you may want to hike from Castel Vittorio in the other direction, towards Baiardo. This is not an excessively long hike (approx. 8 km) but features relatively steep climbs.
As an added reward, however, you will get to visit Baiardo which really does have a different feel to the other hilltop villages in the area. This is largely due to the fact that Baiardo, unlike most other villages, is not crowned by a church but by the abandoned ruins of a church which was destroyed and converted into a mass grave by an earthquake.
Prepare yourself for echoes of Wordsworth's Tintern Abbey and Caspar David Friedrich.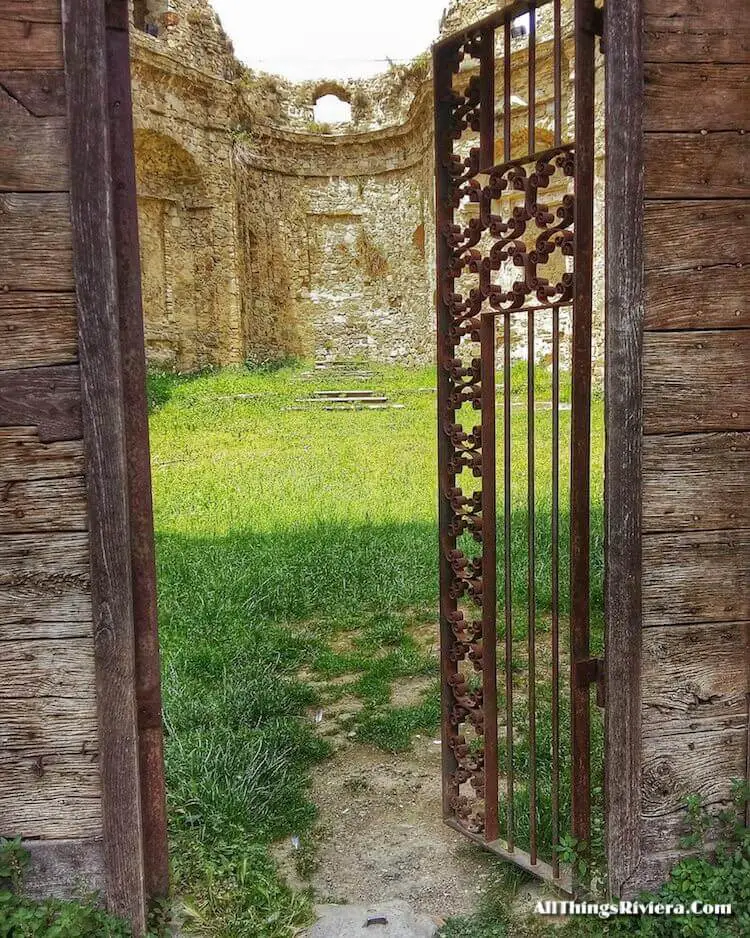 Finally, some practical tips: Bus line no. 7 from Teatro/Via Cavour in Ventimiglia leaves for Pigna and Castel Vittorio several times a day at irregular intervals. If the early bus at 8:30 a.m. (Mon. to Sat.) is too early for you, the next one leaves at 11:15 a.m. The ride will take approx. one hour.
The walk may be short, but wear solid shoes because the ground is uneven and stony.
If you want to walk from Castel Vittorio (or Pigna) to Baiardo, you must return via bus line no. 15 to Sanremo. Be careful: there are only two returns in the afternoon, one at 2:55 and the other at 6:55 p.m.