A guest post by Jeremy Branham
For anyone who loves to hike, Lake Tahoe offers some of the best hiking trails in California.  With spectacular views of lakes, waterfalls and forests, it's easy to find a hike for everyone. While summer has gone and the hiking season is just about over, there are plenty of places to enjoy the fall in northern California.
Easy Hiking in Lake Tahoe
A number of guides help you to explore easy hiking in Lake Tahoe and its surroundings. There are more than a hundred hikes in the Tahoe area, ranging from easy to strenuous, but almost all of them can be done by anyone who is in decent shape.
If you hike to the peaks in Tahoe, you will be rewarded with some of the most beautiful views in Northern California.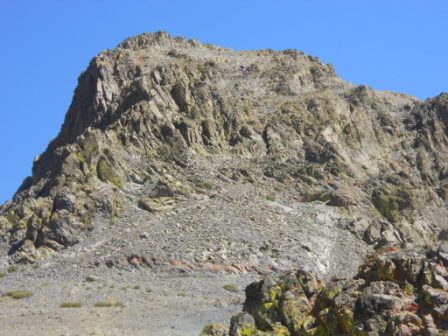 One moderate to strenuous hike includes one of the tallest peaks in the Tahoe basin area – Round Top. 10,381 feet above ground level, you have spectacular views of Lake Tahoe, Woods Lake, Round Top Lake, and amazing scenery.
The 4.4 mile (7 km) loop from Winnemucca Lake to Round Top Lake is a moderate hike by guidebook standards but it is rewarding and can be done by anyone who likes to hike. It offers some amazing wildlife, beautiful lakes, and some elevation change.
You can enjoy some of the best views in all of the Tahoe Sierrason the 2 mile hike to the top of Round Top. While the hikeis definitely a workout as you climb up loose gravel, you don't need to go all the way to the top to enjoy the incredible views.
Easy hike on Winnemucca Lake trail or the Round Top Lake trail
Just a couple of hours from Sacramento, the Winnemucca Lake trail and Round Top Lake trail offer some great hikes with views of wildflowers, lakes, and mountains in the Tahoe area. Both trails are 4.4 mile loops (2.2 miles to each lake) which start and end at the Woods Lake campsite area.
While these trails are rated moderate, anyone can do them. There is some elevation change and some steps so go at your own pace, take stops along the way, and just enjoy the beauty that surrounds you.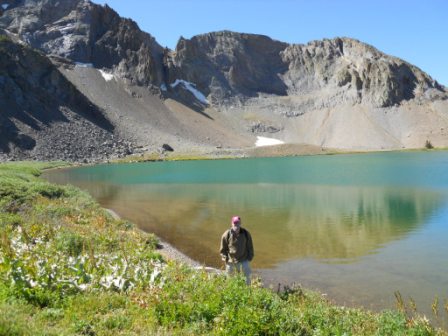 Winnemucca Lake trail is a more gradual climb and is more open with fewer trees. Round Top Lake trail is surrounded by more trees and has a little more elevation climb. Winnemucca Lake trail takes you on a 2.2 mile hike through some wildflowers to Winnemucca Lake and spectacular views of Elephants Back and Round Top. Round Top Lake sits just below Round Top and has an extraordinary turquoise lake underneath the mountains.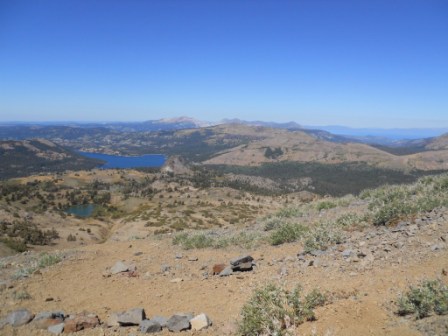 Hiking to the peak of Round Top
From Woods Lake, hike the loop from either direction to Winnemucca Lake and Round Top Lake. If you choose to continue your hike, it's another 2 miles to the peak of Round Top.  It is a strenuous hike with lots of steep climbs. However, halfway up is a resting place between Round Top and the Three Sisters with spectacular views of the area. You don't have to make the difficult climb all the way to the top to see for miles.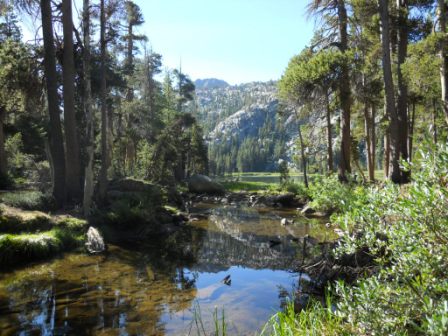 At 10,381 feet, Round Top is the third tallest peak in the Tahoe Sierra basin. From either the saddle or the peak, you get amazing views of Lake Tahoe, Round Top Lake, Woods Lake, and numerous other peaks in the area. While it's a lot of work to get there, it's worth the effort for experienced (or determined) hikers to get one of the best views in Tahoe.
What to wear
If you choose to make the climb to the top, make sure you carry sunglasses, a hat, a jacket, good hiking boots, and sunscreen.
For the Winnemucca Lake and Round Top Lake trails, good hiking shoes, sunscreen, and a light jacket or extra long sleeved shirt are appropriate.
Directions
From Sacramento, you can take Highway 50 towards Lake Tahoe and turn off on Highway 89. From there, take Highway 88 towards Carson Pass. Coming from the east or west on Highway 88, look for the turn off to Woods Lake and follow the dirt road and park at the campsite area for $5. From there, you can take the 4.4 mile loop by choosing the Winnemucca Lake trail or the Round Top Lake trail.
Hiking in Tahoe is for everyone. If you've ever been to this area, you know how truly beautiful it is. However, seeing the lake isn't enough. Enjoy the amazing views by getting off the beaten path and taking a hike along one of the many trails in the area.
Jeremy Branham lives in northern California with his wife and two young sons.  An avid traveler with a passion for budget and family travel, he is a novice hiker who loves the mountains and outdoors.  Keep up with his travels, local destinations, and views on travel with his blog Budget Travel Intentions.  For travel tips, news, and deals, check out his Sacramento Budget Travel Examiner page.