Guest Post: Easy Hiking Trails
Debbie Beardsley shares with us another park for easy hikers – the Sunol Regional Wilderness in the San Francisco Bay areaand shows us easy hiking in Little Yosemite.

Go Easy Hiking in Little Yosemite
I have lived in the San Francisco Bay area for the last 24 years. I love the Bay area because one can enjoy city life or be exploring the outdoors in an hour almost in any direction. Every which way you look there is something inviting for you to explore.
Sit back as I tell you about one of my favorite areas for an easy hike or a walk!
It was a beautiful Sunday morning, the sun was out and the 100° weather had broken so we grabbed our little schnitzeldunkin and headed off to the Sunol Regional Wilderness, one of our favorite spots.
Being only about 20 minutes from my home, this is our go-to place when we need a short escape.
Although there are many different trails ranging from a gentle rise to steep slopes with switchbacks, we opted for the Canyon View Trail.
Following along this trail you will find many types of trees including alder, willow, sycamore, live oak, elderberry and madrone. During spring the area is teeming with wildflowers.
The main draw of this trail is Little Yosemite, a scenic gorge reminiscent of Yosemite.
The Alameda creek flows through a narrowing of the valley and is surrounded by high cliffs on both sides.
The water tumbles over boulders and rocks creating little waterfalls as it makes its way down stream. I can't really say I think it looks like Yosemite but it is beautiful in its own right.
Away from this gorge it is easier to get to the creek, which continues running down the valley. The many rocks and boulders lining its bed make for great fun and a very dramatic and beautiful sight.
This is where you will find us! Kids of all ages and sizes love climbing on all the rocks to get at the creek especially on hot days. Even the dog loves playing in the many pools you will find.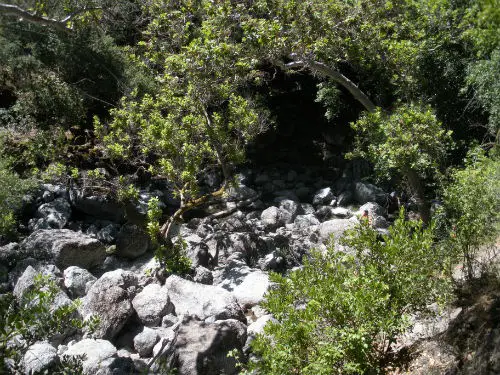 The water level in the creek depends on the time of year and the amount of snow we've had. But I have never been here when there wasn't enough to play around in and cool off. The trees lining the creek bed help make this a little paradise.
On this particular day, there were many times we heard the red tailed hawks squawking over us. Birdwatchers will find 20-30 different species of birds in Sunol Regional Wilderness including the hawks along with woodpeckers and yellow-billed magpies.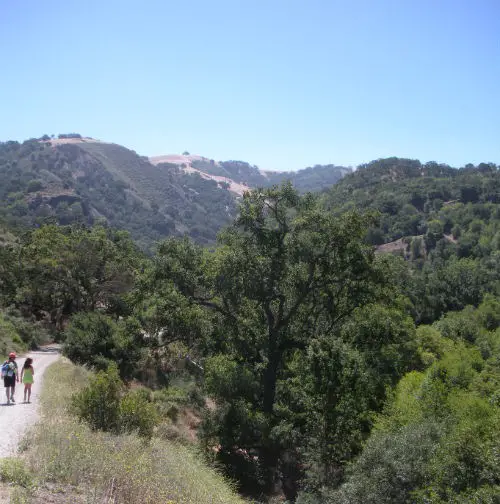 Inside the wilderness there are many trails with varying lengths, terrain and distances making this a great place for every level of hiker.
Some of these trails also link in to other trails in the bay area making it possible for you to hike as long as you want.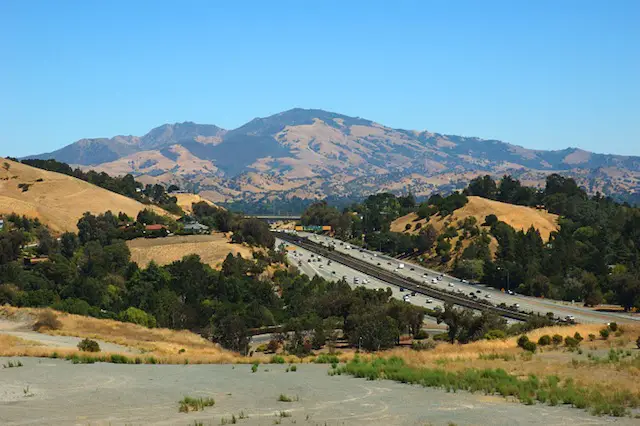 From the trails you will be afforded magnificent views of local reservoirs, Mt. Diablo and the whole south bay area.
There are even some rock outcroppings, which are great for rock climbers.
Sunol Regional Wilderness is a great place for picnicking, bike riding, camping, backpacking and hiking.
The fact that is so close to home makes me a very lucky girl!
This guest post comes from Debbie Beardsley of EuropeanTravelista. Debbie is an avid traveler specializing in European travel.  A native Californian, she currently lives in the San Francisco bay area but is always ready to talk about Europe. Debbie also enjoys reading, music, and spending time with her two children. You can read more about European travel at Debbie's website, visit her on Facebook or chat with her on twitter @eurotravelista