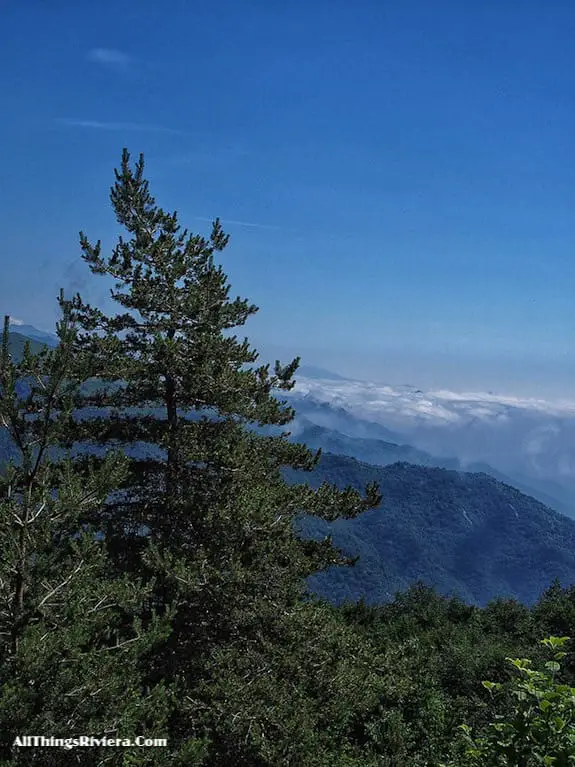 Organized bus trips, for all their benefits, have one major drawback: they are not purpose-made for hiking, and any opportunity they may offer for a walk is purely coincidental
At best, you can find the space for a brief excursion, but at worst, you are virtually stuck in the bus for the whole day.
You will see a lot, but mainly through the windows of your vehicle. This is something you will have to weigh up when deciding which form of public transport you want to use: the "charter" or the "line".
But visitors who would like to explore the Riviera back country without hiring a car have a third option. In nearly all major towns along the coast, you can find hiking groups or "alpine associations" that regularly organize trips into the arrière pays.
The Menton-based club, for example, has a truly excellent programme. The catch is that they engage in "proper hiking", which means long-ish trips into the mountains that some people may find exhausting. I have also heard that they do not look favourably on dawdling, and if you cannot keep pace with the group, you apparently are, shall we say, politely discouraged from returning.
In principle, easy hikers are better off with "social" clubs that organize walking tours as one occasional activity among many, designed for people with diverse abilities and backgrounds.
One such club is VivaItalia, formerly known as Britalia and renamed to reflect the fact that it has long expanded from its original base of expat Brits to include many nationalities including, not least, a sizeable quota of Italians who are eager to practice their English.
At VivaItalia hikes, you meet other people and socialize: that is part of the fun. (Sociopaths, please abstain.) The trips are customized to the abilities of people with basic levels of fitness, which means that they are two to three hours long and do not feature steep climbs or major difficulties.
The last hike – earlier in the summer – took the 20-or-so-strong-party (including one dog) …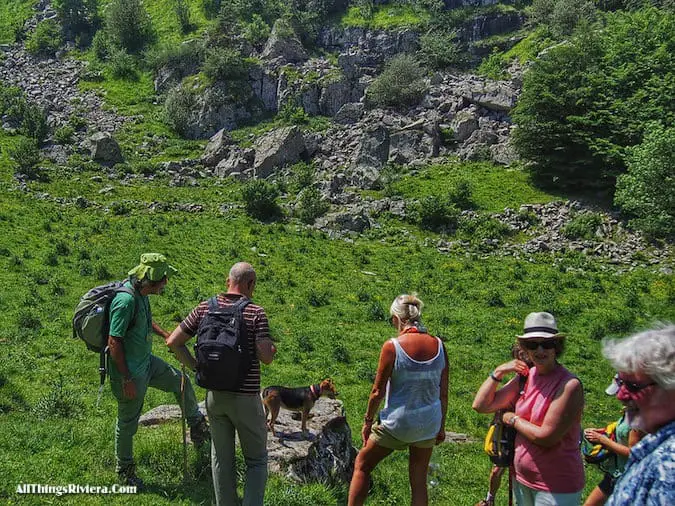 … to a short section of the Via Mezzana, 40 minutes north of Molini di Triora.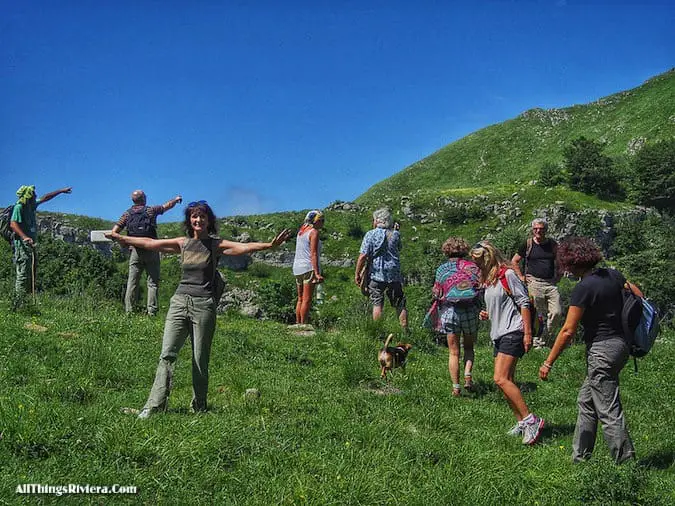 The idea is to stage a walk that combines the epic grandeur of a large-scale landscape painting with the fine brushwork of a miniature: ideally, it provides majestic views …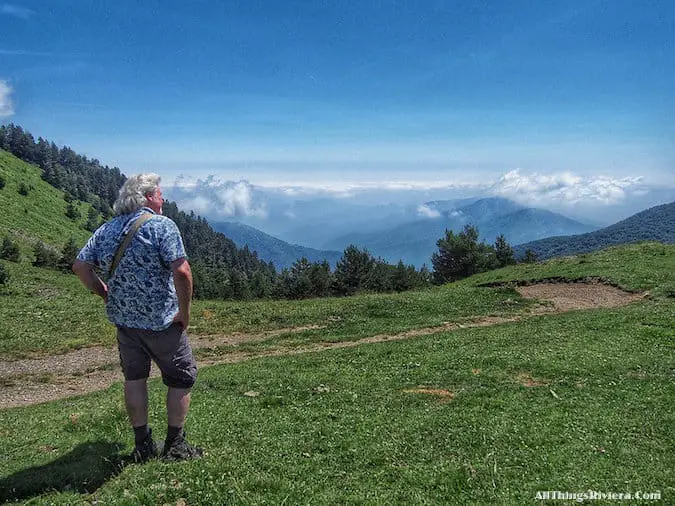 … as well as fascinating little details – such as this clearing in the forest which had, according to our guide, been used by the area's ancient druids for some sort of horrible practice or the other. ("The Druids: no-one knows who they were or what they were doing. But their legacy remains.")
And then, to crown it all off, we gathered in the picturesque village of Molini itself for a long and boozy lunch. What could be better to round off a morning of easy hiking?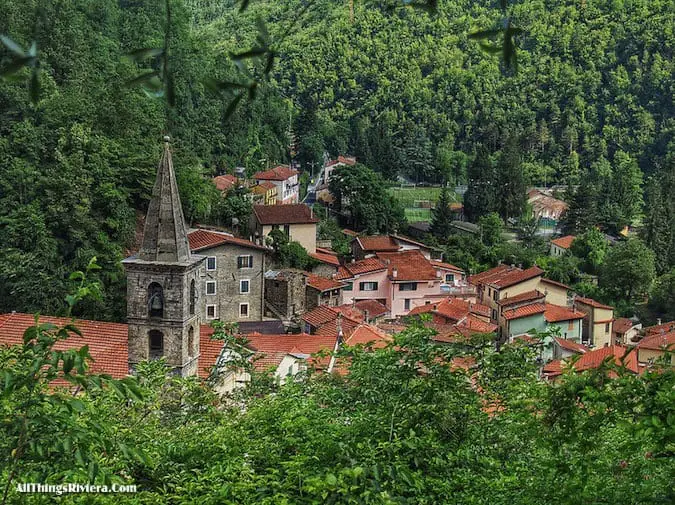 VivaItalia is planning to stage more easy hiking in the Italian Riviera backcountry regularly, at least twice a year, for the foreseeable future.
In spite of what I have said above, VivaItalia is not really a "club" but more of a loose association. It is certainly not a closed shop: we attend their meetings fairly regularly, and every time we go, we get to see new faces. So don't be shy: short-term visitors of the area are always welcome, and if you have never attended a meeting before, everybody will be curious about you and where you come from.
The next hike has been penciled in for October. If you are planning a visit to the Riviera, keep an eye on VivaItalia's schedules.
And if your trip does not coincide with one of their walks, you will always be welcome at VivaItalia's regular pre-dinner meetings, held every last Friday evening (at 6 pm) of every month in the coastal resort of Bordighera.
Get easy hiking in the Italian Riviera backcountry with VivaItalia!