Easy hiking

near London
Eastbourne
Considering that our small family spent the better part of a decade in Britain, our hiking experiences in the UK are strangely limited.
A few years ago, we dabbled a bit in the Peak District, but that was before we knew anything about "real" – albeit "easy" – hiking. At the time, we took a one-day walk near Buxton on a disused railway line – which must be famous because I have seen it on TV several times since.
The one thing I clearly remember was that Mrs. Easy Hiker had brought her handbag and a flaming red fan (which, in the end, she hardly used because she was in constant fear of provoking the cows), wearing an outfit that clearly suggested a walk in the municipal park.
I – blissfully unaware of what might constitute suitable footwear – had put on a pair of heavy military boots that clearly suggested a walk in the muddy trenches of the Somme under heavy enemy fire. You will be relieved to hear that both of us, miraculously, survived the experience unscathed.
But we do return to the UK occasionally, and on our latest trip, we finally decided to have a go at one of the British easy hiking trails.
What we wanted was something unique, something that we would not be able to have in "Europe". Which is to say that we did not want another forest, a forest different from "continental" forests only inasmuch as the hikers all stick religiously to the left side of the trail (and the birds all sing in English, of course).
Plus, since we had to be back in London the next day, we could only do a day hike and had to look for a trail that was no more than a two-hour train ride away from London.
In the end, we decided to walk the final stretch of the South Downs Way along the coast near the East Sussex town of Eastbourne for our easy hiking near London.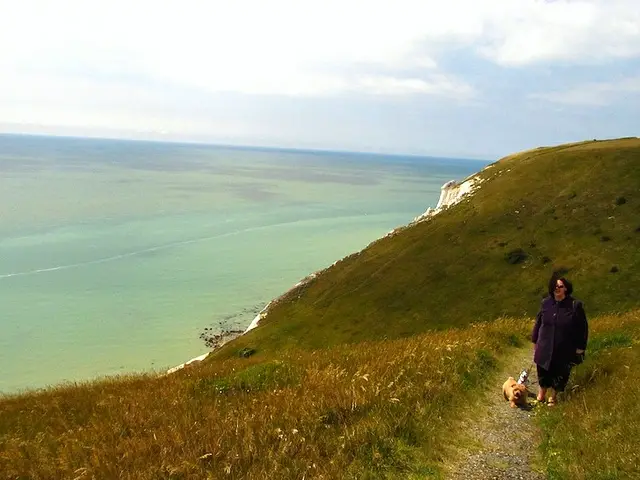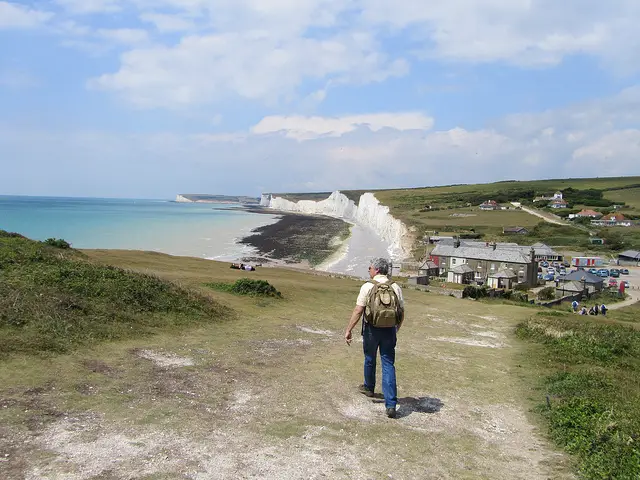 Which was the right decision.
Now obviously, I don't know whether any other part of the South Down's Way – or any stage of the Ridgeway, the other day-hiking option near London – would have been even more spectacular, but I know one thing:
As far as one-day trips that you can make from London are concerned, we had certainly never made a better one. And we did make quite a few in our own time (our kid was small when we lived in London) running the gamut from Legoland and the Southend Pier – The Longest Amusement Pier In The World! – to the more genteel pleasures of Bath, Oxford and Cambridge.
Believe me: Eastbourne beats them all, cliffs down.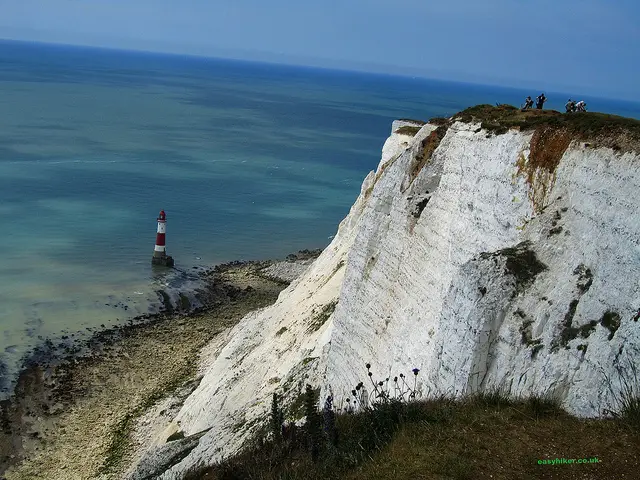 Two words of advice:
One: Buy your train ticket to Eastbourne early, at least a couple of weeks in advance. That allows you to shave off up to 60 percent of the full ticket price (off-peak day return from London Victoria), which may appear a little steep at 26.30 per head.
And two: I strongly recommend to take a taxi from Eastbourne station to the start of the South Downs Way. You can also walk, it's not that far, but that will take you, as a rough estimate, about 45 minutes.
The first 15 minutes of the walk seem to be pretty much okay, I guess (remember: we were chauffeured all the way), but once you are out of the town centre, it does look a little like a schlep – between a busy road, the beach and a never-ending row of cookie cutter upmarket hotels.
And besides: it's much better to leave any exploration of Eastbourne for the tail end of the walk – and to arrive fresh at the trailhead (all for the price of £6 – that's how little it costs).
Once the driver has dropped you off at the flag that marks the beginning of the South Down's Way, just walk up the hill, and it won't take you long before the grandest of grand views opens up in front of you.
It's a truly magnificent view. Beautiful beyond words, actually.
Which is why I will just shut up – and let this VIDEO show you the features of our easy hiking near London.

The walk will then guide you past the Beachy Head cliffs high above Beachy Head Light Tower, Britain's favourite suicide spot.
Taxi drivers apparently have agreed a code with the local authorities: whenever someone who looks and acts suspicious, they pretend to call their cab company when, in fact, they alarm Eastbourne police. (Our own driver did not seem overly concerned for our safety.)
The trail is marked, but you can't really lose your way: just continue straight on the cliff top with the sea on your left, past another lighthouse, called Belle Tout, to Birling Gap, a small commercial complex with a café, a shop and some public toilets, too.
The way back to Eastbourne is a little bit more tricky.
You are free, of course, to return the way you came, but we followed a cross-country route recommended by the AA in an old hiking brochure.
After Birling Gap, turn right on the country road you see ahead of you. Stay on the grassy path by the right side of the road, the B2103.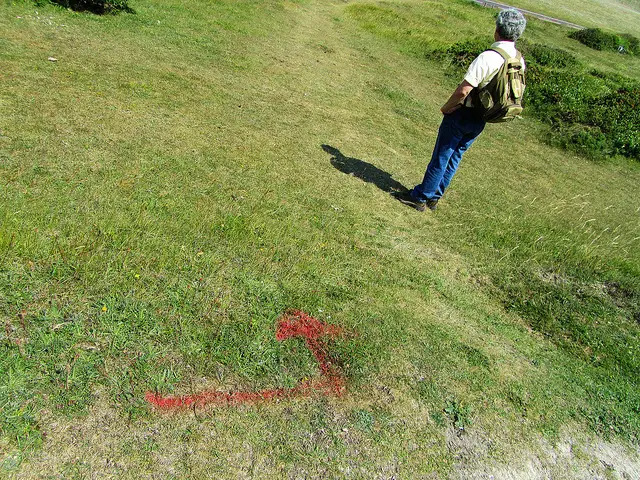 When you see, on your left, a junction with a concrete path – signposted by a big red arrow painted on the grass when we went there – cross the road and follow the concrete path all the way to Cornish Farm, perpendicular to the coast line (which should now be in your back).
Before Cornish Farm, take another 90-degree turn, this time to the right, and continue straight ahead until you reach the outskirts of Eastbourne.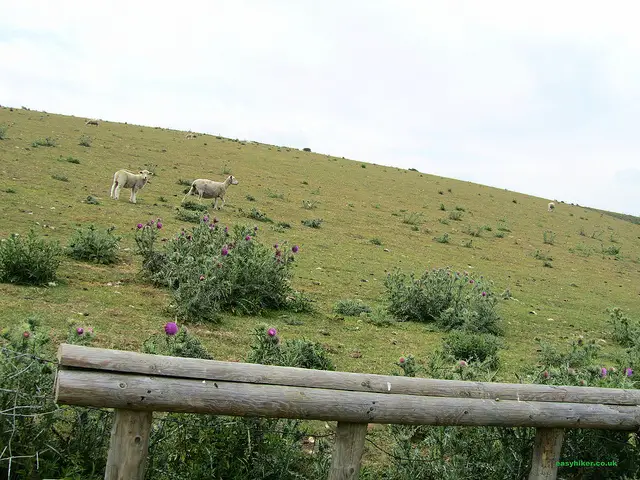 This stretch of the route is, of course, nowhere near as spectacular as the walk past the coast but tranquil, surprisingly pleasant and pretty in its own right. You will certainly meet a lot of sheep along the way.
Thinking back, however, it would have probably been more fun to continue along the cliff top to Alfriston – past the famous "Seven Sisters" – and then take the bus to the nearest train station, Lewes or Eastbourne. That's what we will do the next time,
because we will certainly do it again.
Get our lates updates on hikes we'll do in London. Follow us on Facebook or register to get our free updates directly in your email box.