Roman Holidays:
Eating in Rome
One of the great advantages of having a holiday flat in a residential area – rather than a downtown hotel – is that you are going to live like local people and do what local people do, if only for a week: you shop for groceries in ordinary supermarkets, search for the best near-by bakery and need to familiarize yourself with the public transport system. Best of all, however, in a residential area you are far less likely to step into a tourist trap restaurant.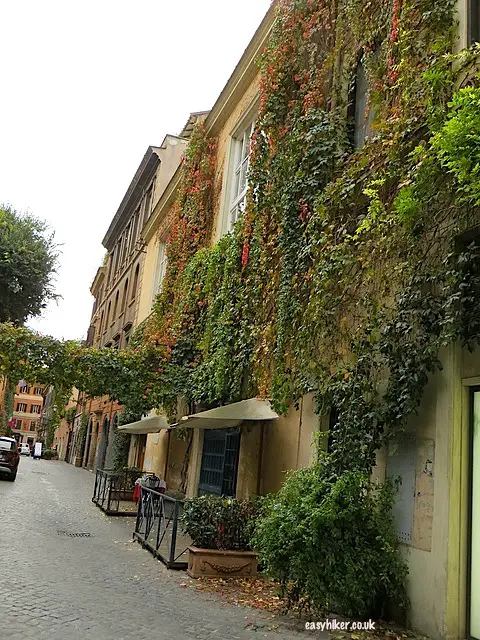 So how are you going to distinguish between the really good restaurants in your area and the ones which are shunned by the natives? Asking your landlord is a must if he is there to greet you in person (as ours was), but pointless if you are dealing with an agent of the letting company.
In any case, before walking into a local restaurant, you should always look for the three signs that distinguish the good from the bad:
1. queues (only fools rush into a restaurant which is nearly empty while all the others in the area are packed);
2. large groups of lively young adults (always trust students to know where to have a good time!) and
3. a wide social mix of guests – indicating that working-class families come here because it is cheap, and elegantly dressed middle-aged couples because the quality is excellent: as it happens, exactly the combination we are all looking for (not all cities still have those types of restaurants, but Rome and most Mediterranean cities do).
Following the suggestions from the landlord of our GowithOh! flat and our own observations, here is a selection of places in Trastevere – "our" area of Rome – that we found interesting.
 Pizzeria Ai Marmi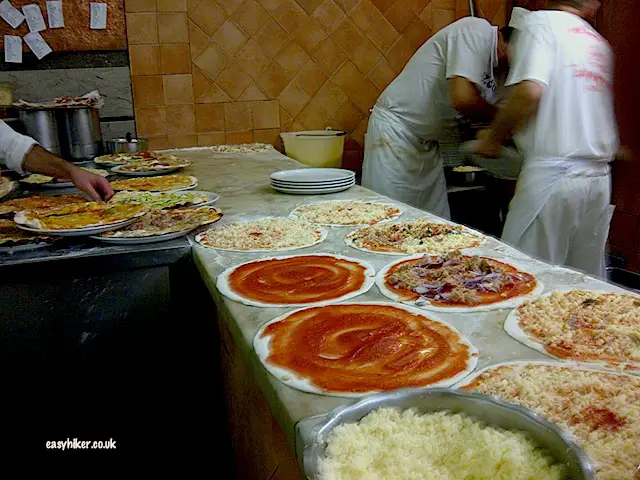 If I lived in Trastevere, I would sell all my tableware, together with my spoons and forks and eat here all days of the week, alternating their pizzas with one of their equally delicious fagioli dishes (basically beans with anything you can think of), not forgetting to order an extra portion of deep-fried bacallà for takeaway on Tuesdays because the place is closed on Wednesdays.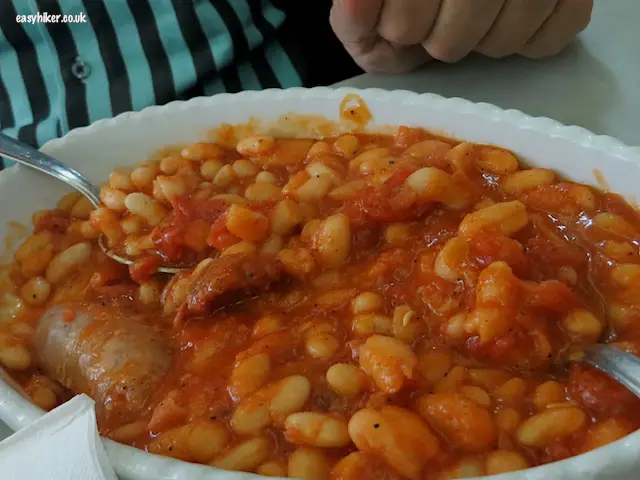 It was, in a way, a good thing that we only discovered Ai Marmi on our penultimate night, because we would not have seen another restaurant otherwise. Good, hearty food, authentic atmosphere, and Tuscan house wine for € 8.50 a litre: why go anywhere else?
One word of advice: come early (before eight), particularly on weekends when watching the waiters deal with the challenges of a full house – carrying five pizzas on either arm while scribbling down the bills with their toes (I am exaggerating, but only slightly) – is alone worth the trip across the river.
Address: Viale Trastevere 53.
Fish Market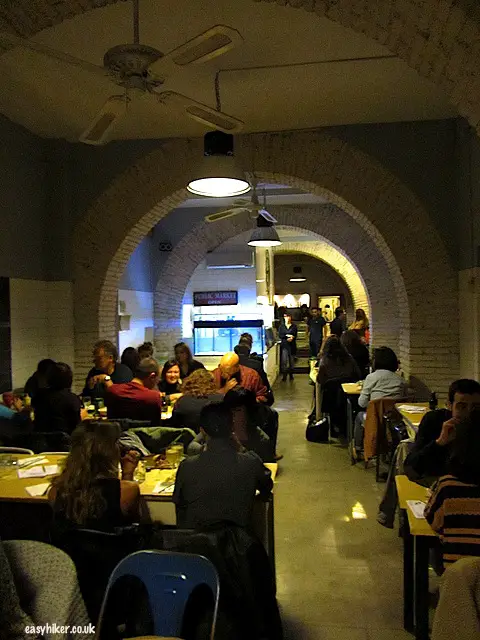 One notch up, there is the Fish Market (that's what it is called, in English), a trifle chi-chi perhaps but serving excellent quality at reasonable prices. This is one of the few Roman restaurants which still sell fish in the "traditional manner" – which means that you can choose from the fish the restaurant has bought that day on the market and will be charged according to their weight. Alternatively, select antipasti and main dishes alike from their long list of day specials.
This works a little differently from most other sit-down restaurants: you fill out one of the order forms (they and the pencils are provided), pay and wait at your table for your food – a little odd perhaps but making things easier if the place is full (no need to catch the eye of a waiter).
Address: Vicolo della Luce 2.
Galeassi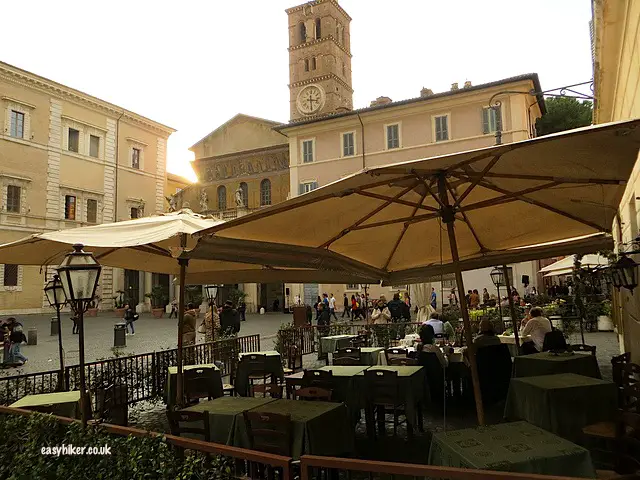 A restaurant for a more special occasion, perhaps, located in Trastevere's most scenic piazza, opposite Santa Maria church. The prices, of course, reflect that, while service can be a bit slow if the place is packed (which is often). Then again, Galeassi is an institution in this part of Rome, and if you know what to expect from a restaurant like that, you will not be sorry you came here. (Reprising briefly the theme of our last post, this is also the place where Robert Downey Jr. and Marisa Tomei dine and fall for each other in Only You.)
Address: Piazza San Maria in Trastevere 3.
All three restaurants on this brief list of suggestions for eating in Rome are fairly close to each other. In all cases, take the H-bus from Termini and get off at the first stop behind the river crossing or take tramway no. 8 from Piazza Venezia to Belli.
Walks of Italy Food Tour
Now, if you really love your food and want to find out more about the Italian way of cooking and eating  – if you perhaps even want to source some of the ingredients you need to cook an authentic Italian meal at home – you may want to participate in a food tour.
This is what we did: we were invited by Walks of Italy on their food tour and taken, for one glorious morning, to some of the most ancient and traditional purveyors of everything that makes Italian cusine so loveable: spicy sausages, aromatic cheese, fragrant bread. (And plenty of Italian wine, too, to wash it all down.)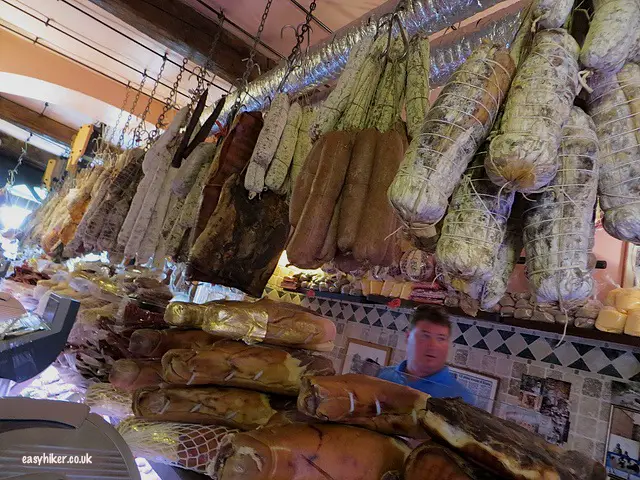 Oil is the soul of Italian food. Which is why the tour begins at the olive oil stall in the Campo dei Fiore food market where our charming guide Louisa Galligani made us taste various types of olive oils from various regions, followed by different kinds of balsamic vinegar – including some that the Italians put on their gelato. (And if you think that's yucky, you obviously have never tasted it.)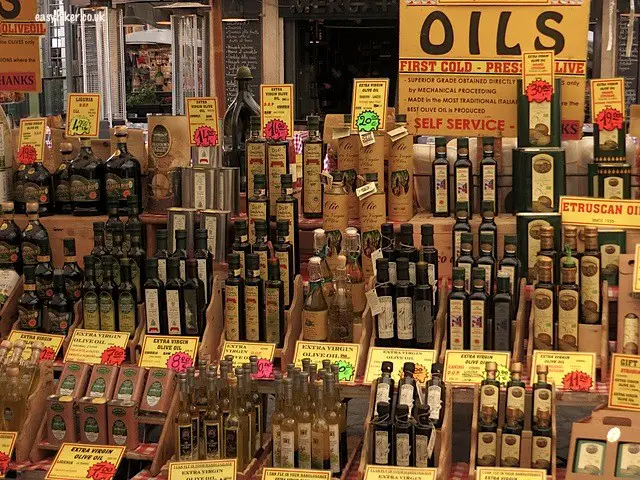 We were told how to distinguish sausages from different regions and cheeses of different vintage before being advised what goes with which – and, in the end, we even got the opportunity of applying some of the stuff we had learned by making our own pizza. Lesson one: nothing is quite as easy as it looks.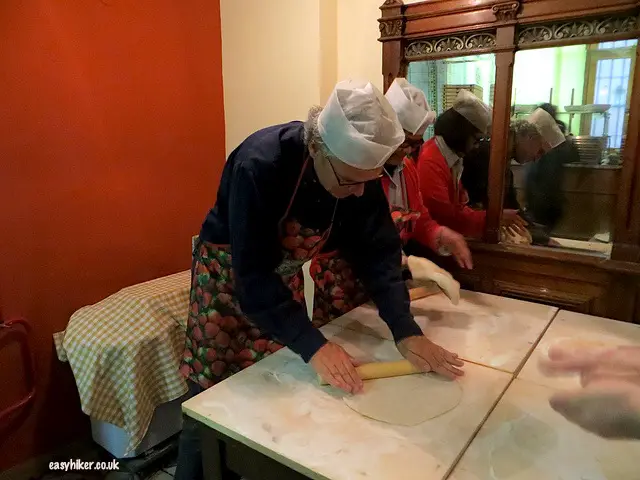 My own attempt, I hate to admit, already failed the "good pizza" test at the first hurdle. It's not even round, Mrs. Easy Hiker disapproved, not entirely without justification – but then again, pasta comes in a large variety of shapes, from butterflies (farfalle) to little ears (orecchiette), so why not pizza? Aren't incompetence and innovation actually close culinary bedfellows – as in the invention of champagne, to name just one example? And what's wrong with an irregular oval, anyway?  (In the end, it did not matter, of course: round or not, the pizza was delicious. I must be a better cook than I thought.)
Having consumed all those scrumptious calories, however, we now have to burn them all off. It is time to go to work – out on the country roads and hiking trails of the Lazio area around Rome: in our next post!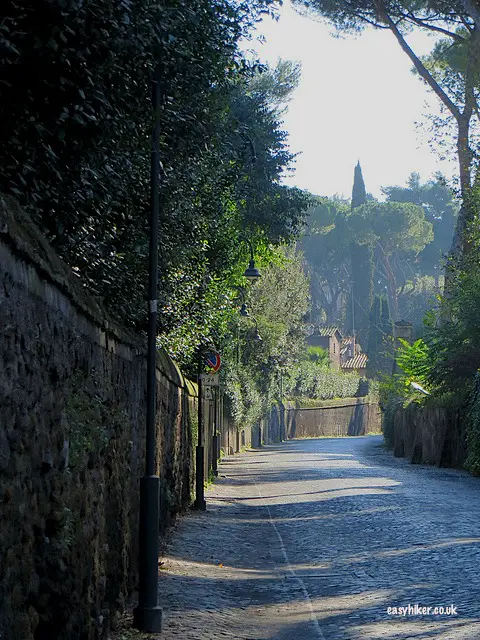 Coming soon will be a walk to burn those calories from too much pasta and pizza. Don't miss it by subscribing to our free updates via email or by following us on Facebook.
Gratitude to GowithOh for providing us an apartment in the Trastevere area of Rome, which allowed us to discover these recommended restaurants for you. When in Rome, GowithOh!