From Antipasti to Dolci
I don't know to what extent we have become experts in Tuscan art and landscapes (there is simply too much of either to see and to experience), but our recent trip has certainly improved our expertise in one specific area: Italian food, more particularly Tuscan dishes.
We now know that Tuscan cuisine is meat-based, and that the Tuscans are not overly fussy about the type of pasta they consume, as they themselves are ready to admit, with the relatively unsophisticated pici– a type of fat spaghetti – leading the field as the local favourite. These pici are generally served with a meat sauce (con ragù, in Italian), frequently with cinghiale, wild boar, but the way these meat sauces are prepared, it would be hard to tell, quite frankly.
These are some general points, but there are of course big differences from region to region, town to town, and restaurant to restaurant. Here is a small selection of restaurants where we certainly enjoyed eating in Tuscany:
Hotel Astoria Restaurant, Montecatini Terme

No pici con ragù here, since this is a rather smart establishment, one full of Old World Charm. (Some of the employees actually look as though they could still remember a time when the Old World Charm was the New World Charm.) The dining room with its colonnades and painted walls is as old-fashioned as the menu which is full of heavy and rich delicacies such as the starter (in a 6-course dinner) of a light-as-a-cloud flan of spinach and truffles bathed in gorgonzola sauce and a dessert of their "home-made" gelati cake with fresh fruit crostatina.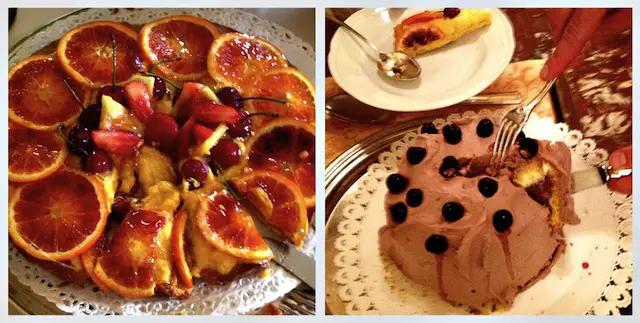 Hotel Torretta, Montecatini Terme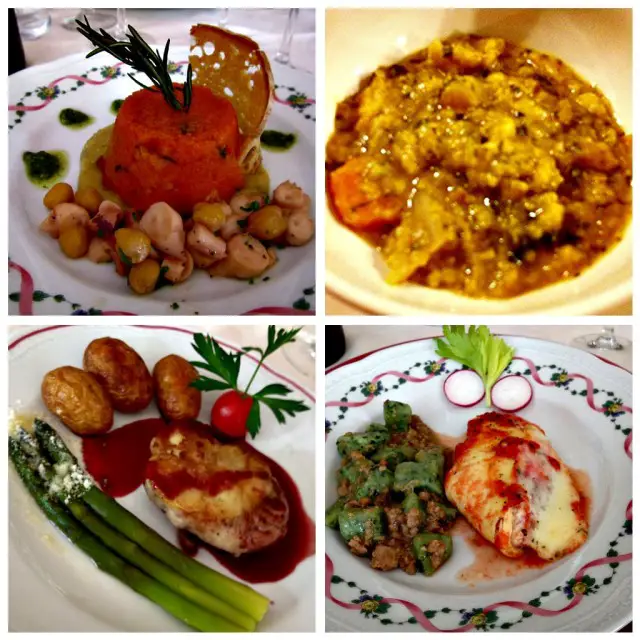 Much newer than the Astoria down the road, but no less charming and with a similar philosophy about food: copious portions, hearty dishes and rich ingredients. Yes, it was here where we were introduced to the classic Tuscan "primo piatto povero": the pappa al pomodoro. If that's what "poor folks" eat as a first course in Tuscany, I would not mind sharing their fate every single day of the year.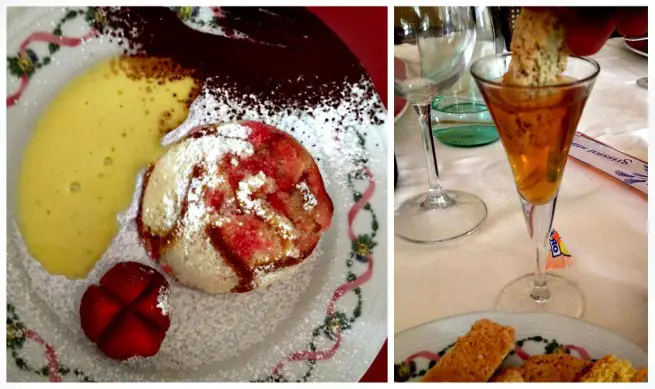 Trattoria Borgo di Racciano, near San Gimignano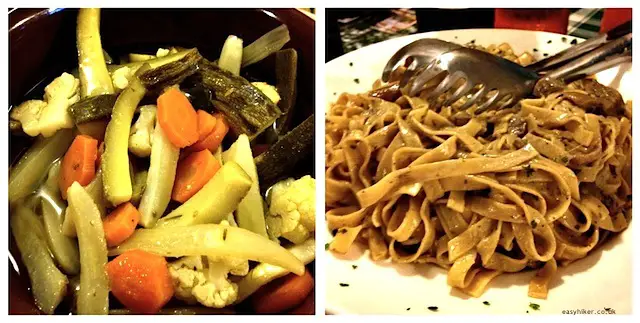 Located outside of San Gimignano – and with splendid views over the Old Town and the surrounding hills – the Trattoria Borgo di Racciano serves the guests of the Antico Borgo di Frati, once (centuries ago) a village inhabited by a community of friars and now a "village" of self-catering guest houses. The Trattoria serves simple, robust food, in settings to match. Just the right thing after a day of hiking on the Via Francigena.
Locanda Sant'Agostino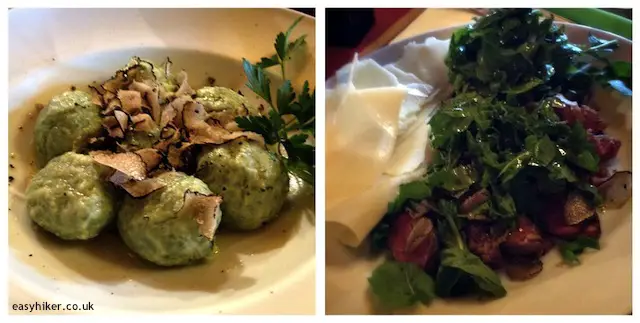 Before the first ardous trekking and biking on the Via Francigena began, we were fortified with lunch at Locanda Sant'Agostino. Our judgment? Top-notch preparation and presentation of Tuscan specialties, from the antipasti down to their dolci (which were simply "to-die-for". At least that's what Mrs. Easy Hiker said).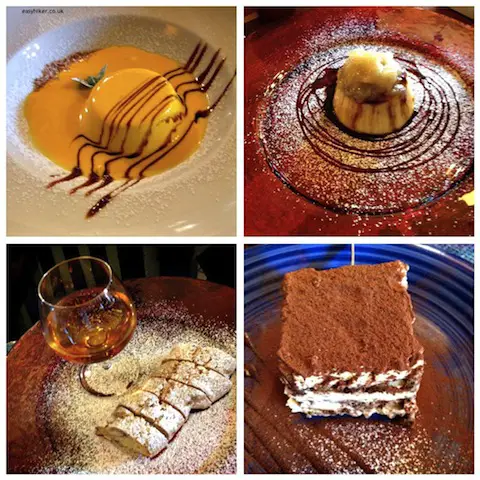 Il Ceppo

After all this sophistication, a little bit of rough was more than welcome, with a daily menu that was scribbled on a blackboard and wine from 1.5 l bottles, served in water glasses. It is equally fair to say that Il Ceppo is not the prettiest restaurant you can find in the whole of Tuscany, located in a 60s-style building on the side of a busy road.
But what an experience! Excellent food in a great atmosphere – we came here on a Sunday for lunch, and the place was packed with very large, very noisy and very, very happy Italian families. If I had to eat in one Tuscan restaurant every day for the rest of my life, this would surely be the one. (Open only for breakfast and lunch.) 
Café in the Green Garden of Siena

We came here on the last evening of our trip for dinner – a light dinner, as it turned out: everybody in our group breathed a sigh of relief, to be honest, when we saw the assortment of focaccia and pizza snacks they had prepared for us. (There are only so many four-course dinners a man can take.) It was here that our group tasted and went crazy over their Nutella-filled cake. (Italians love, love, love their Nutella, not least because they are more than a little proud of it – much in the same way that they used to be proud of their football teams when they still won things.)
This restaurant is also an interesting place for other reasons than their food, due to its policy of hiring staff with social and physical "handicaps" who otherwise would have little chances on the regular employment market. So this is the place to go if you also feel like supporting a worthy cause.
 Wine Italian Wine Everywhere
One last word: wherever we went, there were two elements of every meal we had. One was wine. I still remember another press trip – I will not tell you where – when our hosts discussed over dinner whether or not they were willing to throw a bottle of wine into the invitation. No such thing would be thinkable in Italy. All lunches and dinners were served with copious amounts of their excellent local reds, some of which were sweet and some more acidic, and most of which are exported all over Italy and the world.
What you should not miss, however, is the local white, the Vernaccia, which varies according to its age and the way it was matured. If you want to find out more about this wine, there is an excellent wine museum in San Gimignano that is solely dedicated to the Vernaccia grape.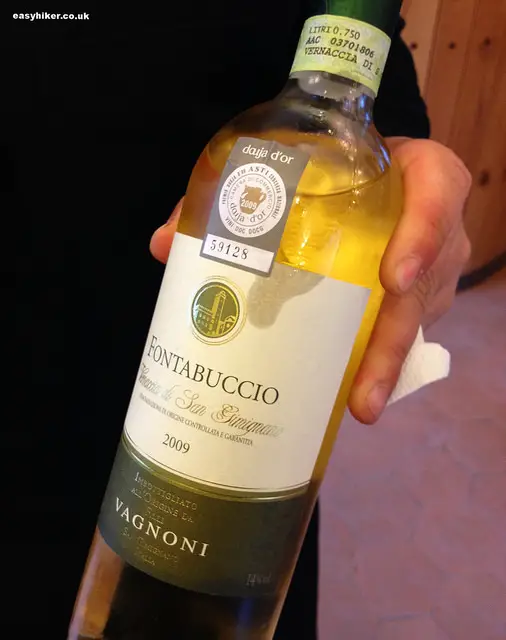 And finally, dolci. They were a big part of every menu that we were served. Local tradition or were we just being spoiled? I have no idea – and whatever the answer, this would be of no great help to you.
But there are two take-home local sweets that we can highly recommend: the Cialde, a specialty from the Bargilli family in Montecatini, cripy thin wafers filled with a nutty paste, and the Panforte from Siena, a kind of extremely rich Christmas cake (packed with whole nuts and dried fruits) without any of the Christmas spices that drive some people, well, nuts. Great stuff!
Our trip to Tuscany was made possible on the invitation of the Council of Europe/European Commission Joint Programme 2013-2014 on European Cultural Routes, realized in co-operation with the European Institute of Cultural Routes(EICR).