In our last post, we talked about something that Mediterranean countries do not, on the whole, do very well – Christmas, or, to be more precise, the "universal" (but in fact Northern European-North American) version of it.
Today's post, conversely, is about something which lies very much in Southern Europe's comfort zone: food. Which is more than ample compensation, you must agree.
When it comes to the higher forms of "food culture", Northern Europeans (and Americans) often get it wrong, as though they were trying to express themselves in a foreign language: even when there is nothing palpably wrong with the vocabulary or the grammatical structure, the words are often strung together in a slightly-too-deliberate, non-natural way, and a whiff of alienness persists.
Mediterraneans, conversely, have a much more instinctive feel for the position of good eating in the grander scheme of things. It is precisely because they know how crucial food is that they are at a much lower risk of overestimating its importance.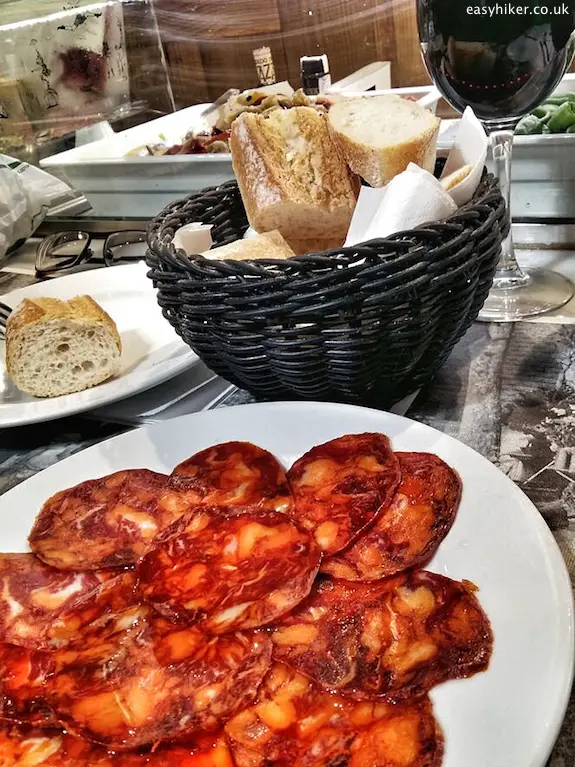 If you want to experience living Southern European culture, don't go to a museum or a theatre: go to the type of restaurant where locals eat with their families. And in Spain, the best way of sampling local food culture is by going to a tapas bar.
The term "tapas", if you are not familiar with this way of eating, covers appetizers and snacks as much as smaller portions of "proper" meals: seafood, meat, vegetables, almost anything you can think of. The idea is to "pick and choose" between different foods, a bite here and a bite there.
Read also: Barcelona: City of Christmas Lights
While we were in Barcelona, I overheard an English woman rejecting her husband's lunchtime proposal: "Tapas?", she said, "AGAIN? But we just had tapas yesterday for dinner!" That is not the way it works. Simply because you could, in theory, have tapas for a week, both during lunch and dinner, without ever eating the same thing twice.
Eating Well in Barcelona
So tapas it is then, and El Nacional – on 24 bis, Passeig de Gracia, a little set off the main street, half between and half behind two neighbouring buildings – is a good place to experience them in elegant and historic surroundings (the art nouveau building was constructed in 1899).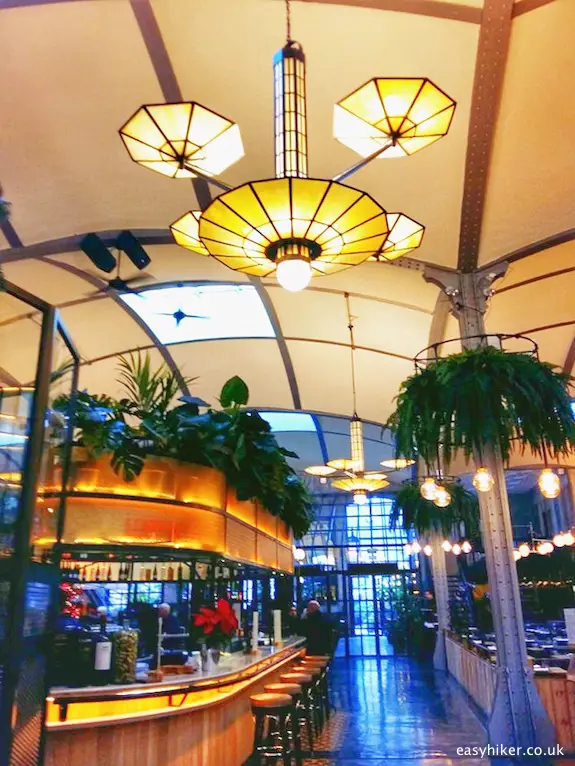 El Nacional is a "multi-space restaurant", a more urban and sophisticated version of a shopping centre food hall, where 8 restaurants make sure that there is something for every taste (and not only tapas).
For a traditional "working man's" tapas place, go to Can Paixano on 7 Carrer de la Reina Cristina near Barcelona harbour.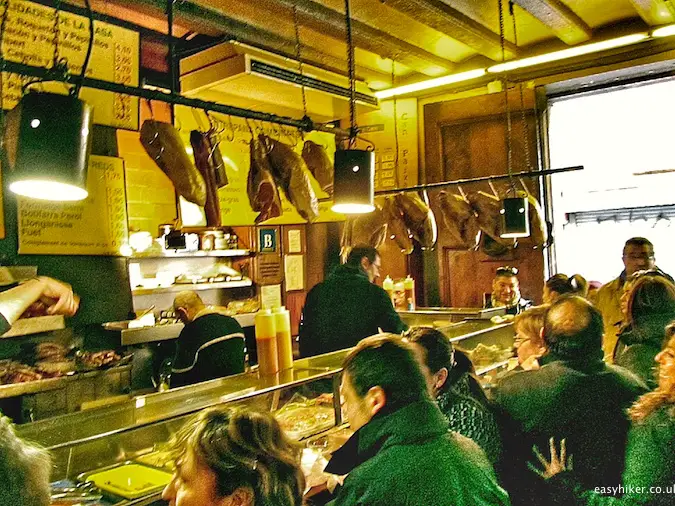 We have been to this gem of a place before and can confirm that Can Paixano remains unbeatable in price, taste and atmosphere. Please note that you can only drink cava with your meal (white or rosé) here, because the restaurant is run by a cava producer. (The rows and rows of bottles that are lined up against the wall are a bit of a giveaway.)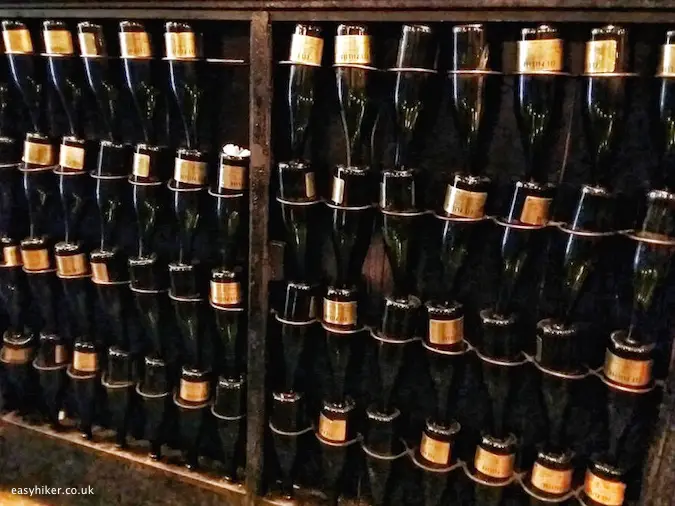 Another excellent place to sample tapas is one of the numerous local markets. Barcelona's food markets are large and enclosed indoor structures, lively, colourful and providing you with a good insight into the "local way of life".
We visited the three largest food markets in central Barcelona, mercats as they are called in Catalan, so this section of the post might as well be sub-titled Compare the Mercats. (This turned out to be so much fun that I briefly toyed with the idea of dedicating an entire website to the project. Unfortunately, however, it seems that the domain name had already been taken – by some furry animals in fancy suits. Very, very strange.)
Let's start with the mercat right opposite our holiday flat.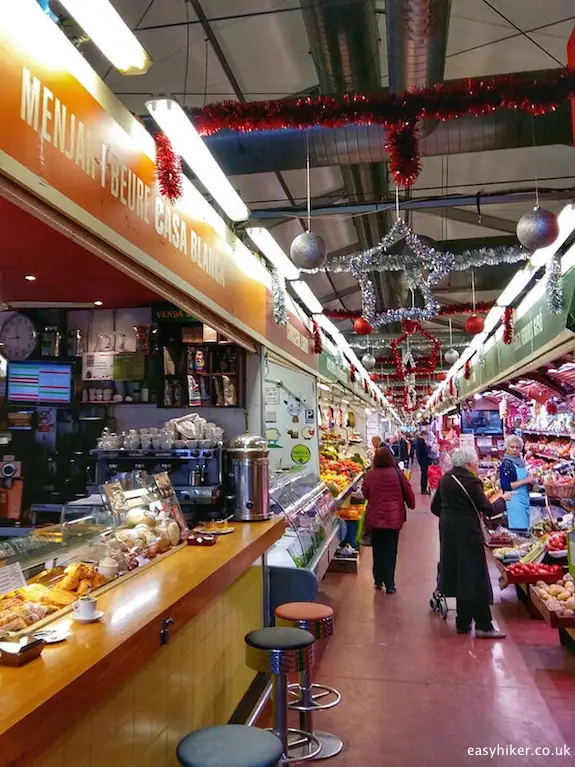 The San Antoni market was by far the scruffiest and least atmospheric of the lot, looking as though it had been built in the 70s, a good decade for guitar-based rock but a wretched one for architecture. (In fairness I must add that the structure is partly under reconstruction.) We can't tell you much about the quality of the food outlets – the current version has only very few – because the place looked so ghastly and uninviting that we preferred to have our tapas somewhere else.
So on we go to the …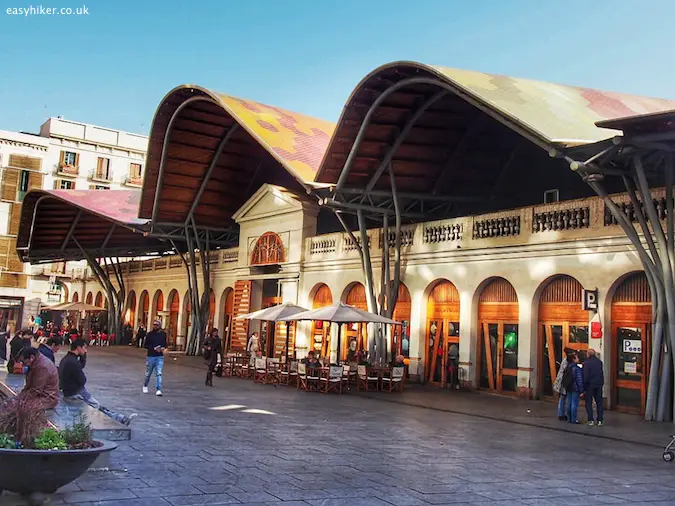 … Mercat de Santa Caterina near Barcelona Cathedral, where they have a much wider range of restaurants and bars on offer but which stills falls some way short of …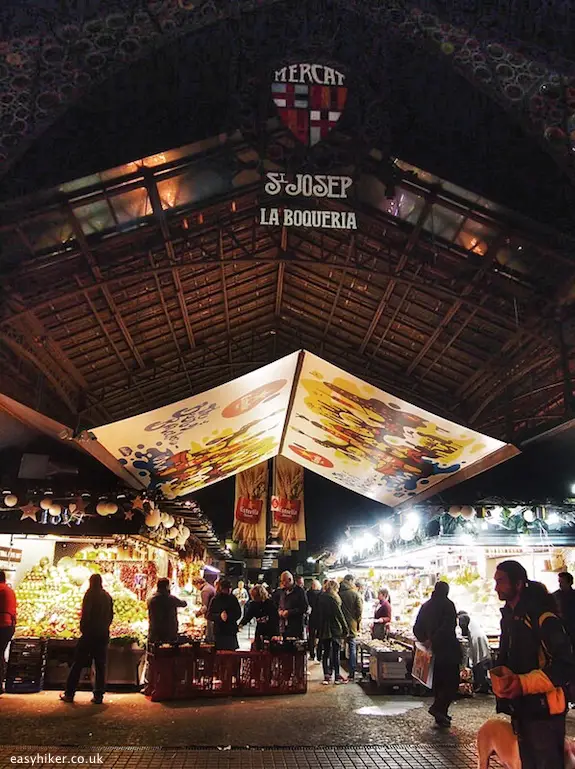 … La Boqueria, the most attractive and also the most conveniently located market (for most visitors) as it lies immediately off the central avenue of Las Ramblas. There are many places to sample the local food here, and we cannot tell whether La Ramblero is the best, but it is certainly the one with the slickest and most professional presentation. And it's not all show, the quality of their products is also very high. If it is also a little pricier than some, hey: you're worth it.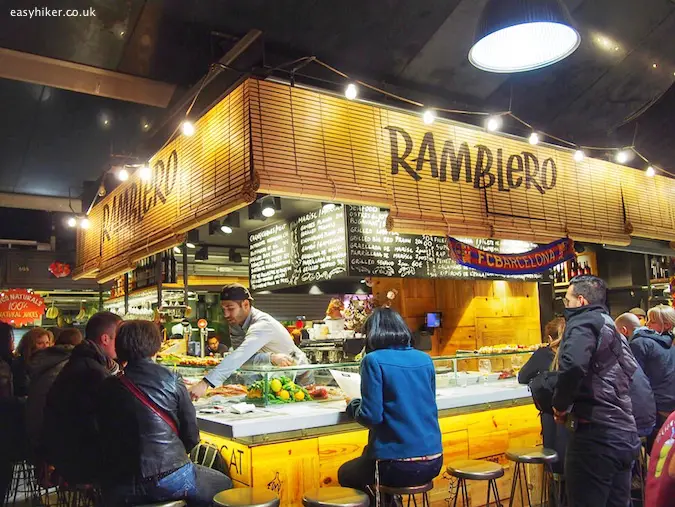 One almost compulsory ingredient of a "typical" tapas menu is Jamón Iberico, the ham which is called Iberian not solely because it is made in Iberia (that would be Jamón Serrano) but because it is produced from a special breed, the darker (and more muscular) Iberian pig.
If you are the sort of person who enjoys finding out more about the food you consume, rather than just wolfing down what someone puts on your plate, the Jamon Experience, also on Las Ramblas, …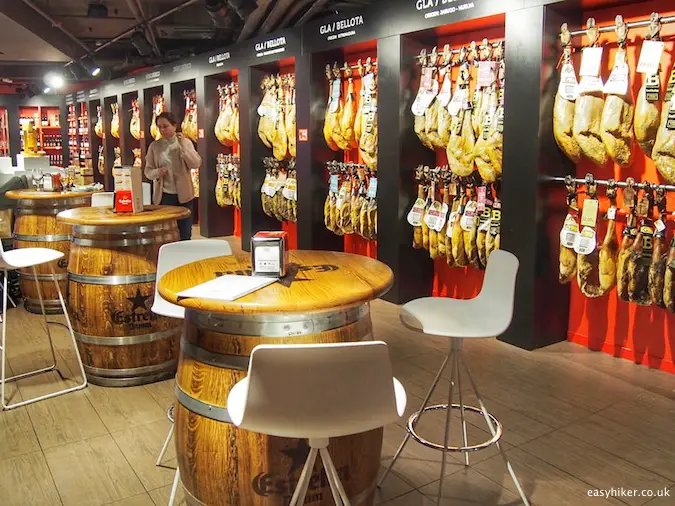 … may be just the ticket for you.
They offer audio-guided "multimedia" tours, followed by a tasting session upstairs where you can sample the different varieties of Jamón Iberico. You can also go directly to the restaurant, without the tour, but be warned that either way, the Iberian Ham Experience – at 19 Euros for a plate of six thin slices (including the tour) – may not deliver the cheapest snack of your trip. At Can Paixano, you can (very nearly) feed a family of four for the same amount: Mrs. Easy Hiker and I paid 12 Euros for a light lunch (three tapas) and two glasses of cava.
¡Buen provecho! – or, as they say in Catalan, ¡Bon Profit!
More tips coming for your next visit to Barcelona. Don't miss them by subscribing to our updates via email or follow us on Facebook, Instagram and Twitter so as not to miss our coming tips on what to see and do in Barcelona at this time of year. Why not include us in your G+ circles too?