Themed Walks in London
A visit to London Parks
No visit to London feels complete without a trip to one of the capital's great parks. The Central London parks belong to the city's greatest tourist attractions – in fact, London is nearly as famous for her green spaces as she is for her furry-hatted guardsmen and the receding chin lines of her royals.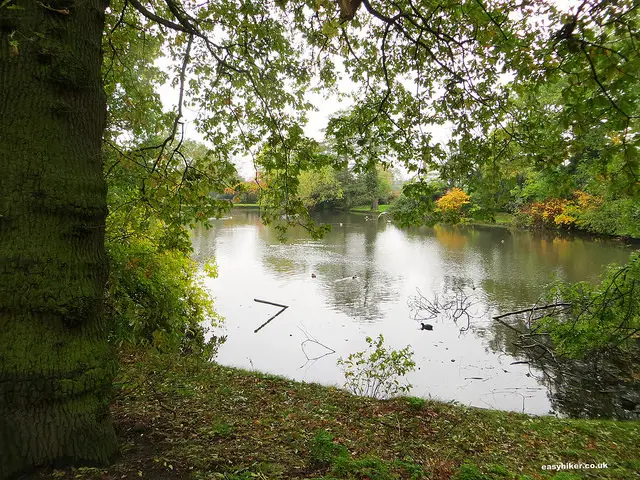 Visitors are spoilt for choice: there are many parks in London, and they all have their own character. Here are five suggestions.
Hyde Park
This is the park that most people probably think of as London's largest and most centrally located. Actually, you could argue whether it is the most central. It may be the one you are most likely to run into, as it occupies the space between London's two most popular department stores, Harrod's (to look) and Primark (to buy) – but it is certainly not the largest, not even when you only count the parks in the town centre.
In fairness, however, it must be said that Hyde Park originally comprised the neighbouring Kensington Gardens as well (which was separated from it, for no discernible reason, by Queen Caroline in 1720), and not only tourists perceive the two as a single open space. Together, they are larger not only than any other park in Central London but bigger than the entire principality of Monaco.
Still, willfully drawn borders or not, Hyde Park and Kensington Gardens have different opening times and are famous for different things: Hyde park for its open air concerts, including two by the Rolling Stones (staged 40 years apart), Hyde Park Corner and its public speakers who range from the sweetly eccentric to the downright bonkers (the Corner is mainly empty these days, its function having been usurped by the Comment Is Free section in the Guardian) and the Great Exhibition of 1851 whose centerpiece, the Crystal Palace, was later shipped to South London where it burned down and continues a ghostly afterlife in the names of a suburban train station and a perennially struggling football club.
Kensington Gardens, meanwhile, is famous mainly for its Palace, an old favourite among royals (Princess Diana lived there, and Prince William does so now), and Kensington Palace Gardens, the street at its western end which features some of London's most expensive real estate – with an average price per home of 122 million pounds. While you are here already, why not give your regards to the Sultan of Brunei (no. 20). You can also say hello to Roman Abramovich (no.17) – and tell him that Easy Hiker thinks his football team sucks.
Regent's Park
All Central London parks owe their existence to Henry VIII's love for killing wildlife – he had them landscaped to make his favourite hobby of hunting more exciting and to create vistas that allowed spectators to get a good view of the action. Regent's Park was originally the most rugged of the royal hunting parks, but is – in its present form – a monument to the Regency period, the last years in the reign of the mentally unstable King George III (so charmingly described by the poet Shelley as "an old, mad, blind, despised, and dying king") when England was run by his son, the Prince Regent ("a dreg of his dull race", Shelley again, "mud from a muddy spring"). This was an age of elegance, sophistication and the first pangs of modernity, when Beau Brummell, Lord Byron and the actor Edmund Kean respectively invented dandyism, the cult of celebrity and show-business excess.
Regent's Park was created when the Prince Regent commissioned the architect John Nash to build him a new palace with all the accoutrements: an approach road (the modern Regent's Street), surrounding town houses for his favourite courtiers (the Nash terraces),  parks and royal gardens – the entire development still adorns this part of London, only the palace itself is missing: ironically, it was the only part that was never built.
Up to this very day, Regent's park is more famous for what's around than what's in it: Nash's mansions, Broadcasting House (the old HQ of the BBC), London Zoo and Primrose Hill, the traditional home turf of London's left-wing bohemia including Sylvia Plath, the Milibands and Tim Burton.
St James's Park
St James's Park was originally a formal French-style park, built after Charles II had seen examples of rigidly landscaped gardens in his continental exile, and although it was extensively reworked the in the 18th century, it is still the most garden-like of all London parks. It is also the oldest, having been opened to the public by Charles II himself in the 17th century.
Being located so closely to the government offices of Whitehall, St James's Park is a favourite place for civil servants to take an al fresco lunch – or to betray their country to the KGB, if many a spy movie is to be believed.
The park also offers some of the best views that London has to offer –managing to make even Buckingham Palace look almost pretty (it is the most austere of royal residences, and the Queen is said to dislike it intensely) and casting an exotic, Shangri-La-like aura over the roofs of Whitehall on the other side, especially at dusk.
Hampstead Heath
Half park, half urban wilderness, the Heath is a unique combination of ancient woodlands, natural ponds and elevated ridges – with a stately home, great views over London and some modern sculpture thrown in for good measure. It is easily the most diverse and fascinating green space in London. Don't miss it, and go here to find out more.
Your Local Park
There are many more parks in and around London, most of them built in the 19th century for the urban middle or working classes. They tend to be fairly similar – often developed around popular features such as a lake, a large bandstand or, if one already happened to be in place, a stately home, most often the residence of the ancient feudal landlord – and are all well worth a visit, if, perhaps, not a long trip across town.
But why should you? If you are visiting London, there will surely be a park near-by your holiday flat or hotel. Go there on a sunny day with something from the local deli for an impromptu picnic, and I guarantee that this will be one of the best things you will do all week.
(The last picture, by the way, is from our old "local", Broomfield Park in North London. Memories of many happy hours!)