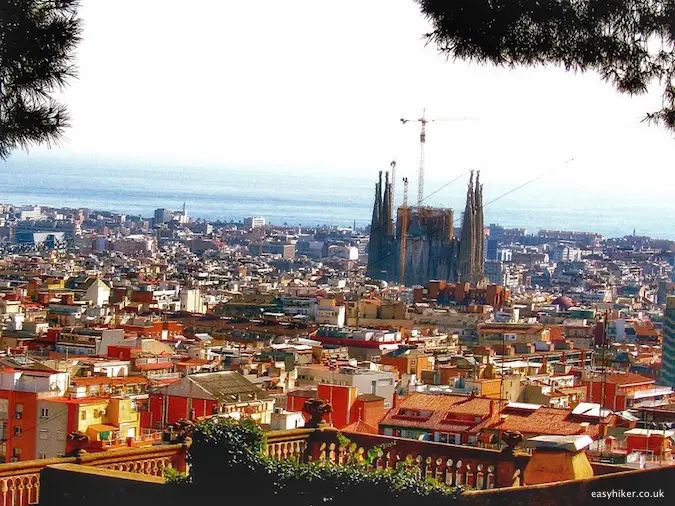 1. It is always nice to escape the dark and the cold
Look out of your window: chances are you are staring into a grey and gloomy fog. What more reasons do you need to run away? Escaping from the grim and cold reality of early winter in much of Europe and North America: this, after all, is what Christmas was invented for, giving all of us something better and brighter to look forward to. The problem is, however, that Christmas is (a.) still a long time off, and (b.) a chore as much as a feast for most of us these days.
So take your mind off both the weather and the tedious round of gift-buying which lies ahead of you – and perhaps, who knows, away from it all under foreign skies, you may even stumble upon a clever little present for somebody who is particularly hard to please!
2. The colours are fantastic …
Say what you will about the Mediterranean: in summer it's hot and sticky and the trains never run on time, but one of its saving graces is the range of colours you can observe at this time of year. The typical Mediterranean winter combination of sunny skies and crisp air make the colours stand out with razor-sharp contours, …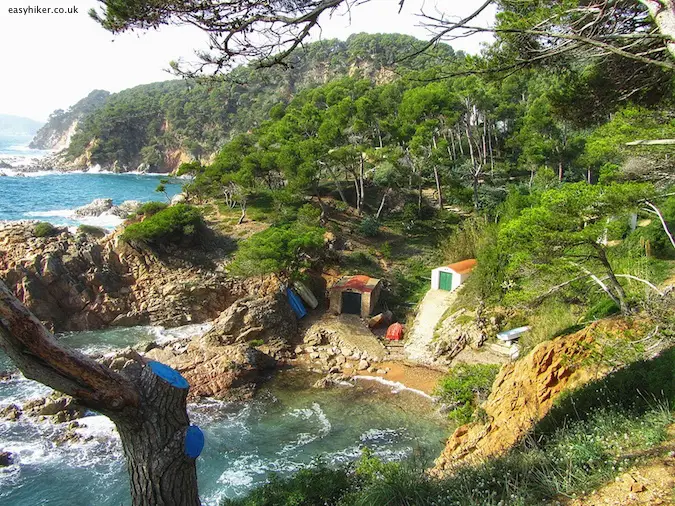 … and – in welcome contrast to the North – the local palette even includes lush greens, with most trees keeping their leaves throughout the mild winters.
Having said that, the Barcelona range of colours is specifically dazzling, even by Mediterranean standards – downright gaudy, if you pardon the pun.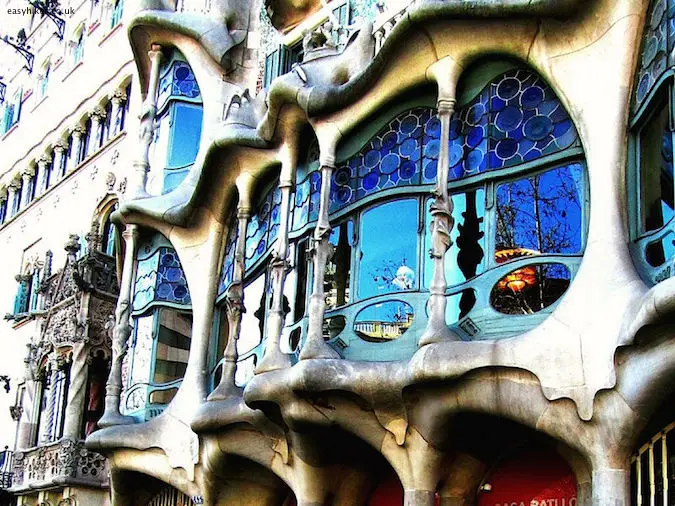 Guaranteed to have an immediate effect on your mood and to lift your spirits instantly.
Read also: Architecture in Barcelona
3. … and so is the food.
Nobody does food like the nations of the Mediterranean. Even if you are not the greatest gourmet in the world (like me), you cannot help being swept away by the sheer pizzazz and joie de vivre with which the locals celebrate and anticipate the idea of a forthcoming feast. Restaurants are not only places of consumption but also grand theatres, and market stall displays have been composed with the careful eye of a still life painter.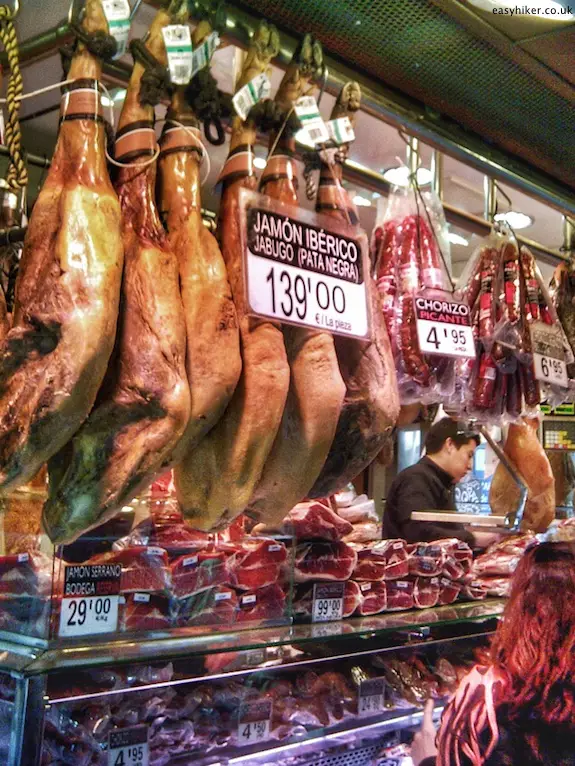 There is apparently a whole bunch of Catalonian Christmas foods, starting with the Escudella i carn d'olla, a meat and veg stew – which sounds just the ticket for a cool winter evening.
4. Discover something new
Going to a place where you have been before can have its charms. You are not going there in an "astonish me" mood but are willing to do some homework, out of fear you will get caught up in familiar routines and walk up and down the same old streets a second or third time.
For my own homework, I found out that people from all over Catalonia travel to Barcelona to see the Christmas lights around Placa Catalunya (which is conveniently located in walking distance from our holiday flat*). And did you know that the Barcelona Christmas fair may well be older than most German Christmas markets (it dates from 1786)?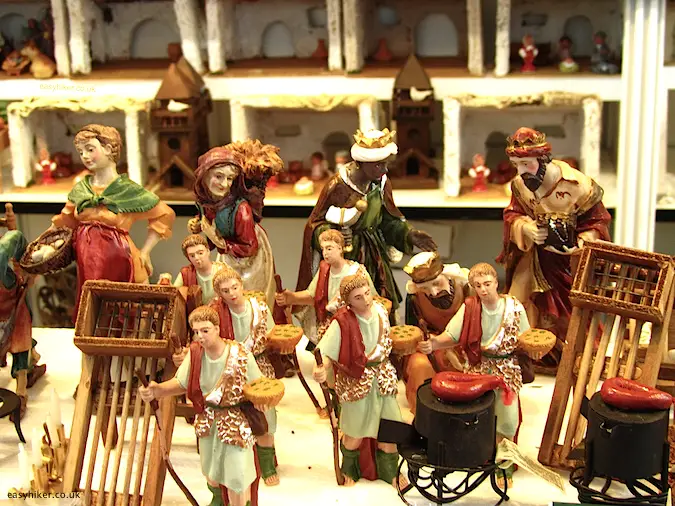 They do sell different items, however, mainly traditional, hand-carved figurines for Yuletide displays, including the notorious Caganer, the "Christmas crapper", who turns up in many a nativity scene somewhere off the centre of the action, pants down behind a bush or a tree. (Talking about stumbling upon Christmas presents for those who are notoriously hard to please! "Open it, Aunt Doris, I bought this in Barcelona – especially for you!")
5. And finally, to go for a walk by the sea or in the mountains.
Hiking at this time of year in the North is not much fun. More likely than not it's cold, grey, windy, and most of the time some sort of fog is lingering, ensuring you don't get to see much, and when this fog finally lifts, it will be getting dark, and you will see even less.
Contrast that with a beach walk on the balmy Costa Brava, between the blue sea and subtropical vegetation, …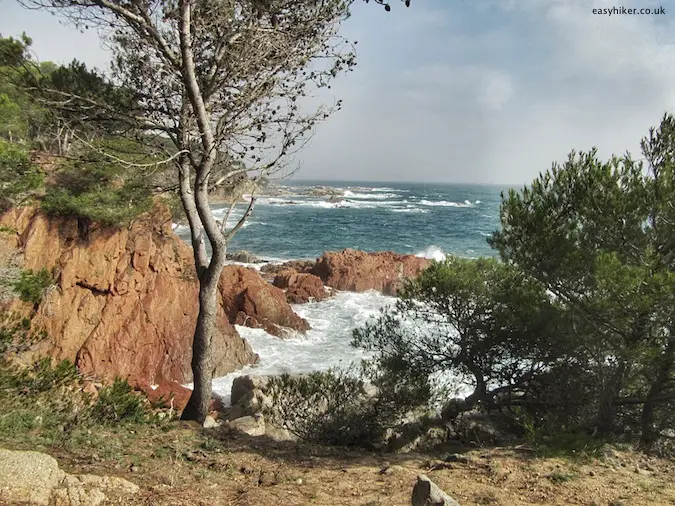 … or a trip to Montserrat if you have never been – it's great there in the winter, snowy mountain caps and all. Just remember to bring some winter wear with you from mild and sunny Barcelona.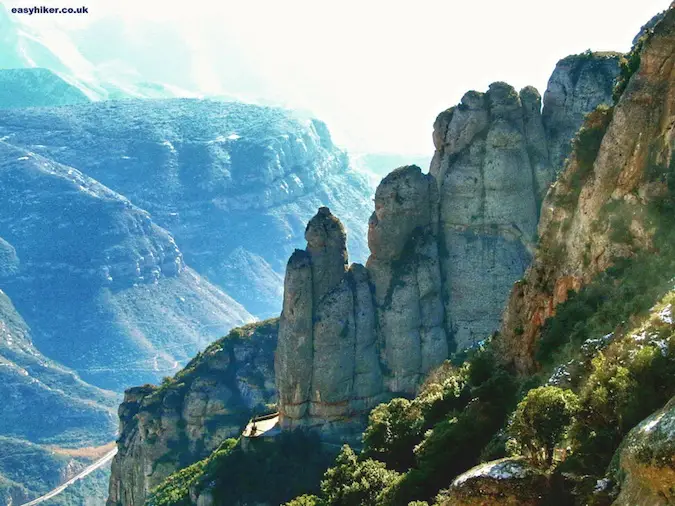 Still want more excuse aside from these five reasons to visit Barcelona at this time of year?
Join us on our city walks. Don't miss our tips. Subscribe to our updates via email or follow us on Facebook, Instagram and Twitter so as not to miss our coming tips on what to see and do in Barcelona at this time of year. Why not include us in your G+ circles too?