This small Riviera seaside town has something for every hiker: two legs, three legs or four
This past winter, we have been exploring hiking trails on our local coast, on either side – French as well as Italian – of the Riviera, and what better place to end this series of walks, as the winter draws to a close, than in Finale Ligure: a town whose very name suggests closure.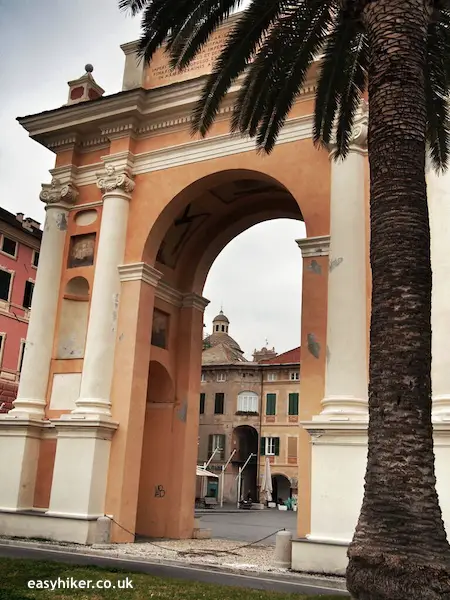 Was it also a case of leaving the best for last? I would not go that far, but it is true that we were positively surprised of how much Finale has to offer. Something for everyone, in fact, more specifically a walk for everybody, according to their individual level of stamina.
Read also: The Baroque Splendour of Cervo
So if you ever come across Finale yourself – the town is located roughly half way down the Riviera di Ponente, about one hour by train from both Genoa and the French border – here is a selection of what you might do.
The first three of the five walks of Finale Ligure
Stamina level one: The beach promenade. Who this walk would be ideal for: my 89-year-old mother.
My mother who will be 89 tomorrow – Happy Birthday, Mum – is still very active, even riding her bicycle to the shops occasionally, but, these days, tends to tire rather quickly. A stroll up and down Ligure's beach promenade would be just perfect for her, particularly on a gentle day early in the spring when it is neither too hot nor too cold: while palm trees, the sea and the long sandy beach set the Mediterranean atmosphere on one side …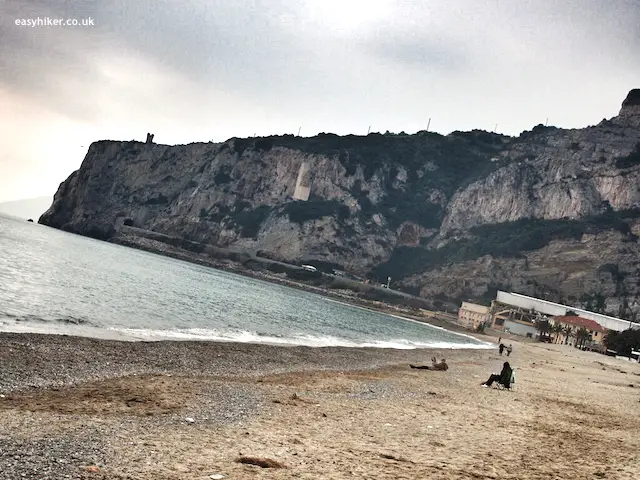 … shops and handsome beachfront buildings on the other side, including even some castle ruins on the eastern edge of town (what is left over from the 14th century Castelfranco) …
… and the lively Piazza Vittorio Emmanuelle II, the centre of town …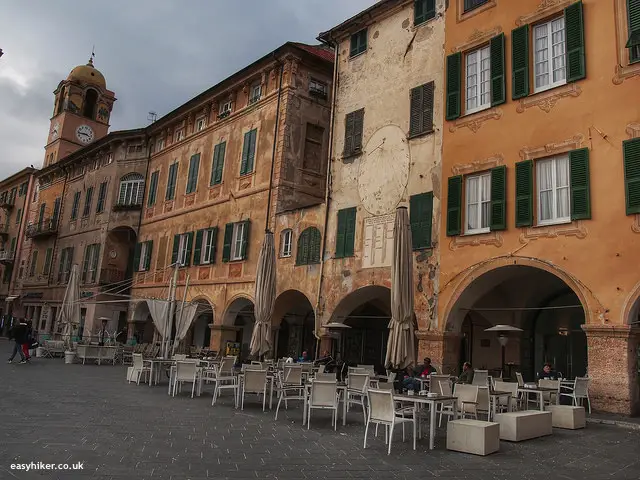 … divert the eye and ensure that there is always something interesting and new to look at.
It's a short promenade, altogether less than an hour even if you walk slowly (and that already includes the 5-minute walk from the train station to the beach), but you can extend it a little further by continuing past the castle ruins to what once was the neighbouring village of Pia (right on the other side of the small river) and what is now called Final-pia, one of the three "boroughs" of Finale Ligure (the main town by the beach is called Final-marina).
Stamina level two: From Finalmarina to Finalborgo. Who this walk would have been ideal for: our family dog.
Blondie was never particularly active, even when he was young, and decided to take it down a notch from there at a relatively early stage of his doggy middle age. I still remember the day when, while we were playing a game of chase-the-ball, he suddenly gave me a long mournful look and, instead of running after the ball, turned around and headed straight for home. I was a little worried initially, thinking he might be ill or something, but it turned out he was all right – just getting tired. And old.
The walk from Finalmarina to Finalborgo, the third of Finale's boroughs …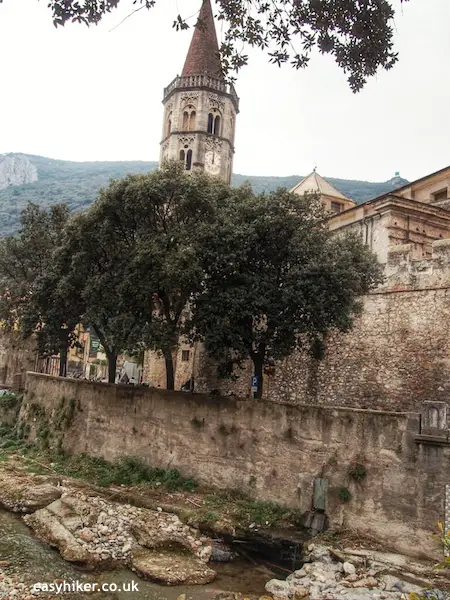 … would have just been the right length for him at about one mile. It would also have suited him that Borgo itself is very compact, and that, while his master and mistress had a look at the housefronts …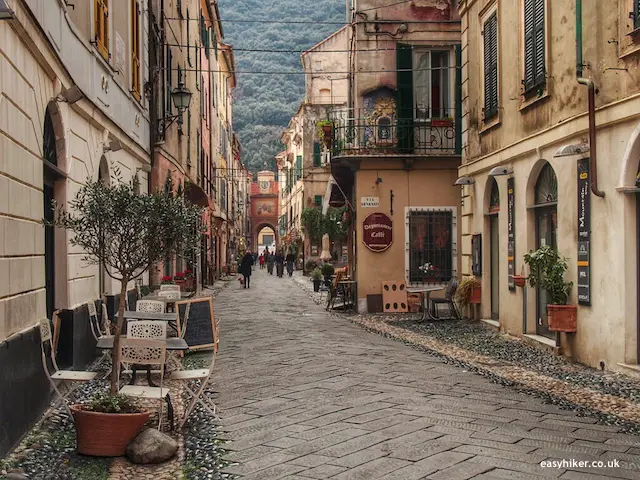 … he would have had plenty of opportunity to conduct some research into what interested him most about any town. I suspect that the walls of Finalborgo have absorbed many smells over their 400-year-long history that would have delighted him.
And to wrap it all up, there is a sunlit piazza for a cup of coffee, ice cream or a more savoury snack …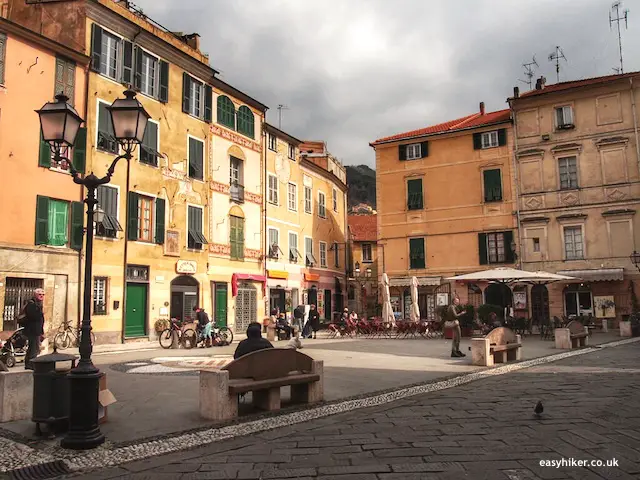 … and I suspect something would have fallen off our table for a dog who always knew how to beg.
Stamina level three: From Finalborgo to the Castello San Giovanni. Who this walk would have been ideal for: our son in his teenage years.
Over the years, our son has acquired a certain liking for hiking himself (to the point where he became Easyhiker Junior on a few joint trips), but when he was a teenager, it was difficult to interest him in anything that did not fit on a computer screen. The Castello San Giovanni, located on a ridge above Finalborgo, is as far as we could have taken him, mainly because you can see it so clearly from the Borgo …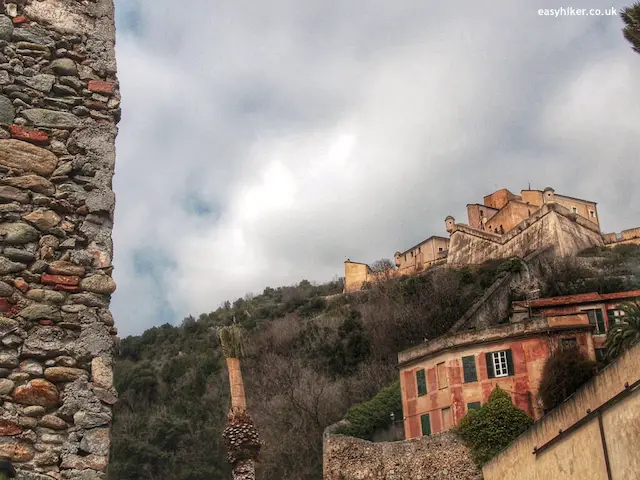 … that even a fifteen-year-old boy cannot help feeling ever so slightly curious what this is all about.
The short climb to the castle (follow the signs from Via del Municipio near the colourful Palazzo Nazionale) will not provide you with great insights into the town's and its castle's history (there is no information panel anywhere on the way), but as you approach the forbidding exterior of the Castello …
… it will become rather clear that it was not built as a palatial residence but purely for military purposes. I found out later that the fortress dates back to the 17th century when it was constructed by the Spanish Governor of Milan (it's a long story) and that it later fell into the hands of the Austrians (an even longer one) before it served as a prison and was closed for good in 1960. The castello is closed for the public, but you can peek through the metal gates …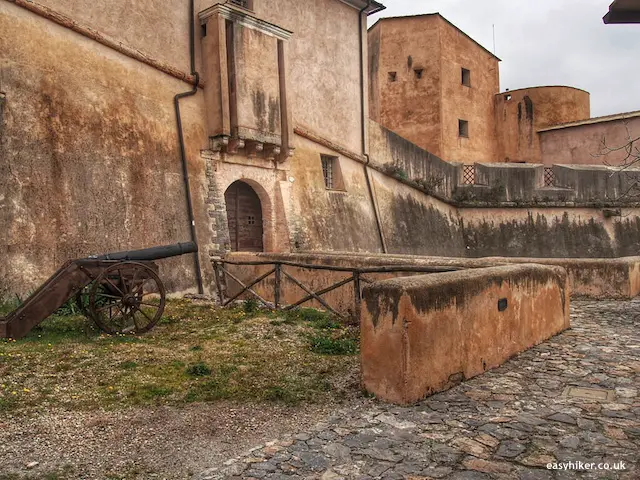 … for an impression of what life would have been like for the soldiers who served here.
Unfortunately that's all we've got space for today, folks, so we'll do a "Harry Potter" (aka a "Twilight") and divide the final part of our Ligurian coast walks into two parts – and will tell you more about our excursions into Finale's hinterland, levels four and five, in our next post. See you then!
Enjoy our walks with us around the French and Italian Riviera by subscribing to our free updates via email. You can also follow us on Facebook and Twitter. Why not include us in your G+ circles too?