If you want to explore the Black Forest, one of Germany's main hiking regions, you basically have the choice between two options
A couple of years ago, we went from town to town, tackling consecutive stages of the Westweg trail: the classic "long-distance hiking mode". This has always been my preferred way of hiking.
But this time, we had to think of something else because the trip to the Black Forest was a "tail end" addition to another journey, and we had far more stuff with us than we would have wanted to carry on our backs from town to town, including two weeks' worth of dirty laundry, computers and Mrs. Easy Hiker's catch from the summer sales.
Which is why we based ourselves in a cheap hotel at Freiburg and undertook a couple of day trips from there, something that – I must admit – worked out unexpectedly well.
From Freiburg, the largest city in the region, you have the whole of the southern Black Forest at your fingertips, and most trail heads are, door-to-door, less than 90 minutes away. The Black Forest itself lies a dozen miles to the east of Freiburg, but the Höllentalbahn (the "Hell Valley Railway") – an engineering masterpiece of the late 19th century – cuts across the ridge and meets the Dreiseenbahn (the "Three Lakes Railway") at Titisee.
Together with a relatively dense and easy-to-navigate bus network, these two railway lines allow you to explore the Black Forest nearly at will – and at a very reasonable price, too: a multi-zone Regio Ticket (day pass) provides unlimited travel for two and costs only € 21. (There are also options for larger families.)
Somewhat to my own surprise, I also found it rather comforting to know which bed we would return to in the evening, and that a restaurant somewhere in town would be pleased to serve us a hot meal (and a cold beer). I know, I know: the idea of arriving in an unfamiliar place – so unfamiliar that you did not even know it existed when you went on the trail the very same morning – has something irresistibly poetic about it, but the reality has often been rather, well, prosaic.
More than once, we found ourselves stranded in no man's land, because the village we had confidently expected to provide food and shelter turned out to be an isolated hovel of less than a dozen buildings (whose residents were, in all probability, already observing us suspiciously behind twitching curtains) or were caught in eerie inns: when you are the only guests in an otherwise empty 20-bedroom hotel, a creaking stairway is enough to make you jump up in the middle of the night, believe me.
Not to forget that Freiburg is also a very attractive town. There is a lot to see before, after or in-between your hikes, centering on the lively Old Town around the Gothic Cathedral …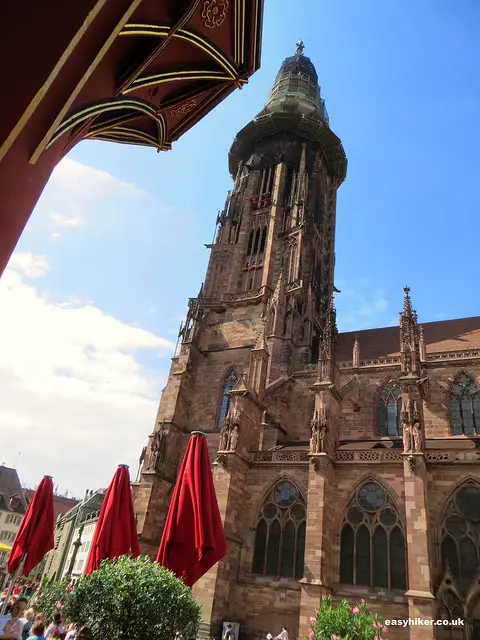 …which features many architecturally important buildings such as the Historisches Kaufhaus, the medieval Customs House .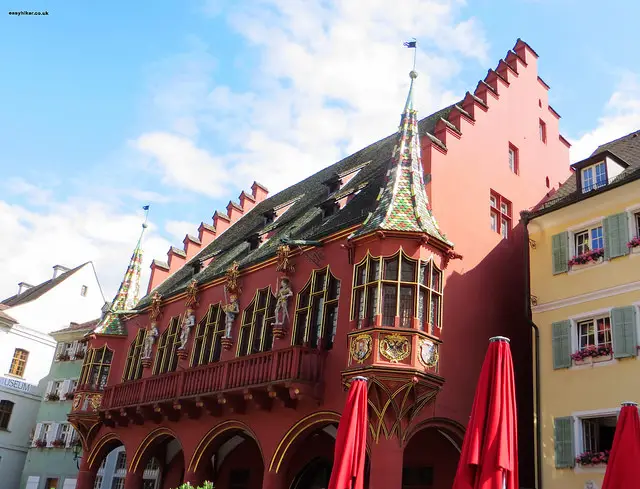 Although it must be said that much of the city's medieval building fabric was "adapted" to contemporary tastes in the late 19th century, a restoration that has probably caused more damage than the Allied air attacks in WWII. (Of all the ancient buildings, only the Cathedral survived both onslaughts virtually intact.)
On the other hand, who wants to be a pedant, and if not everything is quite what it seems…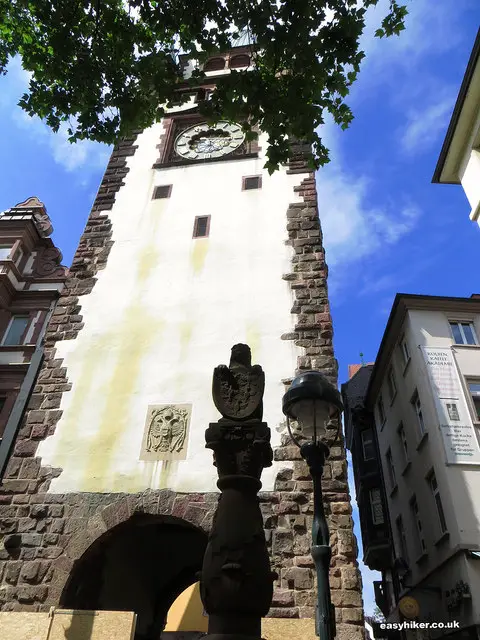 … who cares as long as it looks good, the overall buzz is so positive and the streets are humming with life …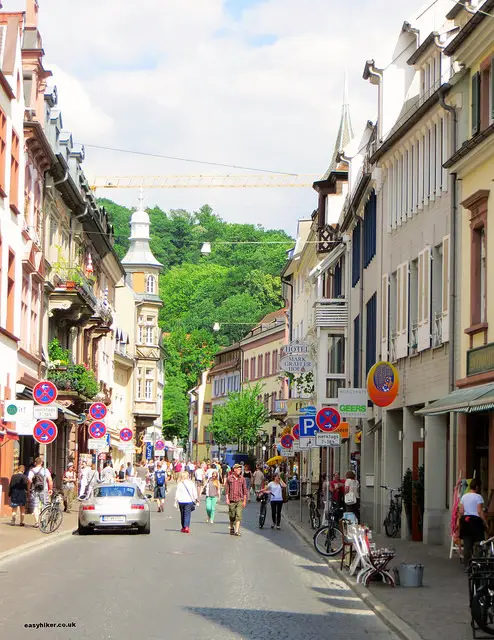 … much of which is owed to the students, who make up a sizeable proportion of the local population and whose bicycles rarely fail to add a certain charm to the colourful scenery.
With its wide choice of hotels and restaurants, Freiburg beats the usual hiking trail stage posts hands down – and certainly provides a viable "day trip option" for trips to the Black Forest.
Base yourself for a few days around the Black Forest. Why not stay in an AirB&B apartment, like we usually do? We're even giving you €35 for your first rental anywhere!