No long-winded openings today: there is no time to lose. Six more contestants in the French Riviera's inaugural Festival des Jardins are waiting for our visit! (The first four are here!)
First, we are going to Antibes, or – to be more precise – to Antibes's beach resort suburb of Juan-les-Pins, where – at Pinède Plage, a brisk 10-minute walk from Juan-les-Pins train station – the architects' collective Les Jardiniers Nomades and the sculptor Valy Tiene have jointly constructed one of the most eye-catching exhibits of the inaugural Festival des Jardins.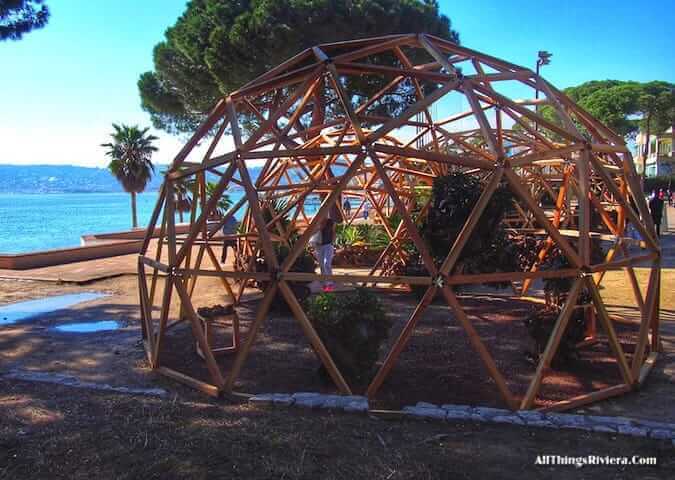 "Bulles Encensées" is also one of the most rigorously "conceptual" of the festival gardens: five wooden walk-in "bubbles" represent the five senses (remember: "Awakening of the Senses" is the festival's overarching theme) as well as five different environments, each of which embodies one typical feature of the Riviera landscape.
Walking through the installation, it is not always self-evident which is which and how it all hangs together, so in order to find out that the bubble with the cactus environment …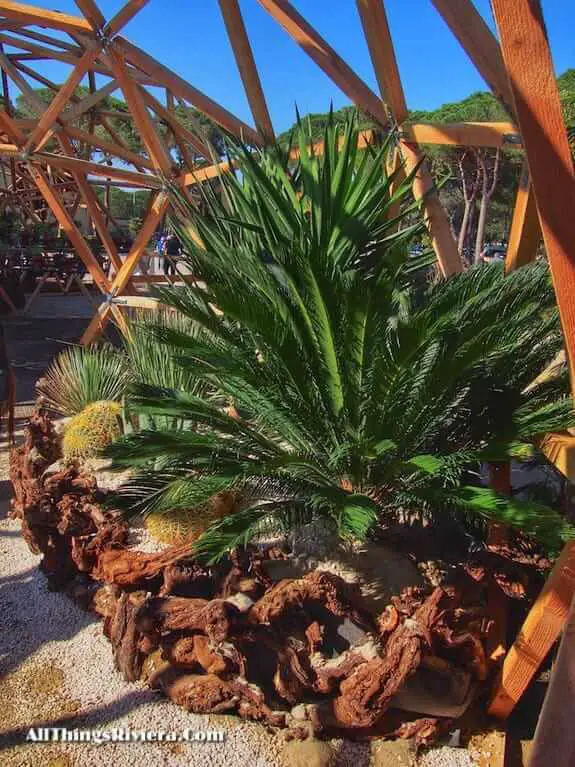 .. also doubles up as the "Garden of Touch" (not a natural choice, as anyone who has ever touched a cactus will agree), you will need to consult your catalogue, like in a modern art exhibition. The catalogue tells you everything you may want to know about the landscapists' intentions – before going on to clarify that the Bulles are intended to provide a "pure and primitive bodily experience". Hmm.
Two in One: that is the idea of "Les Ondées" by Vincent Capmartin and Thomas Padoan (also at Pinède Plage). A frame of sparse vegetation (representing the Riviera's mountainous hinterland) …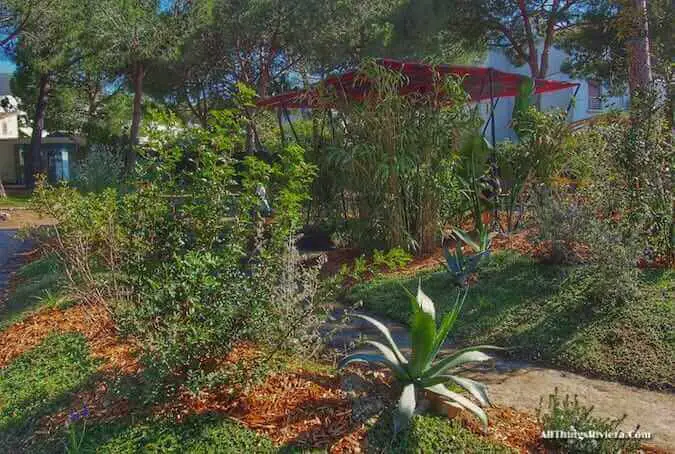 .. encloses a lush sub-tropical central scene (representing the coastal strip), which is irrigated through the red tubes in the canopy on top.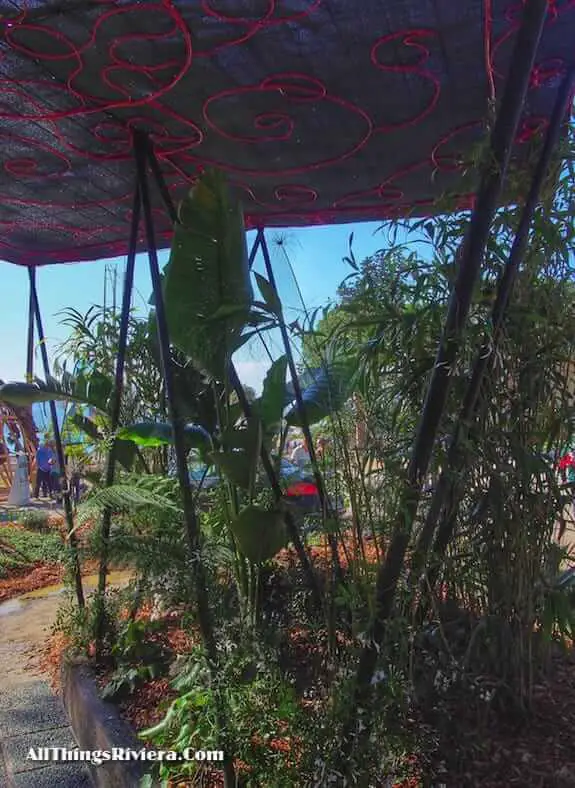 I learned about the purpose of the canopy from the catalogue, too, otherwise I would have been a little puzzled because the irrigation system did not work on the day when we paid our visit. Such are the risks of conceptual landscaping.
You don't need a catalogue to work out the Mounta Cala installation by the Monegasque landscaping artist James Basson and his team, which is located in the Jardin Albert I at the bottom of the Promenade de Paillon in Nice.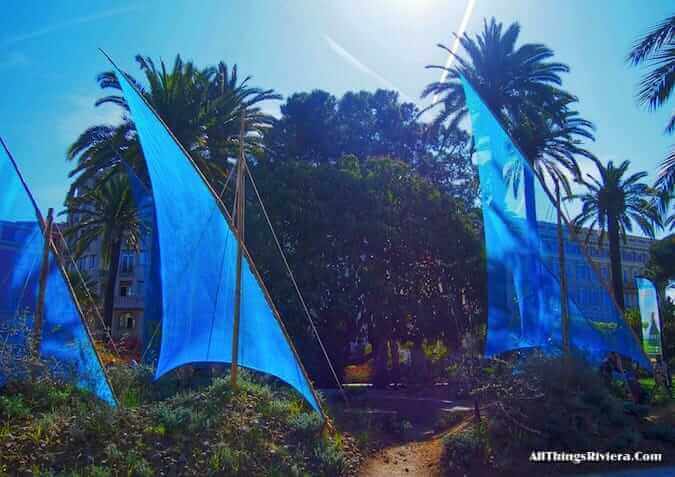 It's all about the sea, of course. Nothing, after all, is more readily associated with the French Riviera than the Mediterranean and its "seascape" of boats and various shades of blue.
Mounta Cala echoes all of this through its oval, boat-like shape, its wooden-plank walkway and its sails which change their colour from one hue of blue to another, depending on your viewing angle and the way the sunlight is reflected.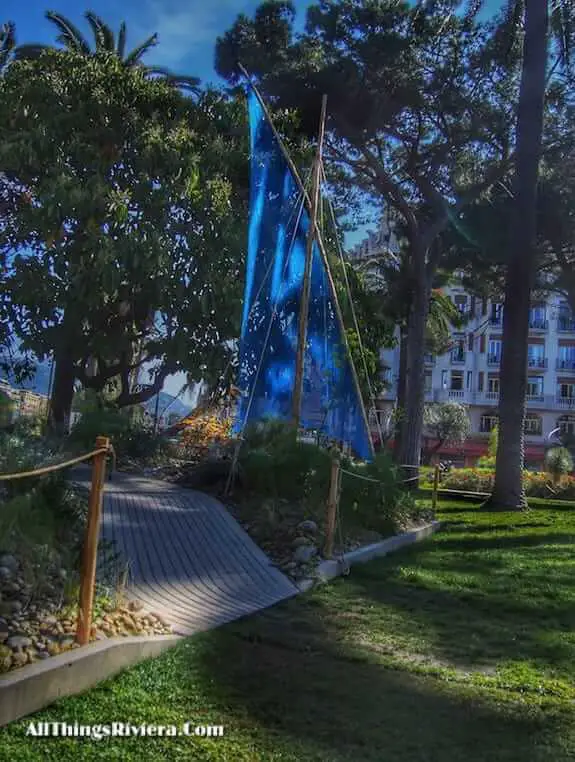 In this inaugural Festival des Jardins, perhaps the most difficult thing to recreate in a small place (remember: the rules restrict all competition surfaces to a size of 200 sq metres) is the feeling of moving through space, so essential for the human experience of a garden.
"Palace Paradis" by Atelier Takt takes this challenge head on, making the visitors pass through a meandering, ambulatory-like walkway, which subtly changes its moods and colours every time you take a turn …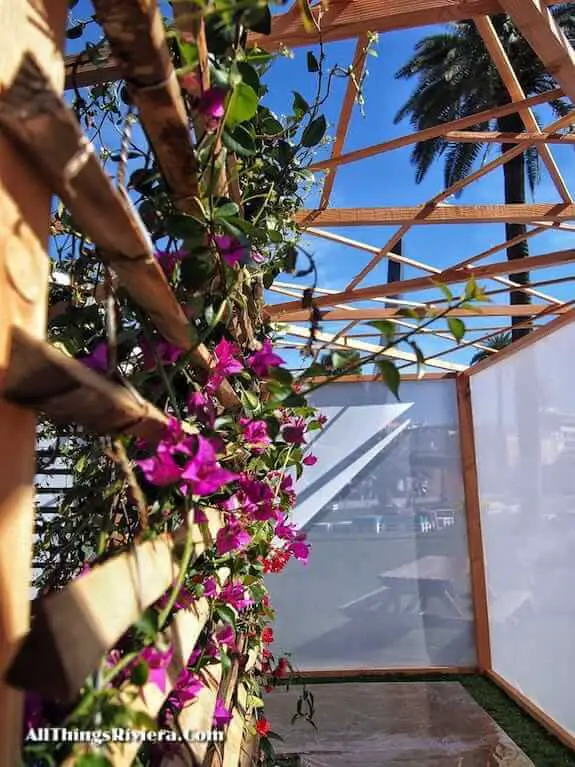 .. on their way to the heart of the structure, a zone where colours and shapes are free to run riot.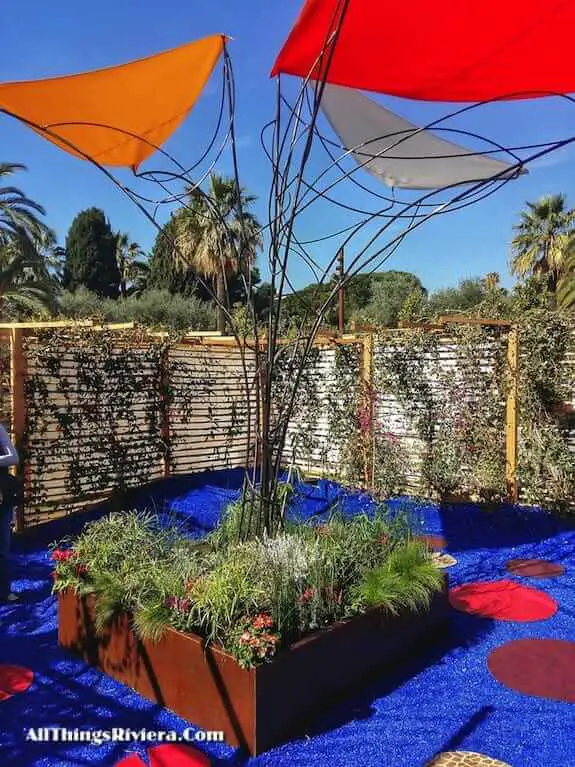 On then to Menton, the easternmost point of our journey through this inaugural Festival des Jardins, and the Jardin Biovès in the town centre, a brief walk from the train station.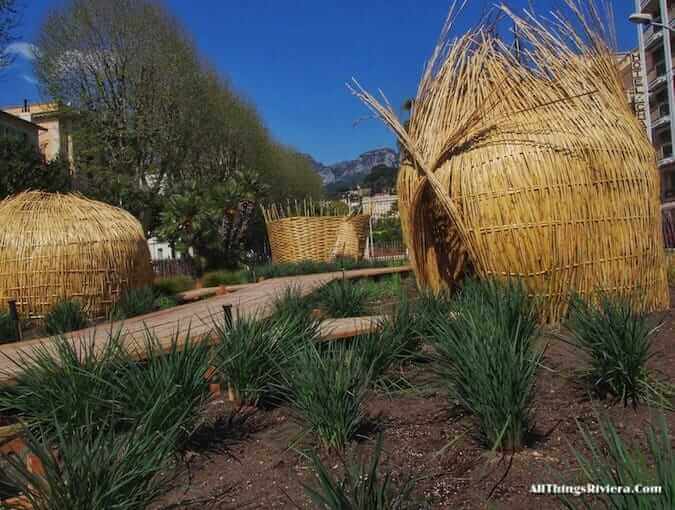 "Secret Gardens" by the Collectif Les Olivettes consists of five beach huts which are surrounded by sea grass and wooden fences. They are meant to evoke the sea, of course, beach holidays in particular …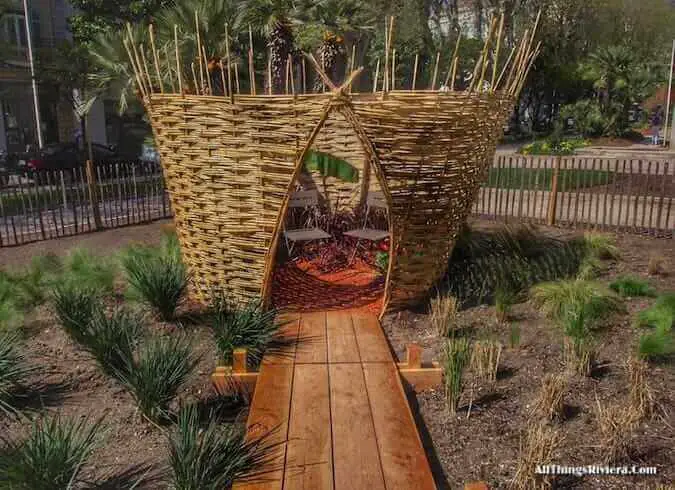 .. but also to allude to a pre-tourism-age Riviera when much of the landscape was dominated by the local variety of sugar cane (out of which the huts have been constructed) that today only lives on in the name of one of the area's most famous towns ("Cannes").
Menton's second offering (by the landscaping cooperative Les Potaguers – Nommos) is another play on the idea of the "edible garden", similar in concept to Le Banquet at Cannes but executed in a minor key: fruit trees, vines and strawberry patches have been arranged in a demonstratively informal manner, much as they would be in an urban allotment.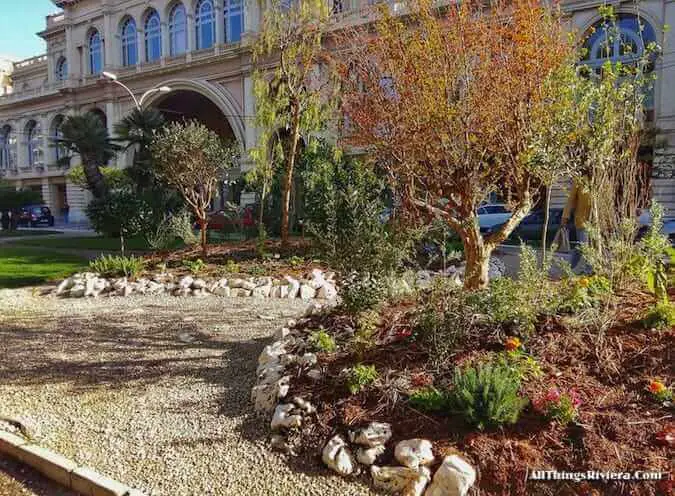 The Secret Garden's most eye-catching feature was, without a doubt, its giant lemon – but it survived only for a few days before it disappeared. Perhaps it was stolen by someone trying to snatch a unique souvenir from the exhibition, but more likely, it simply grew too big for its dainty and rather frail-looking mother tree.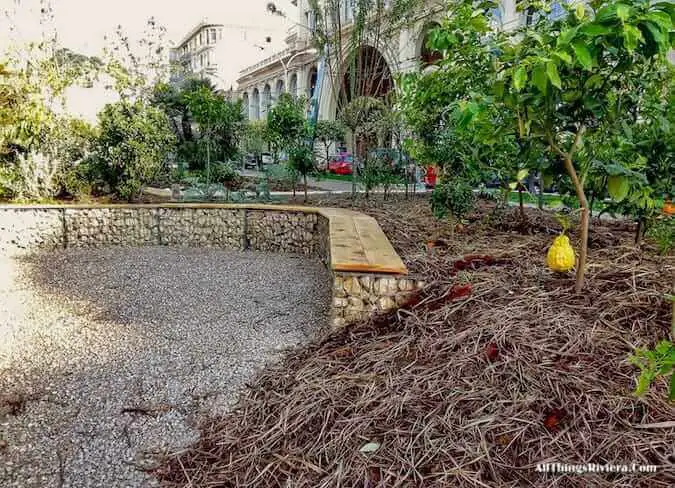 Finally, some technical information about the Festival. All gardens are free to visit. Most of them are located in the centres of their host towns or thereabouts. Only the pair at Cannes require a slightly longer walk (approx. 20 minutes from the train station).
Is it possible to see all exhibits in a single day, relying on public transport? Well, just about, although this is not necessarily what I would advise you to do. Here, as in other things concerning your vacation, the motto should be: take it easy. You should leave yourself the time to see other things besides, particularly if you are a first-time visitor.
But if you decide to go for it in a single day, you should visit the furthest flung site first and stagger your return. Grasse is the outlier of the five host towns, mainly because no trains are going there at the moment (the railway tracks are under repair), and the round-trip by bus from Cannes will take a combined 2 hours out of your schedule.
One alternative possibility is to visit all the sites in two days, another to concentrate your attention on two or three sites only. If you opt for the latter, I would suggest you make sure to include Nice and particularly Cannes in your list. They seem to hold the most popular exhibits.
And if you can't make it this year: don't despair, there will be another festival in 2 years' time, perhaps with contributions by Monaco and one or two towns across the border in Italy. Either way, we will be back for that one, so much is for sure.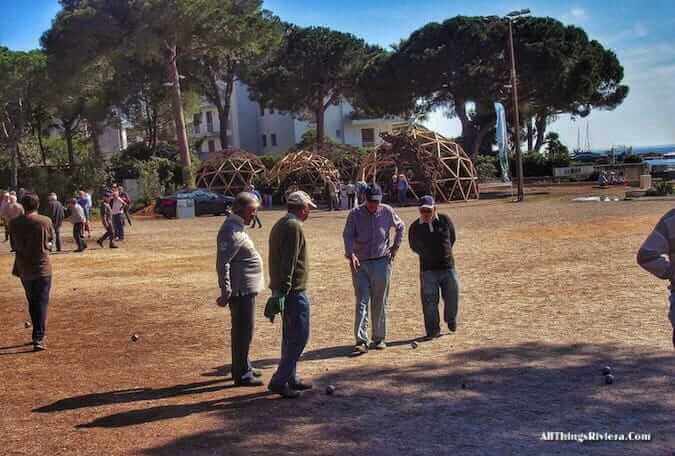 And, of course, since this inaugural Festival des Jardins is a competition, as soon as the winning entry has been announced, we will let you know.