Two Hours in Genoa
What to do in Genoa when you have no more than an hour to spend
Genoa is the capital of the Italian Riviera, more or less what Nice is on the French side, but with one important distinction: Whereas all visitors of the French Riviera will, sooner or later, get to Nice (to go shopping, to do sight-seeing or simply to change from plane or TGV train to some form of local transport), far fewer holiday guests on the Italian Riviera will ever set foot on Genoa. Genoa is much less of a "tourism traffic hub" than Nice, with much smaller numbers of visitors just "passing through".
But there is one group of travellers for whom Genoa is a key junction on their itinerary: all people who are coming by train from France and who are on their way to Italy must pass here. Genoa is the place where the coastal railway line ends – wedged in between the sea and the mountains – and where the network fans out to places such as Milan, Turin, and Rome. So if you are arriving by train from Paris or Marseille, it is well possible that you have an hour or so to kill in Genoa. How best to pass this time?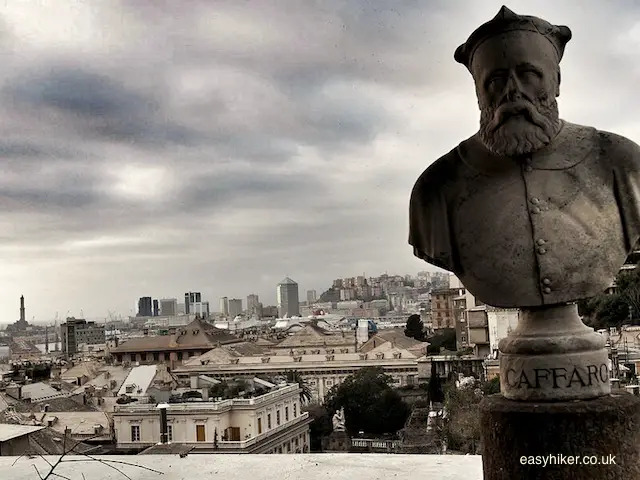 Here's a suggestion that combines the briefest of introductions into this city's colourful history with splendid views over the Old Town and the new town alike – and that may give you the appetite for a longer, less hurried trip to Genoa. Because, after all, Genoa is more than a stopover point between the Côte d'Azur and the Italian mainland but a fascinating city in her own right, one of the country's most storied and interesting.
Read also: Dancing Lessons from God in Genoa
From the central train station (Porta Principe), walk past the Columbus monument (he was the city's most famous son) into Via Balbi (past the Palazzo Reale, a former residence of the kings of Piedmont-Sardinia) and continue into Piazza della Nunziata with the mighty Santissima Annunziata church. Just before the tunnel, turn right into Via Cairoli and follow this street into Via Garibaldi, the best that Genoa has to offer …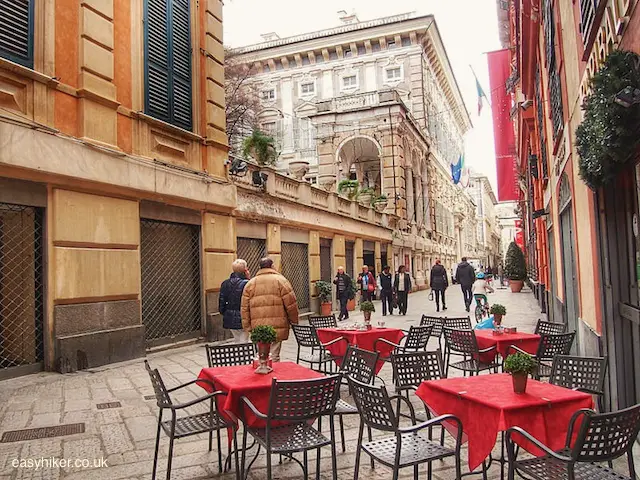 … a unique assembly of 16th century places, all built when Genoa was at the peak of her powers – known around Europe as La Superba, the proud one – and rivaled only by Venice as a Mediterranean naval power. Palazzo Bianco (no. 1) is now a museum. No. 6 is the former residence of Genoa's first family, the Dorias, and no. 9 – now City Hall – was originally built for their greatest rivals, the Grimaldis, who later moved a few miles down the coast to establish a Principality of their own .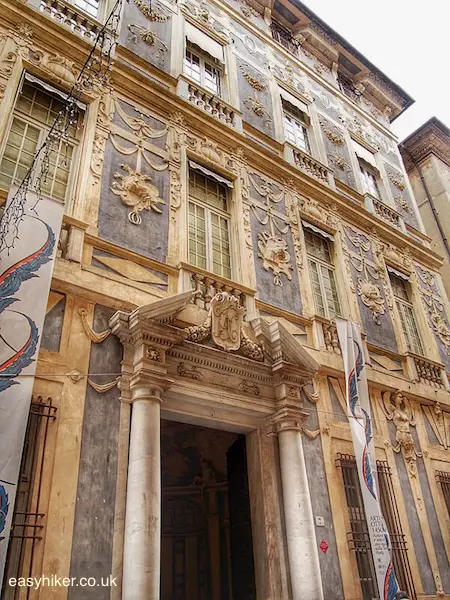 Up towards Genoa's Garden With a View
At the end of the street, turn left from Piazza delle Fontane into Piazza Portello and walk up the stairway on your left hand side.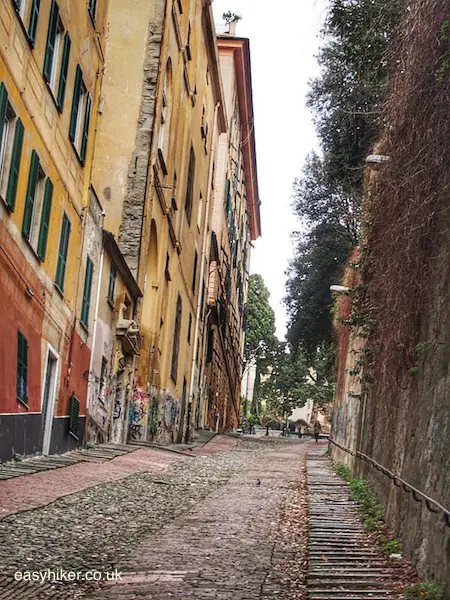 You may have observed already that Genoa owes much of its charm to the fact that it was built on a fairly steep slope, which makes it looks as if her streets and houses were literally piled upon one another. This also means that you generally don't have to walk far to get some great views of the town, and one of the best places for such views is the Villetta di Negro public park …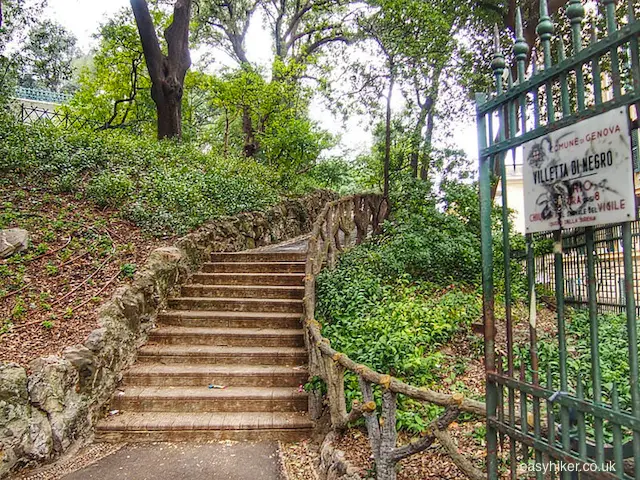 … which is near enough the centro storico and at the same time high enough above it to allow you to combine the roofs of medieval Genoa with the skyline of the modern-day harbour – Italy's largest – in one single sweeping view.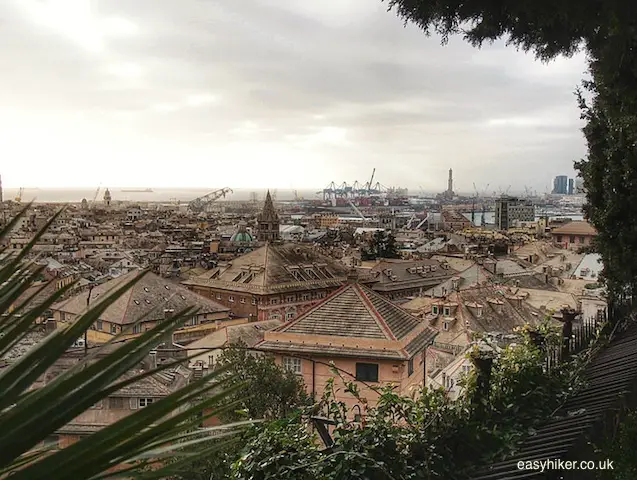 This garden with a view is built on a hill, surrounding the remnants of the old city wall …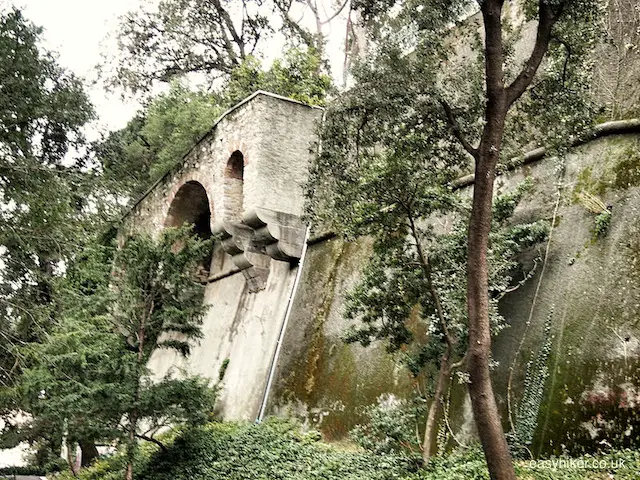 … and you can walk once around the ruins to the other (northern) side, which has an ornamental waterfall and a rather attractive view of Genoa's modern-day residential areas.
There is actually rather a lot to see, but don't get carried away – you have a train to catch, remember? It will take you roughly 20 minutes to walk from the train station to the Villetta di Negro and another 20 minutes for your return, so you have to time your visit carefully.
And if you feel 15 to 20 minutes are not enough: then you will just have to make room in your schedule for a more extended stay in the city – and come back some other time. We certainly will.