German Hiking Trails
The Drahthandelsweg
One of the things that mark out hiking trails in Germany is their attention to detail. German hiking trails are carefully routed, making sure that you take in the best views and everything of interest along the way from pre-historic caves to breeding grounds of rare species.
For some trails, however, even that is not enough: these trails link their route with something that has happened some time in the past, tracing and following the route that is connected with these historical events and providing you with plenty of information along the way. This way, while you walk through forests and the countryside, you also learn fascinating facts about things that you never had previously thought about.
Take wire, for instance. I bet that's one of the things you have never thought about. In fact, wire was one of the earliest industrial products and has a history that goes back to the Middle Ages – when it was used for chainmail shirts, for example, the sort of thing medieval knights really took to battle (as opposed to plate armour which was only developed when the Middle Ages were, strictly speaking, already over).
Did you know that? I didn't either, but now I do, thanks to the Drahthandelsweg, the "wire trade trail", which leads you from Altena to Iserlohn in northwestern Germany.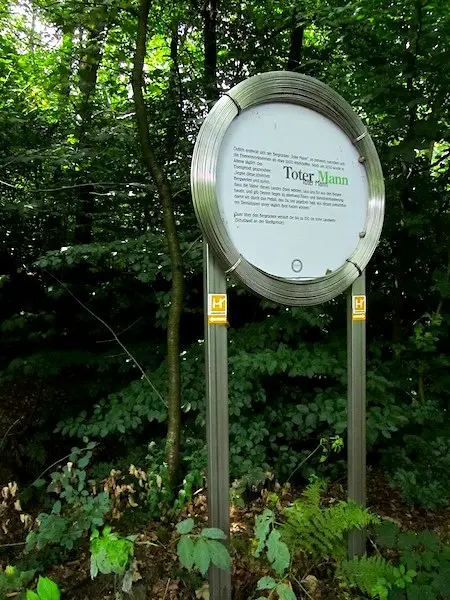 Wire was produced in the "highlands" of the Sauerland, where there were extensive deposits of iron ore, and then transported on horseback or on foot in rings of about 30 kg to the lowland towns, where this wire was then processed into needles, lugs, chains, fishing hooks and shirts.
Altena, then as now lying in the shadow of mighty Altena Castle, was the town where the wire was produced, and Iserlohn was the place where artisans turned it into a range of different consumer products, so this is the direction – from Altena to Iserlohn – in which the Drahthandelsweg is commonly described.
We, however, walked it in the opposite direction – for convenience's sake, since the first stage of our weekend trip had brought us to Iserlohn.Please allow me to point out, at any rate, that this only appears to be historically inaccurate if you fail to take into account that the tradesmen also had to make their way back. We only accompanied them on their return rather than their outbound journey, that's all.
The Drahthandelsweg is marked with a large D …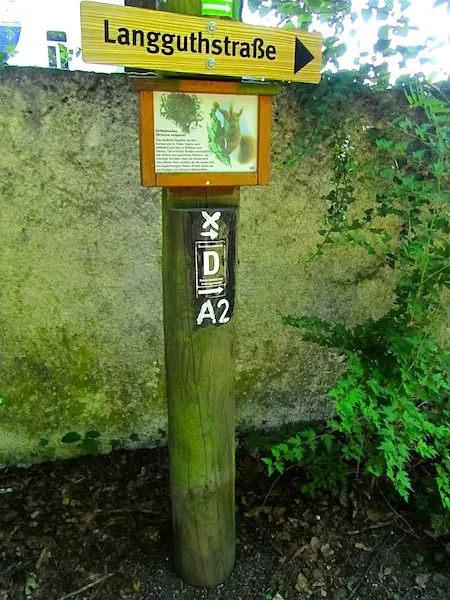 … and starts at Iserlohn station. Unfortunately, we failed to locate the starting point, perhaps also because we did not look very long, safe in the knowledge that the D trail and the Forest Trail – the one we had taken the previous day – would eventually meet at the Danztum anyway (before separating for a good one km or so afterwards), so we started by taking the same route to the Danzturm as on Day 1.
One problem of going for a hike on two or more consecutive days in the same area is that the trails will – inevitably, it seems – appear rather similar in type to one another. Much to our surprise, this was not the case here in the western Sauerland.
After the previous days's dense forests, the Drahthandelsweg treated us to open fields …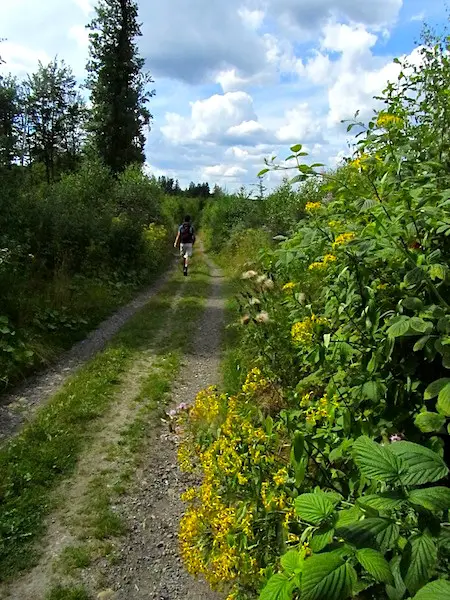 … and splendid views across the area.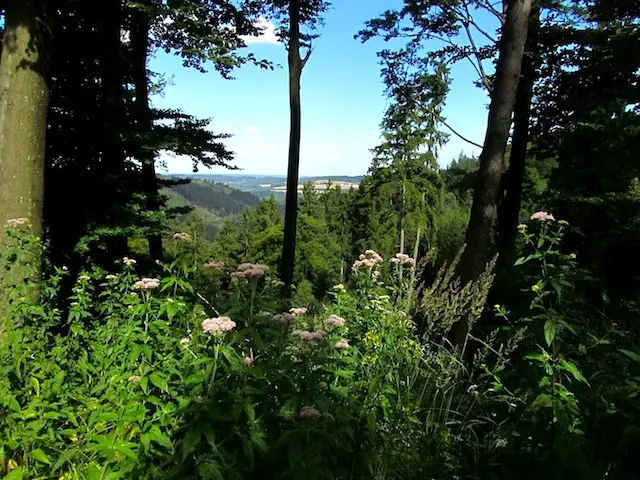 On a glorious summer day, farmland, too, can be beautiful, with the poppies in full bloom …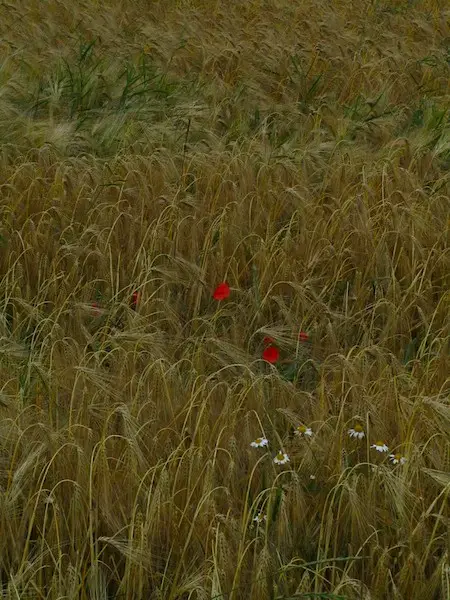 … and the farm animals enjoying the sunshine.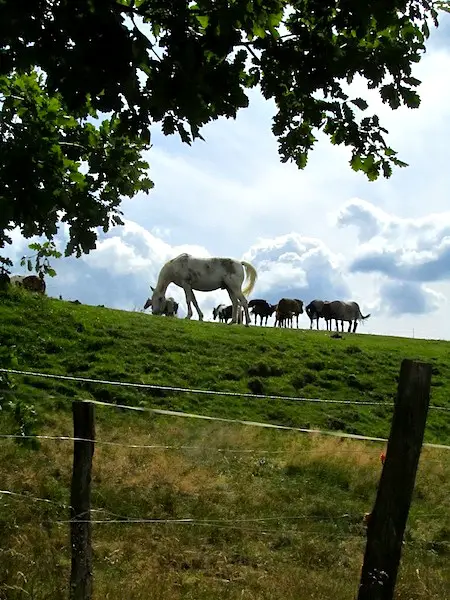 Actually, I can never decide which I like better: German hiking trails through forests or open fields, but having one on the first day and the other the next is surely the perfect deal.
We had left the hotel at 9:30, and when we arrived at a signpost with mileage markers – feeling that we had walked a little more than half the distance – we found out that we were only 2.5 km away from Altena.
In a momentary pang of enthusiasm, we changed our original plans and decided, rather than heading straight for the town, to have a look at Altena Castle first, but then discovered that it was farther away than thought.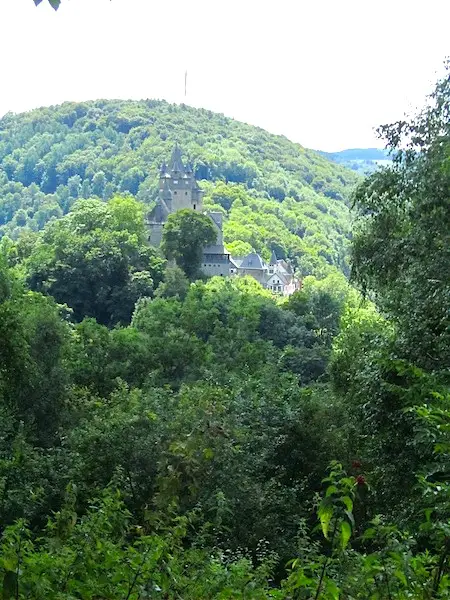 That looked like another 2 or 3 km – which was simply too much for us. After all, we had already done 15 km on that day, and so we strolled into town instead and had a coffee on the town square. Hey: We are easy hikers, after all.
We did not, however, enter Altena's Wire Museum, the only one of its kind in the entire world, feeling that we had learned enough about wire for a single day.
If, however, the elevator that will connect Altena city centre and Altena Castle had already been in operation  – it will be completed some time in 2013 – we would definitely had wanted to take a peek. So, if you decide to follow us on the Drahthandelsweg later this year or after that, this promises to be a perfect way of rounding off a great day out in the true easy hiking style: up a mountain in a lift.