#MaltaisMore
There is more than one way of experiencing Gozo's gorgeous coastline
The main feature of Gozo's landscape is, of course, its coastline – Gozo is an island, after all, and not a very big one at that, so the Mediterranean Sea is not only all around it but can also be seen from almost anywhere: church steeples, hills, and – if you are lucky – the balcony of your holiday let. But no matter how or from where you are looking at it: it is always gorgeous.
The coast also plays a central role in Gozo's programme for hikers: in addition to the "Magnificent 7" that we introduced in our last post, there is also a coastal walk of roughly 35 km in length that leads you once around the island either in three easy stages or two slightly less easy ones – less easy only because of the length, since the trail as such is neither tricky to manoeuvre nor physically demanding.
So, as our own tribute to the Gozo coastline, for our second walk on the island we headed straight towards the coast's most famous feature: the Azure Window, famously used in the TV series "Game of Thrones", which happened to be located just down the road from our base in San Lawrentz …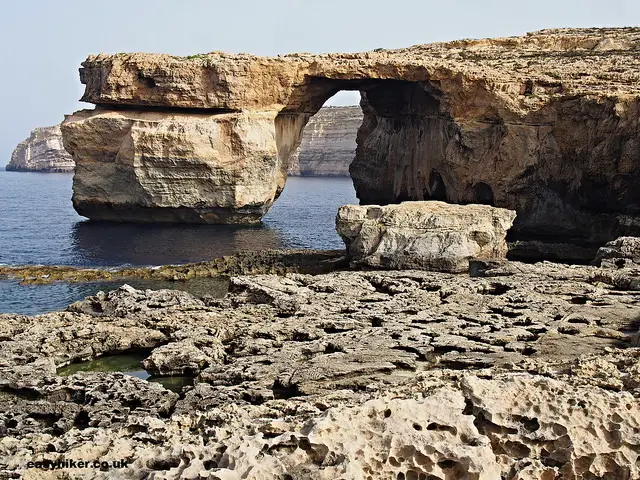 … and the almost equally impressive Fungus Rock right opposite.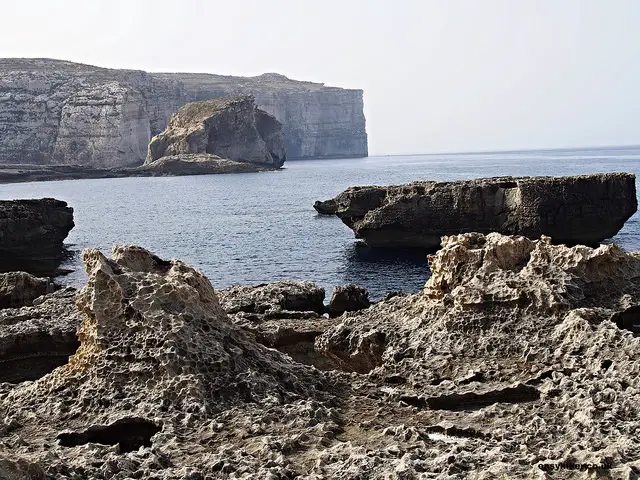 Literally "down the road", as it were, descending a modern two-lane highway that spirals from the hills into Dwejra Bay. Although modern roads do not, generally, make for great hiking experiences, you are more than compensated here by having the entire Bay at your feet for the full length of the downhill walk. (On the way back, you can return by bus: either take one of the two "hop-on-hop-off" tourist routes or the ordinary Gozo bus, line no. 311, that will take you to San Lawrenz or Victoria.)
While you are here, you should also reserve some time to experience the "Inland Sea", a stone's throw away from the Azure Window. I know that hikers normally don't like to do "touristy" stuff, but make an exception and treat yourself to a boat ride – for a well-invested 4 Euros. (The boats take you through the rock into a couple of truly marvellous caves.)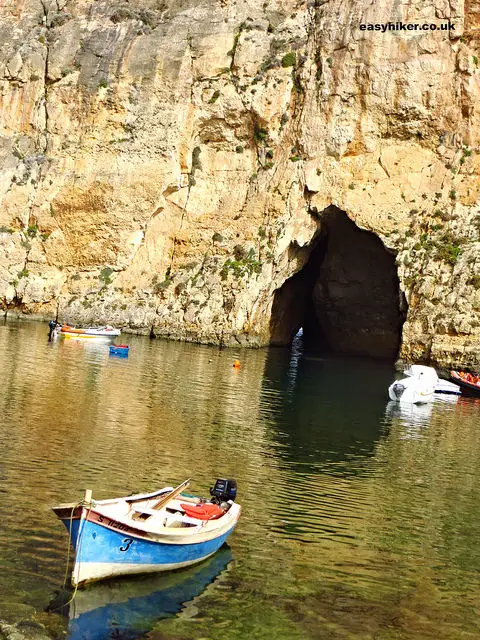 To do the coastal walk, all or a stretch of it (or just giving it a brief "brush", which is what we did), is a great, but not the only way of experiencing Gozo's coastline: if you have liked the short boat ride through the Inland Sea, you may want to take this further and check out two other ways of exploring the island on water.
Go for it in Gozo!
True hikers would, of course, prefer to move under their own power, so renting a kayak from Gozo Adventures at Marsalforn (on the north coast) is probably the thing to do. For a couple of hours, you can paddle past the lunar landscapes of the saltflats (the "saltpans walk" on the dry side of the coast is also one of Gozo's "Magnificent 7") and back, which is exactly what we did.
Unfortunately, there are no pictures to document this monumental "easy hiking on water" achievement, since we left all our photographic equipment on shore (it would have been drenched along the way), so you have to take my word for it.
Alternatively, you can take a motorboat from Xlendi. This has the advantage that you can do the full once-around – either on a day-long excursion, with plenty of breaks for swimming in the crystal waters of the Blue Lagoon, or on a shorter half-day trip.
Two tips if you are planning such a journey: firstly, have a good look at Xlendi harbour, Gozo's most picturesque …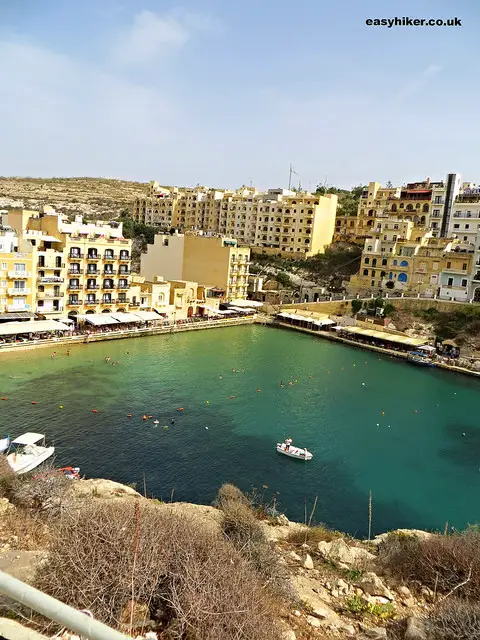 … and secondly: make sure you don't set out on a day when the seas are a little choppy.
Many of the boats are quite small, so they skip and sometimes even "fly" over the waves – and create quite a splash when they land. Such an experience can leave you somewhat drenched, even if you do not exercise your swimming option. We took just such a boat ride with Xlendi Watersports, and when we got off, I was wetter than I have ever been with my clothes on.
At the same time, it was one of the highlights of our entire stay in Gozo. Ultimately, no matter what you do to experience the island's coast, in Gozo you are sure to have a good time. So, make sure to go for it in Gozo!
Something totally different in our next walk on Gozo: a proper pilgrimage. Care to join us for some blood, sweat and sunburn?  
Follow us on Facebook and Twitter and watch out for the Twitter hashtag #MaltaisMore to hear and read reports from us and other travel bloggers we'll be travelling with for iAmbassador and the Malta Tourism Authority on this short break. To be the first to get our updates, why not subscribe for free email deliveries of our posts?