Gran Canaria Walking Festival
People get different things out of travelling – which is a good thing, too: Power to Diversity!
But that does not mean that there are no rules. One of these rules which apply to every traveller is: wherever you go, do not get stuck.
If you go somewhere on a business trip, make an attempt to take at least your evenings off and do something totally different (resist the temptation of taking your meals in the hotel), if you attend a conference, take every opportunity to get out of the congress centre, and if you spend two weeks in a beach resort, explore the area around it, preferably on foot.
Broaden your horizon and always search out the less obvious. Thoreau once said: it's not worth travelling half way around the world to count the cats in Zanzibar – and whatever the purpose of your own travel is, I am sure you can find an equivalent.
Take beach holidays, for example. People take long journeys – "half way around the world" and further – for a two-week-vacation and are not curious to see what's behind the fence of their resort prison? All those things they see from the beach, mountains and distant villages: do they never ask themselves what it's like over there?
Such a lack of curiosity is always shameful, but missing out is specifically unforgiveable in places where there is a lot to be seen. Where there is a great variety of nature, mountain ridges and parched prairies, pine forests and palm groves, as well as a great variety of culture, 21st century cityscapes and places where time seems to have stood still for centuries.
Places like Gran Canaria, for example.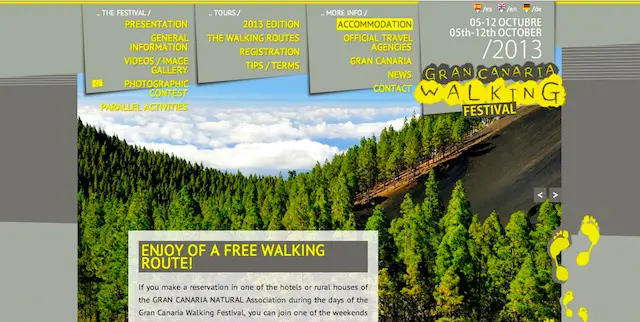 In fairness, however, it must be said that a lack of curiosity is not the only reason why visitors fail to explore the terrain beyond the safety of their resorts and tourism beaches: they may not want to explore an unfamiliar environment on their own or fear to get lost because they don't speak the local language.
It is specifically for people like this that tourism board officials in Gran Canaria have now arranged a Walking Festival that allows visitors to explore the island in the comfort of a group which is accompanied by experienced and locally knowledgeable guides.
The Gran Canaria Walking Festival offers five walks – covering distances of 6 to 13 km – organized between October 5 and 10. You can book them individually, from as little € 16 (or € 36 including hotel transfers and food) or as a package. This sounds like a great idea!
More of this Gran Canaria Walking Festival soon, but if you want to find out more about it now, you can go HERE.