As Easy Hiker never tires of saying, a city trip need not be just about shopping and sight-seeing. Outdoor adventures can be had to spice up your holidays, as Cathy and Randy found out in their recent stay in Sin City. Here, she tells us in her great guest post.

The Hangover Hike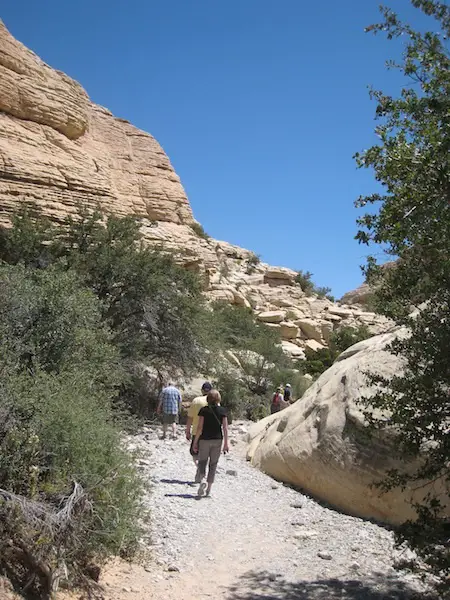 The excesses of Las Vegas can take a toll on the fittest of us. So how do you balance the late nights and too much food, drink and gambling with healthy activities when you're in Sin City? Here's a rejuvenating place that is unknown to many visitors to Las Vegas.
Exercising, breathing in fresh air and enjoying the spectacular scenery of the Mojave Desert is the perfect way to purge the toxins and temporarily avoid the temptations back in Las Vegas.
On a recent trip, we drove 15 miles west of downtown Las Vegas to enjoy a refreshing change of pace from the Strip. Red Rock Canyon National Conservation Area is a beautiful spot with a one-way, 13 mile scenic drive, 19 hiking trails and a first-class Visitor Center.
We started out at the Visitor Center, complete with geological exhibits, park information, gift shop and picture windows to give you a panoramic view of the area you're about to explore.
Temperatures at Red Rock Canyon run about 10F degrees cooler than downtown Las Vegas, which is a nice change if you've been pounding the hot pavement on the Strip. It was about 80F degrees when we took our hike at mid-day.
There are trails for all levels of fitness – Easy, Moderate, Strenuous and combinations of those. Recovering from a late night out, we decided to take a moderate 2.5 mile trail named Calico Tanks which is accessed from the Sandstone Quarry parking lot.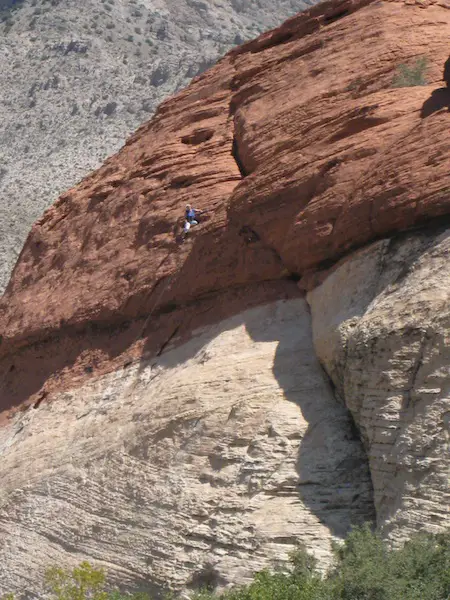 The full route of what I like to call the Hangover Hike can take about 2 hours. The parking lot was packed with vehicles, but we were able to find a place quite quickly. Early mornings would probably be less crowded.
The Calico Tanks Trail has somewhat uneven terrain, winds through a wash (a dry creek bed), and climbs up to 450 ft along the way. It offers diversity of scenery, interesting rock formations, and changing views of the valley — as far as Las Vegas at one point. I liked how the trail meandered very naturally through the wash and vegetation.
Soon after starting out, we came across someone scaling a rock face. I'm not a rock climber, but this looks like a great place to do it and then be rewarded with stunning vistas at the top.
There are other spots where the rocks were fun to climb around on and safe enough for most people, including children (under supervision).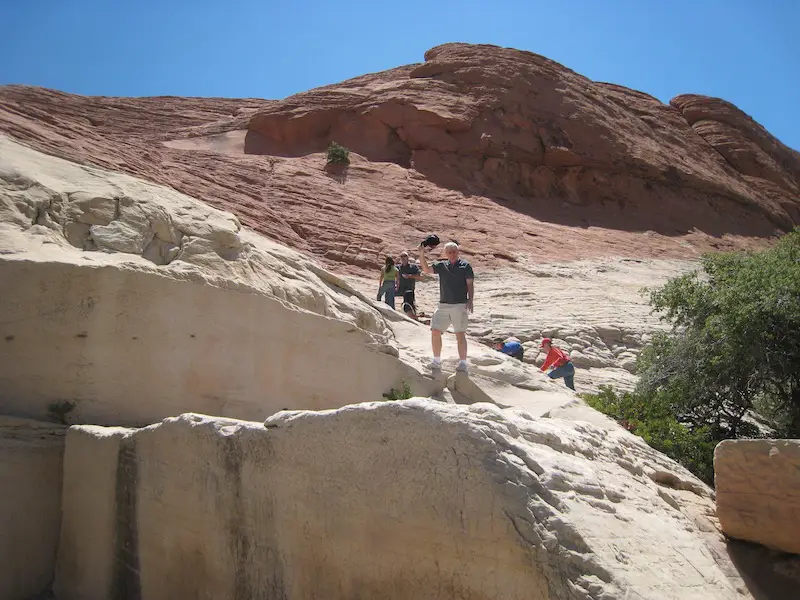 Among other foliage, you'll see Yucca, Joshua and Cottonwood trees. The desert has an amazing variety of vegetation that is striking against the colorful and unusual rocks.
Although the peak season for desert flowers is in March and April, along the path were some lovely plants and flowers.
It's a popular trail, so we saw other hikers along the way, but still enjoyed the trail's remote feel. I also saw leashed dogs on the trail (clean-up bags provided at the parking lot).
Need a rest? Take a few minutes to sit on the rocks to hydrate, relax and enjoy the peacefulness. But be careful around shrubs and rocks in case rattlesnakes and scorpions are hiding.
You might spot other wildlife such as lizards, jackrabbits, roadrunners, wild horses and coyotes However, our only animal sightings were at the Visitor Center, where a desert tortoise (possibly the park's special resident, Mojave Max) was resting outside, and where there is a large lizard sculpture.
I'll definitely put Red Rock Canyon on my agenda for future trips to Las Vegas. This Hangover Hike is a fun, convenient and healthy complement to the decadence of the Strip.
Get more information here: The Red Rock Canyon Interpretive Association
Cathy Sweeney shares her perspectives, experiences and ideas reflecting a lifelong passion for travel on her blog, Traveling with Sweeney. She hopes to inspire people to consider new destinations, learn something different about a familiar place, or reminisce about their own travel experiences. She has traveled extensively in North America, the Caribbean and Europe, and is looking forward to much more traveling throughout the world. A Chicago native, she now lives in the San Francisco Bay Area. Follow her on  Facebook and Twitter.