Hiking in Germany
 Hermannshöhen
The Trail
Hermannshoehen – two old hiking trails in Germany, the Eggeweg and the more famous Hermannsweg, knocked together to establish a single easy hiking trail with a total length of 220 km through the Teutoburg Forest mountain range in Northwest Germany (from Rheine in the North to Marsberg in the South).
Profile
If you feel up to daily hikes of more than 30 km, you can do the trail in six stages (possible only because the trail is generally fairly flat). But the recommended itineraries also feature 10-, 12- and 18-stage versions. As a matter of fact, you are free to make up your own stages because there are so many train stations and access points along the trail that you can enter it at virtually any point.
The trail owes its name to the legendary Arminius (or Hermann), the chief of the Cherusci tribe whose men defeated the Romans somewhere in this area in 9 AD, inflicting one of its worst ever defeats upon the Imperial Army. (And one of the most momentous, foreshadowing both the division and its eventual borderline between a Latin and a Germanic, a Catholic and a Protestant Europe.)
The historical Arminius must have been a far more interesting man than the Hermann of the 19th century national myth: he was educated by the Romans and fought for them as an officer, attaining citizenship and even the status of a petty noble in the process. When, however, he returned to the land of his forefathers as a mature man, he did so in the determination to drive the forces of the Empire back across the Rhine.
What we did
We picked the 35 km from Leopoldstal to Oerlinghausen, stage 3 of the 6-stage east-to-west version, and did this in two days.
What we liked
Nobody really knows for sure where exactly the Battle of the Teutoburg Forest took place, so one can always fantasize that one is walking in the footsteps of the doomed General Varus and his equally doomed men.
Out of these forests … (first to hear the Rebel Yell wins a prize.)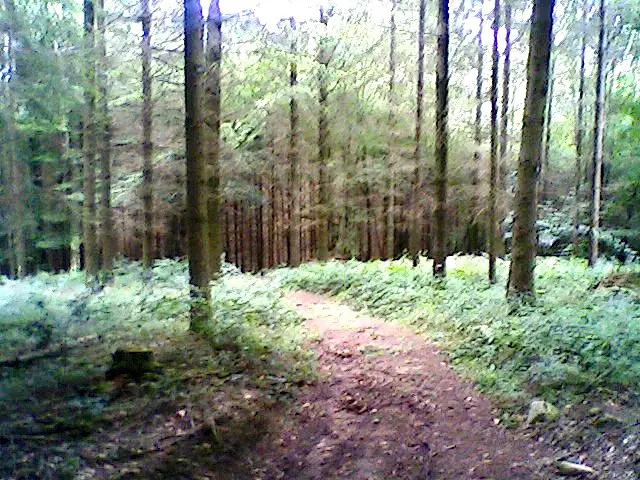 Unusually for such a relatively short section of a hiking trail, there are some fairly major tourist sights along the way. There is the monumental Externsteine, much beloved by the Nazis because of their alleged past as pre-Christian cult sites and are geologically and historically interesting.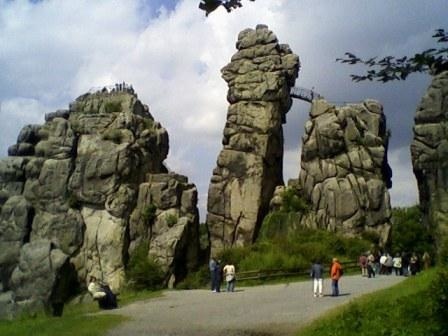 The somewhat eccentric Hermannsdenkmal monument found along the Hermannshoehen trail, all 55 metres of it, may look alien today with its muscular 19th century heroism, but I defy anybody to walk just by without looking – or forming an opinion. Personally, I would not want that in my garden, but it is always diverting to see something else on a hike other than trees.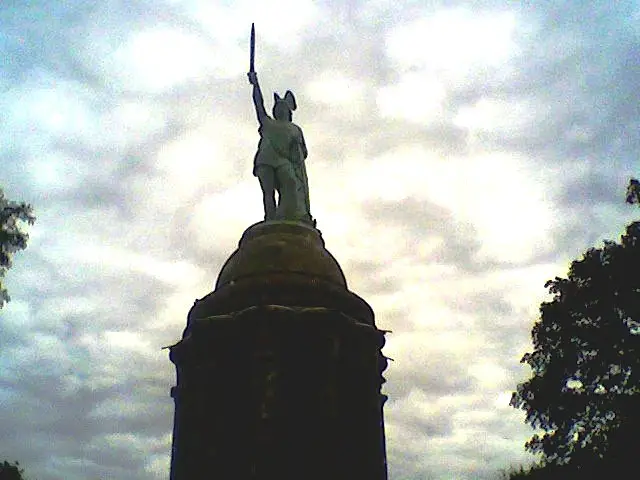 What we liked less
In general, I believe that civilization is a good thing, even on a hiking trail, but if you needed proof that you can have too much of a good thing, the Hermannshoehen trail is happy to oblige.
It is definitely over-urbanized: too much asphalt, too many crossings of busy roads, and too many day-trippers.
It was actually the prospect of hiking through the suburbs of Bielefeld, past garden fences and out-of-town DIY centres, that made us cut short our hike: originally, we had scheduled at least half a day more. (Instead, we just took the bus.)
The trail markings are often hard to find and to read. Newer trails have bold, custom-made and easily discernible logos. The Rheinsteig's logo, for example, is blue – a colour you do not often find in a forest and which, as a consequence, clearly sticks out, even from a distance of twenty or thirty yards away.
The Hermannshoehen trail is generally just marked by a big H, usually chalked on trees, and this can fade quickly and may be easily overlooked.
Towns to explore
We went to Bielefeld to end our tour, but it is a dull and dreary town. We only went there because we were already somewhat familiar with Münster, which is a little further away, but provides a much better tourist experience with many interesting historical sites and a lively town centre.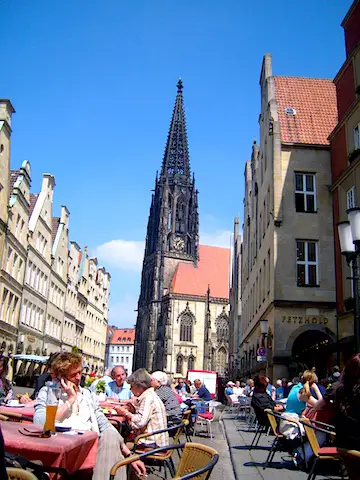 Okay, I may need to register a certain bias here because Münster is the town where I grew up. But my wife did not, and she, too, thinks that Münster is worth a detour. (So is Osnabrück, as I must admit – grudgingly, because they have always been our local rivals, in football as in much else.)
The Wider Scene
Holland is just around the corner. (From Rheine at the top of the trail, the frontier is only about 20 km or 15 miles away.)
The first town in Holland is Enschede, one hour by local train from Münster (it is still included in the NRW Länderticket rail pass), but for really interesting sights, you would have to go a little further in.
Trains from Enschede to Amsterdam leave every hour and take a little over 100 minutes.
Alternatively, you may want to combine your Hermannshöhenhike with something a little more challenging, a hike along theRhine perhaps.
Trains from the area to Bonn (where the Rheinsteig starts) leave regularly and take between two and three hours.
How to get there
Bielefeld, Münsterand Osnabrück are all part of Germany's IC network.
Leopoldstal (where we started the trail) can be easily reached from any of these three cities (and, of course, from other towns in the area) by a regular train service.
The neighbouring cities of Münster and Osnabrück are served by a regional airport (FMO at Greven).
More Information
Find a map and some basic information here. Helpful if you don't mind wading through the usual purple prose of official hiking trail sites.
Information from the official site of the German Tourism Board.