To start off the new year, today I will tell you about a hike we did NOT do.
In Mallorca, it is a truth universally acknowledged that a man should have done the Torrent de Pareis hike at least once in his life.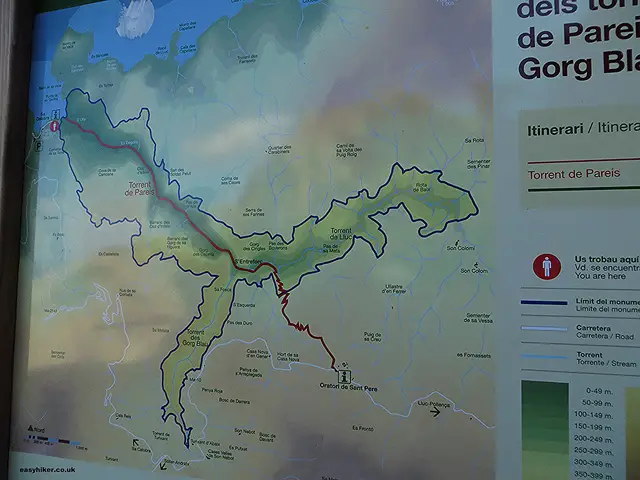 Or so we were told when we arrived in Sa Calobra, the place where the gorge through which the trail leads and meets the sea. All we had time for on our around-the-island tour was a brief exploration of the area, but that was enough to get me hooked. Once inside the gorge, I could clearly hear the hiking sirens sing …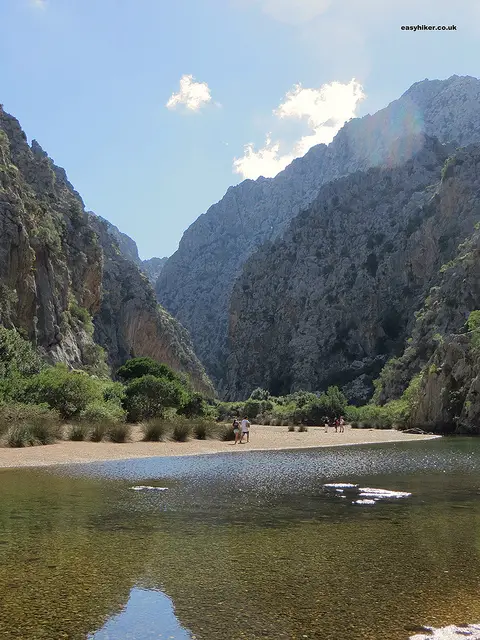 … and had to tie myself to the mast of our schedule to prevent me from walking further down into the ravine.
Strangely enough, that "sirens' song" appeared to have fallen on deaf ears as far as Mrs. Easy Hiker was concerned …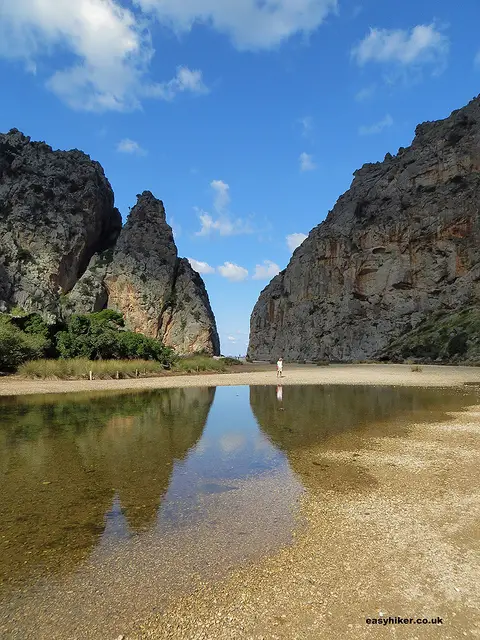 You can see her standing forlornly here on the other side of a large puddle that she could not be persuaded to cross, although it was so shallow that a man in his 70s with a walking stick had just done the same crossing and survived. SURVIVED!
I, on the other hand, was very much tempted to return for a more thorough exploration – until I spoke to our guide who had done the hike several times already. I can only describe this conversation as a sobering experience.
For one, if you want to do the Torrent de Pareis, you'd better be prepared to jump and to swim – not all crossings are easily mastered by elderly folks and people in wheelchairs.
Which also means that you should bring a set of dry clothes. Consult the weather report and do not do the hike less than two days after any sort of rain: the gorge may contain too much water.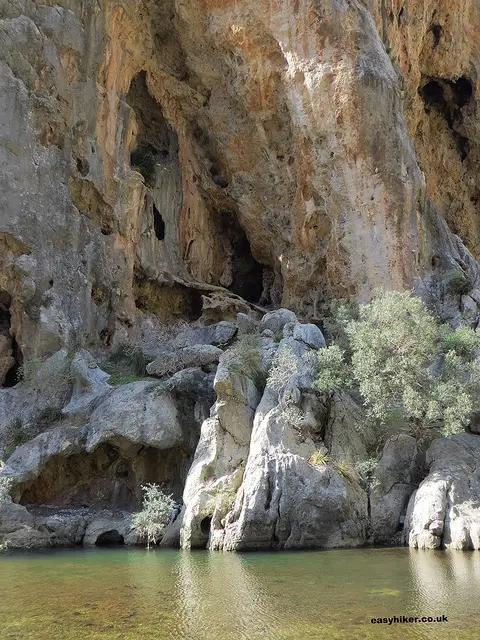 These are only recommendations which must not be confused with the Torrent's iron rules. Iron rule number one: only do it from the Oratori di San Pere at the other end of the gorge, in a downhill direction, not from Sa Calobra. This is because of the gorge's steep gradient: jumping down a few metres may be hard, but climbing up – repeatedly – is much harder.
Iron rule number two: leave early. Very early, as a matter of fact, certainly no later than 7 o'clock in the morning. Why? Because, if an accident happens along the way, you cannot call an ambulance on your mobile phone: inside the gorge, you get no signal because the walls are too high.
In this case, your hiking companion – iron rule number three: always bring one – has to continue on his way and call for help once he is back to civilization. If, however, he does not arrive before one or two o'clock, the medics will not enter the gorge because they would not be out before dusk, thereby putting themselves at risk.
Under these circumstances, they will only set out the next morning – while you are lying, with your broken leg, at the bottom of the gorge, for up to 36 hours. A day you will not forget in a hurry.
All things considered, we decided to leave the Torrent de Pareis for another life. The gorge, however, is still great to look at.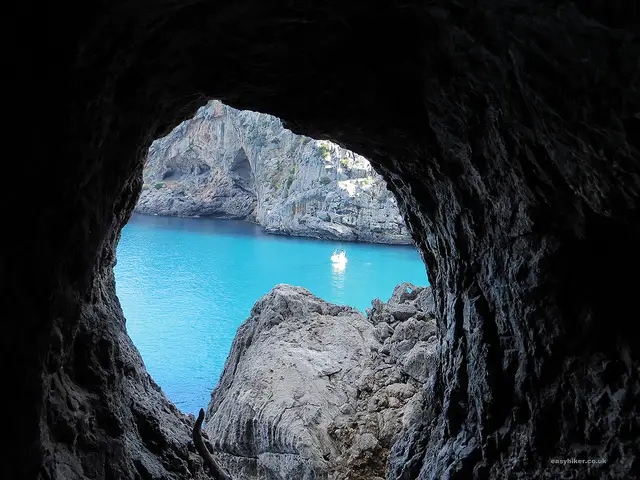 At least we know now where the word "gorgeous" comes from.