Hiking in Germany
A Man Made Mountain
In Europe, at least, no landscape has been left untouched by man. Think about it: what chance does a forest, a meadow or any other biotope stand in close vicinity to a tribe of busy apes like us – and what defense mechanisms does it have? They can't very well run away and start afresh somewhere else – and besides, where would that be: on Mars?
After 20,000 years of battle, man's victory over nature is complete: there is, across the continent, no landscape left that man has not shaped or altered, no piece of land that does not bear the traces of his touch.
Having said that, there is still a question of degree. Many modern forests may well be nothing more than "tree farms", but this is where their resemblance to a proper farm ends, and even a corn field still feels closer to nature than a concrete flyover.
Conservationists all too often fall into the "half a loaf is the same as no bread at all" trap (to quote George Orwell). All parks, for example, are by definition manmade, but who would argue that Versailles is not more artificial than an "English garden" designed by Capability Brown?
Today, we will visit a landscape as artificial as Versailles, but I doubt whether it would have much delighted the Bourbon kings and their mistresses in their silly powdered wigs. We will climb a 150 meter high mountain, which was not there a few decades ago, and on the way will see where that mountain came from – and what consequences its creation has had for the "donor country".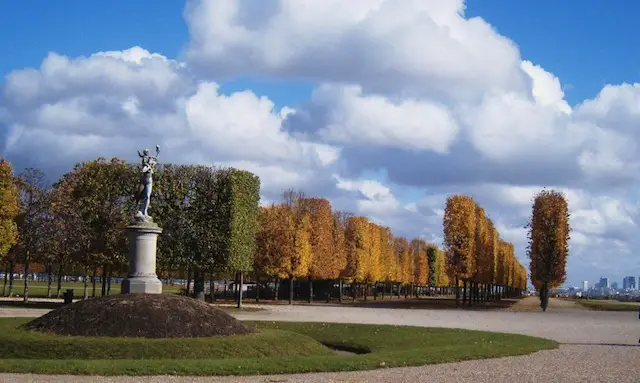 We begin our walk at Recklinghausen central station. Go to Platform 4 of the coach terminal just outside the train station and take bus line 249 in the direction of "Buer Rathaus". During your bus ride, you will see quite a bit of Recklinghausen and her neighbourhood, a cluster of small communities at the northern edge of Germany's old industrial heartland, the Ruhrgebiet.
If you are not familiar with Germany and know the country mainly through its glossy ads (vineyards, castles, men in Lederhosen and ultramodern car factories), Recklinghausen with her run down clothes shops, penny markets and agencies for cheap holidays will probably come as a shock to you.
Many people in Europe nowadays appear to see Germany as some sort of a fairy godmother, massively rich and well capable of paying off everybody's debts. Including debts of people in places such as Barcelona and Milan. And tomorrow Paris, who knows.
I wonder what the citizens of Recklinghausen make of all this? I really do.
Leave the bus (after a ride of about 25 minutes) at a stop called Schloss Herten, cross the busy road and enter the park right in front of you. Walk all the way up to the moated castle, the eponymous "Schloss Herten" – which is the real thing, by the way, not some architectural folly built by an upstart 19th century steel factory owner with more money than sense.
It actually dates back, in its present form, to the 1700s. (There were people living in this part of the world long before the first pit was sunk into its soil.) Explore the area a little before following the cycling trail on the left hand side of the double pond, heading into the castle's forest.
Follow this trail for about 45 minutes, and when you reach the suburban settlement, turn left out of the forest until you hit the main road (called Ewaldstrasse). Take another left turn here, walking underneath the motorway bridge, and then left again into the forest.
Having passed pretty Lake Ewald on your left, the land suddenly appears to slope away, until you find yourself hiking on what feels almost like a wall, several meters above the bayou-like swamps on either side of the trail. You are now in the middle of the Emscherbruch, a landscape whose wild beauty belies its industrial origin.
The earth underneath the Emscherbruch has been hollowed out by coal mining to the point where the surface simply gave way. As little as 25 years ago, the grounds on your left and right would have been at the same level as the trail – since then, they have sunk by up to 8 metres.
When the pits were abandoned a couple of decades ago, nature repossessed the area, but it came in a different guise: the swampy environment attracted many so-called neobiota, plant and animal species that are not native to this area, and today, the Emscherbruch – including Lake Ewald, excavated in 1935 for the construction of the near-by motorway – is one of the most bio diverse areas in Germany, home to protected bird species such as the cormorant, the kingfisher and the grey heron
Continue down the trail until you cross the bridge into Landschaftpark Hoheward. Ahead of you, you can now see where all the land that was hollowed out from underneath the Emscherbruch eventually went: this is the former Hoheward slagheap, now remade as a recreational area with footpaths and cycling lanes around it. Follow the cycling lane on your right hand side. (There is a visitors' centre and a cafeteria underneath the tower of Ewald Colliery in your back.)
The Hoheward slagheap is the highest man made mountain of its kind in Europe, and to give you an idea what to expect, I think it is fair to say that it is not the most cheerful thing you will ever see. Perhaps I am biased because we came here in late winter, under a grey and leaden sky with no green shoots yet in sight.
In summer, perhaps, Hoheward Uluru (that's what it actually reminded me of) is a good deal prettier, although, frankly, I find it hard to imagine that it will ever look pretty. Less relentlessly bleak, perhaps. Come to think of it, however, it is exactly this relentlessness that gives the Landschaftspark a certain grim grandeur. You certainly don't see something like that every day.
Halfway up the Hoheward "Uluru", a "balcony promenade" (of altogether 6 km) leads you once around, signposted from platform to platform. You can also climb all the way up to the top. We had problems finding the path and stumbled around for a while, and when we finally spotted it, we were too tired to go. (If you get to Hoheward: climb this one for the Easy Hiker and tell me what it's like.) Instead, we took the exit at balcony 6 and crossed over the Dragons Bridge into Recklinghausen.
Right behind the tower of the now defunct – and imaginatively named – "Recklinghausen II" colliery, there is a bus stop. Alternatively, turn right into Karlstraße and left into Hochlarmarkstrasse to the train station Recklinghausen Süd from where you have frequent connections to all the major cities in the area.
Have you ever gone hiking a man made mountain elsewhere before?