Guest Post: Hiking Holidays in France
 Santiago de Compostela in France

by Les Trois Chenes
How pleased I was to discover that the historic Pilgrim route of St Jacques de Compostelle (The Way of Saint James of Santiago de Compostela) passes by our Bed and Breakfast in Limousin, France.
Limousin is a wonderful place for ramblers and walkers (easy hikers). The roads are empty and the paths numerous. There are short walks and long walks, and plans are afoot (no pun intended) to link the local paths to regional long-distance trails to create a system of paths to promote walking and tourism in the area. Perfect for a hiking vacation.
You'll find that the footpaths are, on the whole, well maintained and clearly marked. Although we have rolling hills, we don't have mountains and you are rarely far from a village so the walking is not too trying.
This region is lovely all year round. Winters are cold but often clear and sunny. We do get snow sometimes, and, of course for a land of lakes and rivers, we get a fair amount of rain, especially in winter.
The countryside in spring is awash with flowers, summers can be hot, but then you can cool off in the swimming lakes, and the autumn colours are spectacular.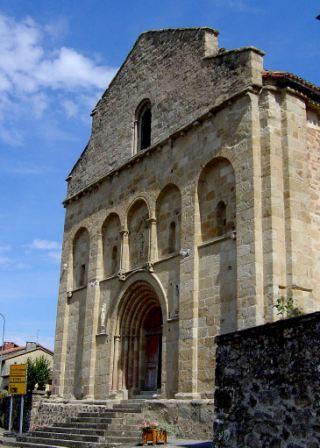 The Church of Saint-Eutrope, one of the stopping points for the pilgrims on their way to Spain, is about fifteen minutes from our farm house in Videix, between the historic Cities of Angouleme, Limoges and Perigueux,
The Pilgrim Route
The Pilgrim Route is the path taken from the home of the pilgrims to the ultimate destination of the Cathedral of Santiago de Compostela in Galicia in northwestern Spain, where it's believed that the remains of the apostle Saint James are buried.
There is no one, precise route that can be marked on a map. Over time, however, certain routes and stopping points have become so well used that they can be considered El Camino de Santiago (le Chemin de St-Jacques in French and Jakobsweg in German ).
One such route begins in Vézelay and then passes through Limoges and Les Salles where the pilgrims would visit the church of Saint Eutrope.
St Eutrope
The church of Saint Eutrope is famous for its 850-year-old frescoes, uncovered by accident in 1986 and are considered to be some of the finest examples in France.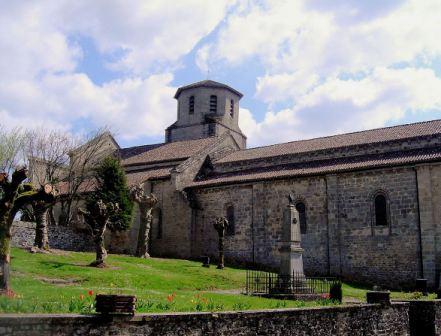 The Pilgrim Route is marked with the symbol of Saint Jacques, the scallop shell. In Limoges too, if you look carefully, you will find small metal shells set in the pavements and as you follow the route you'll spot the sign on walls, buildings and artefacts. Keep your eyes open.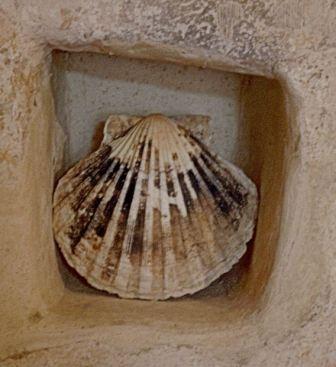 Accommodation for Pilgrims of St. Jacques
Along the route, through Spain and France, you can find pilgrims' accommodation in dormitories. You have to have a credencial, Pilgrim's Passport, which you can obtain for a few Euros through a Spanish tourist agency or your local church.
In Spain, this type of accommodation is called a refugio or albergue, both of which are similar to youth hostels or hostelries in the French system of gîtes d'étape. They usually cost between three and seven Euros per night, but a few operate on voluntary donations and are known as donativos.
Pilgrims are usually limited to one night's accommodation. Occasionally these refugios are located in monasteries, such as the one in Santiago de Compostela. You will be able to locate them once you register as a pilgrim.
If not, you will have no difficulty finding self-catering cottages at very attractive rates or campsites and Bed and Breakfast. Chez Rambaud Campsite is situated at Les Salles. Our B&B and gite (self-catering holiday home), Les Trois Chenes, Videix, is just fifteen minutes away.
Other places to see in the area
Two of the most important historical sites, Rochechouart Chateau, now Centre for Contemporary Art, and Cassinomagus, are both less than half an hour from Less Salles, and ten minutes from Les Trois Chenes.
The beautiful and historic cities of Limoges and Angouleme are each about an hour away from us.
Barbara Walton and family run Les Trois Chenes. They moved to Limousin, France, longing for "the good life", a more relaxed way of life, a safer, cleaner environment living more closely with nature. They found all this in this hidden part of rural France. At Les Trois Chenes, they offer painting holidays, Bed and Breakfast and a three star self-catering holiday cottage so you can share the good life with them.