Easy hikes in Spain



Easy Hiking in Mallorca
Who would have thought there is easy hiking in Mallorca? Let Fiona McLean tell you about hiking in Mallorca to do to walk off that hangover after that stag night.




by Fiona McLean
Mallorca is a much misunderstood and often maligned Mediterranean island. It is so much more than a package holiday resort for low cost summer holidays in the sun. Away from the high-rise hotels and manicured beaches of the mass tourist resorts (which incidentally cover only a tiny proportion of the island), there is another Mallorca – a far more alluring, varied and totally different world.
Thankfully, not all Mallorca's beaches and coastline are throbbing tourist resorts. Long white sandy beaches, lots of isolated rocky coves and deserted bays connected by coastal paths, and the Spanish favourite – the Paseo Maritimo – form the basis for many easy coastal hikes on the island.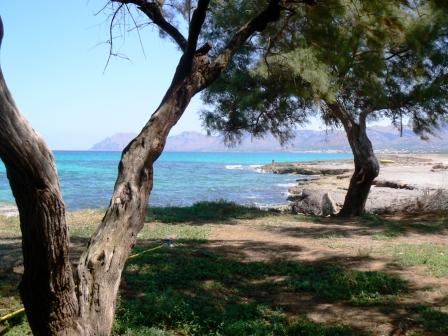 For a small island, it is extraordinary how diverse Mallorca is. Yes, there are fabulous beaches and sparkling blue seas, but beyond these there is also a dramatic range of mountains (the Sierra de Tramuntana), countless charming rural – and totally un-spoilt – hamlets, cliff-hugging villages, monasteries, castles, meadows, orchards, olive groves, wetlands (yes wetlands!), and the chic sophistication and culture of the capital city of Palma.
The Sierra de Tramuntana on the west coast of Mallorca – the 'mountains of the north wind', which run the length of Mallorca's north-western coast – are home to some of the island's most spectacular landscapes and wildlife. Pine-covered slopes crash into the sea, and higher up forested hills give way to barren crags and peaks.
This is hiking adventure country and by far the best way to get to the heart of this fabulous, and surprising, part of the island is on foot.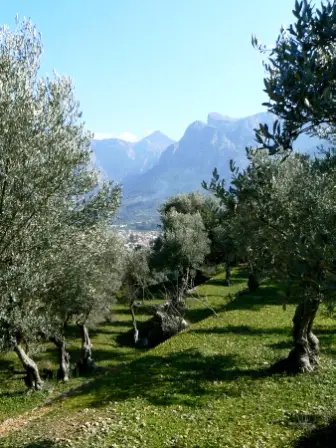 Mallorca's most famous long-distance hike – the Dry Stone Way or GR221 – spans the entire length of the Tramuntana from the Port of Andratx in the very south west of the island, to Pollensa in the north west, and is broken down into 8 stages.
As this is mountainous terrain, some stages are easier than others. But even the more challenging sections can be made easy by making them shorter (stay overnight at one of the lovely hotels along the way) or by simply leaving out the more challenging stages (take a local bus or taxi to the next section that takes your fancy).
The whole route is conveniently punctuated by small villages with a few restaurants, an occasional farmhouse serving freshly-squeezed orange juice and cakes, mountain refuges etc. so there are plenty of opportunities for local refreshments to keep your energy levels up.
Dotted throughout the hiking trails, and often located in dramatic hill-top locations, you'll also come across ermitas, hermitages, sanctuaries and monasteries, mainly dating back to Medieval times. Originally inhabited by monks, they were places of pilgrimage, and they still retain a sense of calm and tranquility – a serene reminder of an ancient world.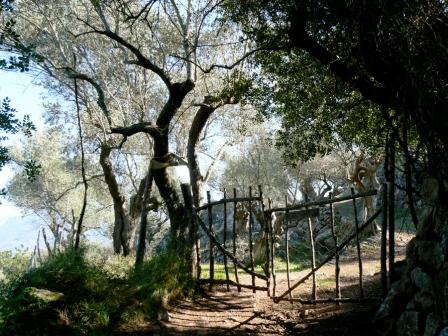 But the diversity of the island is not limited to its natural beauty, culture and history. Palma – the island's capital – is a big surprise to many people. It is stylish, sophisticated, intimate and yet bursting with life.
Half Mallorca's population lives here, enjoying the island's best restaurants, shops and nightlife, as well as a thriving arts scene and a lively cafe society. Palma's masterpiece is its Gothic cathedral, rising out of the city walls, which once marked the edge of the sea.
In Palma you'll find fabulous architecture, a maze of narrow streets hiding museums, art galleries, palaces and exquisite courtyards, so a walking tour around the sites of Palma is highly recommended.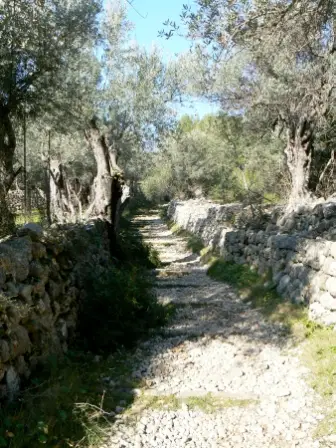 This is just a small selection of things to keep in mind when planning your next easy hiking trip. Mallorca is an outstanding walking destination with an ideal climate for hiking all year round, and particularly out of "season" (Autumn – Winter – Spring).
If you are Europe based, you don't need to endure long flights to far-flung parts of the world to discover a fabulous adventure hiking holiday experience to come back to several times a year.
And if you need some help or ideas, take a look at the Mallorca Hiking website and their tailor-made holidays . They can offer you a holiday that is exactly what you want, when you want it. With the benefit of their local knowledge and experience, they will arrange everything before you arrive.
Fiona has lived in Mallorca for almost 10 years. She now owns and runs Mallorca Hiking where she pursues her passions for the island and for the mountains by organising hiking holidays in Mallorca, which are tailor-made to your level and your interests. If you'd like to read more about Mallorca and what it has to offer, why not  follow Mallorca Hiking's blog on Facebook or on Twitter.