Day Hikes near Paris
Hiking in Paris – Verrière Forest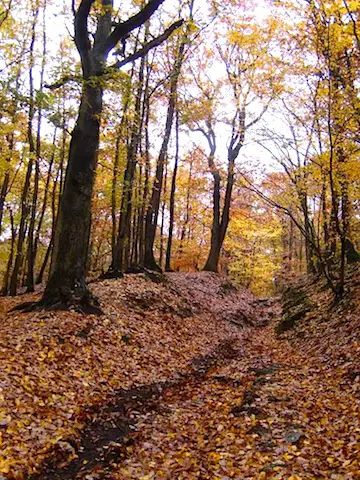 For our week-end day hiking near Paris, we were off to the Verrière Forest in the south of Paris – a trip that stands in stark contrast to our previous week's excursion in more than one way.
We were less lucky with the weather, for one. Far, far less lucky. Last week's Paris hiking destination, St Germain-en-Laye, was bathed in glorious sunshine throughout. But this time, we chanced upon a truly miserable day: rainy, windswept and cold, something that is insufficiently reflected by the pictures. (How can pictures capture the feeling of a leaky shoe and a pair of wet socks?)
Only a sense of duty had made us leave the warm, cosy and above all dry house, in the first place – the thought of you, dear reader, waiting impatiently for another installment – and we were sure that we would be the only people in the forest. As it turned out, this was far from the truth. There were surprisingly many people out and about. (Do they all have blogposts to write?)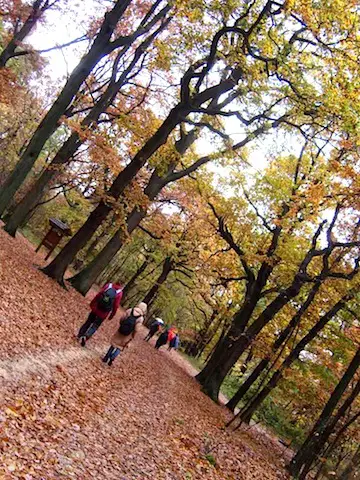 Having had asphalt under our feet for most of last week's trip, this short hiking trail leads you to nature as soon as you step off the platform of the RER station.
Trains (line C) arrive at the RER station of Igny from Paris Austerlitz, but they take a little detour, meandering slowly through the countryside south of the capital. The more direct approach takes you from the Gare du Nord (Line B, direction St Remy les Chevreuse) to Massy-Palaiseau where you need to change (line C, direction Versailles Chantier).
This is also faster (in theory, at least). In practice, we just missed a connection – having set out on a Sunday when there are fewer trains – and had to spend almost an hour in a cold and draughty Massy-Palaiseau station with nothing to entertain us but the snore of an elderly bum, who had taken refuge inside from the rain, and a view of an empty parking lot. (What a great way to start the day.)
At Igny station, take the underpass to cross the railway line, walking past the station building and through the barrier that you see in the foreground of the picture above and …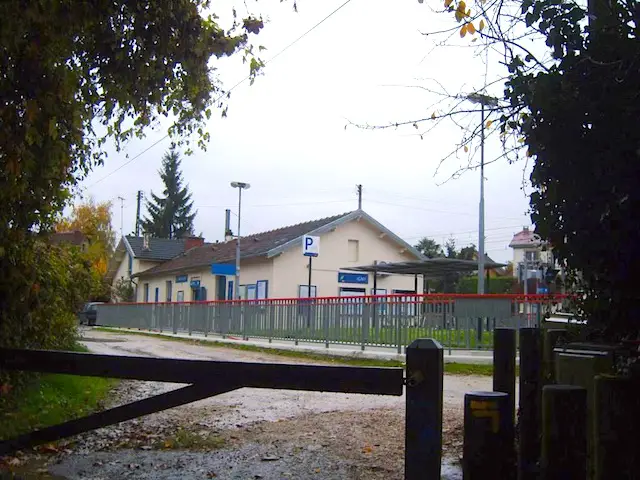 … voilà, as they say around here: nature is ready to greet you with open branches. That's surely as good as it gets in Paris.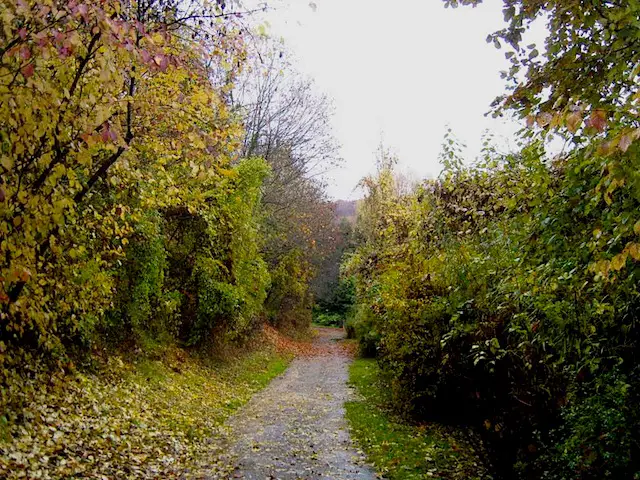 You also get some nice views of the river Bièvre, a tributary of the Seine which it eventually meets somewhere underneath the Rue de Bièvre in central Paris.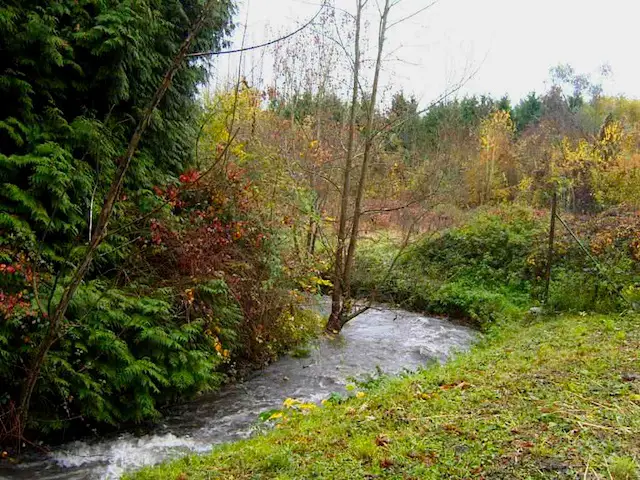 Most Parisians probably only know the river from the street which carries its name, a historic old lane in the Quartier Latin, which owes its fame to the fact that the French President Francois Mitterrand maintained a private residence there throughout his time in office (1981-1995) and where he entertained many illustrious guests from all over the world, including Mikhail Gorbatchov and Fidel Castro.
This is not yet the forest, but it is certainly a very attractive way of getting there. The footpath with the river and the trees on your left looks a little as though it was ready to be painted by Corot or some other French landscape artist of the 19th century and puts you right in the French countryside mood.
At the end of the path, turn left out of the gate into a short country lane, and at the end of that lane, you have to cross the main road, straight into the forest. (If you have 20/20 eyesight, you will not need me to tell you that the sign on the picture says "Foret de Verriere".)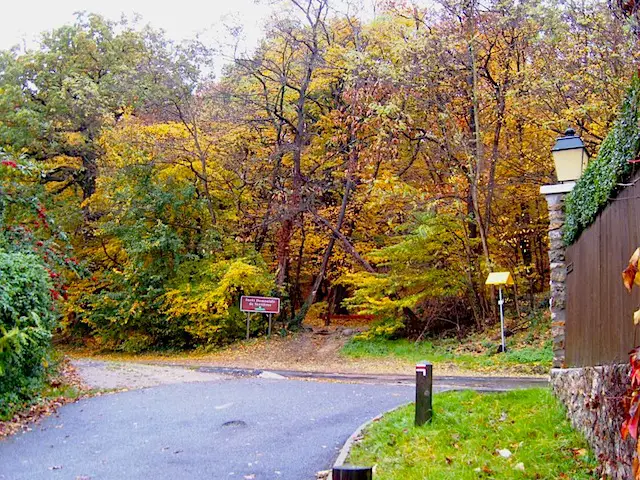 Now, the trail goes a little uphill – but not to worry: this is already the most strenuous part of the walk, and, in truth, it is not even that strenuous. Watch your step, however, the stones underneath the muddy road can get a little slippery when wet.
This is also your first chance to familiarize yourself with the different systems of French forest markings if you undertake hiking in Paris. The horizontal lines – red, yellow and white in different combinations – are what the French call the balisage.
The problem with this is that you need to know exactly what combination you are looking for during each stage of your journey, so if you want to use the balisage for orientation, you need to prepare your walk thoroughly and must know what you are doing. So in truth, the system is not really all that useful.
Fortunately, there is an alternative at hand. The Verrière Forest, like many other similar forests in the Ile de France, has been sub-divided into numbered sections. Which means that if you know what section to your left and what section to your right are – and the numbers are shown on the trees when a section starts or ends – you can always find out exactly where you are. That's what the numbers look like: they are painted on the trees roughly on eye level and are difficult to miss.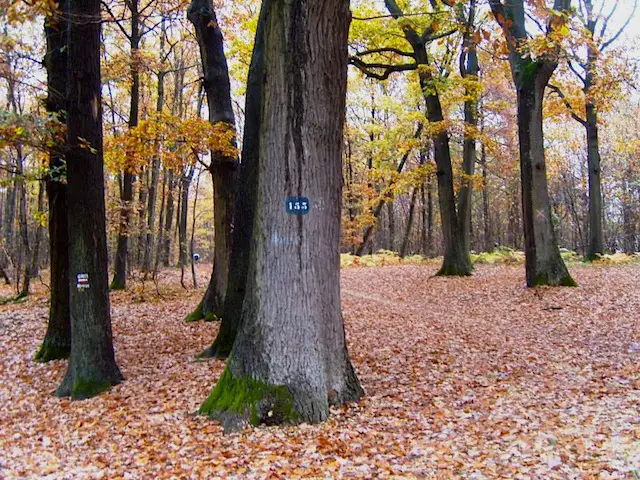 That is truly a wonderful system – provided you have a map, of course. Which is why you should buy yourself one – the Federation Francaise de la Randonnee Pedestre has issued an entire series of maps and guidebooks, check it on the Internet under www.ffrandonnee.fr or inquire at a Parisian book store – or at least take your mobile phone with you and take a pic of the map that you can find here at the entrance to the forest.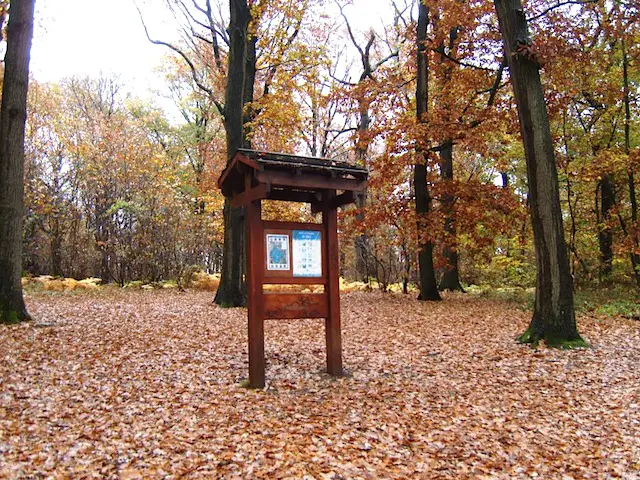 My suggestion is to walk once around the outer edge, following the trail called, rather pompously (but then again, we are in France), the Route Forestiere de la Grande Ceinture. This should take you roughly two hours. I know because we had done this before, on a much prettier day in the early summer.
On this day, however, I must admit that we cut our walk short. For one because it was getting a little late, due to the one-hour delay in Massy, and this being November when daylight fades early, we were not sure whether we would be able to finish the walk before dusk, and walking through the forest in the dark is not my idea of fun. Mainly, however, because of the rain, the cold and the wet socks.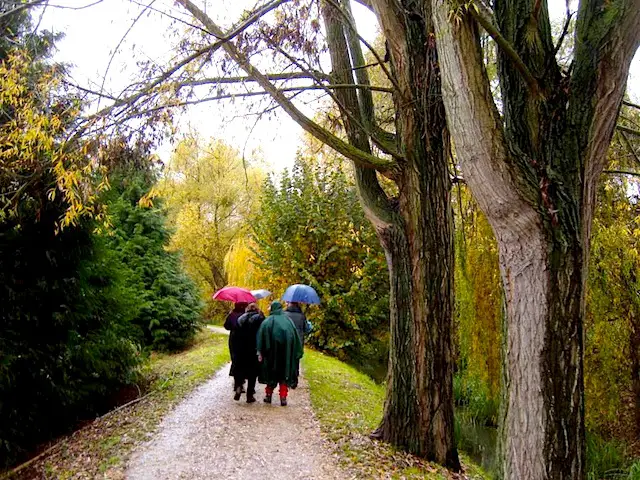 Here we are already on our way back. The weather, meanwhile, had not improved. We were also a little in a hurry at this stage because we had looked, before leaving Igny station, at the train schedule (something I recommend if you are travelling on a week-end or a public holiday) so we would not have to spend another hour in a suburban train station, and we knew that we did not have much time if we wanted to catch the next train.
When suddenly a birdwatcher popped out of the underwood, telling us not to make so much noise and pointing, by way of explanation, to the other bank of the river.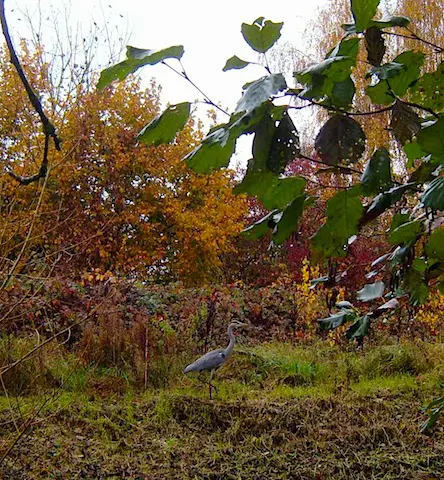 "That's a heron." Mrs S said,  with a confidence that I found somewhat surprising bearing in mind she had never given me cause to believe that she knew more about the local wildife than me.
When I later checked some pictures of herons on the Internet, I found the evidence inconclusive, not least because there are apparently so many and such diverse types of heron that you might as well say "a bird" or, all right then, "a long-legged bird". What I also found out, more intriguingly, is that herons are alternatively known as shitpokes. This is due to their response of relieving themselves violently when disturbed – in the direction of the person who had caused the disturbance in the first place, presumably.
That would have put the "problem" of a wet sock somewhat into perspective, I believe, so ultimately, it must be said that the day could have turned out a lot, lot worse.
Oh yes, we caught our train, too.
 Get more updated tips about easy hiking in and near Paris. Subscribe to our feed by email or follow us on Facebook.