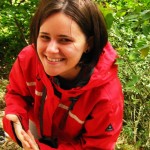 This is a guest contribution from Amalia, a young Romanian girl who discovered a "liking for hiking" in Germany while studying in the city of Freiburg. This is the story of a trip where she got more hiking than she actually bargained for.
A guest Post by Amalia Kalinca

The Black Forest Gateway in Oppenau
If you are a beginner or not yet keen on hiking, this short trip into the Black Forest might be just what you need to whet your appetite for such excursions into nature. The trail from Oppenau to the All Saints Waterfalls is a one-day hike which may challenge the physical condition of the untrained urbanite but allows plenty of time to rest, take photos or enjoy the scenery.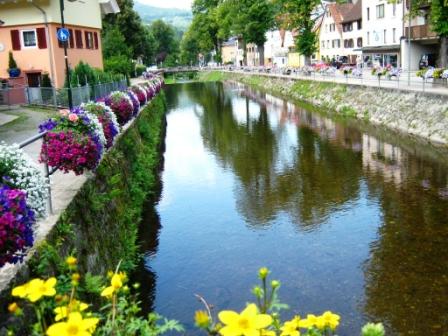 The easiest way to travel to Oppenau is by train. Trains from Offenburg, called "the gateway to the Black Forest", to Oppenau leave every two hours. There are also buses, but the journey is roughly twice as long (1 hour rather than 30 minutes).
If you have – as I have – spent some time in Germany, you may be surprised to find Oppenau train station rather unwelcoming – a somewhat forlorn and abandoned place.
Do not let that get you down, simply leave the station and go in search of one of the many signboards that show you the way to your final destination: the "Allerheiligen-Wasserfall" or All Saints Waterfalls.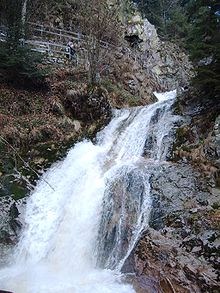 The hike from Oppenau to the waterfalls is about 10 km long and runs along the river Lierbach, which makes it an extremely pleasant walk, even on a hot summer day.
The difference in altitude is only 620 m, so there is only very little climbing involved. This enables you to complete the trail in 2 to 4 hours (for the more leisurely hikers).
Most of the trail takes you through the forest, at points out into open fields, sometimes overlooking vineyards or orchards.
When you reach the waterfall, be prepared for a long walk "upstairs".
The Lierbach, after all, loses an altitude of nearly one hundred meters, and it takes much more time for one to get to the top than for the water to reach the ground. But there will be plenty of places to rest and take a break as you will find a bench in every corner.
If the benches happen to be all occupied, the stones can serve as your bench, too. You will be surprised how comfortable they are when you are tired and there is nothing else to sit on!
After climbing the seemingly infinite steps, you arrive at the ruins of the All Saints Abbey. Around it, as at any tourist attraction, small businesses have developed, so that you can get all the souvenirs you want. Likewise, if the eager traveler goes hungry, a restaurant can be found near-by ready to serve authentic German fare.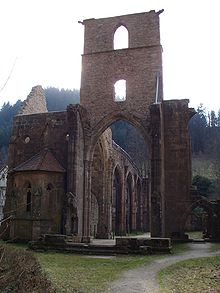 The Abbey ruins themselves offer an impressive view, especially as they have withstood the passage of time in excellent form.
Built between 1191 and 1196, the monastery belonged to the order of the Premonstratensians.
Despite having been damaged by fires many times, the monastery remained a site of pilgrimage until 1804, when lightning destroyed most of the church.
From the Abbey, you have several options as to your route back, There is a bus that can take you back to Oppenau or further up to the Mummelsee (Lake Mummel).
Please note, however, that this service is only provided on week-ends.
We were blissfully unaware of this and eventually had to walk another half dozen kilometres to the nearest train station.
If you find yourself in a situation where you are looking for the nearest train station, I recommend taking the path to Ottenhöfen. Not only does the road go downhill, it is also about 4 km shorter than the way back to Oppenau.
As before, you will find road signs at every turn, only make sure you take the path they indicate and not any other. (This happened to us, too.)
When in doubt, as a rule of thumb always follow the path downhill – if you find yourselves climbing, you are probably going the wrong way.
From Ottenhöfen, trains leave regularly for Offenburg (roughly once per hour).
Bear in mind, however, that the last train departs just after 20h00.
Hoping that the pictures and this short write up have stirred your interest in hiking, particularly in hiking in the Black Forest, I'll leave you planning your next trip.
Amalia Kalinca is currently writing her Master's thesis on postmodernism and theme parks at Freiburg University  in Germany. She loves to travel, experience new cultures and places and meet interesting people. She likes contemporary literature and hiking.