Hiking in Turin
The Sacra di San Michele near Turin is Northern Italy's grandest and most sacred abbey
Italy's industrial heartland lies within a triangle formed by Genoa, Milan and Torino, but, this being Italy, these three great industrial towns are hardly the equivalent of Dortmund, Manchester or Cleveland and pack a powerful "triple punch" of beautiful architecture, atmosphere and history.
Of these great northern towns, Turin was the last we had the opportunity to visit, and a good case could be made for it being the most attractive of the three.
Up to a point, it is a matter of personal taste which of the three you like best. They all have their unique charm, but it is in terms of hiking where Turin clearly leaves the other two standing.
The city is surrounded by the Alps – the locals, in fact, proudly call her the "capital of the Alps" – …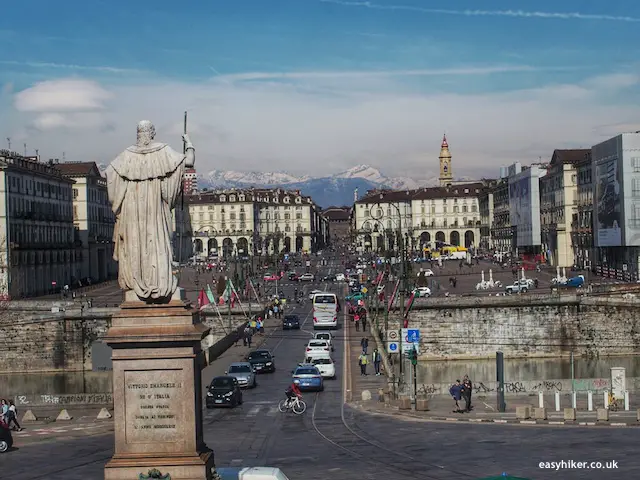 and if you want to take a closer look, there is a wide variety of trails to choose from, ranging from brief afternoon strolls to week-long expeditions.
One word of warning, however: the mountainside around Turin is less developed than the Dolomites, the premiere hiking region in the Italian Alps. You will find far fewer cable cars ready to take you to the top, the trails are less well marked, and in certain parts of the region, you can, apparently, hike for days without meeting a single soul. It is this kind of trail in particular that is best approached with an experienced mountain guide.
Roberto is clearly one of those people who amaze you by what they are able to pack into their lives.
But even the less ambitious hikes – such as ours – can greatly benefit from having a guide around, particularly one who knows the area as well as Roberto.
Roberto offers guided hikes for different levels of ability, and he had been inviting us to join him on one of his day hikes. Last week-end, finally, we took him by his word and went hiking in Turin.
He gave us a choice of trails to pick from and would even have been willing to take us into the great barren yonder – "it's a great time of year to bring out the snowshoes" he had kindly suggested, but we meekly plunged for the easiest of his options, a stroll around the famous Abbey of San Michele, perched on top of Mount Pirchiriano approx. 15 km to the west of Turin.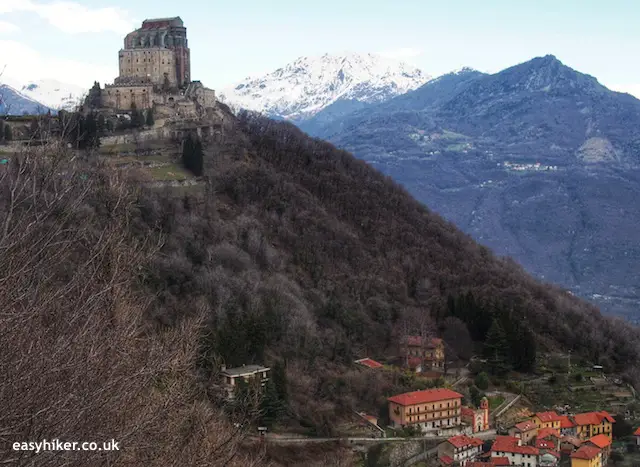 The Sacra di San Michele is the spiritual centre of the Piedmont region (which is what the northwest of Italy is called). There has been an abbey on top of Mount Pirchiriano for well over a 1000 years, although today's monumental structure …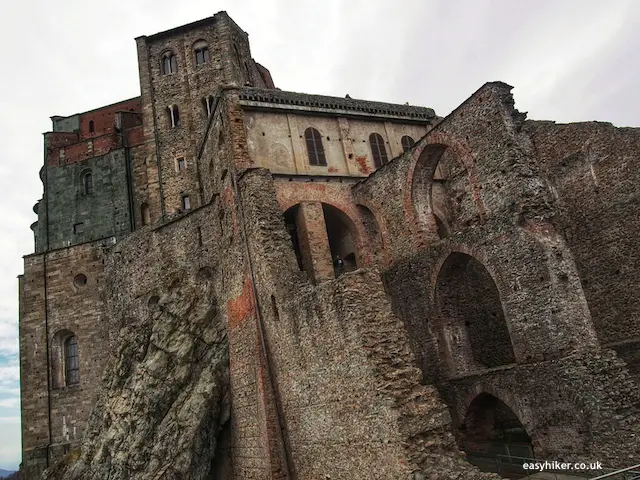 …was mainly built between the 12th and the 15th centuries. During the Middle Ages, the Benedictine abbey of San Michele was one of the grandest and largest monasteries in the whole of Christendom, important not least as a stopover for pilgrims going to and coming from Rome.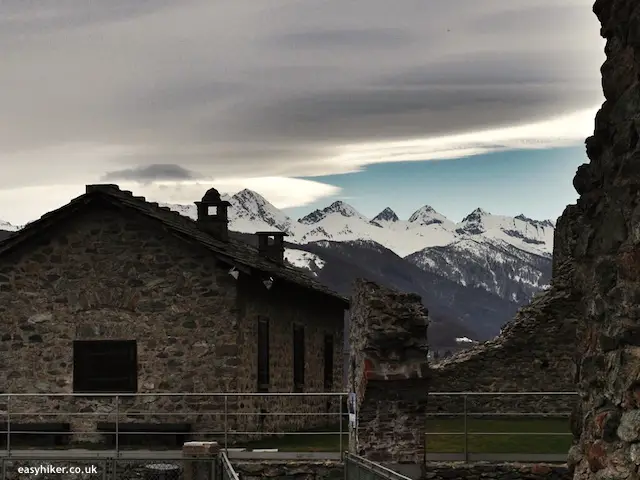 More recently, it served as the source of inspiration for the novel The Name of the Rose (its author Umberto Eco grew up in near-by Alessandria), which was later turned into a film featuring Sean Connery.
With a height of 960 metres, Mount Pirchiriano is a mere pimple in the landscape for Roberto who not only knows all the snow-capped peaks of the surrounding Alpine panorama by name but who has climbed most of them, many on different routes.
On top of that, he has travelled widely (he worked for several years in South America and Thailand) and has even done climbs in the Hindukush – Roberto is clearly one of those people who amaze you by what they are able to pack into their lives (he is only 30).
How does he do it? Partly, it turns out, by spending most of his free time in the mountains – sometimes heading for the hills directly from his day-job as a software engineer, spending the night in a mountain cabin and returning to his next shift the morning after, his lungs presumably still full of the clean mountain air.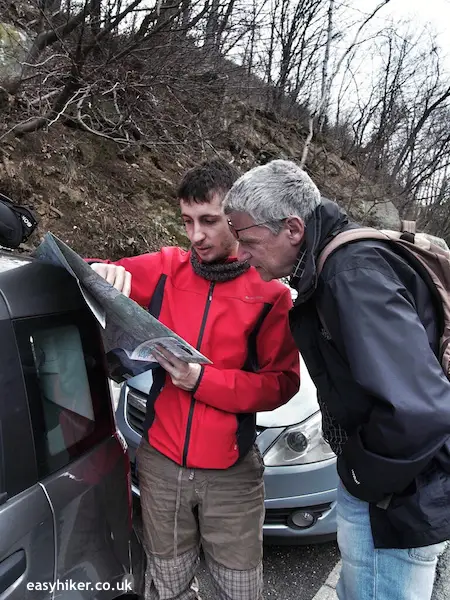 While using the services of an experienced guide is a must for easy hikers who want to approach the more difficult Alpine hikes, we saw – even on our little walk – how useful good advice can be under less challenging circumstances.
Roberto had wanted to explore the ridge overlooking the abbey – "I have never been there myself", he confessed – and when our path appeared to wind away from the peak, he decided to take us via a more direct approach, cutting confidently across the uphill slope.
Which proved to be a convenient and, just about, manageable shortcut …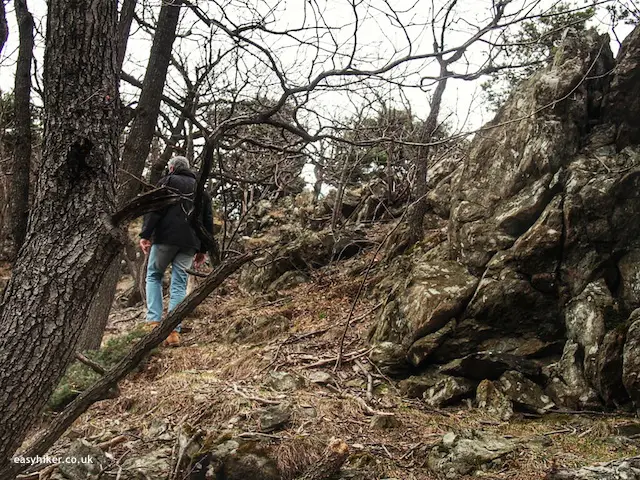 … and which allowed me, a rough if mercifully brief ascent later, to feel like the King of the Alps.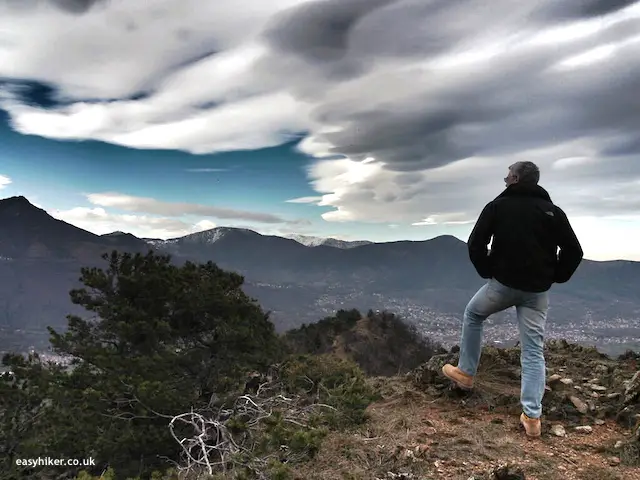 Made it, Ma, top of the ridge – I had conquered my own private Matterhorn.
On the way back to Turin, we stopped for a cup of coffee near the peaceful and lovely Lake Avigliana …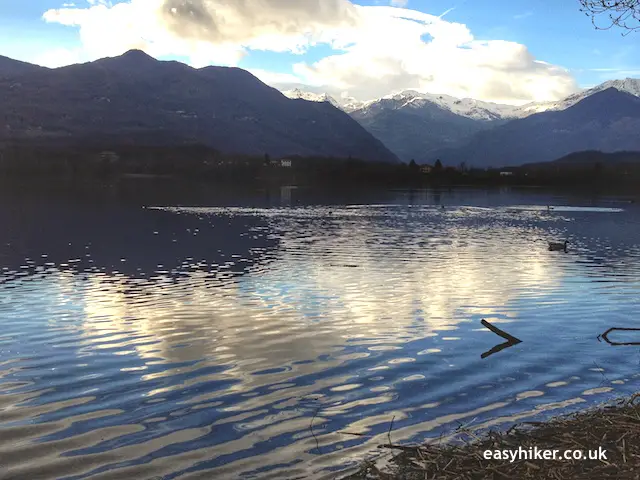 … which, incidentally, is the only part of the trip that you would be hard pressed to repeat if you tried this hike on your own, without a guide who takes you around in a car (simply because it is relatively far out of the way).
The Sacra di San Michele, conversely, can be easily reached from Turin. Just take the train to Sant'Ambrogio and hike from there up to the Abbey – if you take the "mulatierra", the "way of the mules", this should take you approx. 2 hours, leaving you enough time for a visit of the abbey (it costs € 6 p.p. to enter) and an unhurried descent.
Roberto arranges mountain tours in Piedmont for singles, couples and larger groups. Check his website or contact him directly to see how he can help you get the best hiking experience during your time in Turin.