What does a hiking festival in Italy need to do to attract the punters? Serve a five-course lunch along the way, for example – and do not skimp on the wine
Not everybody loves hiking in large, organized groups, …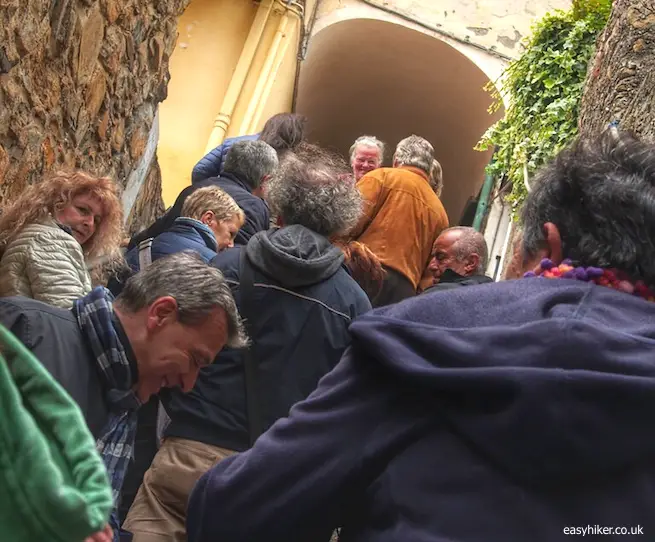 … but whatever their drawbacks, these "hiking festivals" clearly have their advantages, too.
One such advantage is that somebody else has done all the hard work of preparing the walk and of arranging its logistics, but there are other reasons why it can be fun to join such an outing, particularly when you are on a foreign holiday: there is, after all, always the possibility that you might learn one or two things about the country you are visiting.
Read also: The Gran Canaria Walking Festival 2013
My own experience with organized group hiking is somewhat limited. Actually, until recently, we had only ever participated in one proper "hiking festival", 2013 in Gran Canaria. All of that festival's walks culminated in a grand fiesta, with lunch-dinner (dunch? linner?) served in a village taverna at around 4 o'clock, where the wine was freely flowing and everybody became everybody's friend.
Other than that, we have, over the years, run into several organized hiking tours in Germany – every German town has at least one registered Hiking Association (with annual General Assemblies, an Executive Board and so on) for hosting such tours – about which I can say only this much: I never felt tempted to join one, and I cannot imagine that their outings work along similar scenarios as the one in Gran Canaria.
What about Italy then? At the beginning of the month, friends of ours had invited us to take part in an Italian group hike near Sanremo, and we had no idea what to expect.
Read also: The Queen of the Ligurian Hills
Hiking in Italy, after all, can be a decidedly mixed experience. The landscape is often breathtakingly beautiful, but the trails can be a bit scruffy, they are not as well maintained as those in France (never mind Germany), and one generally feels that, although there are certainly people in Italy who love their hiking, most natives regard these sweaty, heavy-booted and backpack-wearing aliens in their towns and villages with feelings of pity. What would it be like, under these circumstances, to participate in a "hiking festival" in Italy?
Hiking Italian Style
The motto of our outing around the village of Ospedaletti was Passegiando–Assaporando, loosely translated as "we walk, but we also eat". At the starting point, having handed in our registration fee, we were given a map and a wine glass …
… which certainly was a clear indication of where things were going.
On top of the first stairway, an antipasto stall was ready to hand out chickpea-flour pancakes – called panisse – to the walkers, as a sort of welcome perhaps, but after a turn to the left and a stroll down the village high street, we were already being greeted by a second stall, which was serving another set of antipasti.
Both starters were, of course, accompanied by wine. What do you think the glasses were for?
Freshly invigorated, the large and drawn-out group of walkers was now ready to attack the heart piece of the walk, the ascent up the coastal road …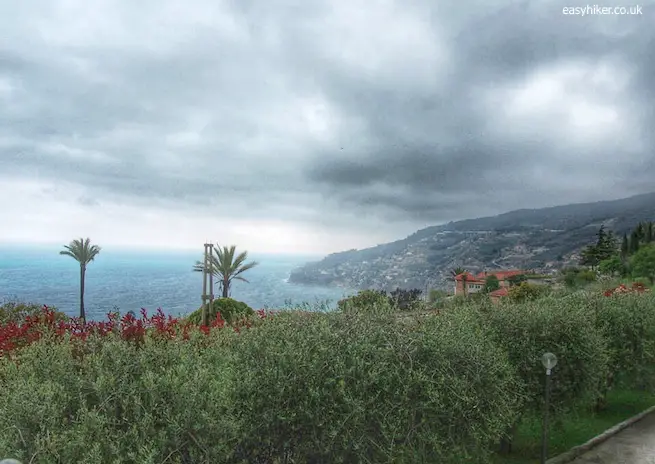 to the Santuario della Madonna delle Porrine …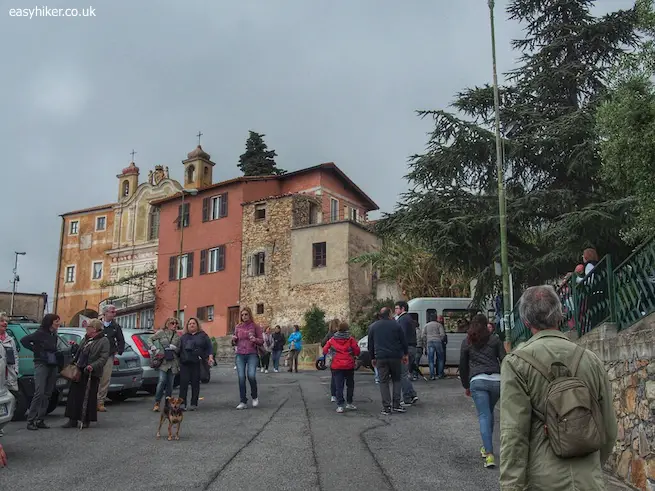 … although those for whom this gentle one-kilometre hillside promenade was too much of a strain, could also use the bus shuttle service that had been laid out by the organizers.
Pasta primavera in the shadow of the old church was followed by a meat course, about half-way down the hill ..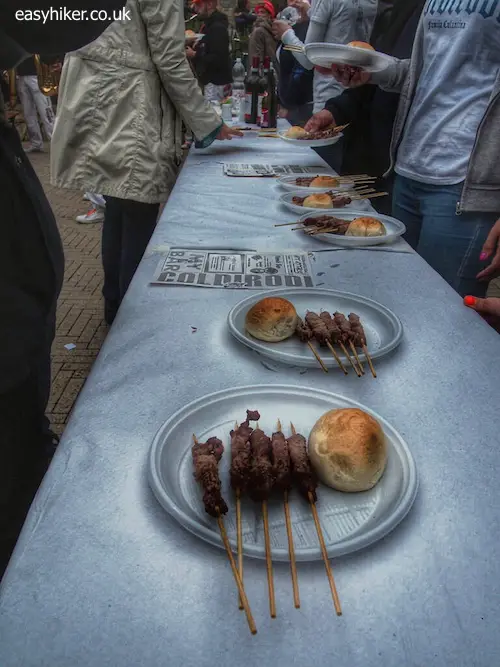 … before cakes and biscuits back on the village square rounded off the meal.
So what did we learn from the experience? Well, first of all, that not all clichés are just the products of lazy thinking. You know the old joke about hell where the English are the chefs, the French are the mechanics, and everything is organized by the Italians …?
Well, truth be told, the event was less than perfectly organized – there were long queues in front of most stalls, for example, some with waiting times of more than 30 minutes: a little foresight on the part of the organizers would have probably been able to prevent such a build-up.
More surprisingly, however, there was no pushing and shoving, no complaining, no sourness. (In France, I have seen riots break out over less.)
A marching band was playing to entertain those waiting to be fed, and somebody from the organising committee had the glorious idea of despatching somebody to keep the punters up and down the queue happy with a few extra bottles of wine.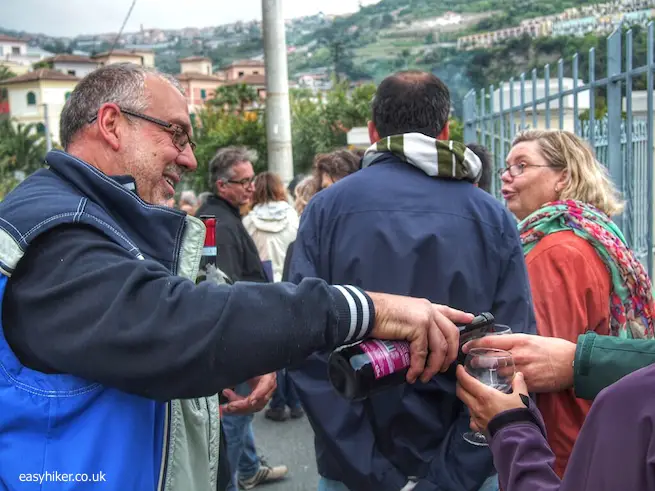 I did not hear one angry word and only saw smiling faces. Everybody was really sweet – long before they had been served their pastries.
The whole thing was not much of a hike, of course, not even a proper walk – more the outdoor equivalent of a trip from your dining table to the fridge, for desserts or seconds.
On the basis of what we have experienced of Italy over the past two years, this was about par for the course. Hiking, I suspect, is simply not and never will be part of the Italian national culture. This does not mean, of course, that people cannot enjoy it – only that it must be blended and flavoured to fit in.
It was only after returning home that I found out about the tradition of this event: in fact, this had already been the 11th edition of the Passegiando–Assaporando Hiking Festival. I suppose this means that there is a good chance for a repeat performance in 2016.
Sign us in for that one, folks! I am already wondering: where will you take us next year? And, more importantly: what will be on the menu?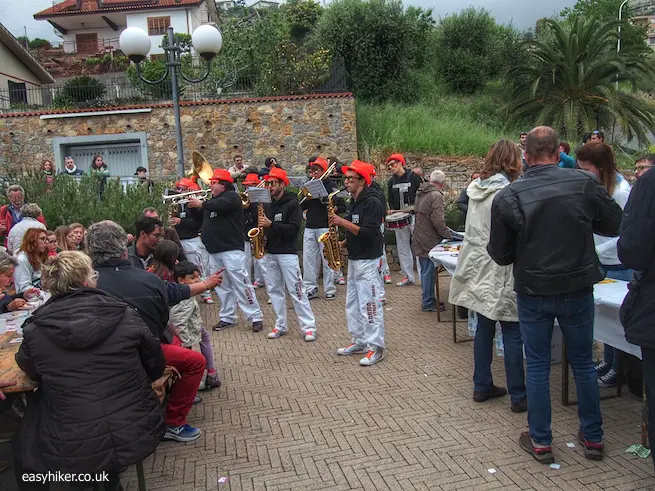 Does this hiking Italian style appeal to you?