Walking near Paris
A Hiking Trail in Chantilly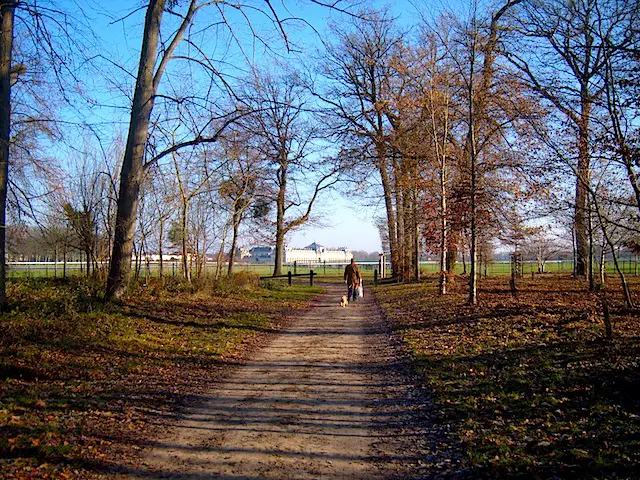 This time, our Paris hike brings us to a hiking trail in Chantilly, 30 minutes by train from the Gare du Nord, for a short hike of two hours with much to see on the way – particularly for people with at least a passing interest in horses. Chantilly is the centre of French thoroughbred breeding.
It is the perfect trip for visitors who are in Paris for maybe four or five days and look for something different to do outdoors on a sunny day.
Not least because, if you leave early, you can be back in Paris by three – which leaves you plenty of time for other activities in the afternoon. And the hike does not drain you of all energy either since it is not too strenuous.
This day hike is also the last of the season of our 2010 hiking adventures in Paris. And since this is the season's finale, we are going to do things a little differently: first, we are going a little further away than usual and take a "real" train, one from the Grandes Lignes SNCF network rather than a Metro or suburban RER train, requiring a little more preparation and foresight.
Before setting out for the Gare du Nord, you should look at the train schedules because "real" trains, although frequent, do not run as regularly as the RER lines, and there is currently a "hole" in the early afternoon schedule (between two and four) where no return trains to Paris circulate at all. So, you should take that into account when planning the trip. (Before and after, trains leave – in either direction – roughly every 30 minutes.)
But also, and more importantly, for this trip I could just "lean back" and enjoy the walk because I knew I would not be the one writing it all up. For our last walk of the series, I decided to leave this honour to my guest poster and old friend ParisChien.
And a good day to you all !
Yes, that's me in the trail, and I am not in my best mood. Because at the train station, Marlys and Michael – my two humans – asked for  "two returns to Chantilly and one ticket for the dog", and the ticket vendor asked: "Would that be a return as well for the dog?"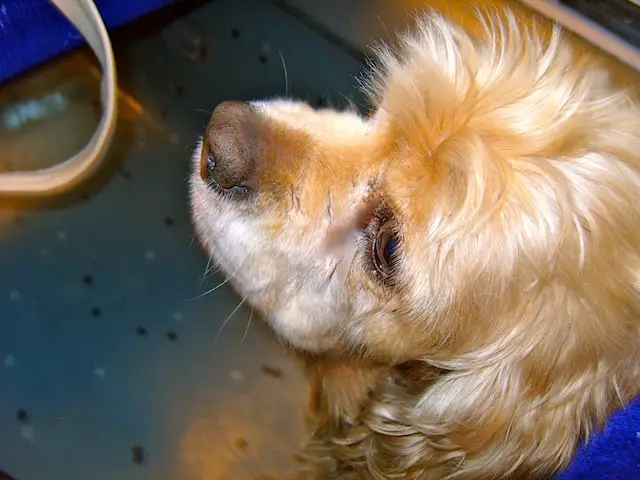 Marlys and Michael found that very funny. I didn't. That was such a very "human" joke. For me, it was above all else an uncomfortable reminder of my vulnerability in this, or indeed in any other situation. That explains  why I look a bit grumpy here.
Also, I am still a bit dazed, because I didn't really know what was going on: one moment I am being prepared for my morning walk, or so it seems, and the next moment I am sitting on a train. On an empty stomach. Neither have I had the time for any other business that I normally take care of in the morning. I mean, what is going on?
Thankfully, there is some nice fresh and crisp frozen grass just behind the station when we arrive. That takes care of breakfast, thank you very much. (This is also the place to do the other type of business, and I am very grateful to Marlys that she did not take a picture of that. Contrary to what many people may think, dogs are very proud and sensitive creatures.)
Straight out of the station, we head towards the park and then straight ahead down the alley. Michael complains that there are two arrows in opposite directions both pointing to the racecourse, that they are both wrong and that it is all terribly confusing.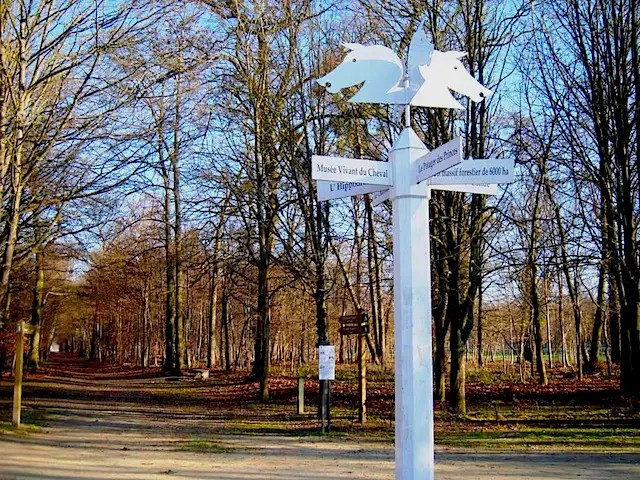 But of course it is! Can't you see? That sign was designed by a horse – it even stuck its signature on top! (Everybody knows that horses are dumb.)
Right now, I am beginning to catch on: we are going out for a walk today. Great! I love country walks. No crowds, no people stepping on my feet, no legs that block my view, always soft ground under my paws.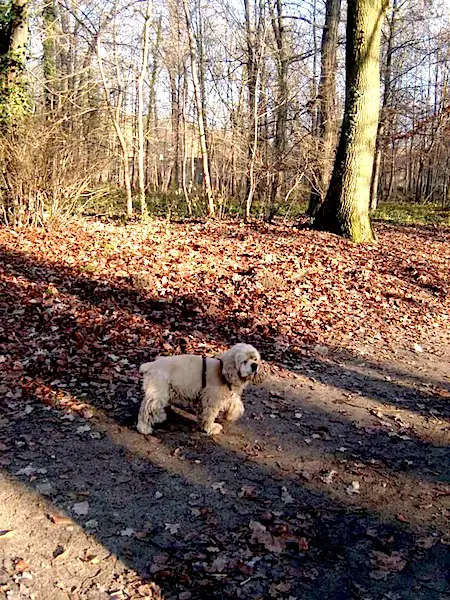 And best of all: Marlys and Michael let me off the leash – albeit nervously. This is not because they fear I might run off after some rabbit or other piece of wildlife – we all agree, tacitly, that my rabbit chasing days are long behind me. (Besides: at this stage of my journey, Marlys and Michael, never mind the rabbit, could probably outrun me anytime.)
No, I am well aware that this has something to do with horse poo and an episode from my youth when – I freely confess – I just totally lost it in a heap along the road and had to be bathed for a full hour when we got home.
Not today, however, dear humans: I have already spotted a dropping or two (long before you: there are still some things I am pretty good at), but these were frozen lumps of rock, and the cold had killed off any smell that might otherwise have temptingly lingered.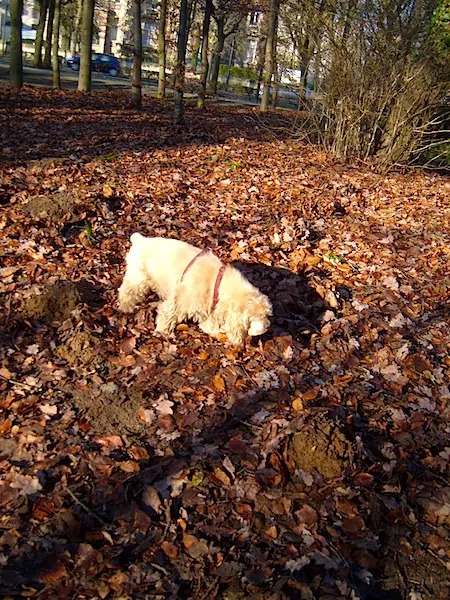 But you are right to be careful, of course. Hey, I am just a canine being: if that had been a fresh pile, and this were a sunny summer day, with warm smells drifting all over the place – who knows what would have happened? (Ah, you humans: you don't know what you are missing.)
This is the racecourse. Horses are apparently very big in Chantilly. Many breeders operate here and in the surrounding countryside, and the course stages one of the country's biggest races (the annual Prix du Jockey Club, the French version of the Derby).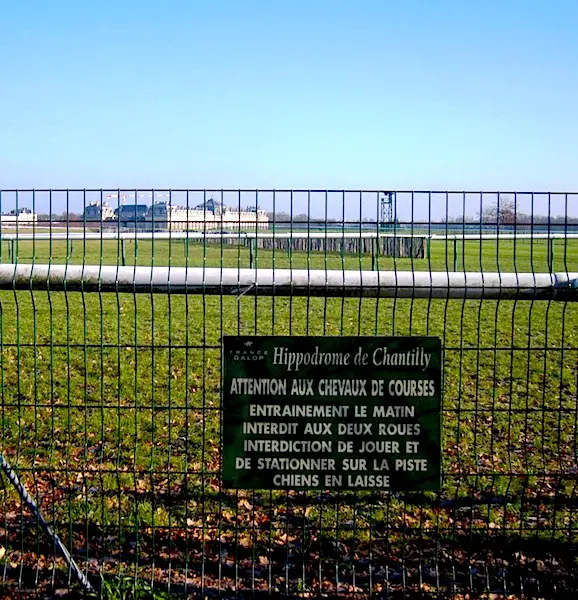 I personally don't understand why people make such a hullaballoo about horses. To me, they are just dogs on stilts! (Much dumber dogs, of course.) You can actually enter the track to walk to the historic stables, over on the far side to your left (alternatively, take the cross-country route). The warning says that horses may use the track for training, "in the mornings", but there was no traffic at all on the course. Perhaps because of the cold, perhaps because the horses had already finished their run out for the day – at eleven thirty! (They are not only dumb but also lazy.)
Unfortunately, the note also reminded my humans that it would, bearing in mind the possibility of meeting an easily irritable horse, safer to put me back on the leash. Thanks for that, stilt-legged friends.
So, eventually, this was the only horse we saw all day along the hiking trail in Chantilly. That count seemed just about right on the money for me. (Come on, how dumb can you get? I mean: we dogs truly, madly, deeply love our humans, but would we allow them to sit on us?) The guy on horseback, by the way, is the Duc d'Aumale whose family had the stables built 2000 years ago (that's dog years, obviously).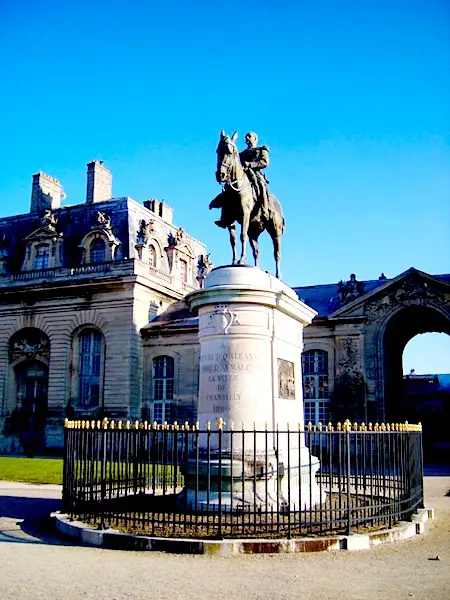 Nowadays, they are a museum, and you can see – even just by peeking in from the outside as we did – how the noble steeds were accommodated at a time when many peasants (and their faithful dogs) had to live in draughty wooden hovels.
Continue around the track – or by the side of it – until you reach the Chateau of Chantilly.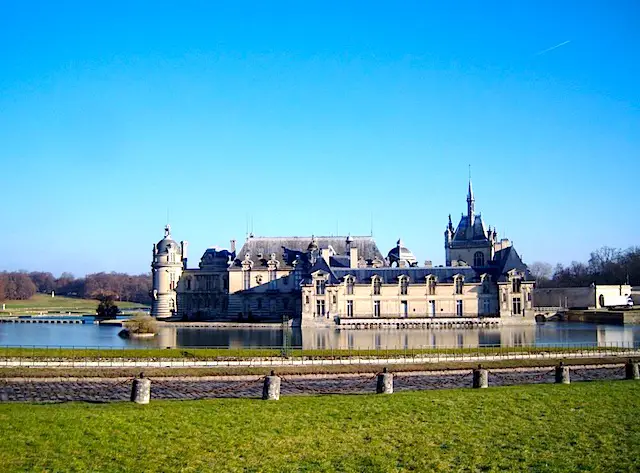 There have been castles in this place since the late Middle Ages – the Dukes of Chantilly were closely related to the French royal family, the Bourbons – but this one was actually built in the 19th century.
Marlys took this shot from the fence because they would not let me go any further inside. (No respect for man's best friend. But what do you expect: this is a one-species-town, after all.)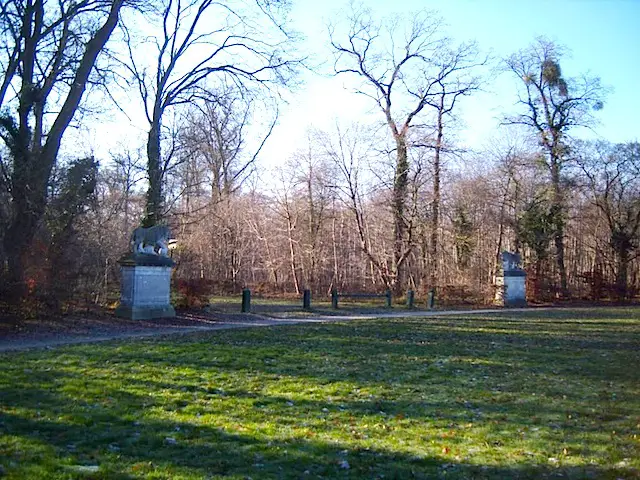 Now turn around, leaving the Chateau in your back, and head straight for the Carrefour de Lion on the edge of the forest. Look for the stone statues! (I personally don't understand why people make such a hullaballooo about lions. To me, they are just cats that know how to defend themselves.)
When you stand in front of the statues, turn right into the pathway that points to the "Gare". Continue on this trail until you spot the race course Grandstand on your right hand side. Now cut sharp to the left, across the parking lot and eventually across a busy road. Look for the next path into forest.
Continue until you reach the Poteaux du Puits, the "Well post". On top, it clearly says turn right to the train station and to downtown Chantilly.
What's the matter: find that confusing, too, humans? They were wise to follow me: I know the way. There is, after all, some yummy, crisply frozen grass waiting for me behind the station. I can smell that from here. You better believe it. Hey, there are still some things I am pretty good at, remember?
ParisChien was Marlys and Michael's sweet old reliable American (cocker) friend who accompanied them in many of their easy hikes (to illustrate how really easy the hikes are). He has crossed the Rainbow Bridge on March 11, 2011.