Hiking in Germany
The Black Forest Westweg
The Trail
Westweg: 13 stages and 280 km through theBlack Forest, from Pforzheim in the North to the Swiss city of Basel in the South.
Profile
The Black Forest is the most famous of all German Mittelgebirge (literally "mountains of medium size"), the country's sub-Alpine mountain ranges. It is certainly the largest such range (with 12,000 square km/4,600 square miles) and the highest. The Feldberg, at nearly 1500 metres/5,000 feet above NN, is the highest peak between the Alps and the North Sea.
Have you read: Black Forest for Beginners
The Black Forest is also large enough to accommodate two distinct zones with different weather patterns and characters. While the North is exposed to western winds and (due to high levels of rain) covered with dense forests, the South takes shelter behind the Vosges and is therefore drier. It is also, on average, higher.
What we did
We picked stages 3 and 4 of the Black Forest Westweg, starting at Forbach in the North of the Black Forest. The trail goes right through the town and is easy to locate.
What we liked
Forbach is a great place to start this easy hike (pretty but not too big to explore fully on the evening of your arrival). The Hotel Goldener Hirsch, which is located at the historical wooden bridge across the river Murg (you can see it from the train station), is supremely picturesque. (They are also very friendly and serve good food.)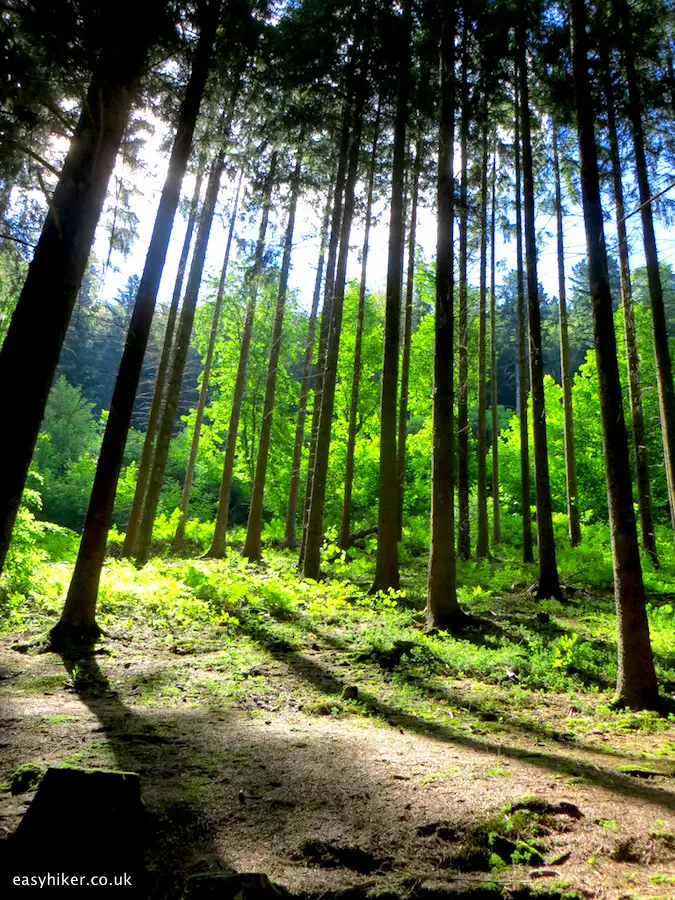 Having walked through the lush forests that cover most of the trail, the bare and exposed "moonscapes" atop some of the peaks (tree stumps that must have been struck by lightning repeatedly) provide an interesting contrast. The Mummelsee on stage 4 is lovely. Take the time to explore it or, at least, to rest for a while by its banks.
What we liked less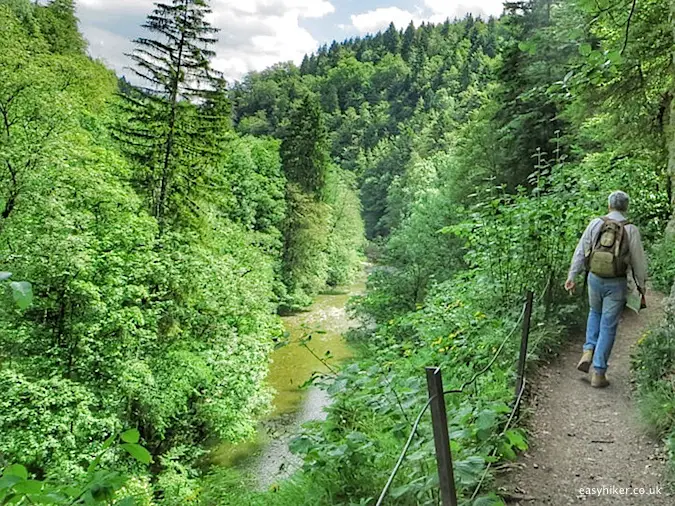 Unterstmatt at the end of Stage 3 is not, as you might be led to believe by the brochures, a small town or a village but strictly speaking not more than a crossing of two major roads. There is one large hotel which was closed when we arrived (it appears to open only during the skiing season) and two small inns with a handful of rooms each.
Have you read: Beer, Buzz and the Black Forest
We arrived early and were lucky to get the last free room. The couple right after us – arriving while we were enjoying our cold drinks on the terrace – were already sent away.
There are some youth hostels in the area, but you would have to walk at least a couple of miles from Unterstmatt. We always like to wrap our hike by staying in a pretty little country town for an evening and a few hours the next morning, but were somewhat underwhelmed by the charms of Rastatt.
Then again, we should also be grateful for our disappointments because it is only through them that our happy experiences are thrown into relief.
Or, as my old literature teacher always used to say: we must also read a bad book every now and then, otherwise we will lose the ability to appreciate the good ones.
It also must be said that unattractive towns can give you a feeling of smug superiority: you will be gone tomorrow while everyone you see is stuck in this hole for a great deal longer. Which, let's admit it, can be a rather satisfying thought.
Towns to explore
A better choice would probably have been Baden-Baden, the German Monte Carlo, where Dostoyevsky learned how to play roulette. (Albeit not very well, by his own account.) But we were not in the mood for Poshville at the time, partly because we did not have the proper outfit (only our sweat-soaked clothes from what had been a hike in extremely hot weather).
There are more interesting towns in the South, Freiburg, for example, or the Swiss city of Basel, but they are too far away from the North (a couple of hours by train) for a short stay of less than a full day.
On top of that, we had to return to the railway hub of Karlsruhe the next day which lies in the opposite direction.
The Wider Scene
You may want to visit Hohenzollern Castle, the seat of  Germany's Imperial family (Kaiser Bill, 1914 and all that), built in a style English visitors will easily recognize as "High Victorian" (19th century Gothic), much like the mad King Ludwig's castle of Neuschwanstein in Bavaria.
Hohenzollern Castle is privately owned (the family still exists, only their empire has disappeared), but is open for business (300,000 people visit it every year). Its attractions include, somewhat incongruously, the grave of the monetarist Friedrich Hayek, Mrs Thatcher's favourite economist. (The castle lies only about 80 km east of the Black Forest but is tricky to reach by train.
Allow something like 3 hrs. Best go there if you are on the way to or from Stuttgart, getting off at Hechingen station.)If you have more time, I would recommend combining your Black Forest hike with a three-day or four-day trip to the Alsace, just across the border in France.
Strasbourg, the provincial capital, can still be reached on the excellent value Länderticket for Baden-Württemberg, a one-day public transport network pass which gives you the right to travel on all trains except those of the Intercity service (IC, ICE). (Available at all train stations, good for up to 5 people. Prices change every year. Just inquire at the counter or try one of the two-language ticket machines.)
How to get there
High-speed trains from many German cities and northern France (including Paris) go to Karlsruhe.
Trains from Karlsruhe to Forbach take just over 1 hr (two departures every hour).
The regional airport of Karlsruhe/Baden-Baden is served by Ryan Air.
Stuttgart has an international airport. Trains from Stuttgart Central Station go to Forbach regularly (travel time: app. 2 hrs).
More Information
Some information about stages of the trail (in German)
Helpful and detailed: Hiking the Westweg
Base yourself for a few days around the Black Forest. Why not stay in an AirB&B apartment, like we usually do? We're even giving you €35 for your first rental anywhere!