Gran Canaria Walking Festival
Hotel Las Calas
We just arrived in Gran Canaria, late last night, all ready for the Walking Festival that will start today.
We have not seen a lot of the Gran Canaria landscape, of course, in fact little more than the vegetation which lines the street on the way from Las Palmas airport to our hotel in the country's interior, but enough already to say that it feels a long way from mainland Spain.
The lowlands around Las Palmas are "Iberian" enough – the cityscape of Gran Canaria's largest town is the typical Spanish mix of the colonial, the new and the ugly – and around there, the Spaniards have managed to control the Canarian landscape rather well, but as soon as you drive into the hills, you won't know anymore whether you are in Europe or … well, somewhere else.
The palm trees here look different from the ones around the Mediterranean – which may have something to do with the fact that they are a native species here whereas anywhere else in Europe they have only been "imported" – and much of the other vegetation seems downright eerie.
The trees by the roadside, for example, are much taller than anything you would find along a road in Europe, much richer in foliage, too, as though they were straining at the leash of human control, and I could easily imagine that they turn into pagan gods after midnight or into some icon of non-Europeanness such as elephants. (It may also be, of course, that I was simply very tired.)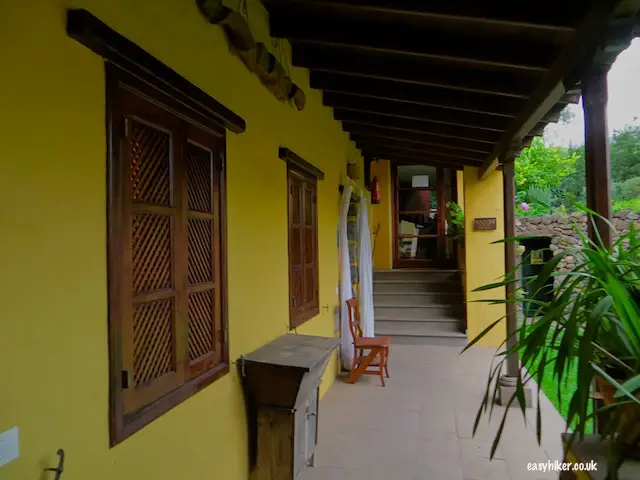 Our first look around the hotel – called Las Calas – only confirmed our impression that this was a very interesting place indeed. It is an idyllic place, embedded in the middle of spectacular landscapes all around, with a lovely garden to rest (plenty of birdsong in the morning) …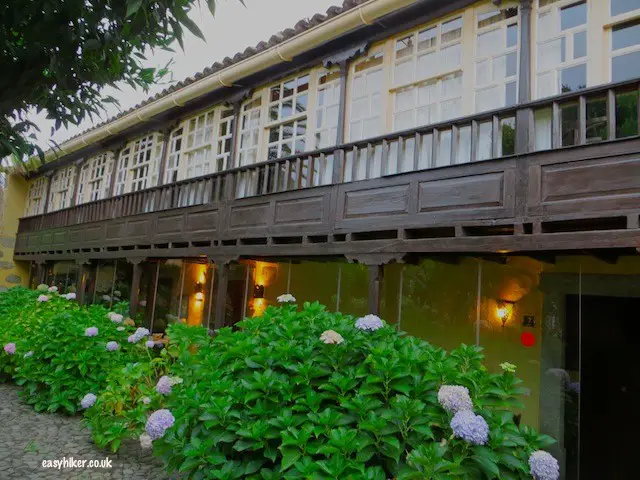 … and many interesting trails to explore.
If we did not have a full itinerary for the day, we would have loved simply to walk down that path over there into the forest and see where it leads. Which is, apparently, exactly what some of the other guests in the hotel have come here for.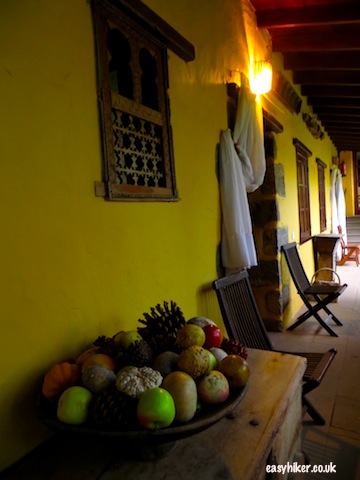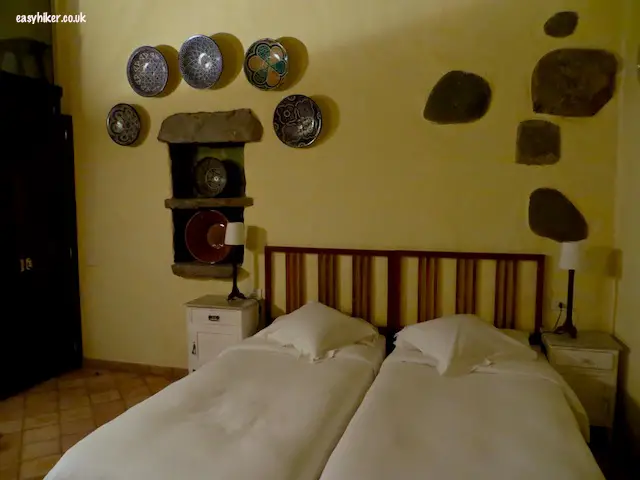 But we have our hike for the day fixed already: a walk around the three volcanoes that overlook the town of Las Palmas and the barren, desert-like landscape that surrounds them. On top of that, it's a military area which is normally out of bounds for the ordinary visitor – which means I must not forget my spy camera. Cant' wait to get going!
Don't miss our hikes in the Gran Canaria Walking Festival. Subscribe to our free email updates or follow us on Facebook.
We are very grateful to the Gran Canaria Walking Festival and Gran Canaria Natural committees for inviting us and to Vueling  for flying us to participate in these wonderful walks.