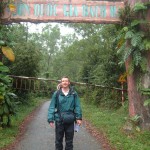 A guest post from Ted Nelson
Easy hiking, as its name hints, should be a leisurely and enjoyable activity, but anytime one ventures out into the great outdoors there are certain items to bring or lessons to follow that can avoid a dangerous situation.  There is always a risk when taking a hike into nature.
You hear it in the news all the time when people take a stroll outside and never return as they get lost, hit an unexpected storm, turn an ankle and the easy hike turns into a last hike or an emergency situation.
This article is not designed to scare people. With proper planning easy hiking should live up to its name.  If the hike is researched and the right items are carried, the likelihood of running into danger is remote.
5 Tips on How to Make an E
asy Hike Safe
1.  Water
This is especially necessary if hiking in a humid or arid atmosphere like a desert or jungle.  If one gets lost and is low on water, dehydration causes confusion, so it can make it even more difficult to think properly and find your way back.  This danger can easily be avoided by bringing enough water and extra in case of emergency.
There are so many advances in technology regarding water carriers including dromedaries that strap around the back with a little hose that reaches your mouth, so dehydration on an easy hike should never happen.
2. 

Bring a compass, GPS, map
Another area where technology has significantly increased, yet people continue to get lost on easy hikes.  Many people who easy hike neglect carrying a good map thinking it is only an easy hike.  This can be a big mistake.
3. Bring a snack
Even if only hiking a couple of miles it is a good idea to bring a couple of snacks.  Hunger can also confuse the mind.  If one gets lost a snack may restore the mind to healthy thought and make the difference in finding the way back.  A lot of people neglect a snack thinking they will be back in plenty of time before they get hungry.
If you are an easy hiker then take an easy hike.  If you are starting out and unsure of your limitations then take the easiest hike first and see how you feel.  Most parks and trail systems have short trails for beginners.  If they do not then walk 15 minutes out and then come back.
This seems like common sense as do the other tips, but it is amazing how many people over extend themselves when hiking because they try the hardest trail first and then find they cannot make their way back or cannot finish.  Most issues that arise while in the outdoors can be remedied by following common sense.
5.  Always hike with another person or let someone know your plans
The benefits of hiking with someone else are obvious.  Sometimes this is not possible.  If hiking solo, let someone know your plans.  In case you do not show up at the expected time steps can be taken quickly to find you.
Ninety-nine percent of easy hikes stay that way, and by following these steps the one percent that could lead to danger can be averted.  Stay safe and enjoy your hike.
Can you add other tips on how to make an easy hike safe?
Ted Nelson has been adventure travelling since he was 10 years old following around his dad. He has gone hiking, canoeing, and cross-country skiing all over the Chicago area, America, and the world. He has canoed with alligators in the Florida Everglades, been charged by a wild elephant in Thailand, and hiked sections of the Appalachian Trail. Follow him on Twitter @travelingted