Leipzig, of course, is more than "Hypezig", as the scene quarter of Plagwitz is sometimes known
So in today's post, I will first tell you what we did to explore this interesting and historical old town in the heart of Germany, and then what we should have done.
We started our walk to see the historical old town of Leipzig from its central station, straight into Nikolaistraße, the main shopping street that is lined with a row of impressive, early 20th century buildings, some of which have been knocked together to provide interior spaces which have been styled and re-designed by some of Germany's leading modern artists.
Behind St Nicholas, Leipzig's most important and most historical church (most recently, in 1989, the epicentre of East Germany's peaceful revolt against its communist rulers) …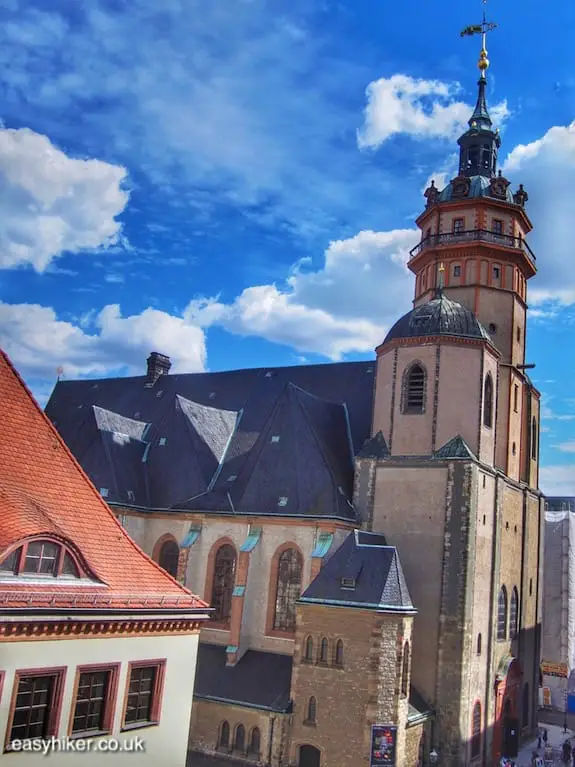 … turn right into Grimmaische Strasse until you reach the Augustusplatz with Leipzig's famous concert hall, the Gewandhaus.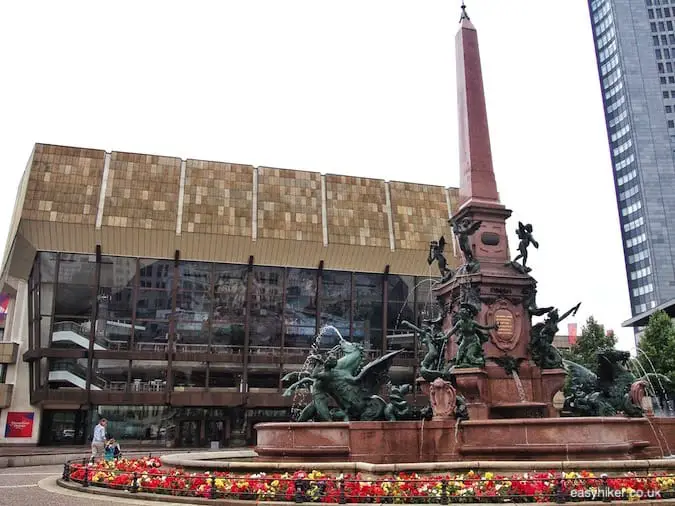 Continue past the imaginatively reconstructed University and its Church …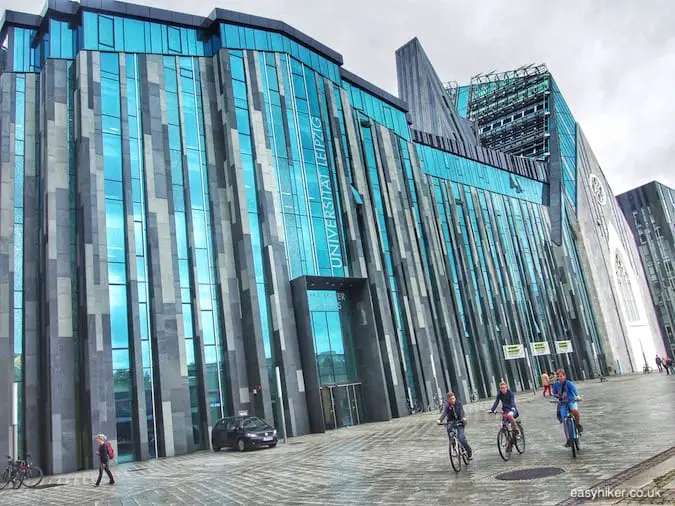 … into Schillerstrasse and continue for a bit until you reach the almost incongruently magnificent New City Hall, the Neues Rathaus (which looks big enough to rule an Empire, never mind a medium-sized town in provincial Germany).
Walk around this building so you can appreciate its enormous scale into Burgplatz and then make straight for Thomaskirche, where Johann Sebastian Bach was Musical Director for 30 years and where he is also buried.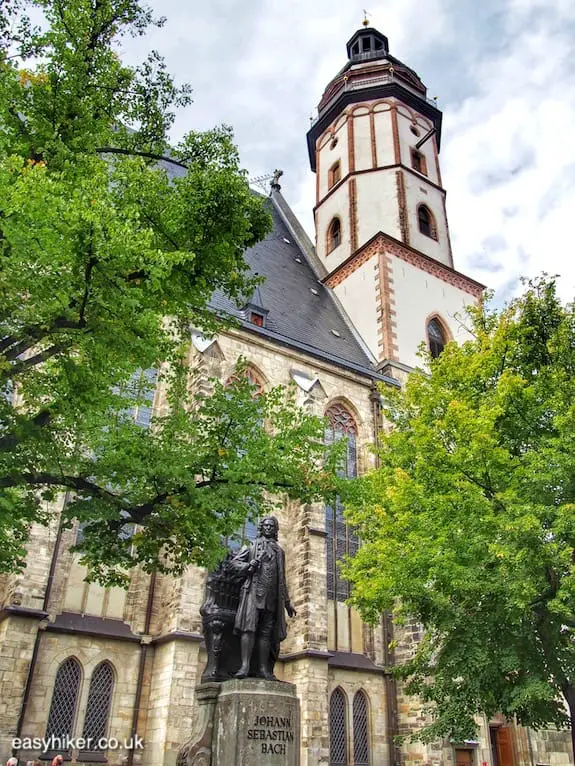 Turn right into Thomasgasse and after one block left into the Central Market with the 16th century Old City Hall …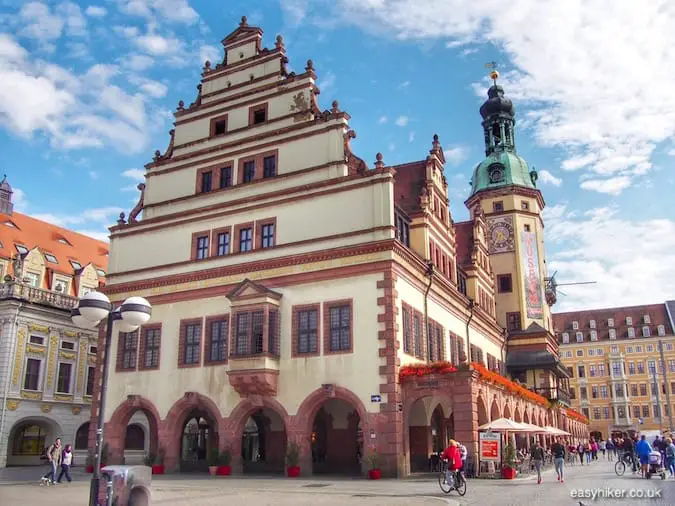 … and the near-by Auerbachs Keller restaurant, the setting for one of the best-known scenes from Goethe's Faust, Germany's most famous theatre play. (Goethe had attended university in Leipzig.)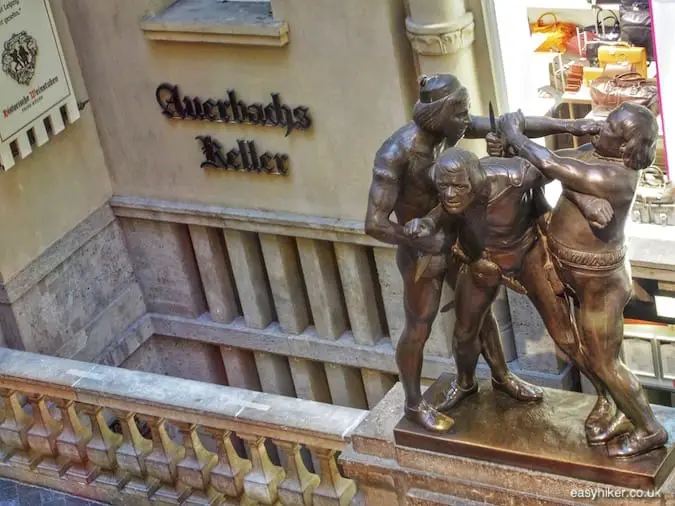 It was only during this walk – the "standard familiarization tour" that packs in most of the sites – that we found out about two alternatives that focus on two specific aspects of city's history.
Firstly, the municipal administration has marked key sites around the town centre – with easy-to-spot information panels – that draw attention to Leipzig's place in the downfall of east Germany's communist regime. It was the Monday Prayers at St Nicholas Church that more than anything else ignited the 1989 revolution which eventually led to the dissolution of the German Democratic Republic. (The official monument to commemorate the events of October 1989 has been inspired by the interiors of the church.)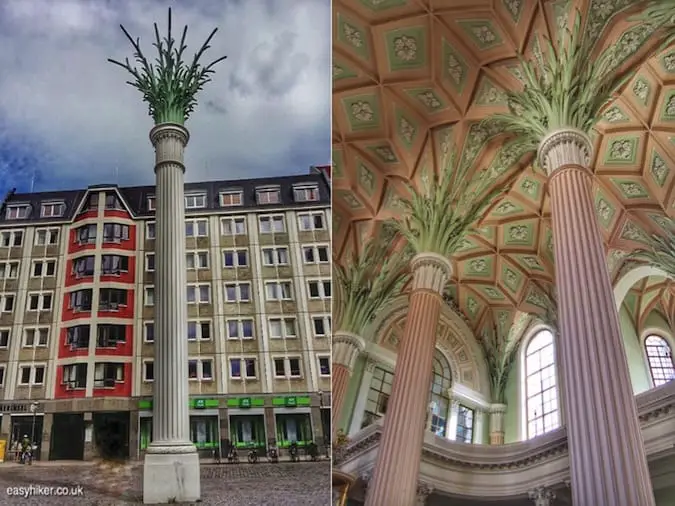 Much has been written about the fall of the Berlin Wall, but it was Leipzig's demonstration on 9 November that was the key turning point. Thousands of heavily armed soldiers had been concentrated in and around town, prepared to face down the tens of thousands of civilian demonstrators who had announced their intention to stage a peaceful demonstration.
This, everybody knew, would be the showdown of a conflict that had been simmering for months: a sort of "duel after dusk" between a government that seemed ready to create a bloodbath and civilians who were ready to lay down their lives.
Germany generally has a bad press when it comes to these things, ever since the country cowered down before Hitler and his Nazi thugs, but this was a demonstration of courage that deserves to stand with the greatest such moments in human history. Undoubtedly, it is Germany's finest moment.
The second walk celebrates Leipzig's place as a city of music: we already mentioned Bach, but the Schumanns (Robert and Clara) and Felix Mendelssohn-Bartholdy also lived here for many years, while Richard Wagner was born and partially grew up here (he went to a school opposite St Nicholas Church). This Leipziger Notenspuren walk takes you to all these historical places, and – this is such a great idea – if you push a button at the information panels, you can hear brief excerpts from the music that was composed there. (If you want to know more, you can find all the Notenspuren details here.)
We only discovered this walk late on our second (and last) day in town, just before dinner time, and even then, I toyed for a moment with the idea of giving it a go. (The Notenspuren walk takes a couple of hours, apparently.)
In the end, we did not, and I still regret it. At least, there is something I know I want to do the next time we are in town. Perhaps this visit will (once again) coincide with one of the public summer concerts that the city loves to stage for the benefit of its citizens and visitors …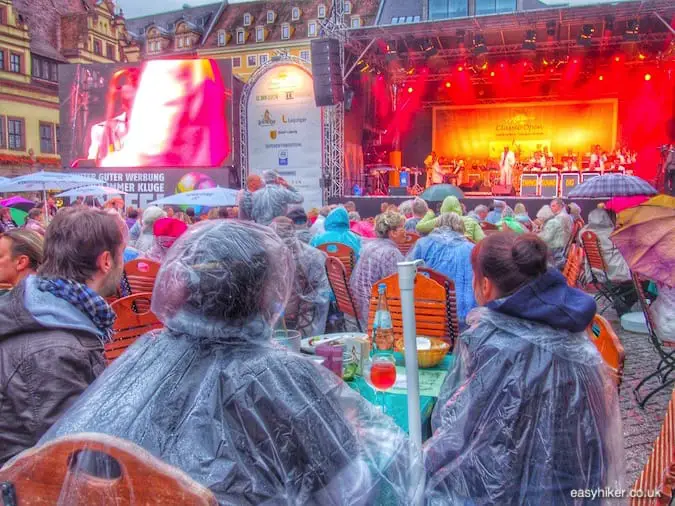 … and perhaps, if we are lucky, it may not even rain. Fingers crossed!
We hope you enjoyed this walk through the historical old town of Leipzig. Don't miss our next tips and trips! Subscribe to our free updates via email. You can also follow us on Facebook and Twitter. Why not include us in your G+ circles too?