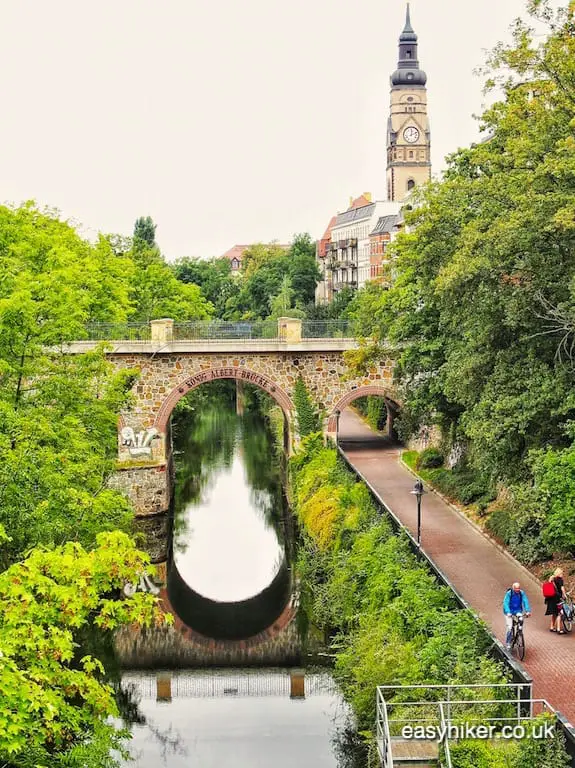 There are not many things that East Germany (that most joyless country in the annals of the world) and Italy have in common, but here is one: a conservation policy that closely mirrors the principles of "triage".
In analogy to the requirements of battlefield medicine, both Italy and East Germany divided their cities or cultural sites into the lightly injured, the seriously ravaged that would benefit from further treatment and the downright doomed.
Consequently, when an East German city fell into the last category, it was – for all practical purposes – left to rot. Which was not quite the fate of Leipzig – it was too big and too important for that – but East Germany's "second city" was undoubtedly the most neglected among her sites of cultural importance.
After Germany's reunification, the state of the city's building fabric caused much disbelief among Western experts. (About the Plagwitz quarter, Leipzig's then chief architect said "it would be irresponsible to have people continue to live here".) Eventually, however, after a facelift or two, the large presence of semi-dilapidated housing stock turned out to be a blessing. When Berlin became too pricey for all its conceptual artists, experimental dancers and hipster musicians, Leipzig – and Plagwitz in particular – were happy to accommodate them.
Although it is probably a bit much to call Plagwitz the "Montmartre of the early 21st century", …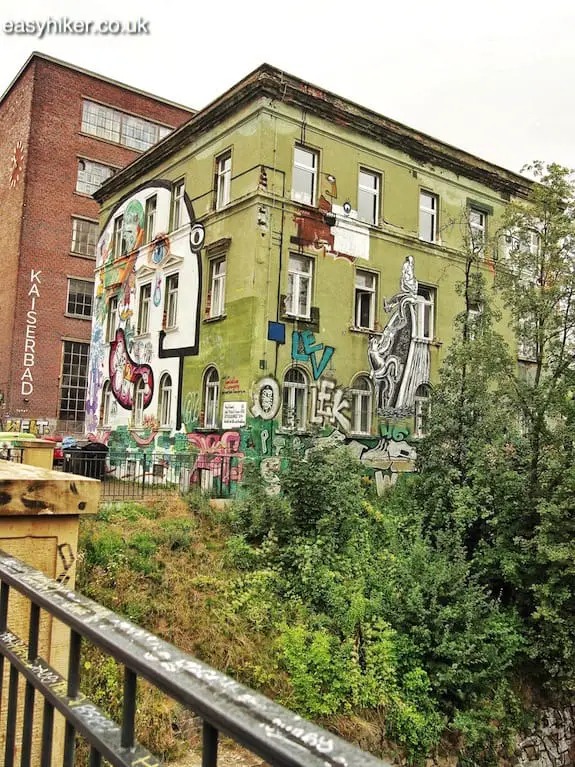 … its mix of graffiti, street art and independent shops and restaurants surely makes for an interesting walk.
There are many ways of experiencing this quarter. But here's how we experienced Plagwitz.
First of all, we skipped our hotel breakfast and took tram line no. 14 to have a Moroccan brunch at the Casablanca on Karl-Heine-Strasse. This same street, incidentally, is where much of the area's artistic scene is located.
Other options for food include the Kaiserbad near the Westwerk (a former factory and now an exhibition space for anything from modern art to second-hand bike markets), and, if you don't mind taking your breakfast on the hoof, the bakery Seidel. (Great bread and pastries, but they only have a couple of tables outside.)
You can see all those places when you walk towards the Baumwollspinnerei art centre on the other end of Plagwitz, the true heart of the quarter.
For the final stretch of the way, we strongly recommend to turn left from Karl-Heine-Strasse into Giesserstrasse and then, at the corner with Industriestrasse, right into a narrow footpath, …
… which will lead you straight into "graffiti wonderland".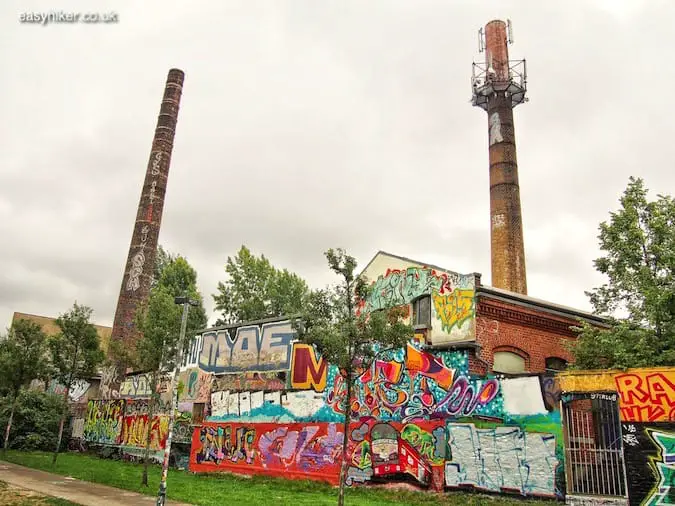 Not only is this area full of spectacular urban art …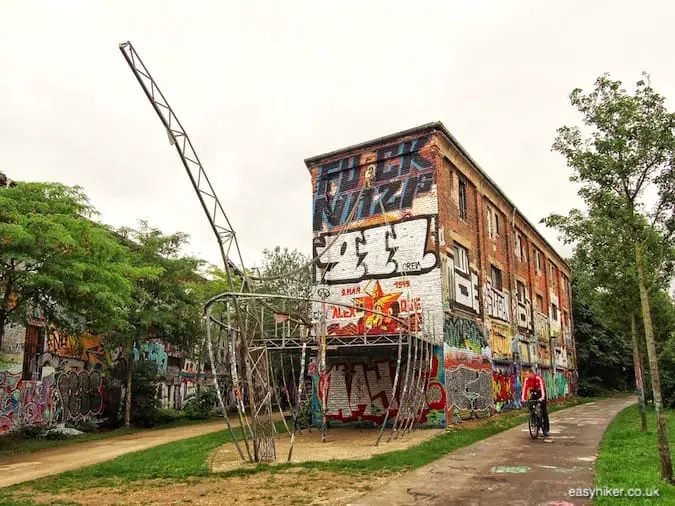 … it will also give you an idea why Leipzig, and its western quarter of Plagwitz in particular, has attracted so many people with a background in "alternative culture".
When we passed through there, we could not fail to observe a young man who was in the process of applying a new coat of paint to a wall, and not only did he not interrupt his work to check who it was who was observing him, he did not even object to being photographed.
Leipzig, quite clearly, follows a "spray and let spray" policy when it comes to dealing with its graffiti artists.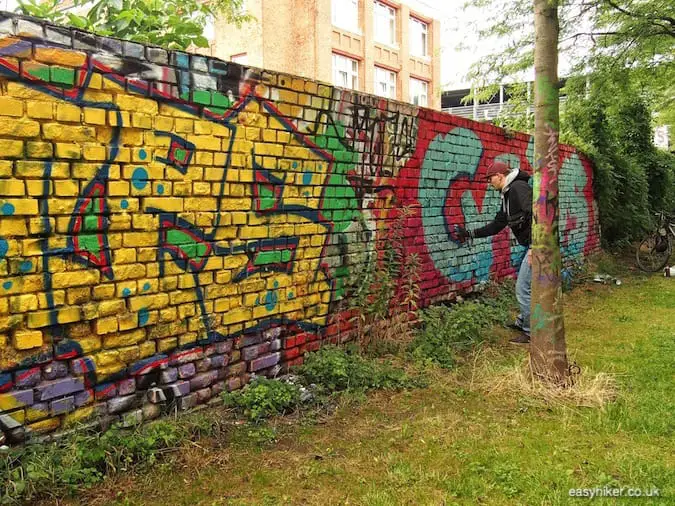 The Baumwollspinnerei, a 19th century cotton mill which now houses art galleries, restaurants and roughly 100 artists' studios, is located a couple of blocks away, behind the local city rail station just off Spinnereistrasse.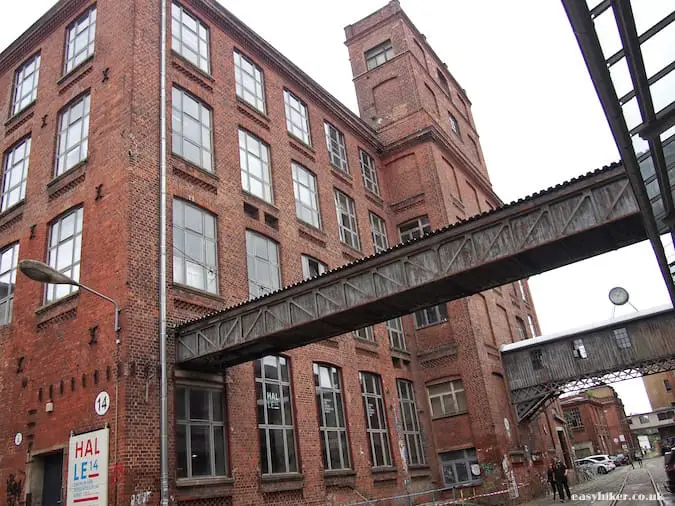 Judging from the old drawing that is on show behind the entrance, …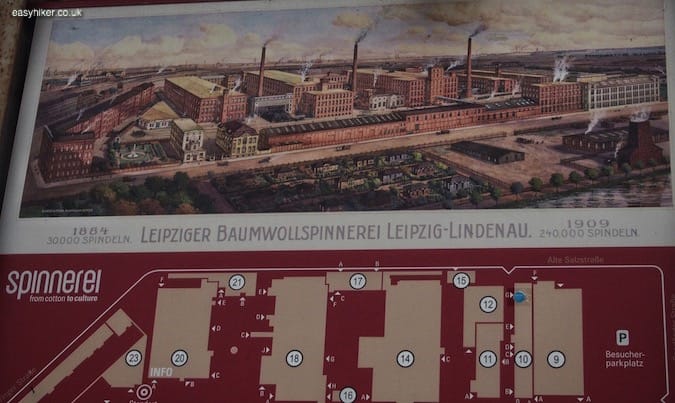 … it must have been a huge complex where thousands of people would have been engaged in what was undoubtedly bone-breaking work. I would love to travel back in time just to tell them that, a little more than 100 years later, their "dark Satanic mill" would accommodate art galleries, music schools and modern dance companies, just to see the look on their faces. (I am less keen, however, on having to explain to them the very concept of modern dance.)
Once you have had a look around, return to Karl-Heine-Strasse, turn left into Saalfelder Strasse and continue past the Kunstkraftwerk down to the Karl-Heine-Kanal and turn left …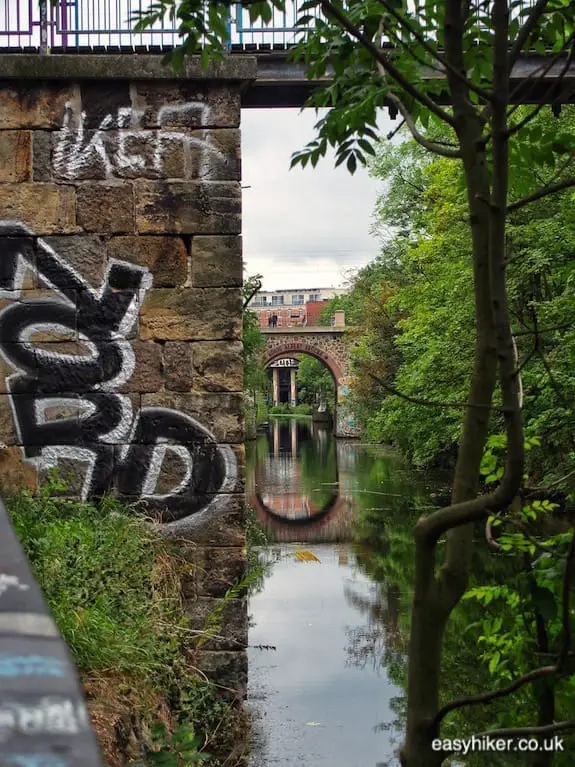 … for a lovely walk down this urban oasis.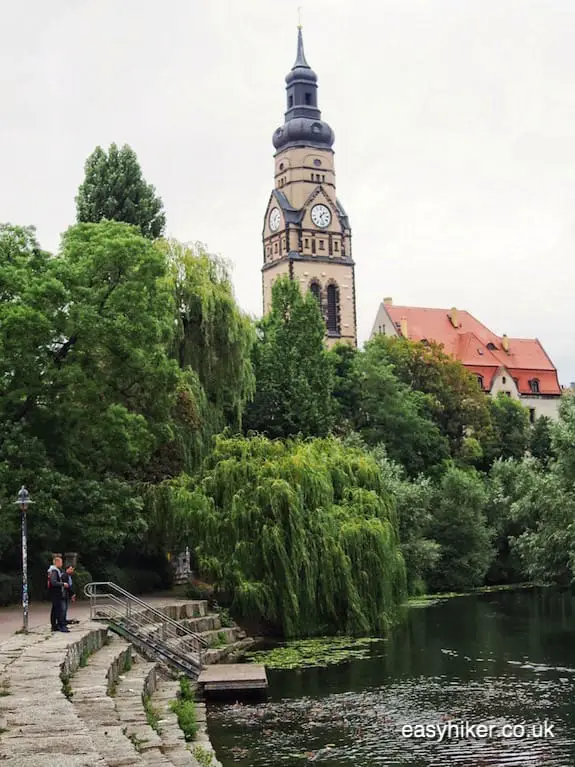 It had been our original plan to continue our waterside walk all the way to town, but behind Erich-Zeigner-Allee, we found that the footpath suddenly stops.
The canal continues for a while before joining the White Elster river, but unless you have brought your kayak, you will have to look for an alternative route to town.
We continued via Nonnenstraße and turned right on the busy main road (called Käthe-Kollwitz-Strasse) where we crossed the Elster, the local river.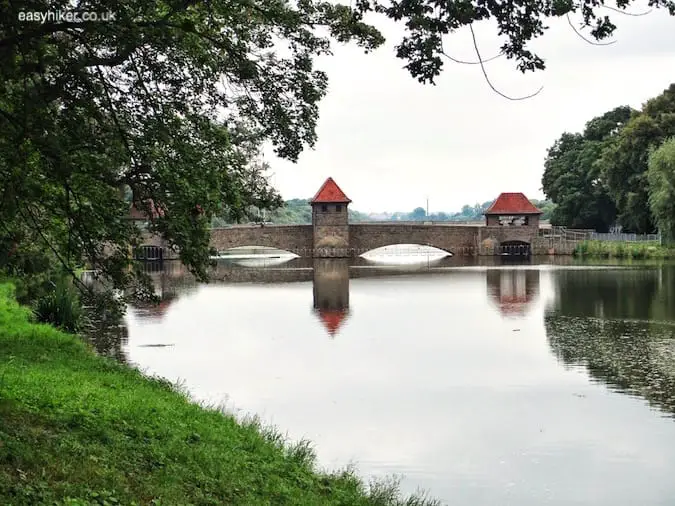 The walk from here to the Elster Weir on your left, behind which the large Elsterbecken basin opens up, is a pleasant way of wrapping up this walk: a little green after all the urban grime of Plagwitz.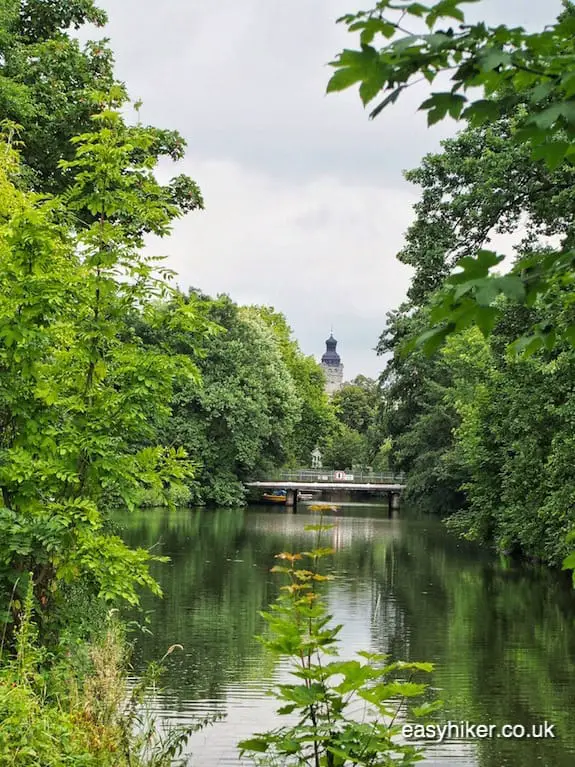 From the weir, you can either continue on the Elsterbecken footpath to the next bridge (on Jahnallee) or return on the other side of the Elster to Käthe-Kollwitz-Strasse (much the shorter option). You can find tramways in the direction of central Leipzig on both bridges.