Walks in Italy
Imperia and its Two Seaside Resorts
Today's post gives you two Italian seaside resorts for the price of one: both of them more than 2000 years old, but very different in nature – one spunky and bustling, full of compromises between the wish to preserve the past and the necessity of living in the present, the other frozen in the image of its own stately medieval beauty. (It probably keeps a picture of a more modern version of itself, Dorian-Gray-style, hidden in the attic of one of its decaying palazzi.)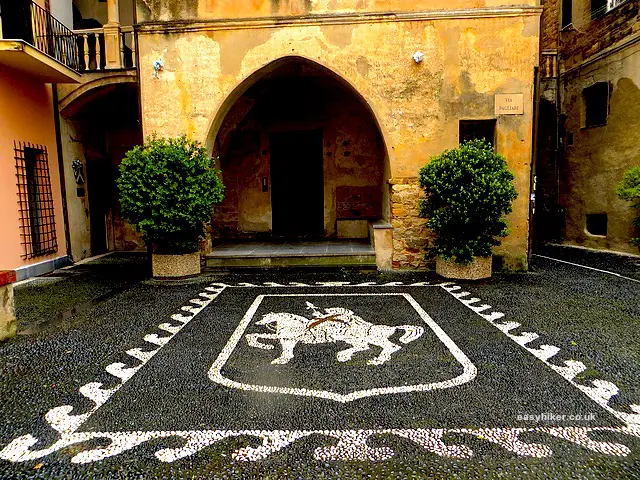 The two towns are connected by a walk which is neither lively nor beautiful, but makes up for that by being interesting – driving home a few truths about Italy of which you may have been only vaguely aware.
Please note: not every tall building in Italy is a church or was designed by Bernini.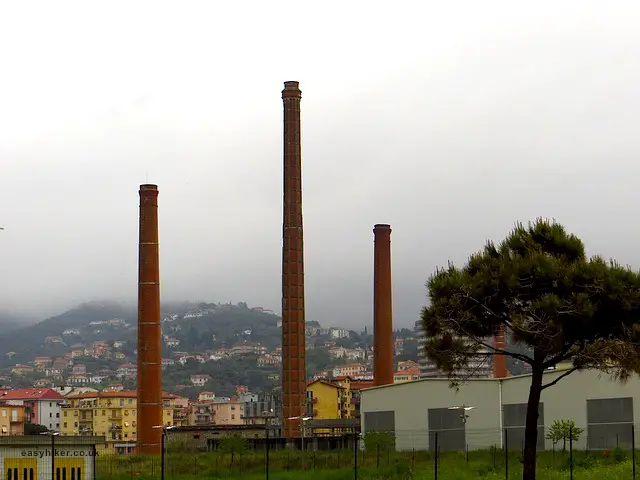 Porto Maurizio and Oneglia used to be neigbouring municipalities on the western side of the Italian Riviera (a thirty minute train ride from the border town of Ventimiglia.) They were knocked together in 1923 to establish a new provincial capital. It was the idea of Benito Mussolini who, in the spirit of gentle understatement for which he is rightly famous, called the new town Imperia.
Read also: Noble Cervo and Diano the Brash
A one-day visit does not, admittedly, give you much insight into the "soul" of a place and the inner lives of its inhabitants, but I am willing to bet that, when the decision to merge Porto Maurizio and Oneglia was made known, not many prosecco corks were popping on either side of the river – a river which is not the only thing that divides the two towns as we shall see.
Begin your walk in Porto Maurizio. Turn left out of the station towards the Old Town. You will pass a Tourism Office on the way: ask for a town map if it's open – when we passed, it was closed  – but at any rate, you can't really miss the Old Town (use the round tower of the Duomo as a point of orientation)
Once you are there, you can follow a local trail that guides you from one monument to the next. The trail is marked, sort of in a haphazard Italian way, and there is an information panel with a map of the Old Town at the each of its 16 stages.
In addition to various ancient palaces and residences that line your way …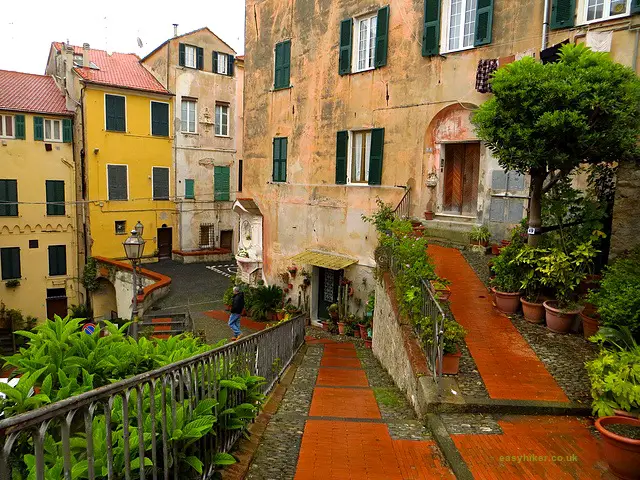 … there is a very attractive old convent, facing the Mediterranean, with a splendid old church …
… and great views from the cloister.
Once you think you have seen enough of the Old Town – and there is quite a lot to see, not least listed buildings from the 16th and 17th centuries that have wet laundry hanging out of their windows (not something you see every day, not even in Italy ) – …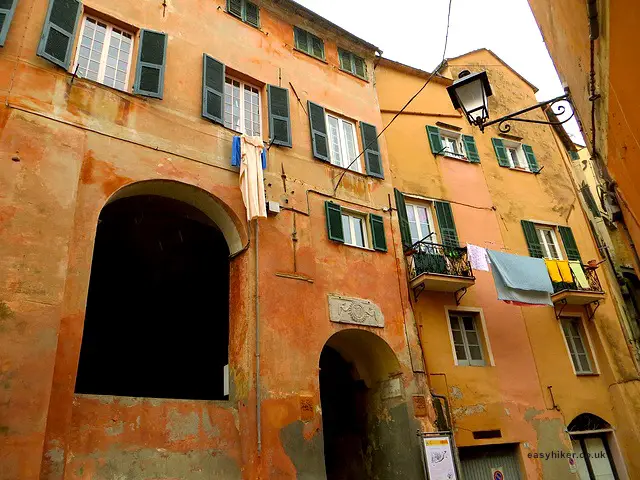 … descend to the sea level and turn left in the direction of Oneglia.
This seaside walk – for which you should, overall, allocate about 90 minutes – starts very pleasantly …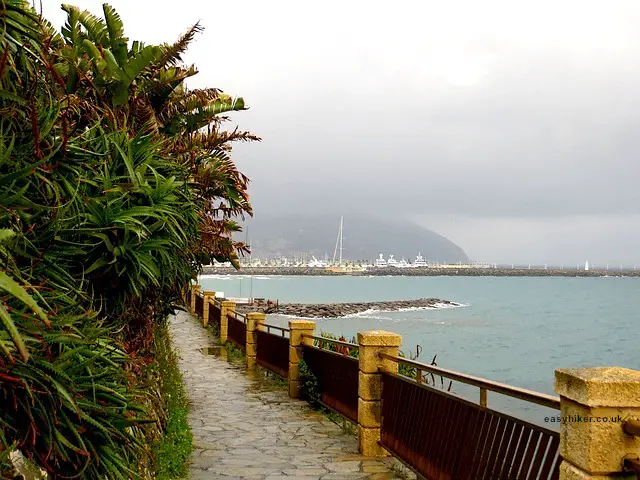 … but quickly turns a bit scruffy once you have passed the yacht harbour.
For a Northern European, the lackluster attitude of the Italians to the beauty of their own countryside may be difficult to understand, but what I wrote in the San Remo post about Italy's embarrassment of artistic and architectural riches equally applies to the country's natural beauty.
It is true that the French appear to take much better care of their own Mediterranean coastline, but then again, they also have much less of it – and many other places where to hide away warehouses, industrial installations and the common ugliness that is, alas, the inevitable companion of large human settlements.
Read also: A Garden with a View in Genoa
Turn right to pass the last stage of the walk through the municipal park, the Parco Urbano, which may not be the most beautiful park you have ever seen, but at this stage, you will be grateful for any alternative to the direness of the Lungomare coastal road.
Cross the river and continue straight into Oneglia which begins right behind the bridge. Oneglia does not start very promisingly – our guidebook had called it "modern and industrious", never a good sign – but while the town may be workmanlike by Italian standards, in comparison with proper industrial towns in North England, the Ruhr or Belgium (no offense, people, but you know what I mean), it is a right little Florence.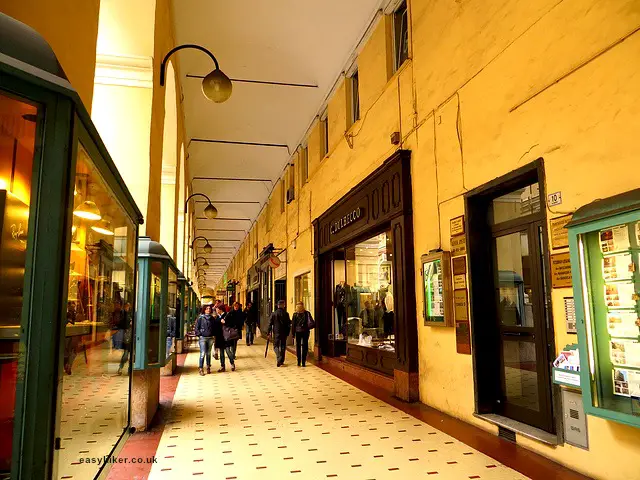 We could have spent much more time in Oneglia's busy town centre with its  interesting little shops, cafes and shopping arcades and were sorry that we had left our arrival so late, therefore not having more time before the arrival of our train. We are certainly determined to return. What better compliment can you make a town?
We will have more walks in the Italian Riviera. Don't miss them by subscribing to get our free updates via email or by following us on Facebook.