Is Castel Gandolfo Worth a Visit?
The bad news first.
While Lake Albano looks great from the train when you are approaching Castel Gandolfo station near Rome: lush, green, scenic and just the right size for an easy once-around (an estimated 10 km)  that would still give you plenty of time to explore the near-by town …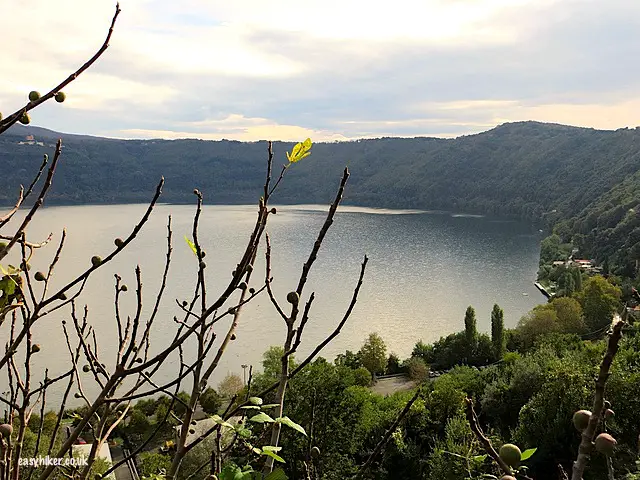 … it is not all that it seems.
As soon as you descend from the train station and turn left, you walk past the usual suburban lakeside mix of restaurants and rowing clubs, expecting it to improve, but it won't. It does not help that there is no real trail on the actual shore, but only a country road which sometimes runs quite near the lake and at other times at a respectable distance away from it.
It's a real schlep, truth be told, and after an hour or so, we were ready to give up and turn around, although to be honest with you, it was not quite as straightforward as that. I wanted to plough on, at least for a little while longer, but Mrs. Easy Hiker insisted (as she had been insisting for some time already) that we abandon the hike and walk back to town.
Read also: The Road to Rome
You might even say that we had a little tiff about this. The next day, I looked up the area on Google Streetview, and found that the situation improved on the other side, but not by much, and that at one stage, the country road turns away from the lake altogether never to return, so it seems you can't walk around at all but are forced to return about three quarters of the way. Mrs. Easy Hiker was right, after all, as she usually is. (When will I ever learn?)
After returning to the station, we now had, of course, plenty of time on our hands – far more than expected – to walk around the town of Castel Gandolfo. The only problem is that there is not all that much to see, once you have seen the Pope's summer residence (from the outside only, unless you have a personal invitation) …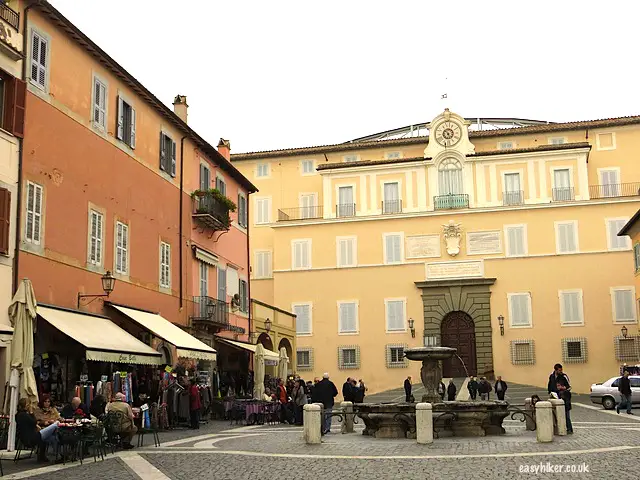 … and visited the near-by church.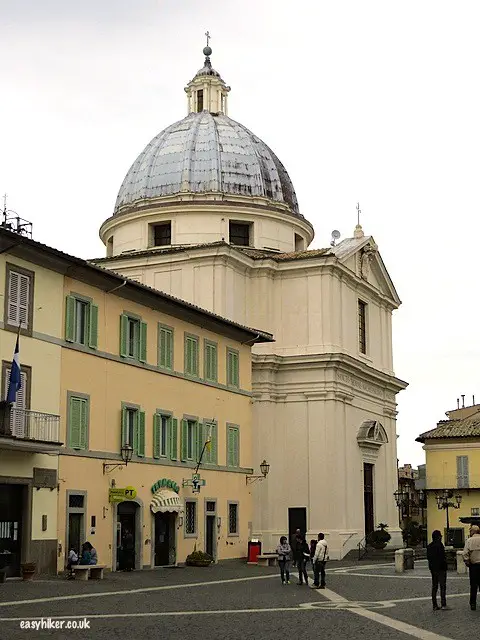 The lake is still the star of the show, but the best way of experiencing it is from a distance where it looks anywhere between pretty …
… and downright spectacular, with the distant Abruzzi mountains shimmering over the horizon.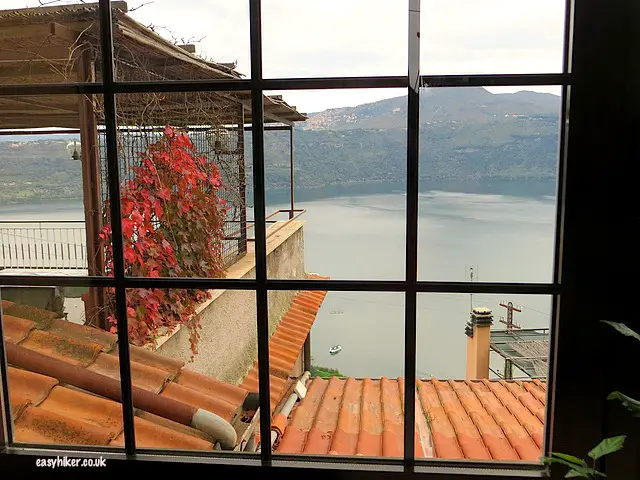 Okay, I hear you ask, but where's the good news?
Well, let me tell you one thing: no matter what you can say about our day trip to Castel Gandolfo and Lake Albano, one thing is for sure: it was a cheap, cheap, cheap, quite possibly the cheapest day trip we ever had.
We paid only 3.00 euros for a big slice of Pizza Funghi in a bakery behind the Papal Palace (big enough for a his-and-hers snack), less than five euros for a cup of coffee and a cup of hot chocolate on the town square (in the shadow of the Papal Palace) and, best of all, only 2.10 euros per person (one way) for the train journey from Rome to Castel Gandolfo which takes about 40 minutes. We had just been to London where you pay nearly 10 pounds for a day pass on the Underground, so this clearly felt like an incredible bargain.
Public Transport in Rome
This is as good a place as any for a few words of advice about the public transport system in and around Rome. In addition to the eight FL train lines that connect Rome with her outer suburbs (one of which goes to Castel Gandolfo), there are two Metro lines and six tramway lines.
But the backbone of the network is provided by the city's many, many buses, so you should take the trouble of familiarising yourself with the bus lines you are most likely to need.
Buy your tickets at a newspaper kiosk or a tobacconist's: this is not cheaper but more convenient, since you generally cannot buy tickets inside a bus (only some buses are equipped with coin-operated dispensers, and they do not give you back any change).
Read also: Let's Go Eating in Rome
Single tickets cost 1.50 euros each and are valid for a period of 100 minutes after you have validated them (on the bus or entering the metro/train station). You can use as many buses as you want in these 100 minutes but not take more than a single train or metro ride (which means: you cannot change from a train/metro to a bus and then take another train or metro).
Day passes cost 6 euros, which means that unless you are planning to spend most of your day on buses and trains, individual tickets are always your better option.
All in all, it's not the most comprehensive or most user-friendly public transport system in the world: you really need to plan your journeys in advance with the help of one or even several maps, but – like so much else in Italy – it ultimately does its job, and it's inexpensive.
So, do you still find Castel Gandolfo worth a visit?
There's more coming about our walks in Rome during our one-week stay, thanks to GowithOh. Make sure you don't miss it by subscribing to our free updates via email or following us on Facebook.