Innsbruck
During our recent trip to the Travel Bloggers Unite conference, we also had the opportunity of spending a few days in the city of Innsbruck.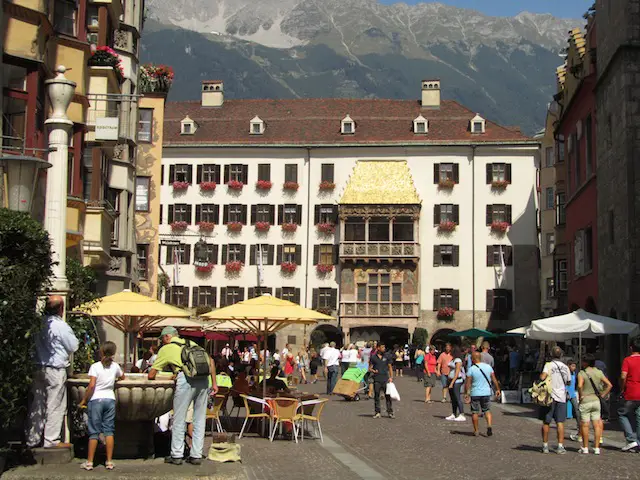 Our impression: the Tyrolean capital looks perfectly set as a hub for hiking excursions in the area, but – for some reason – appears determined to miss this opportunity.
Tourist towns all over the Alps have the same dilemma: they have built up huge capacities for what is, in effect, a fairly short skiing season.
A season that, if the climate trends of the last decade continue, may even become shorter in the foreseeable future.
By and large, these tourist towns have also come up with the same solution: by promoting hiking as an alternative outdoor activity, they have found the perfect complement for their winter season.
It is almost a magic formula: when the winter season contracts in the heat of global warming, the hiking season can be extended accordingly. After all, most of the alpine towns and villages that have become a byword for ski holidays in Austria made most of their business in the summer months until as recently as the mid 1970s.
Innsbruck alone seems to be going into a different direction.
For the capital of Tyrol– and the self-appointed "capital of the Alps" – culture appears to provide the "unique selling proposition" of choice.
At first sight, this is a viable proposition. After all, Innsbruck is not Sölden or Kitzbühel – towns that appear to exist for the sole purpose of providing holidaymakers with an Alpine experience.
I am not sure whether other cities would want to contest its claim of being the "capital" of Europe's largest mountain range.

But Innsbruck, with 130,000 inhabitants, is indeed one of the few sizeable population centers in the middle of what is, after all, a fairly hostile environment.
And even though most people who have heard of Innsbruck may associate it with the Olympic Winter Games – which Innsbruck hosted twice (in 1964 and 1976) – it has a history which is not exclusively linked to winter sports.
More importantly for the visitor, it also has the buildings to prove it.
The market for weekend destinations, however, is very competitive, and Austria has no shortage of towns and other places where one can go outdoors for short breaks.
In Austria alone, there is Vienna, of course. Then comes the "second city" of Graz (with an Old Town that has been declared a UNESCO World Cultural Heritage site). And then there is Salzburg – which has Mozart and The Sound of Music.
Innsbruck, conversely, appears to rely heavily on Maximilian I, Holy Roman Emperor from 1493 until 1519, who liked the place, kept court here often and commissioned quite a few buildings around the town, including a Palace and his (empty) grave.
 Innsbruck's Old Town is undeniably pretty, but it is also fairly small. Even an "easy hiker" – at an accordingly leisurely pace – will be able to explore it in a single afternoon. Thank God then for all the hills around it.
But when we asked the tourist board officials  for an "easy" and short trail in the area, however, all they could come up with was the suggestion to take a trip on the local cable car system.
It's a pity that hiking appears to be so low on their list of marketing priorities. They should perhaps look into the examples of Val Gardena in South Tyrol.