by Natalia
Kent is often called 'The Garden of England'. In the country's South-East, most parts are easily accessible from London by road and rail, and the area is home to a wealth of National Trust and English Heritage properties. It is also an ideal area for walking.
Not only does the excellent Walking Britain page have many detailed suggestions for walks in this area, but the local council also has detailed maps and descriptions of walks in the area, spanning all interests and fitness levels.
What is often overlooked is that while Kent is popular for walking/easy hiking in summer, most trails are accessible all year round. As with many walks in England, you will often find yourself on public foothpaths that take you alongside, or even across, farms and fields.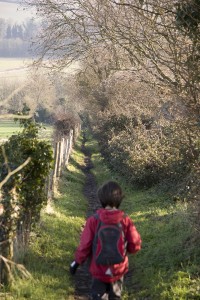 At all times remember to be a courteous walker – never drop rubbish, avoid crops, keep your dogs on a lead and never, ever approach livestock.
Most walks in Kent are accessible to reasonably fit walkers, but whatever your level of fitness remember to take water, a first aid kit, a map and suitable clothing – for much of the year this means something to protect you from the rain.
Below is a short description of a walk around Faversham we took in January, showing that if you don't mind a bit of cold (and some mud!) walking around Kent in Winter can be a great way to spend the day.
We started our walk at the Faversham train station, and walked through the town, taking in the historical Market Place and various interesting shop fronts and buildings (being a Sunday, not much was open, but you can still view a multitude of interesting buildings).
Along the way, we saw one of the largest almshouses in England, surprisingly built in the Victorian era (or surprising to me, as I think of almshouses being from an earlier era).
Then, we deviated from the 'official' walking guide to follow the signposts to the Shrine of St. Jude. The Shrine is housed in a building with an interesting history – built as a girl's school in the Victorian era, it became a cinema before being taken over by Carmelite Friars in 1937. It is now a church and home to a shrine to St. Jude which is visited by people from across the country.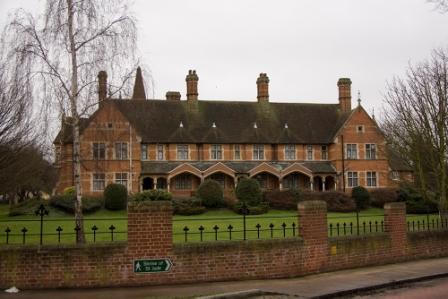 As well as the Shrine, there are some interesting modern icons/paintings that were painted by a Benedictine nun in 2007 – 2009 after previous paintings were destroyed in a fire.
We continued through to the edge of Faversham, past Maison Dieu, past houses with thatched roofs and a farm that was part of the endowment of medieval queens. Once past the Ospringe Church we were into public footpaths through fields, and of course, mud.
We took a break in the village of Painter's Forstal at a pub called The Alma which had some great food, though I was disappointed they didn't have a local cider on tap considering we were in the middle of apple country! The walk continued through fields and forest, the sound of shotguns never far away.
Along the way there were signs errected by LEAF (Linking Environment and Farming) giving information about the farming practices in the areas we were passing.
While interesting, our six year old soon picked them for what they were 'These are kind of the organisation boasting about themselves, aren't they Mum?' A good summary of propaganda if ever I heard one.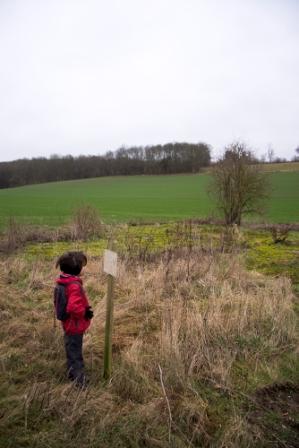 Then, on we went to Brogdale Farm, most famous as the home of the national Fruit Collection, and the repository of nearly four thousand types of fruit varieties.
A few shops were open while we were there, though alas the famous fruit fed pigs were not sighted. We walked back in to Faversham, stopping for a drink (local ale on tap this time!) at the excellent Elephant.
It was a traditional pub with lots of little 'nooks' as well as a large bar, and the friendly barman at one stage walked around offering us all free homemade (and very delicious) garlic bread. It was a pleasant end to a good day's walk.
It's taken us two years, but we have finally discovered Faversham and definitely want to go back again, probably on one of the Market Days.
We are also thinking of doing the same walk again in Spring, to compare the changes in the countryside and probably do a bit more exploring at Brogdale Farm. If you are looking for a walk in Kent that explores both the town and country, I highly recommend this one.
As with our previous walks in Kent, we relied on a very detailed guide we found online on a Kent Local Government webpage. Available in various formats, with clear walking directions as well as interesting background details, I would highly recommend these guides if you are interested in walking in Kent.
No Beaten Path is a blog written by Natalia about the travels undertaken by her family of three – herself, husband Steve and six year old son Willem. Some times those travels take them far away, some times it is about exploring their own backyard, but they are always undertaken in a spirit of adventure and knowing that it's okay to do something different from everyone else.