For the first two days on our recent hiking trip to the Palatinate, our base was the town of Bad Dürkheim, which is the main tourist centre of the area, beloved by mainly local visitors (German, Dutch, Belgian)  for its pretty townscape, its lovely surroundings – miles after miles of vineyards – and its long and distinguished history. The only thing of Bad Dürkheim that most overseas visitors ever get to see, however, is this.
Largest Wine Barrel in the World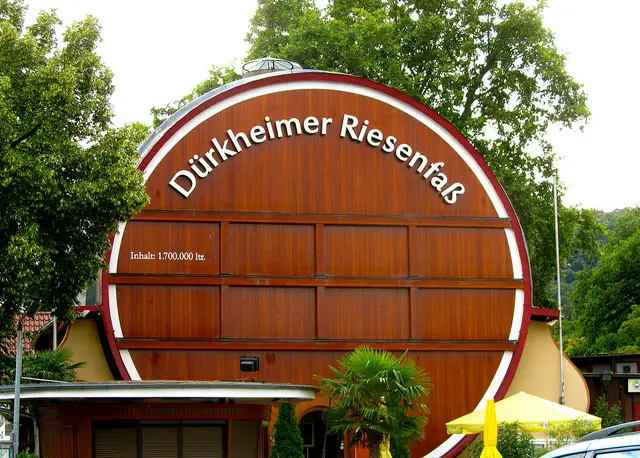 This is the largest wine barrel in the world, packing 1.7 million litres – in theory, I must add, for it was never seriously intended to serve as a container for wine: 1.7 million litres would roughly translate into 100 litres for every man, woman and child in town, and that is a lot of wine, even for a place like Bad Dürkheim which is very much in love with the stuff. (Inside the barrel, there is a restaurant for 400 guests.)
The barrel was built in 1934 by a local vintner who apparently felt his local patriotism stirred after he had read in a newspaper that the largest barrel in the world was located in near-by Heidelberg. (Of all places!) It is conveniently located on the busy B37 road, so the overseas tourists on their See Europe In 10 Days whistle-stop tours can  take a picture from the parking lot in front and quickly move on to France, Frankfurt airport or wherever it is they are going. They don't even have to leave the bus.
Fortunately, there is an alternative way of experiencing things: call it slow travelling, if you will, the natural companion of easy hiking.
Let's take a more relaxed, unhurried look at the town then, starting with, yes, the parking lot itself. This is the place that accommodates – on the second and third weekends of September – the largest wine festival in the world, the Wurstmarkt, when 650,000 people come here over a period of ten days.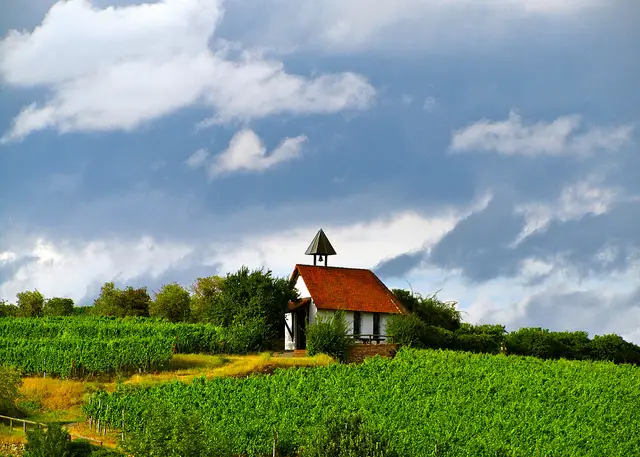 The tradition started in the Middle Ages with pilgrimages to the St Michael's Chapel – you can see the Chapel on the distant hill at your left hand side when you stand with the barrel in your back.
The tradition, however, soon deteriorated (or improved?) into something rather different: St Michael's day (29 September), after all, is fairly close to the wine harvest in this part of the world, and when the church banned the innkeepers, jesters and clowns from their premises, they simply moved the centre of the action a little further down the hill – where it has stayed ever since for well over 500 years.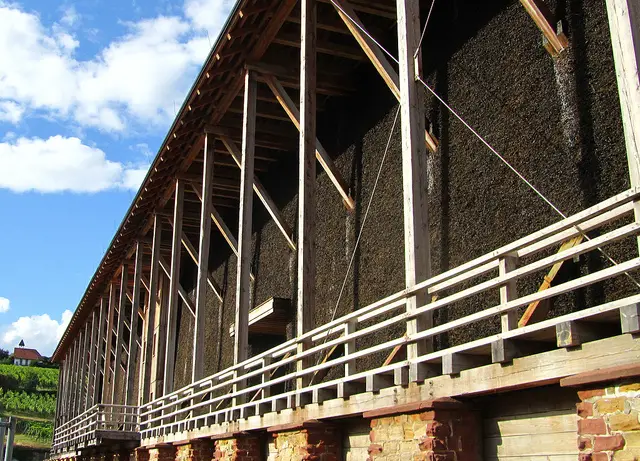 Now turn your eyes a little further to your right. The rectangular wooden structure that looks a little like a football stadium grandstand from the back is in fact a desalination plant: medieval technology in action. Bad Dürkheim happens to sit on top of some very productive saline springs whose waters have a salt content of about 2 percent –enough to make their exploitation economically viable at a time when salt was, nearly, worth its weight in gold.
So they conducted the saltwater over bales of straw (later over bundles of fine twigs), and after 10 or 15 cycles of evaporation, the water would have reached a salt concentration of 25 percent – enough to boil the liquid in wooden vats and produce salt. As a by-product, this procedure generates a whiff of pleasant saline air –at least for those who are sitting or promenading no further than two or three meters away from the continuous saltwater downpour. It was this saline air that turned Bad Dürkheim into a spa resort, mainly for people with pulmonary problems, a sort of cut-price Magic Mountain.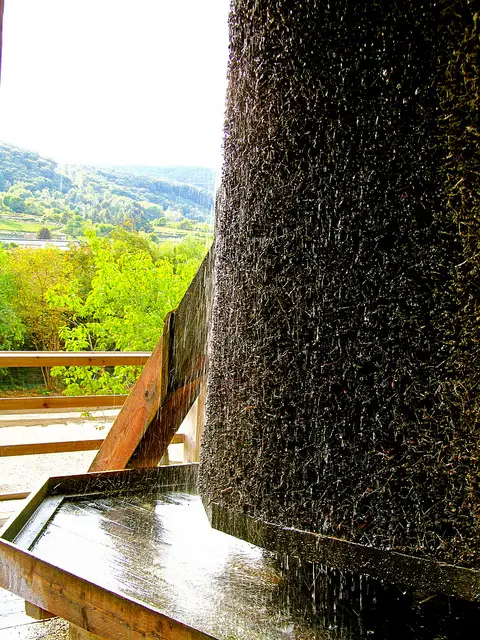 Actually, it is not only the salina: much of Bad Dürkheim is not quite as old as it seems. The town – and much of the surrounding countryside – was devastated three times in little more than 150 years, each time by the French: first in the Thirty Years' War, then in the Palatine War of Succession (an outcome of the somewhat counter-intuitive union between a fairly rustique Palatine princess and the Duke of Orleans, brother of Louis XIV and mainly famous for his habit of running around Versailles in women's clothing and high-heeled shoes) and finally in the Revolutionary Wars of the 1790s.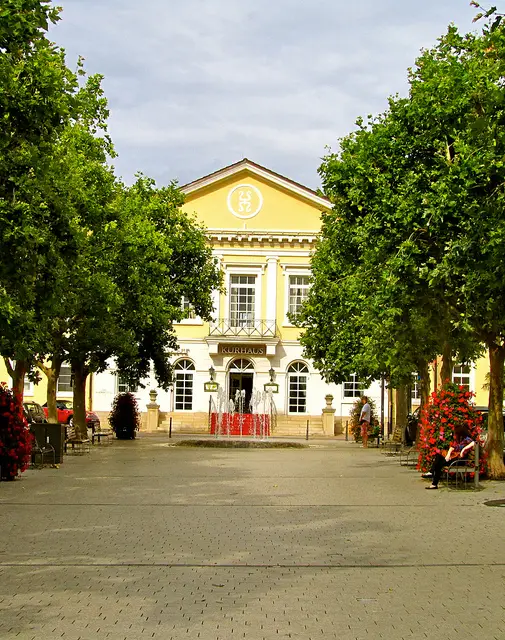 After which the local dukes had enough, packed up and left – to move further inland, as far away from the French border as they could possibly get. Their former palace is now the town's casino.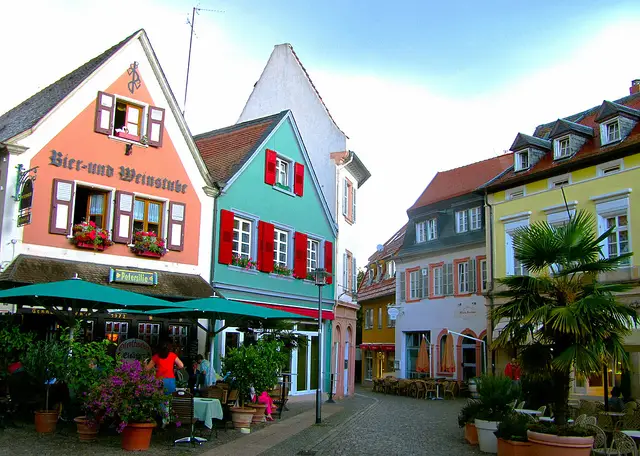 Bad Dürkheim was again destroyed during WWII, in March 1945, weeks before it was all over, and rebuilt in a style which is described as "Italianate". Still, the town preserves much of the charm of a typical German wine village.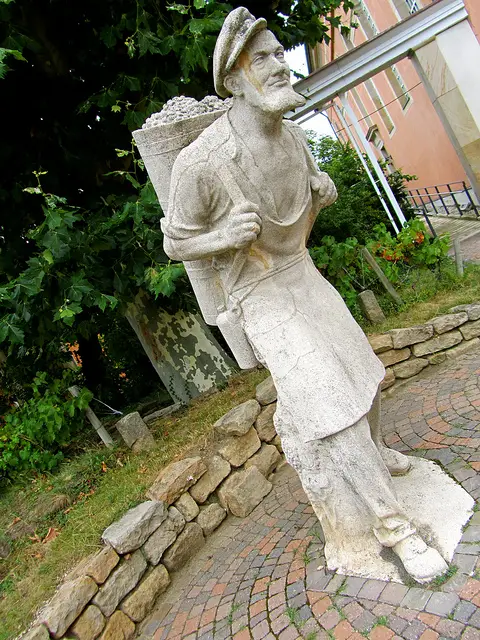 Wine is king in Bad Dürkheim. For many years, the town was the largest wine growing community in Germany and still ranks in the top three. Rather touchingly, the only monument in town that has anything to do with wine honours the humble harvest worker, grape basket on his back and equipped for a day's toil with his hip flask of fermented, second-pressing grape juice.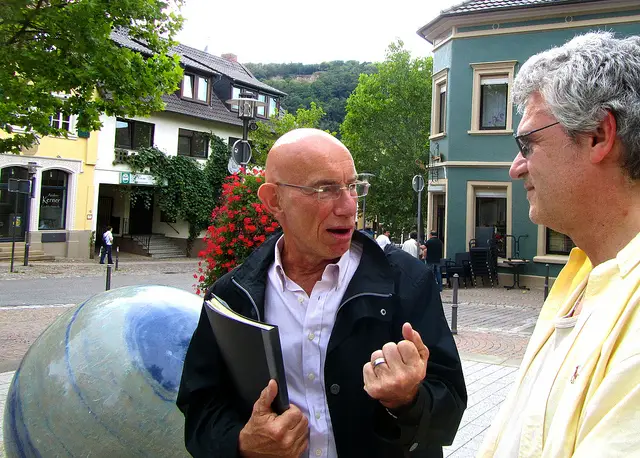 This is the local English-speaking guide Henk Lever: he has taught in international schools all over the world, including the Caribbean and the South Pacific, and now that he has reached an age where he feels it is time to settle down, he has chosen to live in the Palatinate. Just thought I'd mention that.
There are two ways (not counting the "Chinese tourist way") of visiting Bad Dürkheim: for one, if you are on business in the economic power houses of Mannheim or Ludwigshafen, you can take an easy day trip, since Bad Dürkheim is less than an hour away on the suburban train network. Actually, the journey alone is an experience in itself: you won't believe how quickly the grim industrial landscape of the Rhine-Neckar conflagration turns into an idyllic wine garden.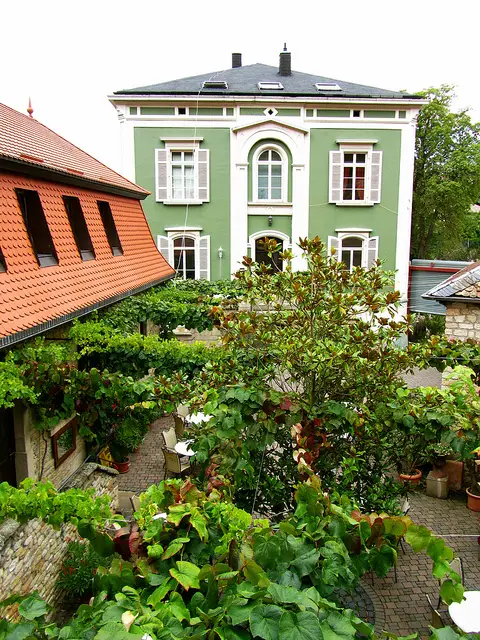 Alternatively, you can spend a few days in the town, a weekend perhaps. In which case, I strongly suggest you shun a conventional hotel and check into a vineyard instead. Which is exactly what we did.
More of that next time!